13 Questions To Help B2B CMOs Get More Out of Your Team's Headshots
The Article in 60 Seconds
What are your team's headshots communicating to prospective buyers? What is yours?
Good photos are important — especially in B2B, since they represent the most forward-facing image of your team — but headshots are hard to manage, especially at large companies. It's a challenge to come up with a photo solution that's replicable and easy to apply to all.
We take a look at 13 questions to help make sure your company's headshots represent what you want to communicate. Questions include:
Think About This
Our brains are hard-wired to process visual information: according to research compiled by 3M, visuals are processed 60,000x faster than text.
Our preference for visual information applies in the world of social media. According to social media scientist Dan Zarrella, tweets with images are 94% more likely to get retweeted.
LinkedIn statistics show that profiles with headshots get far more engagement, including up to 21x more profile views and 9x more connection requests.
According to LinkedIn, profiles with professional headshots get 14x more views than those without.
The Importance Of Great Headshots
Imagine inviting all your potential buyers into your office, only you "greet" them with moldy signage, dirty floors, a hungover concierge still in yesterday's outfit, and a light fixture with a flickering bulb.
Your potential buyers may not see your office lobby, but they are viewing your team's online pictures, whether you know it or not.
They go to Linkedin and look up your company to to see if any of their contacts work there or know any of your contacts. They'll see the photos and get a sense of your company.
They'll also look at your website to see what pictures you've posted of your team. You may have taken corporate headshots. Are they outdated? Are new team members waiting? Did some of your team post their own photos?
The photographs of you and your team are among the first impressions you make on your potential buyers.
1. Why is it that so many senior, professional people don't seem to have good headshots?
My suspicion is, at the senior level, they've definitely had corporate shots taken before, and for one reason or another, they update their LinkedIn profiles with photos that they like — whether or not the pictures are high quality or represent their companies well. Convenience may have played into the decision, as well.
2. Why is it important for key players to have good photos?
LinkedIn and other sources are more prominent than ever to those looking for solutions for problems. If potential buyers come across you, or you meet potentials through other methods, they might click through your company website and see other people that work there. You and every team member needs a good forward-facing image in that respect.
3. Why do you think keeping good photos falls out of priority so often?
It's especially hard to manage at large companies. They hire new employees, old ones move on. It can be tricky to come up with a photo solution that's fairly lightweight, replicable, and easy to apply, so it falls off the priority list.
4. Let's get down to the basics: what makes a good headshot?
The overall quality of the shot is important. It shouldn't be a crop, where there were other people in the photo but you cropped them out. You should be the purpose of the entire frame.
Communicate details and vision with your photographer — whether in-house or freelance. If your photographer knows the personality and feeling you want the photos to possess, he or she will move you in the right direction on all of the issues.
The more attitude you want in the headshots, the more time and tools your photographer will require. Make sure to listen to and equip for the job.
If you're working with a talented, but aspiring photographer, there are many evergreen lighting setups that will work.
As a rule, you want a bright photo where the subject pops free from the background.
Discuss these factors to your photographer as well:
Light — Strive for modern, flattering, and intentional.
Setting — This isn't a yearbook photo. What's behind you speaks volumes about your company or the team member. Go for solid colors or office settings with depth and interest.
Angle — There is a good side. In general, looking up to the camera is a powerful effect, but for each subject, certain angles are flattering; others aren't.
Attitude, Expression, and Personality — How do you want to be perceived by prospective customers? Your body language and facial expressions need to communicate that message.
Quality of Camera — Higher-end cameras have highly responsive sensors that capture light effectively and output high resolution images. The difference can be seen even at smaller sizes. If you're taking headshots in house, consider upgrading your equipment.
Your ultimate goal: an an image that is genuine, true to the person, modern, and represents your brand well.
5. Once all those decisions have been made and you capture high quality photographs, how do you format the finished file?
All the social platforms are using square, or a variation on square. A perfect square will translate to uses that employ a perfect circle. So make sure you've got a solid square version of he image.
Most of the online platforms are doing a good job taking whatever size you upload. They'll make it work. Personally, I wouldn't go smaller than 700 by 700 pixels.
Make sure you have a 300 dpi (dots per inch) version for print applications and keep your raw files if you ever need to produce oversized graphics for trade shows or product launch events.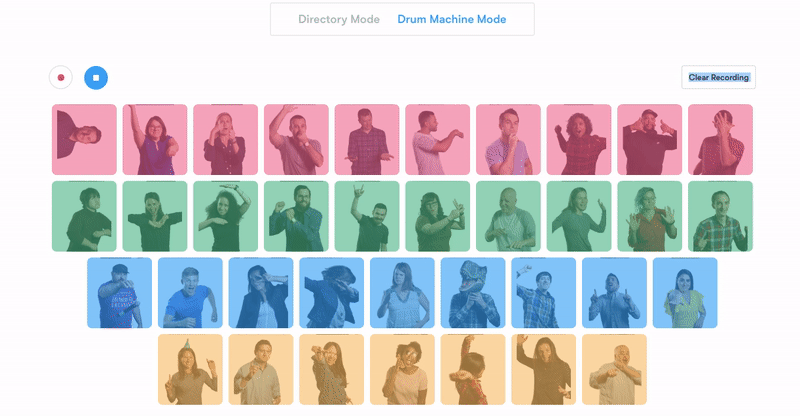 6. What advice would you give a company on process so that headshots don't fall off the radar screen?
Add headshots to your onboarding process. Most companies have a checklist of what happens when a employee joins the team — paperwork, tour, organizing the desk, computer training, etc. Add the headshot to your onboarding to make sure it happens.
That means your in-house or freelance photographer needs to be notified in advance to make sure it runs smoothly.
If you're shooting in-house, there likely needs to be a routine set-up — place, backdrop, lighting setup, and more. Those spaces need to be booked and additional help assembled, if necessary. That means you need a documented set up procedure so that you can replicate the look and feel each time. If you're using natural light, your photographer should think through what happens if it's a stormy day instead of a sunny day. How would you use artificial lighting to augment what you're doing? Be sure to have all light locations and settings documented so you produce consistent results.
7. What's the biggest headache you've experienced?
I've worked with individuals who don't understand what looks real in a photo. It's hard to be objective. When others see your photo online then later meet you in real life, they should recognize you. The photos should be recent and authentic. For example, don't ask the photographer to Photoshop out 20 pounds. (You are beautiful the way you are and everyone thinks so.)
I advise those I work with that, "It's more important to have someone you trust think the picture looks like the real you than it is for you to like the picture." I believe others see what you and I look like more accurately than you and I do. I am just as guilty of this challenge as others.
8. Is there ever a place for Photoshop?
Sure. The removal of pimples or a stain on a shirt makes sense. If it is impermanent and distracts from the purpose of the photo, it's okay to remove in the editing process.
9. Any thoughts on Instagram filters – such as a softening, rounding, or looking much younger?
With good lighting, you can do a lot of that work and still be more authentic than a filter. Any artificial settings you put between the camera and the subject should be used carefully. My one caveat: brand is king. If you can advance your brand by adding something to the shot, do so.
10. Clothing choices?
The main one is practical: avoid tight patterns because when you're viewing those digitally, the patterns have a vibrating effect. Solid colors tend to translate the best because they emphasize the face rather than the wardrobe.
Also be mindful of the background. If you need to cut the subject from the background, it would be a bummer if the background and the shirt are both white. Talk about a cumbersome job for a photo editor.
11. Any considerations for hair and make up?
The subject should look in the mirror and the photographer should be mindful of hair. Wisps can be difficult to remove from a shot. Make sure the hairstyle is natural, representative, and approachable.
The same goes for makeup.
12. Any tips for how we can be more proactive working with the photographer?
Empower your photographer to be confident in working with your team. The barrier to taking more photos is gone; the photographer can easily show pics to the team member so the team member can feel confident about how he or she looks. The team member should be confident to ask to see the shots.
Some photographers are weirdly protective about their photos, but I think that's unprofessional in this setting. These individuals are not models. It's not their job to be in photos and know how to pose. Work with your photographer in advance to set some expectations.
If your team member walks away from the session believing the photographer got some good shots, your team member will feel better about the process. It makes everything better.
13. In some cases, the one being photographed needs a point of view, a personality. How do you accomplish that in a corporate photo?
If you're a marketing professional and are interested in developing social clout through thought leadership and you have your own kind of persona that's separate from the whole company, your headshot should have a different feel from the rest of the company. Showcase how you stand apart. Work with a photographer to capture that essence.
But remember this: if you want your team to come across as fun and friendly, but you come across as strong and serious, there might be a disconnect when your prospects review your company's pictures on your site, or LinkedIn, or elsewhere.