3 B2B Website Ideas for Establishing Credibility with Buyers
When marketing a B2B technology solution, good website design highlights the sophistication of your solution, the expertise of your team, and your ability to solve their problem. We'll cover each of those goals in this three-part series. Today, we're tackling the second point: how to demonstrate your team's expertise.
In B2B technology marketing, your first impression needs to convince users that you are experts at what you do. A great way to address this is to showcase your team and their credentials, your organization's hard-won insights, and the results that others have seen from working with you. These elements, taken together, are a great way to establish credibility and build trust with your buyer in the initial stages of their decision-making process. Here are some of the top ways to do that:
About Us Page
Introduce your team and their credentials on your About page. Create an experience that tells the story of your company and why it was formed. When 360 View, a CRM focused exclusively in the banking space, came to Golden Spiral, we knew that one of their differentiators was that, as opposed to other one-size-fits-all CRMs, they were founded by people who had spent many years in the banking industry. They had experienced the same problems as their prospects, which led them to develop their product.
Instead of the headshot grid that is more commonly associated with About Us pages, we designed 360 View's About Us page to read as a story. The page starts with a problem statement. Then, the visitor is guided down the page with short quotes that explain what 360 View does to solve that problem, paired with founder headshots and short bios that reinforce why 360 View is qualified to address it. By adding a storytelling component to their About Us page, 360 View was able to create an impression that was informative and empathetic — making it resonate with the visitor.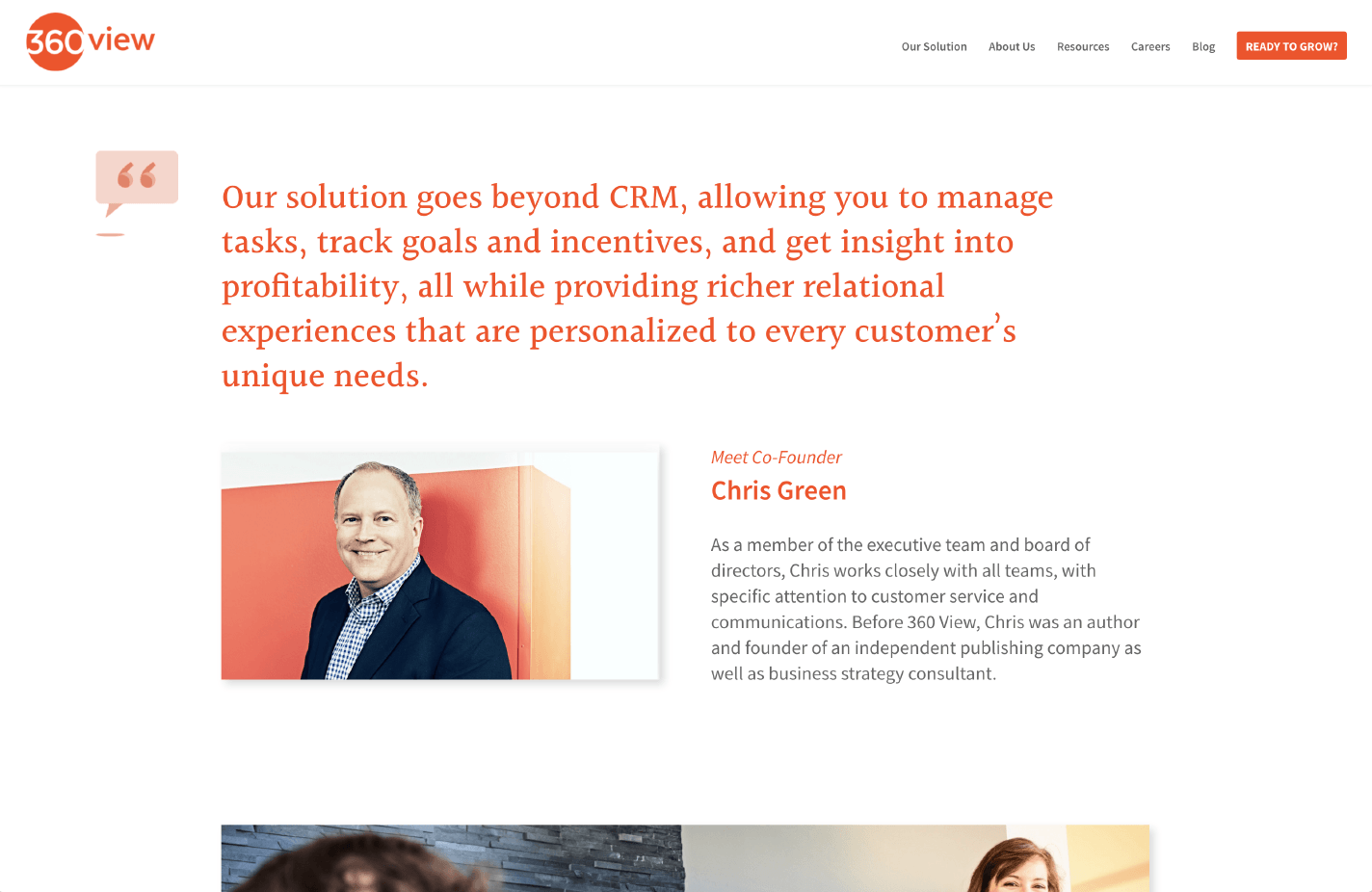 Thought Leadership
Demonstrate your team's ability to understand and solve the buyer's problem through rich content pieces or helpful resources you have created. Things like white papers, blog posts, templates, and webinars show your visitor that you have expertise when it comes to their biggest business concerns. There are two major advantages to this method. First, you give visitors a reason to come back to your site again and again, opening up dialog between you and them. Secondly, by being more transparent about your company's competencies and best practices, you are able to attract an audience that feels connected to your company, converting prospects and clients into brand advocates.
A great example of this method in action is IBM's banking landing page. The hero section of the page boldly states IBM's promise to you as its audience: "Only IBM offers both the platform and people you need to do your life's work." It then invites the visitor to explore their areas of expertise in the banking world. IBM's first impression not only shows that they are confident in their solutions, but that they understand the nuances of those problems and are active participants in the industry their product serves.
Real Results
Use case studies, testimonials, and featured client stories to showcase the success that prospects can expect from working with you. This can be done though a prominently displayed list of client logos, stats on your product's success, or measurable ROI that others have had using your product. This is also a time for you to highlight news, accomplishments, awards, or successful initiatives. By featuring real results, you demonstrate to your visitor that your team holds itself accountable for outcomes. Make sure that when you are presenting your successes, you focus on how it helped your client succeed, not just on how great your product is.
Digital Reasoning, a leader in cognitive computing, achieves this through the hero impression on their homepage. Digital Reasoning has an offering that is very complex. Instead of trying to teach visitors about cognitive computing during the 8-10 seconds of the first impression, Digital Reasoning's site directs visitors straight to the solution's impact. It's not about what the product does, it's about what it can do for them. Each slide on their homepage features a headshot of someone they have helped and a headline around the idea of "We Found a Way" and the story of how Digital Reasoning was able to transform their organization. These elements create a first impression that feels action-oriented, current, and cutting-edge — all while helping the viewer understand what Digital Reasoning can do for them.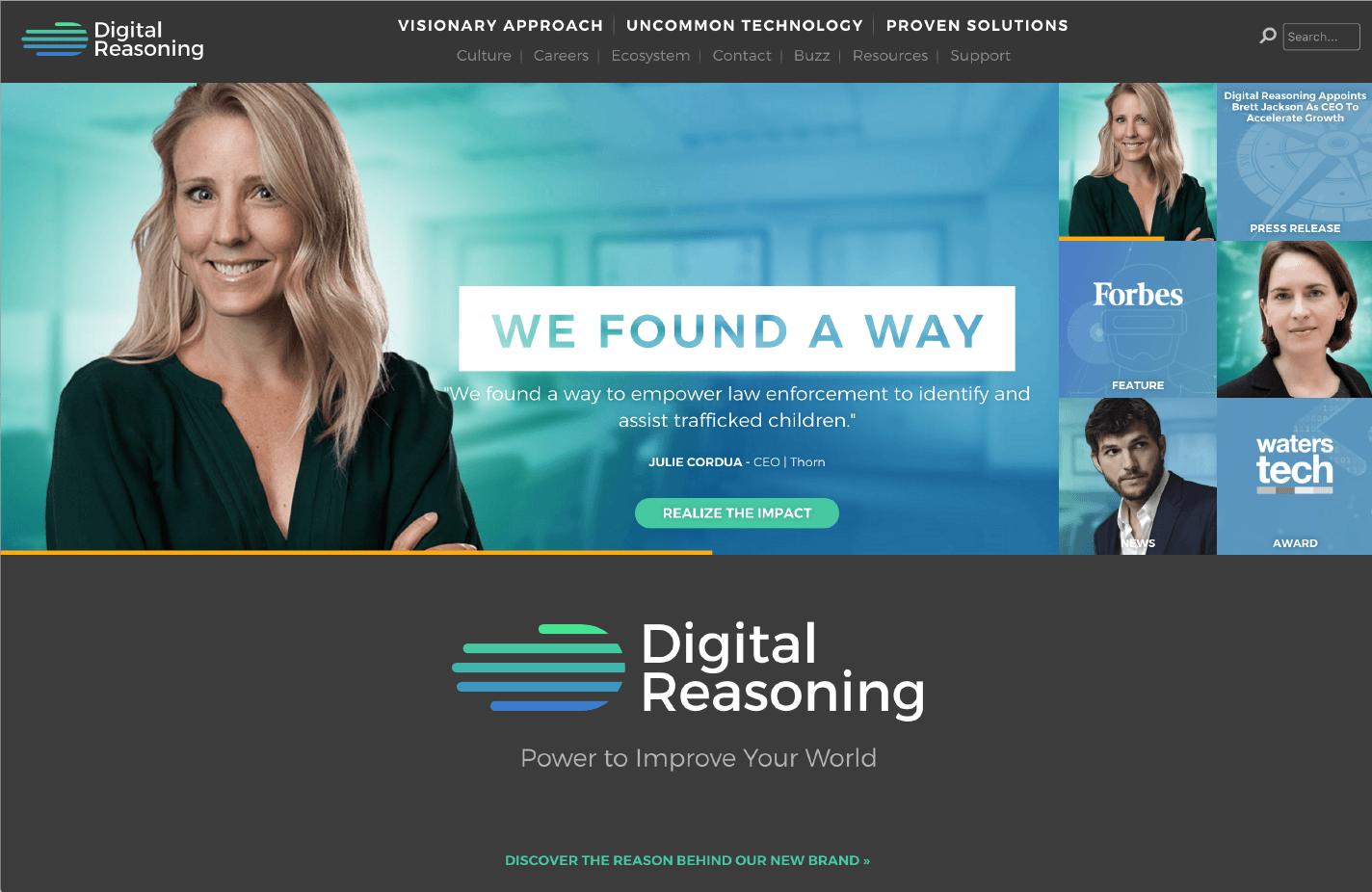 You can use these methods, mix them, or choose other methods to showcase your solution. Just remember that the goal here is to convey to your viewer an overview of your expertise and why they should trust your team to solve their problem.
Next week, we'll discuss how you can use your website to achieve the third goal of design in B2B technology: proving you can solve their problem.
Missed the first installment of this series? Find "3 Ways to Effectively Showcase Your B2B Tech Solution on Your Website" here.