6 SaaS Companies With Stellar Product-Market Fit and Serious Growth
Mark Andreessen once wrote, "The only thing that matters is product/market fit… Whenever you see a successful startup, you see one that has reached product/market fit."
This quote rises out of an essay published on an obscure page of Stanford University's site. The quote may be obscure, but the importance of fitting your product to your market has never been more apparent because…
The SaaS Industry is Exploding
G2 Crowd currently lists over 35,000 products in its database. The team collaboration vertical contains some 300 options. Looking at a visualization of the 7,000 Martech products is akin to starting into the sun.
Here's a look at how the Martech industry has grow since 2011: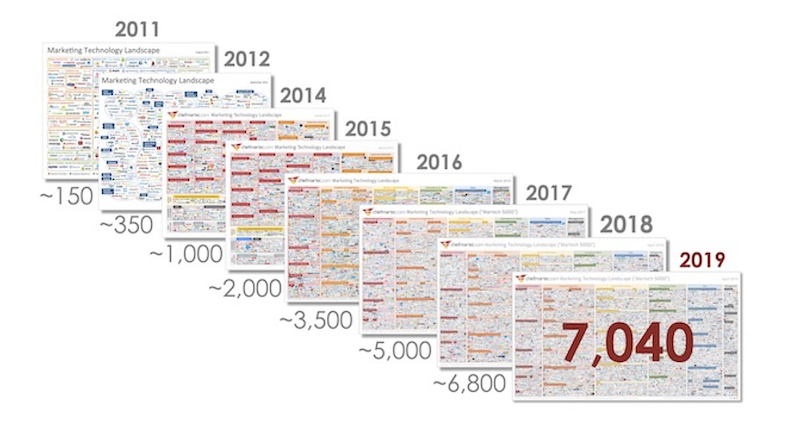 With competition at an all-time high, how can anyone make a real impact in the market and consistently acquire new customers? Smart, effective marketing helps, but the real secret is — you guessed it — achieving a high degree of product/market fit.
In the rest of this article, I'll explain why this idea is so powerful and analyze six SaaS companies that are nailing it.
Why Product/Market Fit Matters
Andreessen defines product/market fit as "being in a good market with a product that can satisfy that market."
This simple definition holds a powerful truth: the most successful SaaS companies have always offered a product that effectively satisfied the needs of their audience.
Slack arrived a full two years after Hipchat, Atlassian's enterprise messaging product. Hipchat already had 1,000 clients on its roster when Slack launched, but in the end it didn't matter.
As soon as Slack launched, people embraced it with open arms. Growth skyrocketed because the product better served the needs of the market. This graph of Slack integrations versus Hipchat integrations on Zapier visualizes just how powerful product/market fit can be.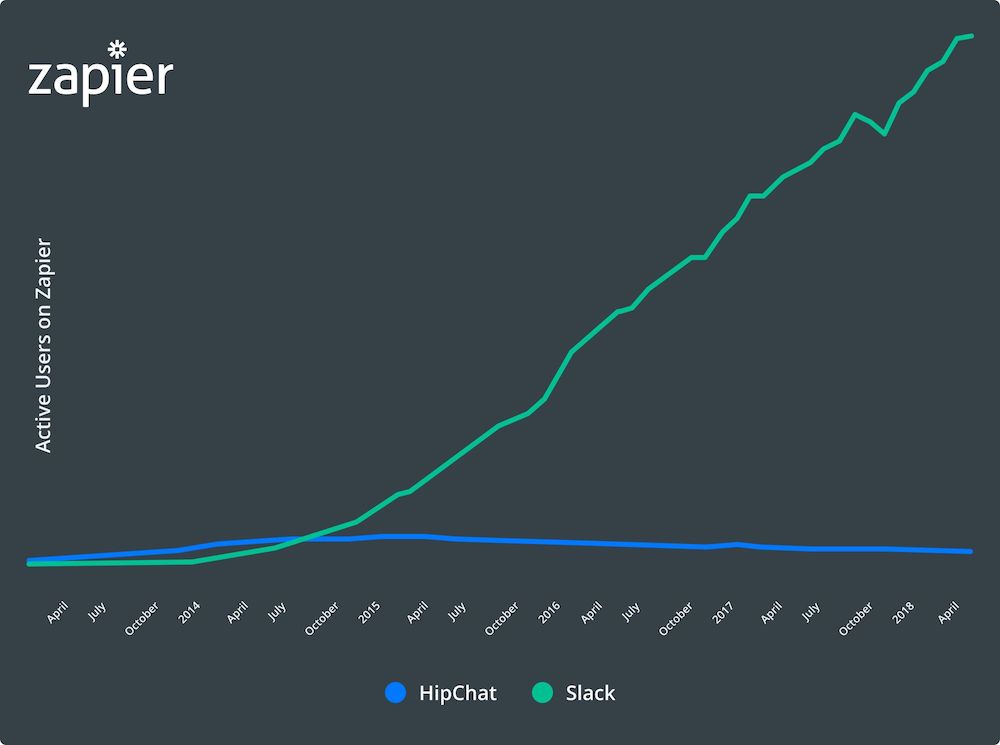 Of course, Slack is a cornerstone in B2B history. Few products will rise to such great heights.
But that doesn't diminish the power of the example. In an era of choice, your product has to align with your market if you want to carve out a customer base.
Let's look at six SaaS companies that aren't Slack but are absolutely nailing product/market fit.
1. Drift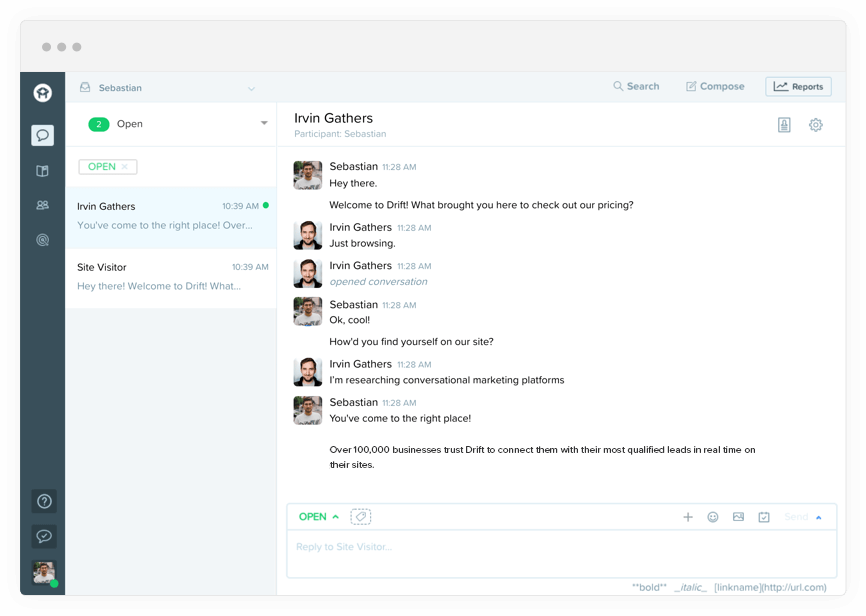 In certain scenarios, a SaaS product launches and creates an entire new market. Rather than compete for attention on a crowded stage, these companies define entirely new categories.
In 2006, Brian Halligan and Dharmesh Shaw of Hubspot coined the term "inbound marketing," and crystalized the philosophy with their attract > convert > close > delight model. [Golden Spiral is a Gold-certified HubSpot partner. We also work with other marketing platforms like Marketo and Pardot.]
It should come as no surprise Hubspot just happened to have the perfect product for executing inbound marketing.
Over a decade later, Drift is following the same model by creating their own term (read: category) "conversational marketing."
In practice, Drift uses AI-infused chatbots to qualify leads from your web visitors and connect them to sales.
For visitors, a simple question and answer experience replaces the unwieldy process of filling out a form and hoping someone eventually calls you. For salespeople, the chatbots qualify each lead throughout the conversation and only send sales prospects who actually want to talk.
Drift solves an important problem — lead nurturing can be arduous for B2B marketers. But it's also the creation of the conversation marketing category that has attracted legions of loyal followers and over 150,000 customers.
2. monday.com
If you have great product/market fit, you can thrive even in exceptionally competitive industries.
Just look at monday.com, a team collaboration software from Tel Aviv. Their market is packed with competitors — about 763 according to G2 Crowd — meaning there's barely even room to breathe in this niche.
Despite the odds, monday.com boasted over 35,000 customers and was valued at $500 million in 2018. The product is spreading like wildfire because users love how the software works.
monday.com doesn't assume how your company works, but instead empowers you to create customized workflows, dashboards, and reports. That way you can build the project management workflow you always wanted.
Modularity helps monday.com win new business. Users create custom values then drag and drop them to build out a completely custom task workflow or productivity report. That alone appeals to a lot of companies. Even more love how dead simple monday.com is to use.
This combination of power and usability has helped monday.com expand into non-tech fields, where its competitors often falter.
This organization understands that people need precise control over how they collaborate with others and document their work. Their software can be molded to fit the idiosyncrasies of nearly any company and that solidifies their product/market fit.
3. Proof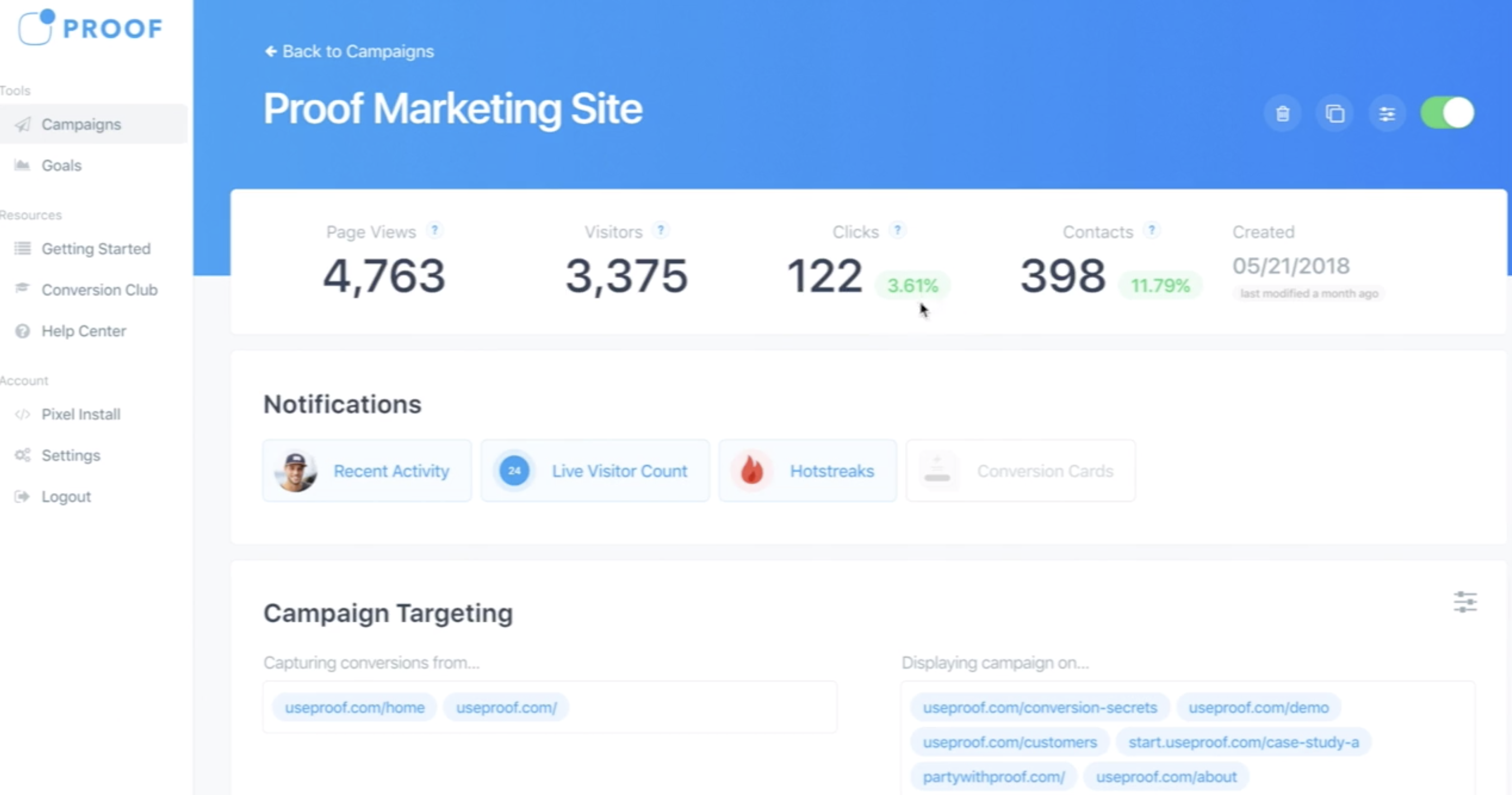 Humans are social creatures by nature. We're influenced by the behavior of others, because we want to mitigate risk in our lives and find acceptance with our peers.
For decades B2B marketers have leveraged this collective disposition using social proof, like testimonials, data points, and case studies. When prospects arrive on a landing page and see others have had success with a product, it puts their mind at ease and makes them more likely to convert.
Proof offers marketers a new, more dynamic take on social proof. When visitors arrive on a page, they'll see live updates about who's converting on the page. Proof adds urgency to the landing page while also instilling readers with a sense of trust.
The experience presents visitors with the age-old question: "All these people are doing it. Shouldn't you do it, too?"
With installs on nearly 20,000 websites, Proof is carving out a niche for its brand of "live social proof." For Proof, and others like it, product/market fit is just an innovative variation on an established niche.
4. Built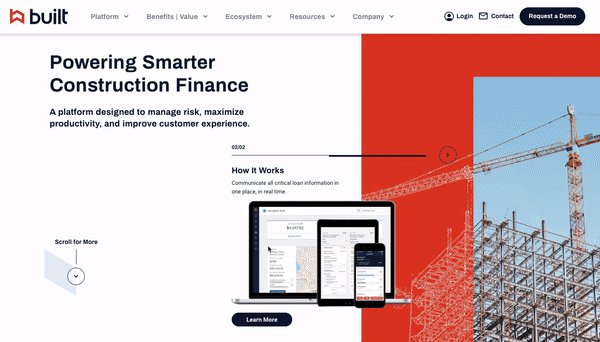 Every party in the construction industry has struggled with the flow of money during the building process.
Lenders struggle to make wise decisions because too often the information needed to make smart lending decisions is siloed throughout their organizations in spreadsheets, emails, and legacy systems. They spend hours — or days — gathering data from origination and servicing technologies. Banks require many staff members and tech solutions to manage the channels between borrowers, developers, builders, title companies, and inspectors. The entire process is complicated.
By the time you check all the boxes, the information is stale and hard to act on. The entire construction industry feels the pain. Construction companies struggle with the slow flow of money to buy materials and pay employees. Banks struggle with visibility into the process.
The end result: unnecessary risk and higher costs for every stakeholder.
Built designed a platform to simplify construction finance. It eliminates manual processes and integrates core and servicing data to provide a real-time picture of the entire construction loan portfolio. It empowers every stakeholder in the process to make smarter decisions. With a few clicks, users track collateral through every stage of the construction process accelerating the movement of money. The interface is accessible on every device so users can access data and make transactions on any platform at the office or the job site.
[Built partners with Golden Spiral as their strategic marketing partner. Find out how you can, too.]
5. Segment
When you choose new software, you have a choice: best-of-breed or all-in-one. Best-of-breed products typically offer better functionality, but at the cost of siloed data. All-in-ones are less flexible, but keep all the data in one place.
Most marketers are building their technology stacks on a coalition of best-of-breeds, which has lead to a state of data anarchy. That is, until Segment showed up.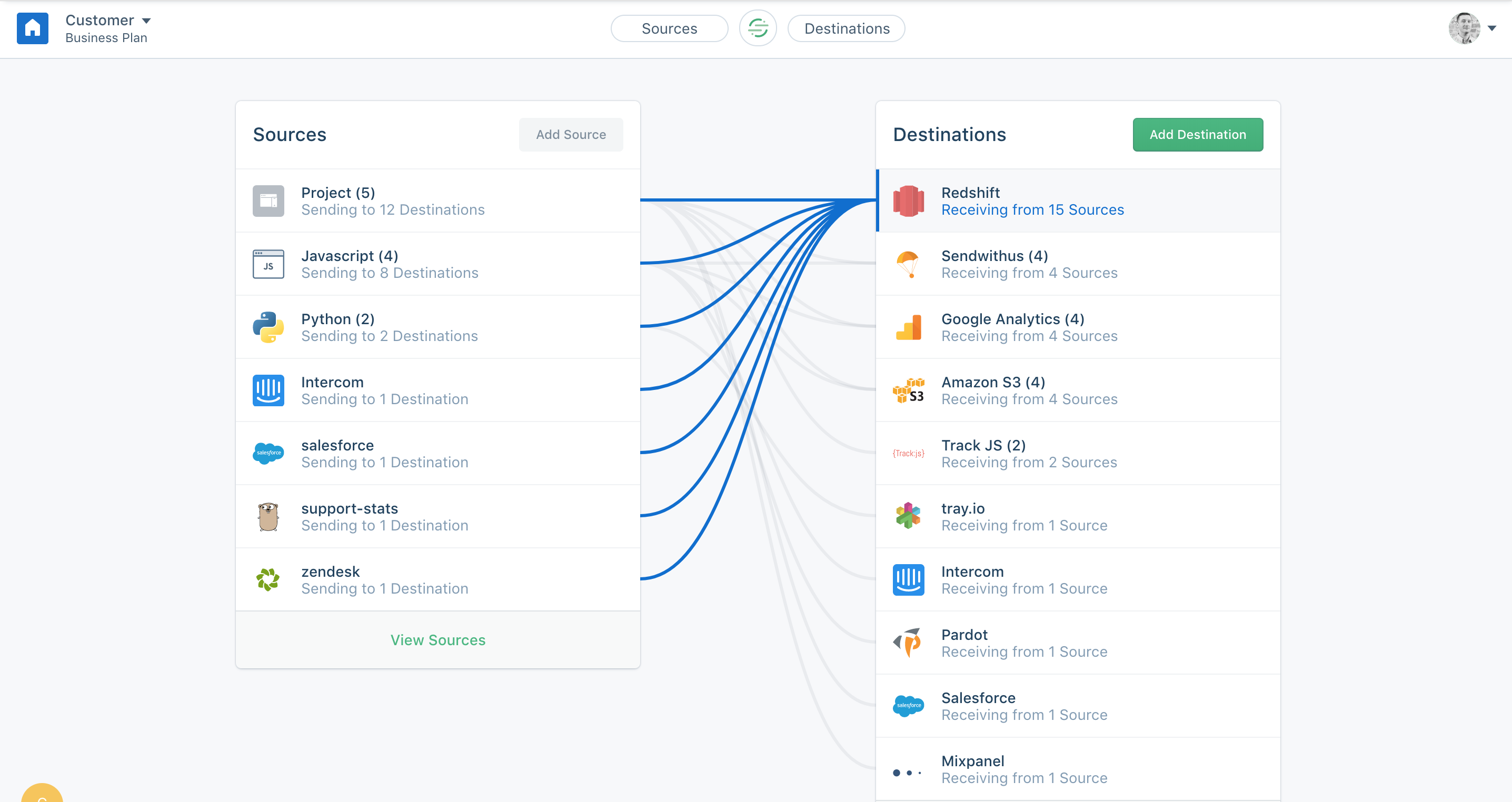 Segment is a customer data management platform, which means it provides plug and play APIs that centralize data from a myriad of marketing applications. Interlinking all that data lets you consolidate your customers' behavior across devices and channels and create a single source of truth.
Instead of requiring complex if/then integrations, Segment links data with the flip of a digital switch. Digital marketers need data to survive, but consolidating, cleaning, and understanding it is still a huge challenge. Segment makes it all much easier, which is why its product/market fit is ingenious — and why it's valued at $1.5 billion.
6. Gong
For years, analysts have proclaimed businesses that didn't adopt artificial intelligence would be left in the dust of their AI-augmented competitors.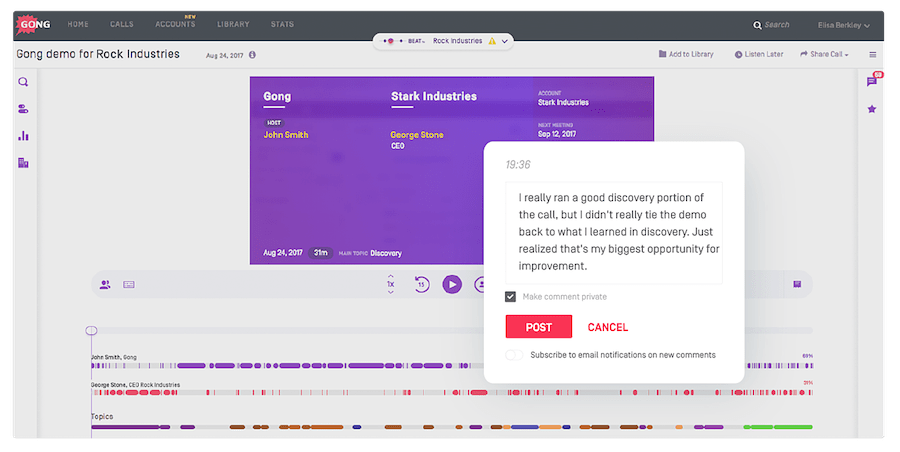 Despite the relentless hype, and Microsoft commercials with Common, the enterprise AI singularity has yet to happen. Historically, it's just been too unclear what the best applications of AI even look like.
That may be changing. Gong is part of a new generation of products offering AI for narrow, impactful use-cases. In Gong's case, AI is a catalyst for sales optimization.
This product captures all of your sales conversations (from email, chat, and phone calls) and uses AI to isolate the most influential moments of interaction. So if one sales rep asks better questions or has a better talk-to-listen ration, Gong will pinpoint those patterns and highlight them so the rest of your team can follow suite.
The archetype of the all-star salesperson has permeated sales culture for decades — to the detriment of the rest of the business. Coffee can't only be for closers. The rest of the sales org needs to understand what works, too.
Small wonder the market loves Gong's use of AI to quantify effective sales techniques. The company ranks #7 on G2 Crowd's Fasting Growing Software list.
Key Takeaway
How can your SaaS company Communicate product/market fit?
SaaS companies don't succeed purely through luck or grit. Software products succeed because they fit the needs of their market better than their competitors. That truth won't change.
The companies in this article all have superb product/market fit, but they also excel at communicating it to their audience. Each company's value proposition and content marketing vividly explain exactly how their product solves the challenges most important to their customers.
If you want to ensure your marketing resonates with your potential customers, we can help with that. Check out our guides on the B2B Buyer's Trust Journey or the 10 Steps to a Successful Product Launch.