B2B SaaS Social Media When Your Prospects are Researching
The Article in 60 Seconds
To what extent do you use social media in lead generation, customer communication, and loyalty-building?
Social media used to be the purview of personal communication. B2C companies capitalized on that aspect. Now B2B companies, including SaaS, find more and more business there?
Why? If it's so important, how do you increase your value on LinkedIn, Twitter, and other networks? How does the size and influence of your social media following impact your reputation?
Think About This
Social media boasts 3.5 billion active users. [Hootsuite]
The average American spends 142 minutes a day on social media [Digital Information World]
Companies (B2C and B2B) spent $74B on social network advertising in 2018. [Statista]
Generate New Leads through Social Media
How strong is your following on LinkedIn, Twitter, Facebook, and Instagram compared to your competitors?
Leads are likely to put more trust in your brand if you have a strong social following.
Potentials in research mode might inform themselves through social media about your product options.
Leads in decision or purchase mode compare reviews on social and other platforms. They equate the size of your audience with quality.
What are your patterns? Have you turned to social to help you make purchase decisions?
This chart from Lyfe Marketing shows the reality of customer acquisition on social.
Lead generation through social has grown dramatically for Golden Spiral in 2019. Social links have produced 10% of our leads and 2.4% of our MQLs so far this year. Only 0.2% of our leads came from social in 2018.
Increase Your Visibility on Social Media
You can't be everywhere on social media, but you can be where your potential customers are.
Your audience is getting younger. The younger the audience, the more they trust social media.
Social media is more about listening to your audience and discovering their needs than it is communicating your message. However, the better you listen and understand, the higher impact your messages will have.
Listening
Not every customer who has a positive (or negative) experience AND talks about it on social will actually tag you, but every mention of your company or product name is like gold. If you respond to the positive mentions, you'll make a raving fan. If you reach out to help those who make negative mentions, you might turn a bad review into a good report.
If you need feedback on new features for your product, announce the launch on social and provide a way to receive feedback. Watch the posts closely and respond well.
B2B customers call out brands for various reasons like their B2C counterparts. Social listening app, sproutsocial, points out that negative callouts are bad for your reputation unless monitored and engaged with.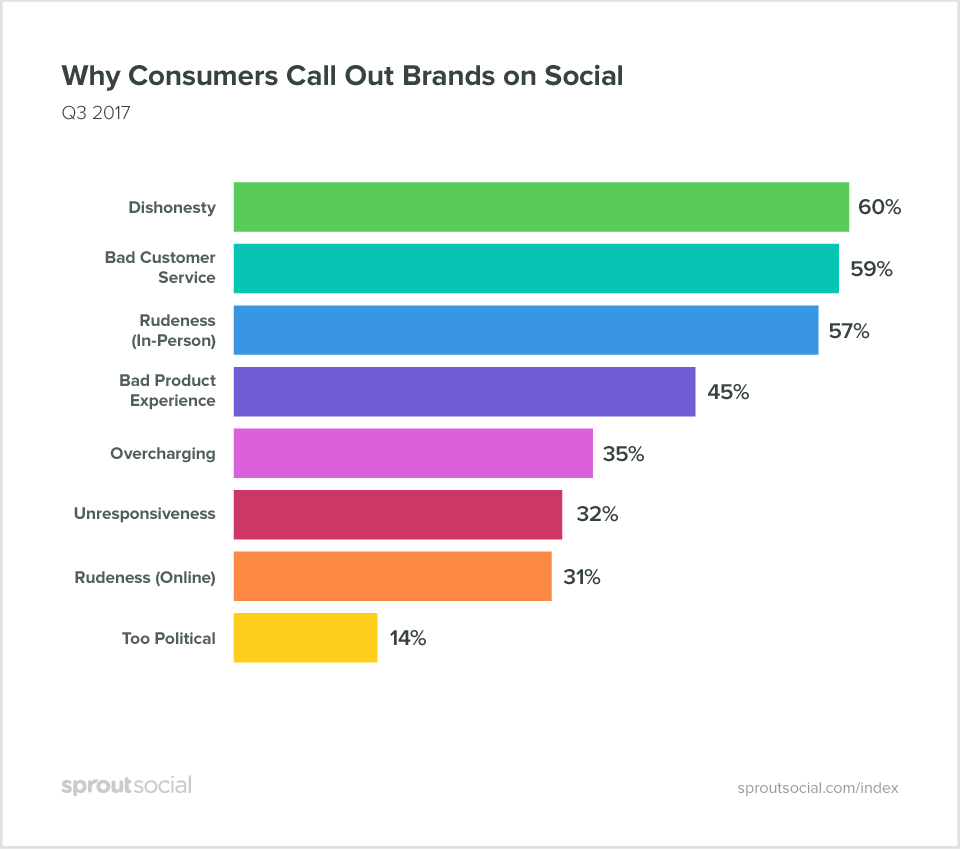 Communicating
LinkedIn remains the gold standard for B2B social media. Entrepreneur reports that LinkedIn gives greater visibility to posts that receive engagement in the first hour. Engagement in the first hour means more people will see the post in the first hour /and later. /
B2B writer John Esperian saw this trend and has experimented with it. Now, if a post receives 500 engagements — shares, likes, and comments — in the first hour, the total engagement of that post over time will be above 3,000. Less than 500 and the post will not gain traction. He recommends that you be present when posts go live so you can respond to comments to help boost visibility.
If your company has an internal communication tool like Slack, post a link to the LinkedIn feed in the all-staff channel and ask those who can to hop on, share, like, or comment. In essence, you'll be priming the pump.
Create Engage-Worthy Content for Social Media
Length
As a guideline, we recommend keeping your posts to these lengths:
LinkedIn: 50-100 words plus hashtags
Twitter: 71-100 characters plus hashtags
Facebook: 40-80 characters
Instagram: 138 – 150 characters plus hashtags
Images
Well-chosen and properly-cropped images are important on every platform.
LinkedIn: 1,104 x 736 pixels
Twitter: 1,200 x 675 pixels
Facebook: 1,200 x 628 pixels
Instagram: Square 1,080 x 1,080; Horizontal 1,080 x 566; Vertical 1,080 x 1,350; Stories: 1,080 x 1,920
Video
86% of online marketers use video content. Many B2B brands avoid using video due to the perfection factor. Posting cell phone video to social is a good first step, and in many cases, preferable to studio video.
If the audio is clean, the viewer will forgive less-than-perfect imagery. If the audio is distorted, muffled, or soft, you'll lose the viewer.
A small tripod with a cellphone clamp helps.
Keep early videos short until you get the hang of it.
Tools like Wistia's Soapbox can help you produce excellent walk-throughs of content on your website.
Not convinced? Look through these statistics from SocialMediaToday including:
Take a minute to view this piece of content:
Salesforce's tweet with embedded video has been seen more than 10,000 times, plus liked and retweeted. What did they do well? What could they have improved?
Q: What do inclusion and diversity have to do with climate action?

A: Those with the least suffer the most.

Hear more from Beth Brady, Chairman of Board @WAAH_Foundation on how we can all make this world better for everyone.

For more #ClimateWeekNYC https://t.co/at3aAcZsPf pic.twitter.com/CMYpAutBJ5

— Salesforce (@salesforce) September 25, 2019
The First Thing to Do After Reading this Article
Create a social media experiment for the next six weeks. Work with those who create your company's social content to pick one network and increase your presence, improve your content, and be active in conversation for the next six weeks. Benchmark where you are now. Look at the increases, if any, over the six weeks, then make decisions about maintaining that effort and expanding your work through others channels.