B2B Tech Pillar Pages: Four Overlooked Secrets
Getting in shape is simple. Eat a healthy diet of lean meats, vegetables, and fruits. Watch your intake of grains and fats. Burn more calories than you consume. Exercise sensibly. While the process may be simple and can be summarized in a few sentences, there are currently over 60,000 books on Amazon about diet and fitness. Which do you choose?
In the same way, building content on your B2B tech company's web platform is simple. Produce quality articles on a strategic range of subjects. Be consistent in timing and length. Vary the format and the ultimate call to action (CTA) behind each piece of content in order to reach your buyers where they are in their journey. Be wise with keywords and keyword phrases so that your content will rise and rank in search results. There are thousands of articles to read online, eBooks to download, videos to watch, infographics to ponder, podcasts to stream, and interactive tools to explore. Which do you choose?
There are also trends to watch for. One of the new trends built on the foundation of SEO wisdom and power is the Pillar Page.
Pillar pages are 12,000–15,000 word pages on your website that act as a comprehensive resource concerning a specific topic. Imagine a really long, high quality blog post with supporting images and links.
We've launched our first one and are deep into the development of more by the end of the year.
This blog post is not a pillar page about pillar pages, but you can find those here and here. This blog post gives you the rationale behind them and four essential—but sometimes overlooked—tasks to accomplish as you create yours.
Why Create Pillar Pages
Longer Content Works
Although we can no longer know everything that goes on behind the scenes at Google or Bing in determining search results, we know that content rich in keywords, demonstrating authority about a subject, and faithfully "on topic" garners solid results. Longer content scores high and moves search results to the first page and into the top three—where we all want to be. "The Complete SEO Guide for B2B Tech Marketing," the name of our pillar page, comes in at over 14,000 words.
Google Loves Subject Matter Experts—and So Do Your Customers
You are the subject matter expert (SME) at solving your customer's problem. You know how your products and services perform best. Tackle one of those problems in a single pillar page and show off your expertise. Few other tools offer you as much time and space as you need to present the problems and fully explain your answers.
Pillar Pages Offer You a Supercharged Lead Conversion Opportunity
Pillar pages provide multiple opportunities for your potential customers to find you through search. In addition to normal searches, voice searches are becoming increasingly more frequent thanks to virtual assistants like Siri, Alexa, and Hey Google. Users are asking the Internet questions hoping to find answers. When you provide your answer, your visitors and potential customers will find it. Once they are on your pillar page, you have an opportunity to ask for their contact information and put them into a marketing stream. Pillar pages are proving to convert leads at a higher conversion rate. (One example.)
Four Overlooked Secrets to Creating Your Own Pillar Page
Take a Journalistic Approach
In addition to driving great traffic, you want your pillar page to boost your authority in the eyes of Google (and of course, the eyes of your potential and current customers). In order to do so, don't make the pillar page an overt selling tool. Take the tact of writing from an objective point of view, offering best practices for matters pertaining to your solution from all angles.
You didn't learn every lesson through experimentation and your own observation. You studied, read, attended seminars, worked with mentors (official and unofficial), and, as the poet says, stand on the shoulders of those who've gone before you.
Let your readers in on who you trust and why. Link out to their best content. Take your readers on a journey to deeper understanding, if they want, even beyond your pillar page.
This isn't a time for a "bite of the cookie" approach where you deliver the rest of the cookie in other ways. This is the time for a brain dump—organized, well-researched, written for the reader, and formatted for the scroller.
Create Helpful Navigation
There are many schools of thought regarding how your readers can navigate your pillar page. The two most prevalent seem to be:
Click to Return to the Top
At the end of every section, provide a link that takes readers immediately back to the top of the page from where they can click to read any section they wish. This method repeatedly shows the reader your CTA, or better yet, serves up smart content based on what was just read.
Of course, readers can continue to read your content in a linear fashion, but these links let the readers decide where to go next. Plus, you get multiple impressions of a next step you want them to take.
Sticky Navigation
Golden Spiral decided to use a sticky navigation on our pillar pages. Click here to see it at work. The sticky nav keeps your section or chapter titles in front of the reader at all times. No matter where they are in the content, they can move to other sections with a quick click. You want readers to move through the content at their pace and discretion.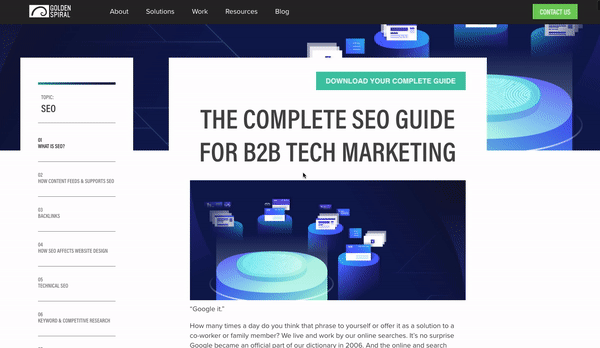 Keep it Scrollable
When you create a pillar page, you are in essence writing a short business book about your field. The content is narrowcasted to your core audience. You want the content to be a readable reference resource for them. However, their first interaction with your SME will be scrolling through your words, headings, and images. Employ the same principles you do in your blog posts to make sure the hierarchy of ideas is intact and the scroll creates greater interest.
Don't Forget the Download
You want your readers to consider your pillar page a reference. What a compliment. Many companies and agencies consider it a vote of confidence when a reader downloads a PDF of the same content. Plus, you will have created another gated resource you can use for lead conversion and nurturing. The download process can be as complicated or as simple as you want. Your content is the gold in this transaction. You can download our first pillar page by clicking here.
What are You Waiting For?
What are the top handful of solutions you provide? Consider writing a pillar page for each. These pages can then link to and from your blog posts on subtopics, associated pages about ancillary topics, and main pages on your site. Providing a pillar page and interlinking it throughout your site delivers a deep level of content and can establish your brand as an authority around your topics. Authoring pillar pages is one of Golden Spiral's top suggestions for companies that request an audit of their marketing strategies and websites. We help these clients research the search volume around each service and solution and transpose that research into 8-10 topics that can be used to develop pillar pages.
Don't be overwhelmed by the task. Many create an outline for their pillar page, then write a blog post for each major section. In a matter of weeks, you'll have the raw content for your pillar page. Put all of the blog posts together in one document and then edit so that the entire document reads in one sitting. Draw the reader through from section to section. Remove redundancies or time dated references. Once edited, you're ready to go.
Contact us today if you'd like help
developing a richer content strategy that includes pillar pages.