Before & After: B2B Logo Transformations
At Golden Spiral, we have the pleasure of working with B2B companies that are changing the world through technology. Often, when we are engaged to help emerging companies accelerate to the next level. An important part of that movement is a new visual identity. We love the process of ushering our clients into a more progressive sensibility that reflects the sophistication of their solution.
Most of the time, the outside world only sees the finished product, without an explanation of the work and thought that went into creating it. In this case study, get an inside look at four examples of logo transformations: the brands we created them for, the problems that the new design needed to solve, and the way we executed our ideas to produce beautiful work for our clients.
360 View
360 View offers the first CRM Solution designed specifically for banks and credit unions. With more than 15 years experience serving the financial industry, they understand the challenges that modern financial institutions face and they are committed to providing the best customer relationship management platform possible.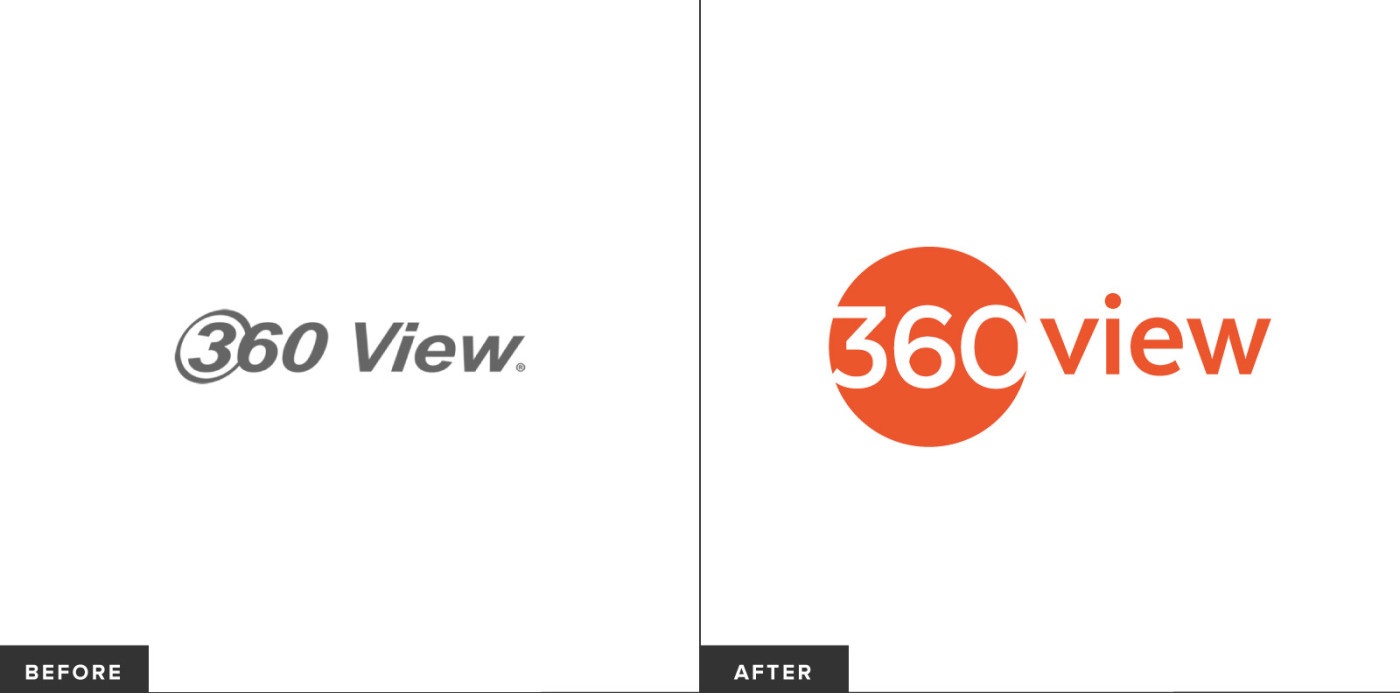 Before
360 View has a powerful CRM system product tailored specifically for banks and credit unions. They have experienced great success and are interested in working hard to expand their market share. They needed a visual identity that could help drive buyers' perception of them as a progressive innovator in the space. Their visual sensibility did not reflect that well. The traditional banking blues and grays that anchored their visual brand system were all too common among competitors and their logo didn't highlight their unique value proposition.
After
The new logo concept focused on the key function of 360 View's software: providing a comprehensive view of the customer. By using the idea of a circle throughout the visual language, the design reinforces both the the literal interpretation of 360 degrees as well as the all-encompassing nature of the product's capabilities. The larger branding system uses the circle as a primary design element in icons and textures throughout their collateral.
To bring life back into the logo, we eschewed the traditional blues and grays for a bold orange color. This color allows 360 View to stand out online, in their print materials, and at events and trade shows where the competition is saturated with standard blues and reds. The color — a combination of orange, yellow and red — has connotations of Friendly, Cheerful, and Warm while also communicating that they are Confident and Bold. The new marks conveys trust and reliability without being constrained by the muted, serious colors favored by incumbents.
Allure Security Technology
Originally developed in a Columbia University research lab, Allure's unique technology maps the behavior of a user's computer activity and creates a signature (like a fingerprint). If anything happens outside of that behavior, the activity is flagged and investigated. Novo provides security professionals with the power to take action against data loss and protect every device inside and outside their organization.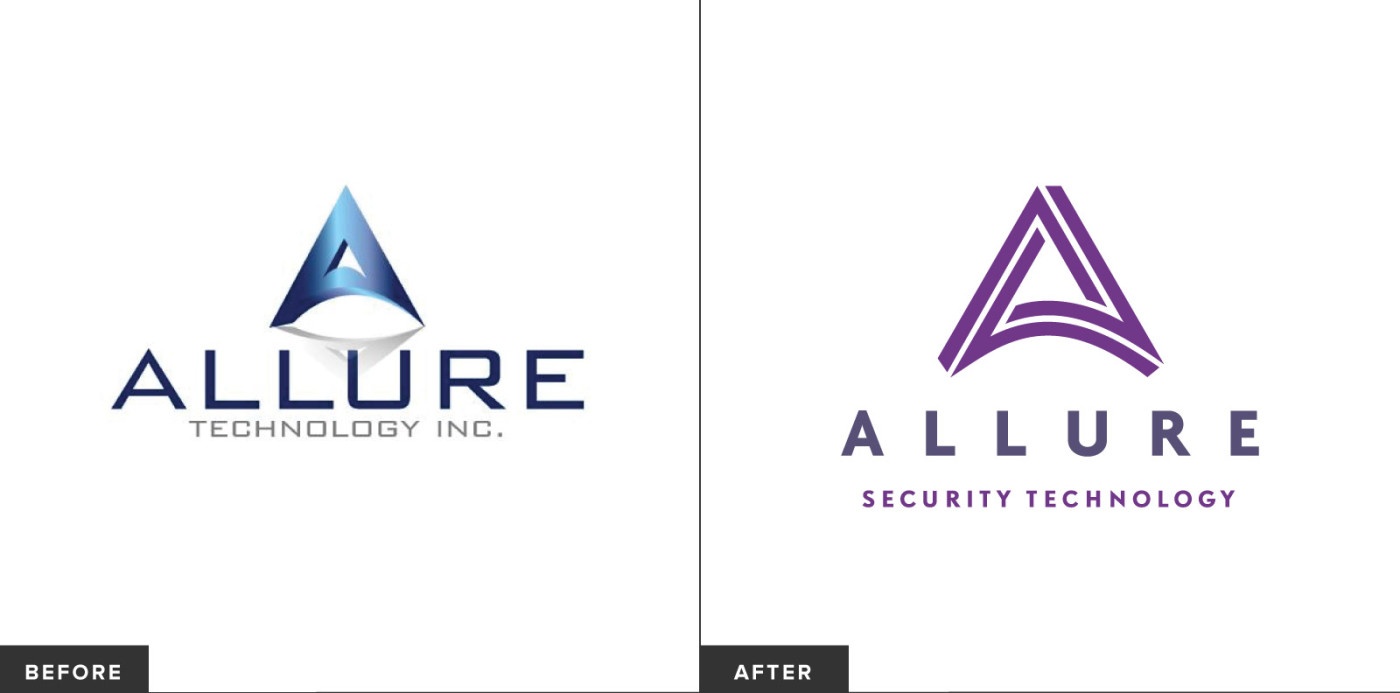 Before
Allure's original logo was developed during a period in their history when their work was focused in government security applications — and it showed. Outdated shadows and gradients combined with antiquated type and 'safe' color palette didn't reflect the pioneering nature of Allure's technology. Additionally, this style of logo has limitations as a solid long-term solution in terms of versatility and dependability: it didn't translate well across various brand manifestations.
After
Allure needed a bold new sensibility to carry them into the private sector. They are an innovative company with creative applications of their technology, so we wanted to anchor their visual identity in a modern sophistication that would instill trust in their solution. The "A" shape in their logo reinforces the value of a security solution where everything isn't always as it seems. The mark forms an impossible shape, based on the way it twists and connects, underscoring their technology's ability to deceive malicious attackers while protecting their customers.
We wanted the new design to capture what makes Allure unique in their industry. The old mark was sharp and severe, but Allure is not a provider that relies on scare tactics; instead, they are an advocate for their users. We reflected that in the branding by choosing colors and typography that were as fun and approachable as they were. Purple, a color that is associated with wisdom and imagination, captures Allure's company culture well.
Nashville Technology Council
Founded in 1999, the Nashville Technology Council is a 501(c)(6) not-for-profit member association focused on connecting, uniting, developing, and promoting the local tech community to propel the Nashville area forward to become a national leader in technology-based innovation and development.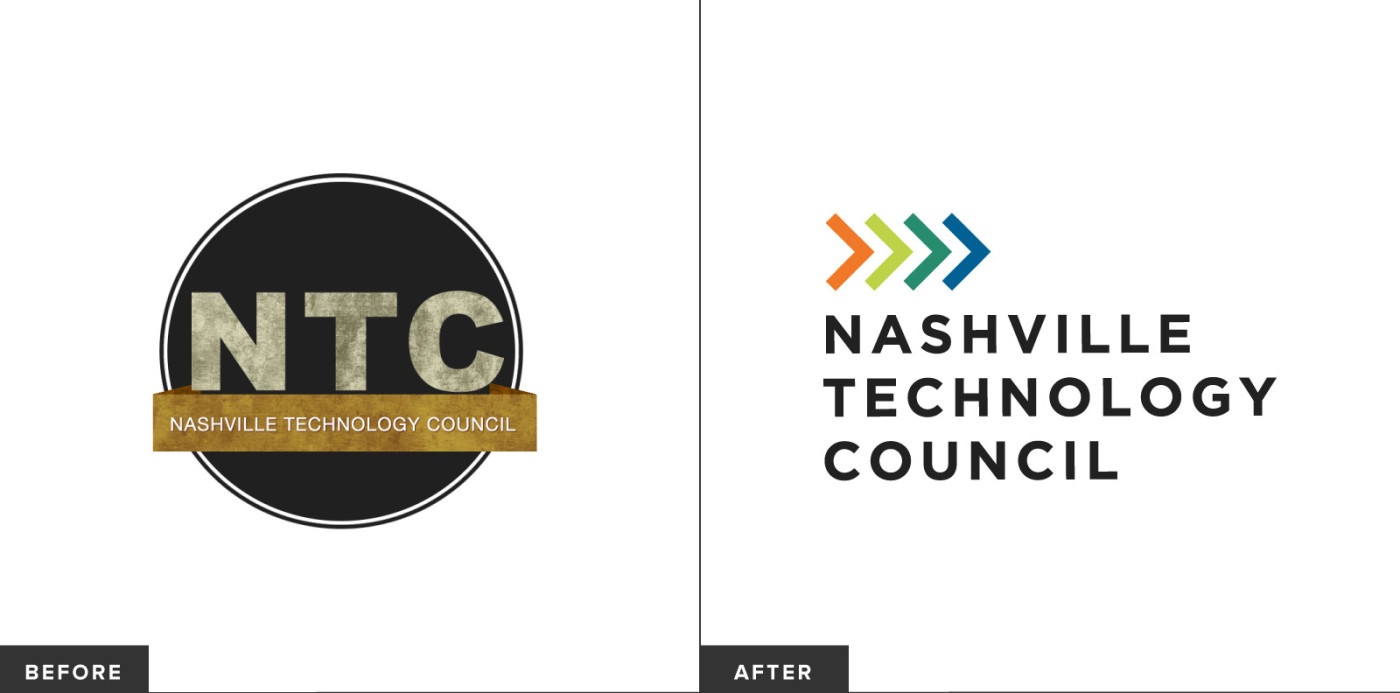 Before
The Nashville Technology Council's original mark didn't speak to their technology interests very well. The color scheme and outdated application of textures were not consistent with the idea of a pioneering tech entity. One of the biggest problems with their old logo was its emphasis on 'NTC' instead of 'Nashville Technology Council' because the acronym NTC was not recognizable for those who weren't already familiar with the organization. The logo needed to resonate strongly with potential members in the tech space.
After
As the face of technology in Nashville, the NTC needed to look the part. With this revamped logo, we set out to modernize their sensibility. We wanted a logo that reinforced their story as a hub for all things tech in Middle Tennessee. The new logo's four chevron shapes represent the NTC's pillars: Connect, Unite, Develop and Promote. They combine to form an arrow that underscores how the NTC's mission of propelling the Nashville area forward.
By reusing the same 'chevron' shape to reinforce NTC's core ideas, we were able to create a cohesive visual language that they can apply to a variety of interconnected sub-brands such as events, special interest groups, and advocacy initiatives.
OnSomble
OnSomble is a technology start-up committed to creating industry-leading tools that enable key decision-makers to optimize their most valuable resource: their personnel. Founded in 2008, OnSomble helps organizations assess the core competencies of professionals and structure their organizations for maximum efficiency.
Before
Their old mark used arrows to create an O which led to brand confusion with the mark being read as "nSomble." We wanted to come up with a design that was distinct and identifiable. Graphically, we wanted to convey the idea of changing over time and moving toward optimization. The old design didn't capture the sophistication of the brand, the company, or the people themselves.
After
OnSomble's mission revolves putting the right person in the right seat, realizing the full potential of each employee, and training people to succeed in those roles. We conveyed the idea of optimization through the fading approach of the circles that change as you progress through the mark. It evokes feelings of progress, movement, and improvement while still being a very solid shape and substantial design.
It was important for us to strike a balance between their technology and their very human focus on making sure that each person on your staff is living up to their potential. The sensibility and color scheme we created underscores that even though OnSomble is a tech solution, they are ultimately about helping maximize teams and the people who comprise them.