Combine B2B PR and SEO to Build Trust, Awareness, and Domain Authority
The Article in 60 Seconds
Public Relations for B2B companies must be intertwined with SEO. These mutually interdependent marketing functions weren't always so tightly aligned, but with links a vital component for generating website traffic and raising domain authority, the two entities work best together to maximize a company's marketing impact.
Think About This
Google's search algorithm uses more than 200 factors to rank websites.
This stat from Google in 2016 has held up: High-quality content and link building are the two most important signals used by Google to rank your website for search.
Whether it's a trade publication or national news site, getting your company or product story in an established, reputable website impacts SEO with high-quality backlinks. The more relevant the placement is to your industry, the more valuable it is to your customers and to search engines.
Maybe There's No Such Thing as Bad Publicity?
Remember the Peloton lady? The ad promoting a stationary bike fitness program featured a husband gifting her with the bike at Christmas — not unlike the 1960s ads where Wifey was delighted to receive a vacuum cleaner from Hubby.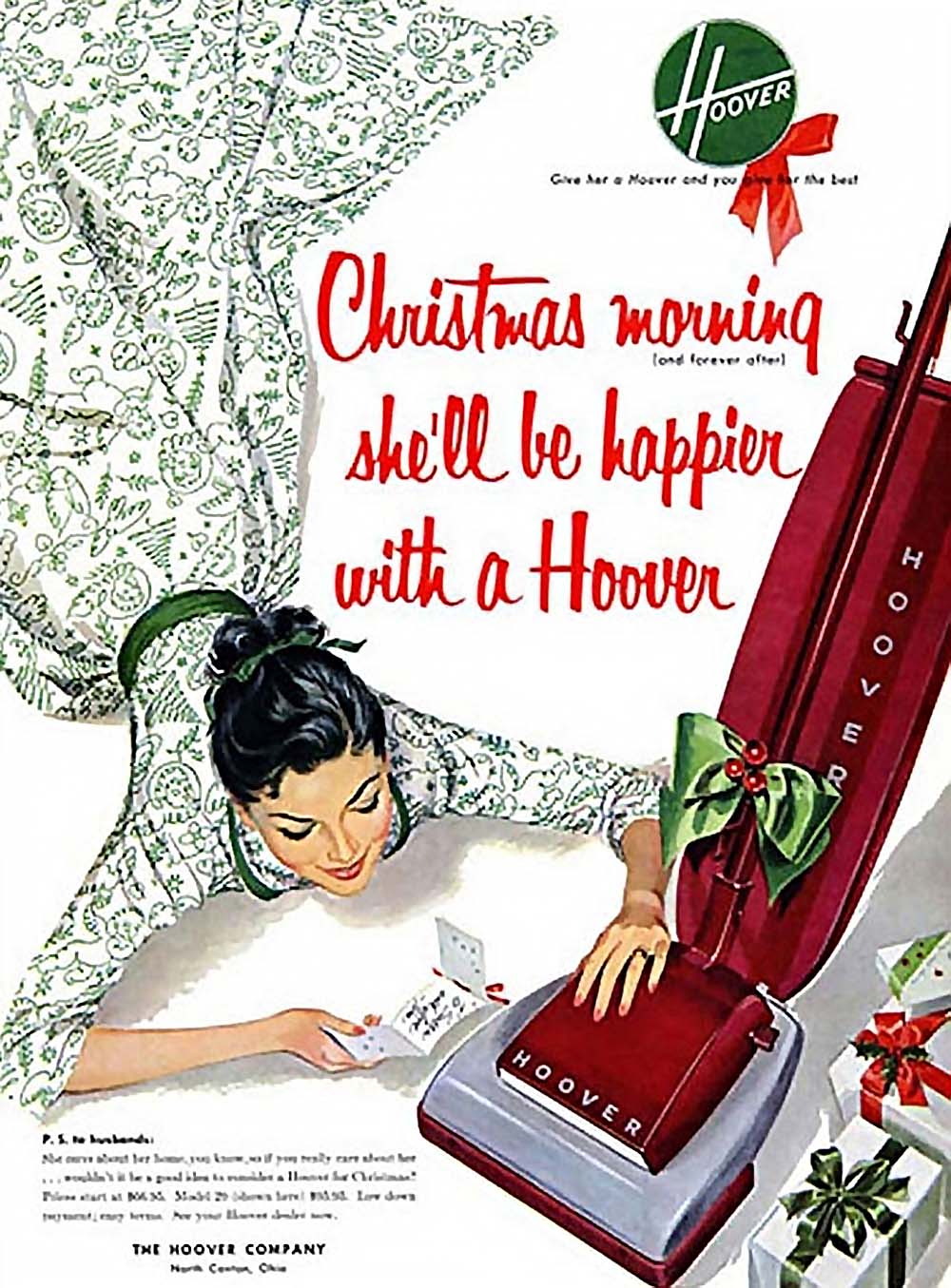 In the Peloton ad, the not-so-subtle allusion to the wife's need to get in better shape was awkward; then it got creepy, when the actress is shown tracking her progress via selfie, but looking somewhat frightened throughout her yearlong fitness journey. Social media and news sites jumped in with comments good and bad. "Sexist and dystopian" declared some. "Not as bad as you think," said others.
For good or ill, the ad went viral, with 700,000 Google search hits and 9 million YouTube views to date. While Peloton's stock took an initial hit, the company will likely cycle through (sorry — couldn't resist) the storm created by the ad. Not many B2B companies can or should follow Peloton's example, as splashy (and potentially risky) consumer ad campaigns don't exactly fit their marketing strategy. Yet the company's experience shows how closely public relations and SEO impact each other: few are going to forget the Peloton name (PR), and it will be hard to dent the company's domain authority any time soon (SEO).
Where it Started
Even in the ancient days of 2014, industry pundits were pushing the need for SEO and PR to combine forces: "Presently, SEO and PR now are working more closely together within a new integrated and evolved digital landscape," John Rampton wrote in Forbes.
Previously, PR developed compelling story ideas and pushed out company momentum announcements to generate news coverage and links. SEO had a more technical role, but as Golden Spiral's Senior Director of Digital Strategy and Performance Analytics, Chris Turner, reminds us, SEO was still just as dedicated to getting "found" on the internet.
That all changed when content marketing became more prevalent, and Google started to place more emphasis on quality of content. Now the point of convergence for PR and SEO is the content calendar. Blog posts, optimized with the appropriate keywords, can be repurposed as byline articles. Links used within the post offer further outreach opportunities. Finally, social media spreads the awareness further, and inspires sharing content — another source for links back to your site. Google updates its search methods constantly.
Building Relationships is the Job of PR and SEO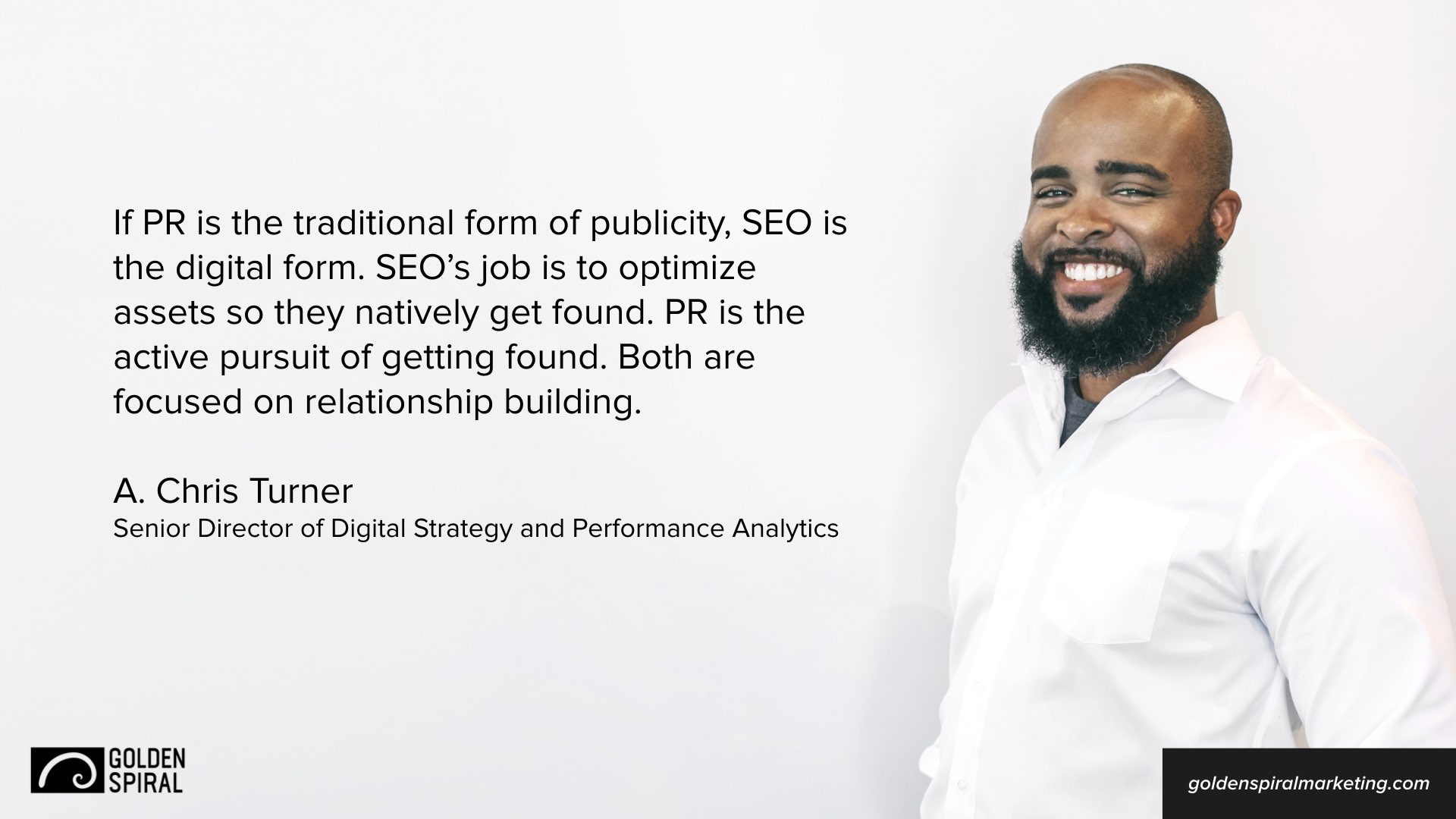 "If PR is the traditional form of publicity, SEO is the digital form," says Golden Spiral's Turner. "SEO's job is to optimize assets so they natively get found. PR is the active pursuit of getting found. Both are focused on relationship building."
Still, companies should be doing more than just looking at SEO as the process of site optimization, says Turner. SEO also involves active marketing. Based on research, companies should actively court other companies for linking opportunities. Proactively reaching out to a particular company to say "Hey, I've got a great source for you to link to," is similar to going back to a reporter with new information on a topic they've already covered. While one might generate a valuable backlink, the other might generate a follow-up story from an initial article featuring your company.
"The point with both marketing disciplines is to create relationships that lead to more published content," says Turner.
Keywords are the Thread that Ties PR and SEO Together
If the content calendar is where SEO and PR meet, the thread that keeps it all together are keywords. Your keyword list should be adapted to the topics being covered in your content, and will vary based on where you use them: press releases, during interviews, in contributed content to other bloggers, industry publications, and targeted news media contacts, social media, etc. Just make sure, as Quick Sprout cautions, "that they fully describe your brand."
PR and SEO Cultivate Influencers, but In a Different Way
Old fashioned PR and newer-fashioned SEO extend their reach into influencer marketing. They understand the value key influencers lend towards building brand trust and raising awareness, but approach it in slightly different ways.
A PR maven may spend time courting journalists by engaging with them on Twitter, then building a relationship from there before actually pitching them on a story. An SEO strategist would follow a similar path for a specific blogger or blogger community. PR and SEO use different methods for connecting with influencers, and with different kinds of influencers.
"There are tons of influencers in the B2B realm who don't have a following in the wider business world," says Turner. "SEO uses data as the anchor for establishing a blogger's notoriety, vs. the human interaction that PR uses to establish an influencer's power and visibility." Getting "ink" on your product or company in The Wall Street Journal or The New York Times is important, because a lot of powerful people read it daily. By the same token, getting a link and some important keywords in that same placement goes a long way from a referral traffic and impressions standpoint.
You Got the Ink: Now be Smart About the Link
And speaking of links, when PR generates a great piece of coverage, make the most of each link. For example, a cybersecurity company generates some great news coverage from their comprehensive industry survey. Yet instead of taking the reader directly to their blog or infographic of the survey, the URL goes to their homepage. Not exactly an optimal use of a hard-won piece of coverage!
More Tips for Influencer Outreach for PR and SEO Teams
Hitch your outreach to key industry topics and to developments involving high profile industry representatives. When an event or news story breaks, you'll be ready to go, with timely observations that boost your chances of generating credible, powerful links.
To leverage current news and events, make sure you have activated Google alerts to keep you apprised of the latest developments. Have all your resources ready to go in the event of breaking news, such as a relevant blog post or article, author bio, and company fact sheet.
Not long ago, PR teams would send out news releases via syndicated services, and managed to generate plenty of links to a variety of sites. Those days are long gone. Most links from syndicating your news release are nofollowed or carry no value, according to Search Engine Journal. Wait until you have really big news to use a syndicated service. As SEJ maintains, "the links are still there. But they don't come from the syndication."
Ensure PR and SEO Teams Work With, Not Against, Each Other
The process of bringing PR and SEO together, however, takes some finesse. Both are highly specialized functions that require different skill sets. "PR isn't taught SEO, and SEO isn't taught PR, so reach out to your counterparts to better understand their jobs and their roles," says SearchEngineLand. To build effective teams takes education. PR teams must understand the impact of earned media on SEO and keyword rankings. At the same time, SEO teams need insight into the nuances of reporter relationships and pitching story ideas.
Communication is equally important. News outlets look poorly on multiple people from a single company reaching out to them for a link or story idea. Avoid duplication of effort — or worse — with clear guidelines, and ensure alignment on messaging.
Keep the PR and SEO Machine Revved Up
PR is the traditional form of SEO; SEO is its savvy, digital-first cousin. The right keywords and relevant, valuable content keep them connected. Best practices for each marketing discipline overlap, and both must be thoughtful, strategic, and informative. The result: "Your company is providing something that's meaningful to the marketplace; the marketplace responds by giving you their attention," says Golden Spiral's Turner.
Finally, don't forget to track your progress, report regularly on your results, and make adjustments to your campaigns as needed. Marketing requires constant iteration; PR and SEO are no exception.
Are your PR and SEO efforts fired up to full capacity, or is there room for improvement? Give us a shout.
The First Thing to Do After Reading This Article
Schedule some time to review your available data.
Most companies are sitting on top of a lot of data, but doing very little with it. The news media loves data insights. Information from your CRM, SEO reports, or sales might have some interesting tidbits that, when packaged correctly, might generate some coverage as well as valuable links.
Have you uncovered an industry trend in an unlikely place? Shape that into a story idea to pitch to targeted trade news media. Did a recently completed customer survey reveal some location nuances of interest? Shape that into an infographic to share.