Do You Really Know Who Your B2B Tech Buyer Is?
Marketing and selling used to be easy: you targeted the C-suite, followed up with slick literature and phone calls, and closed the deal over a nice lunch. But now the face — or faces — of the B2B buyer is changing. Do you know all the people you have to sell to now? And more importantly, do you know how to sell to this increasing number of buyers? You can't afford to be left behind.
Knowing all the key players and how to best market to each one can result in better relationships and more sales.
Identify the Decision-Making Team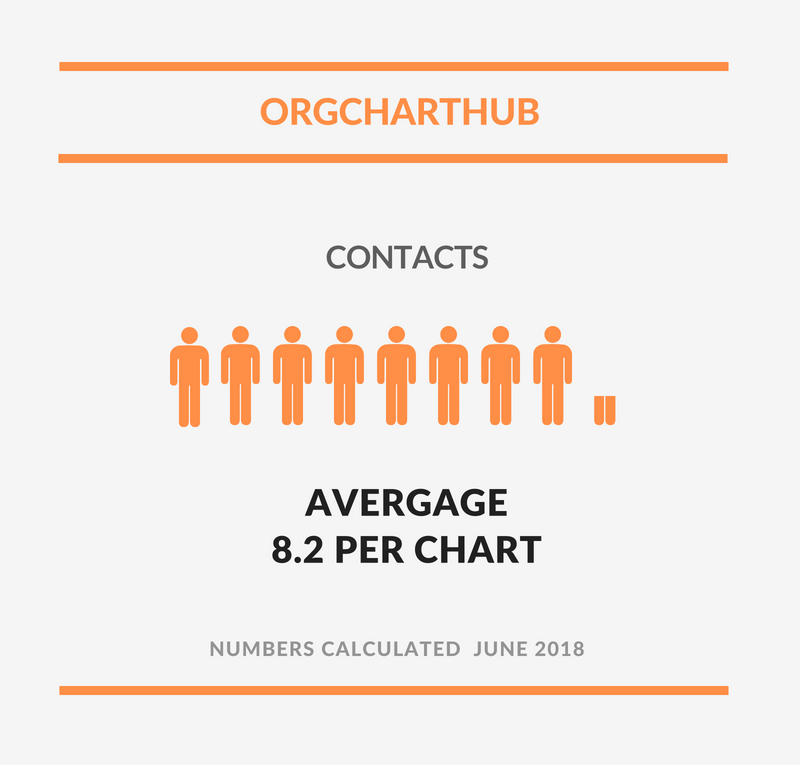 Less than two years ago, Harvard Business Review reported "the number of people involved in B2B solutions purchases has climbed from an average of 5.4 two years ago to 6.8 today…" HubSpot's OrgChartHub users showed an average of 8.2 contacts per company in June 2018, a sizeable increase from two years prior.
That means that the number of stakeholders in the decision to partner with your company has increased from 5.4 to 8.2—over 50% in only three years. Now is the time to figure out who you're selling to.
The C-Suite
Yes, the ultimate decision-maker — the keeper of the purse strings — is still a company executive. And yes, this buyer does typically want the end-game, rewarding results, high-level overview of your products and services. This decider needs a solution to a problem, so make sure you understand what that problem is and how your business can solve it.
Knowing who your customer's executives are can hone your strategy for this group. According to Foundation Inc., you should be using LinkedIn to reach 40 million decision-makers. And MarketingProfs reports that the average age of these senior-level executives is mid-50s; this means some of your target audience could be over 65. Include this demographic in your buyer personas so you plan for the right approach. After all, these folks are your final sales stop.
Although familiar, selling to the C-suite may not be as easy as it sounds. Statistics show us that before your business solution is even in the picture, so much research has already been done—online. That's why knowing the researcher is critical to your success.
The Researchers
There has been a dramatic shift in the B2B researcher demographic. They are younger, more digitally savvy, and they hold more diverse positions within the company. Are you building your strategy with them in mind?
This is the year millennials overtake the boomer population, with 87 million of them on LinkedIn. As digital natives who have grown up online, millennial-aged buyers expect to find the information they need when they need it — without having to talk to a salesperson in the process. This is a demographic adept at using digital channels both personally and professionally, and it has become critical to cater your sales and marketing tactics to this section of B2B buyers.
These researchers are doing extensive work before making a purchasing decision — online. In fact, Forrester reports that 68% prefer to research without working with sales staff contact, and 62% make selection and short-list decisions without vendor input. This means that your prospects are seeking you out like never before. Make sure you proactively provide them with the resources they need to make those decisions.
With so much value on online research, now is the time to make sure your online presence is up to snuff. Following up with your most loyal customers and ask for recommendations, because 90% of consumers read an online review before visiting a business (or their website). What's more, they trust them just as much as their friends— 88% of consumers trust an online review (from a total stranger!) as much as a personal recommendation. Have you focused on your Net Promoter Survey score? A cross-industry accepted measurement of customer satisfaction, a good NPS score will stand out with prospective clients.
Of course, you can't discount the over 30% of researchers who want your help navigating the process. This means you can't afford to let go of your established practices just yet, but it does mean that you have more bases to cover to increase the effectiveness of your marketing strategy.
The Influencers
The influencers are those folks who have the ear of the boss and a vested interest in the decision, so they are a big part of your marketing strategy. It's critical to identify influencers because these contacts can be your worst threat or your biggest advocate. It's also important to know each influencer's primary concern, such as finance or technology.
You can win over a financial influencer with numbers — initial investment, implementation and maintenance costs, and projected savings. But a technology influencer needs to understand your information storage, backup plans, backups for the backups, accessibility routes, and required technical resources. Listen to your contacts to flesh out potential additional influencers and their interests.
How do you influence the influencers? This group's demographics are harder to pinpoint, so make sure you're covering multiple possibilities with your marketing strategy. Foundation, Inc. estimates there are 61 million senior-level influencers on LinkedIn, so it's a good idea to mine that platform.
Marketing to a Decision-Making Team
You're now marketing to a diverse group of contacts, making it ineffective to focus on a single buyer persona. Instead, your best approach is to build a strategy that covers all the bases, fulfilling the needs of each member of the decision-making team, keeping in mind that the key players are getting younger and increasingly media savvy—and they're doing most of their research online.
Don't Lose Focus on Your Website
The first time a prospect visits your website is the most critical conversion point in the decision journey. Whether a prospect goes directly to your site or finds you via search, the experience they have there will create a lasting impression of your brand. Ensure that those digital touchpoints represent the sophistication of your solution, the expertise of your team, and your ability to solve the buyer's problem. This happens through strong branding systems, beautiful web design, and a clear understanding of what the user is looking to learn as they navigate your site.
When your customers search online, you want them to find your website, your blog posts, your rich content downloadables, and your demo. You want them to find you. Focus on organic search optimization to improve visibility in search engines.
Don't forget your website blogs. Blogging is still a hot inbound marketing strategy, but you must be intentional to ensure the content is relevant and answering the questions potential clients might have.
Social Media
LinkedIn is the most effective social media avenue for audience engagement and content delivery, at 80%. Twitter and Facebook deliver the remaining 20% of B2B leads. Snapchat rounds out the top four social media apps.
Video
The statistics on video use are astounding, with B2B marketers convinced of the role of video in views, purchases, and engagement; 80% of Animoto survey respondents reported confidence in using Facebook and YouTube videos as part of their successful marketing campaigns. The individuals searching YouTube for tutorials on installing a new kitchen faucet are the same individuals craving to learn about your B2B tech company's products via video.
Despite the favoritism towards video, and the dozens of stats to back it up all across the Internet, many B2B tech companies struggle to integrate video into their lead nurturing strategy due to both the financial investment and the amount of skill required to produce professional videos on a regular basis.
Consider putting videos on LinkedIn. With 75% of millennials watching video daily via social media and 64% of consumers making purchasing decisions after watching Facebook videos, this relatively new avenue is certainly worth a try.
Atlanta-based IO Education greets visitors interested in their What You Need page with three video solutions: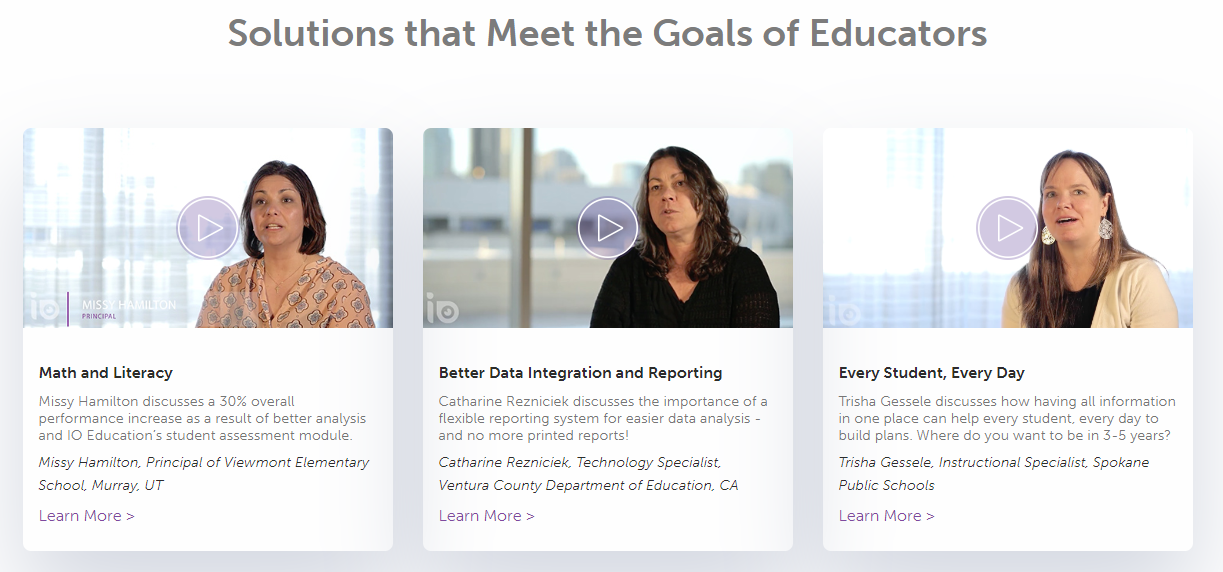 Incorporating video into your lead nurturing strategy is essential and, in some cases, doesn't have to be costly. Without incorporating video into your digital marketing strategy for 2019, you risk losing website traffic, engagement, and revenue.
Key Takeaway
With all these decision-makers, your best approach is to be prepared. Sell only to the C-suite and you miss a big group of important researchers and influencers—many of whom are millennials. Realizing your client's decision team will undoubtedly consist of multiple contacts representing many interests is half the battle.
The other half is realizing that the old marketing strategies won't work with the new decision-making paradigm. The way business buyers find, research and source products and services has moved online. The new B2B buyer is learning everything they need to know about you through your brand's digital fingerprints.