Don't Forget these Eight Keys to Writing Better SaaS Blog Posts
SaaS companies and SaaS products don't seem lend themselves to blogging the same way that B2C, entertainment, and service industries do. When you have to write about SaaS products — be it financial technology, cybersecurity, data, artificial intelligence, etc. — your blog articles are are inherently more complex. This often results in:
Inconsistency, which drives a lack of engagement. The lack of engagement then makes leadership wonder if blogging is "worth it." The blog slowly dies out, and you may even remove it from your navigation because the last time you posted something meaningful was 2017.
Un-engaging content — such as event recaps, or company news. While the content is somewhat consistent, it isn't helping with your overall strategy. (By the way, here are nine ways to make your blog less boring!)
But we want your company's blog to result in a third scenario: a consistent, engaging blog presence that attracts and converts website visitors, and positions you as the thought leader in the marketplace. And good news for you, writing better blog posts for your SaaS company is easier than you think.*
1. Do Your Research
Good, solid research provides an excellent foundation for any marketing strategy — especially blogs. For your research, you'll want to focus on two key areas: competition and keywords.
Scouting out the competition shouldn't be hard, especially if you've already done a competitive analysis. Simply review your main competitors to determine what they blog about and how often. This will help you determine a blogging cadence, and spur some new ideas you maybe hadn't thought of. (And if your competitor's blog presence isn't impressive, it should be easy to beat!)
More importantly, however, you will want to research keywords. Well-researched keywords are what take a blog strategy from good to great. Keyword research helps you write about the topics your audiences care about and are searching for in Google. There are free tools available to help you determine which keywords are a good fit — such as Ubersuggest. You can enter in keywords and long-tail keywords to get an idea of how many people are already searching for and blogging about your potential topic.
There are also paid tools, such as SEMRush and SERPStat that offer much more functionality and analysis. Whatever route you choose, we do recommend hiring an agency to help with keyword research and development to save you time and generate a quicker ROI.
2. Don't Just Answer the "What" — Answer the "Why" and "How"
One of biggest downfalls of any blog is the focus on the "what," rather than the "why" and "how." Any company can blog about what something is — but in order for people to listen, you need to explain to them the "why" and "how."
With every blog post you should share an idea (or a few ideas), why they matter to your target audience, and how readers can go about executing those ideas. In other words, start with the big picture, then get tactical. In many cases, the "what" will be a problem, and you need to provide tactics that lead to a plausible solution.
3. Remember: Not Everything Has to Tie Back to Your Product
Many SaaS companies want to focus on blogging to build for trust and brand awareness. However, you can't build either when you only blog about your product, or topics related to your product. You need to understand your audience, and the variety of content they may be interested in, even if it doesn't directly relate to your product.
For example, Winmo, an Atlanta-based sales intelligence platform has built a diverse blog presence. While the company does take time to write about blogs and topics related to their products — such as "Thanks In Advance: The Do's and Don'ts of Sales Email Etiquette" — they also understand that their audience cares about content outside of sales and sales intelligence, which is why you'll see topics such as "Five Brand Leaders in Holiday Advertising" and "Four SnapChat Advertising Strategies to Try ASAP."
4. Add Examples to Make Content Relatable
Part of explaining "how" to do something includes providing real world examples your readers can relate to. For example, let's say you work for a cybersecurity company. You may use fictional anecdotes that encompass the fear of information being stolen, or, you may even be able to provide real world examples from the news. This makes content relatable, easier to understand, and answers the important question of "why should I care?"
5. Make Content Easy to Read
Here's a tip that is bound to cause some arguments between marketing and leadership teams: don't write for your personas.
Say what?! No, that wasn't a typo.
Often, SaaS companies are after the attention of c-level executives, directors, and managers — individuals with purchasing and decision-making power. For this reason, they are can be inclined to write for individuals with advanced degrees and/or loads of industry experience. Former Supreme Court Justice Oliver Wendell Holmes once said, "I would not give a fig for the simplicity this side of complexity, but I would give my life for the simplicity on the other side of complexity." Technical content is a must in your industry and you shouldn't shy away from writing about it. However, make sure that those who are not hands-on with your tool or solution every day can understand what you're talking about. Most blog readers are skimmers who dig down when they see something they want to learn more about. Make your content friendly to skimming. And please, avoid jargon.
Don't worry, this won't lessen your company's image or brand. Rather, it will make for enjoyable, easy reading that even c-level executives will appreciate.
6. Simplify Your Structure
Making content easy to read isn't just about the content itself, but also how it is structured. Even complex content can be made simple by using numbered and bulleted lists, headings, callouts, and images to break up structure.
For example, 360 View* is a Nashville-based SaaS company serving community banks and credit unions nationwide. They provide a growth tool that includes CRM capability and dozens of other banking-specific features to help these institutions compete against the national entities.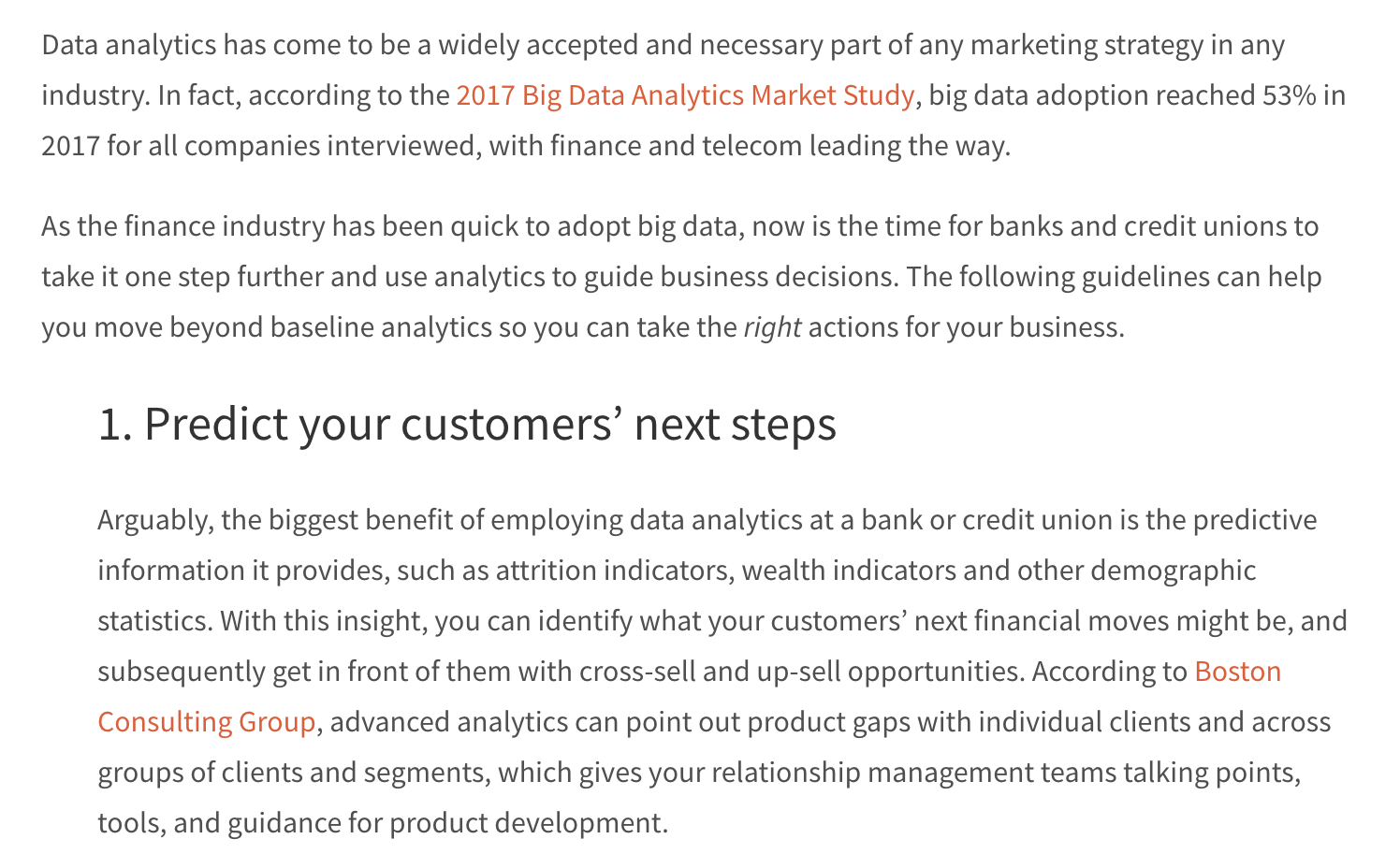 In a recent post, How to Use Data Analytics for the Right Actions, the company breaks down how to look at data in light of bigger goals. The post offers five steps and helpful suggestions to make interpreting a mountain of facts easier.
This approach can be taken to virtually any topic for any post. Want to write a "how to" post? List out your steps, then add the meat. Want to share best practices or strategies? Start with a list of your best practices or strategies. Be sure you can provide an example, anecdote, and/or tactic for each one. And, to avoid blog posts that are too long, use internal links to drive users to other related blogs on your site.
*360 View is a client of Golden Spiral and our content specialists write and/or help prepare their blog posts.
7. Be Cognizant of Length
According to research, the optimal length for a blog post is about a 5-7 minute read, or about 1,600 words. This length might shock some, who remember the days when a "good blog length" was 200-500 words. But, those days are long gone.
Long posts inherently perform better in search than short posts. But even more importantly, blogs that are longer in length prove that you are the true expert in a particular topic, not just another voice in the crowd.
That being said, don't write just to write! If you've said all you can about a particular topic and can't quite make 1,600 words, that's okay, too. In general, you just want to avoid very short blogs that lack the detail and examples that great blog posts require.
8. Include Compelling Visuals
Trust us when we say — every blog post can at least have one image! When you are covering a "boring" or "complex" topic, images can make content more engaging and provide clarity.
Provide screen shots, videos, or micrographics — quick and simple infographics that summarize your blog posts. In addition to clarifying your content, blogs with micrographics are more likely to get shared on social media.
Using one image per every 200-300 words is even better if the images are good quality and relevant. Just like you don't write for the sake of word count, don't add images for the sake of having pictures in the post.
Key Takeaway
Writing better blogs for your SaaS company isn't out of reach. Your blogs don't have to feel boring or complex. Root your blogs in sound research, focus on simplified content and structure, add examples and visuals, and be sure to answer the oh-so-important "what, why, and how" for every topic you write about.