Don't Leave Your Users Behind: Mapping The B2B User Experience
The Article in 60 Seconds
Are you overlooking your most powerful marketing ally — your customer?
Your current users play a critical role in marketing to future customers.
The success of your product relies on the success of the people using it day to day. But where is the user in today's sales & marketing funnel? And how can you be sure to include them on the journey? User experience mapping.
Capture your user's journey:
The user journey then becomes an integral part of user experience mapping, giving you an advantage for turning your customers' users into your biggest advocates.
Think About This
92% of buyers are more likely to purchase after reading a trusted review — reviews that come from your customers' end users.
B2B buyers consult customer reviews during all phases of the buying process, especially during the consideration phase (71%).
Investing the time to map the extensive user journeys — which are rarely linear and are most likely interwoven in seemingly convoluted patterns — is worth it.
Truly understanding your customers' concerns for effectively and efficiently accomplishing their daily business goals will demonstrate your sincere empathy, setting you apart from your competitors.
Mapping User Experience (UX)
Great UX isn't an accident
You see it: It's sleek and shiny, with promises of high performance and upgrades galore. You try it out; some parts didn't work as you expected, but you figure it out. And now you're headed to exactly where you need to go. Your customers have the same expectations when seeing, testing, and using your website. Do you deliver? It should be visually appealing, making them want to try it. It should be intuitive and do everything they need it to, quickly and completely. And it doesn't happen by accident.
B2B tech UX design is all about guiding the user through an intentional experience that delivers the content they want to find (solving their problem) in a manner consistent with your customer's daily business. To ensure you're meeting expectations for every task, you need to map the user experience.
Start with the user journey
Similar to the buyer's journey — yet so very different — the user journey should capture every task, every pain point, every possible problem and solution. Only by diving deep and ensuring your product meets these needs can you really understand what your user needs and will experience.
Golden Spiral relies on our proprietary Buyer Matrix process to intricately align features of our client's product to the needs of the marketplace. We find this is a proven way to solve the real problems our clients' customers have — their pain points. These same principles can be applied to the user journey.
The three key components of any journey are documenting:
You've got to dig deep and really figure out how the users will rely on your solution and what their expectations are.
What is User Experience mapping?
Now that you've identified the users, their problems, and your solutions, you're ready to integrate the journey into the UX map.
There are three basic types of UX maps:
A site map is a list of your website pages and a layout of where the pages are architecturally.
A content map shows the order of information and the location of information blocks. A content map contains the top-line messaging which leads to a Call to Action (CTA). When your user clicks the CTA, where do you want them to go? Why?
User flow maps are even top-level versions, which combines the site map and the content map. What does your user need to do? What do you want your user to do? User flow maps help determine page locations, order of information, and user flows.
User maps are like game plans; they're continually modified based on feedback and analysis.
The Funnel Has Transformed
Lauren Goode, in an article for The Verge, articulated that, "Tech leaders and innovators […] have their hands full. But as they're building products and platforms and services for the future, they'd be wise not to forget about the people — real, live, unpredictable beings — they're building cool stuff for."
We can't afford to leave users out of our marketing plans either, but where do they belong?
A recent survey from G2 found that B2B buyers consult customer reviews at all phases of the buying process, from initial research to decision making.
This tells us that users are engaged at every part of the marketing cycle.
The problem is, most B2B companies don't know their users are even researching until it's too late. Your funnel has transformed. Marketing efforts continue late into the process.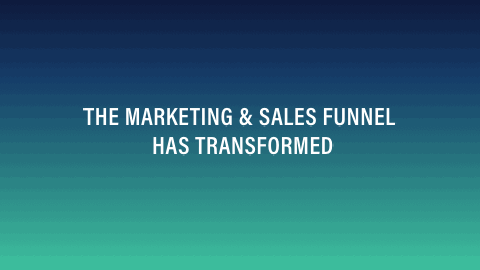 You can't afford to ignore your customers' users anymore.
Prior sales are a crucial but frequently overlooked part of current marketing. You won't make it to the next stage of your strategy with negative reviews from current users. An exceptional UX is critical for meeting customer expectations and standing apart from the competition. Are you providing users with a seamless, enjoyable experience?
The First Thing to Do After Reading this Article
Take a hard look at your sales and marketing funnels, especially conversion rates. Where does your strategy fail your users? Where are they getting bogged down and leaving the process? Put a plan in place to better meet their needs.