Essential Data Points You Need to be Tracking on Your B2B Tech Website
You're an innovative, tech-savvy company and your website has to prove it.
For this reason, a website is one of the biggest financial investments you can make. It is the cornerstone of your digital marketing efforts—where all emails, social media, paid ads, and organic searches lead to. It has to look great and work even better.
Once your team makes the initial investment of time and resources, and the site launches, key stakeholders will want to know: was that hard work and big chunk of our budget worth it? How is the website performing? Is it helping us reach our goals?
At that point, you need to be prepared, with data, to answer those questions. Most marketers will turn to Google Analytics to answer these questions because it has the ability to shed light on website performance, traffic, and success. However, the amount of data available to you in Google Analytics can be overwhelming and delude you away from the real data you need to prove that your hard work has been worthwhile. If you don't look at and interpret the right data, you can't identify areas of improvement. In this article, we'll cover the questions your team should be asking, why they matter, and the data points in Google Analytics that shed light on them.
But before we get to your website's data, let's talk about website goals.
Setting Smart Website Goals
Before you launched your website, you likely had some goals in mind related to your sales and marketing performance. You want more inbound leads, more sales qualified leads, and of course, more sales.
We recommend setting three types of strategic website redesign goals:
Traffic goals (such as increasing traffic to a particular web page)
Conversion goals (such as increasing the number of form submissions on a particular page or pages)
Optimization goals (such as increasing your organic search rank for particular keywords)
It is important to quantify these goals to make the data you gather in Google Analytics more meaningful. Set critical benchmarks to measure these goals against. If you're a new start-up and don't have year-over-year data, research industry averages. If you do have year-over-year data, use it to drive your goals.
For example, some strategic goals include:
Increase inbound leads by 10%
Improve ranking in Google for our top 10 keywords by at least three spots
Increase conversion rates on our "demo" page by 15%
Increase overall website traffic by 20%
Measuring Website Traffic
Question: How are users getting to our website?
Acquisition traffic sources shed light on exactly how users got to your website.Getting smarter about where you invest your time and resources in the digital space helps you stretch your ad dollars farther.
Measurable Data Point: Acquisition Traffic Sources
Here are a few things to consider as you analyze this data point:
Traffic relevancy is more important than volume. The main thing you're looking for isn't high numbers, but that you have users coming in from the channels you want in the demographics you want. For example, Golden Spiral sees a lot of traffic on our "Our Name" page from visitors who are only looking for pictures of Fibonacci Spirals. In Google Analytics acquisition data, we can see that those users are clicking on our logo images in Google image search and aren't very relevant to our target customer market.

Your B2B tech firm may host also its software on your website, which will artificially inflate your numbers. Taking a deep dive into customer acquisition will help you filter out irrelevant traffic and understand how effective your website really is.
Which of the acquisition sources represent paid traffic? Acquisition sources from paid ads with low traffic and engagement rates are an indicator that your strategy needs immediate attention, and we recommend working with an agency if you're not already doing so.
Are there any acquisition sources you're unfamiliar with? Look closely at which sites are referring traffic to your site on an organic basis through back-links. There may be potential to explore new partnerships.
If your acquisition traffic for organic search is low, and you need some immediate gratification to nudge you toward your goal, consider investing some additional ad dollars into PPC and social media ads. But, don't spend blindly without learning why your acquisition traffic is low. Take the time to understand gaps in your funnel. Are your targeted keywords too broad or too specific? Look at your search competitors and compare your content to theirs. If your content is less frequent and cited less, you're probably going to rank lower in search.
How to Find it in Google Analytics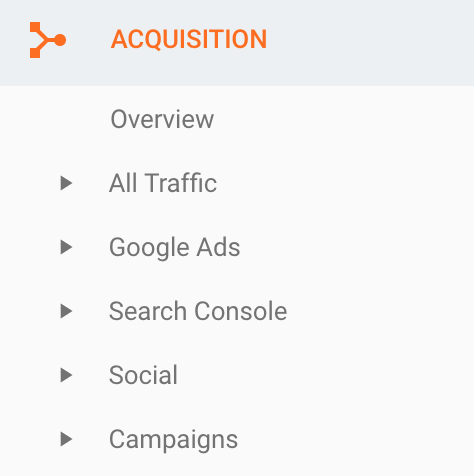 In Google Analytics, you can find information regarding acquisition traffic under the "Acquisition" tab.
Here, you'll notice you can drill further into acquisition traffic as it relates to ads, Google search (if integrated on your website), social media, and other paid campaigns. If you're looking for an aggregated overview of mediums bringing the most traffic, click "Source/Medium under the "All Traffic" tab.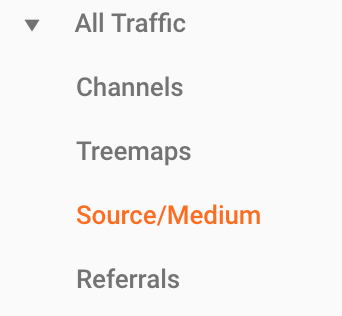 From here, you can filter by which source provides the most website traffic (organic vs. social vs. email vs. referral, etc.). In addition to the "Source/Medium" tab, you can use the "Referrals" tab to look at which of your (paid or unpaid) referral sites are generating the most qualified traffic.
Measuring Page Popularity
Question: Which pages get the most and least traffic?
Popular (and unpopular) pages are one of the most important (and easy-to-understand) components of your website strategy. These are indicators of which pages visitors find the most helpful or which pages they might be stumbling across from organic search. Of course, you have some control over pageviews and unique pageviews if you're investing in paid ads.
While this is helpful to identify which website pages are working, it is also a great indicator of content popularity. For example, blog posts with more pageviews can provide insight into which topics are engaging for your audience.
Measurable Data Point: Pageviews and Unique Pageviews
Here are a few things to consider as you analyze these data points:
We all know that websites don't rank, pages do. Therefore, pages with a lot of website traffic are a key indicator that you're doing something right.
On the flip-side, low website traffic means you're not quite hitting the nail on the head. This might simply mean that the topic an individual page or article covers doesn't totally resonate with your audience, or you're not optimizing it effectively to rank for its intended term. Your top ranking pages will usually be your home page, About page, and product page(s). If one of these isn't seeing much traffic, you should take a closer look to make sure there is appropriate navigation in place to guide visitors to each page.
How to Find Pageviews in Google Analytics
Under the "Behavior" tab, toggle to "Site Content," and then "All Pages." Within this view, you can find your pages that get the most traffic and the least traffic.

Measuring Page Performance
Question: How are our pages performing?
At Golden Spiral, we work with a variety of B2B tech companies on improving their websites. And of course, one question everyone wants answered within 3-6 months of a new site launching is: how are our pages performing? That's a pretty loaded question and it isn't always easy to answer.
For example, a high bounce rate is typically associated with poor page performance. However, sometimes pages like "Contact Us" or "Pricing" have high bounce rates. This doesn't necessarily mean the page isn't performing well. Often, visitors on the "Contact Us" page are just looking for information like an address, phone number, or email, and won't engage with anything on the page. This sometimes results in a high bounce rate, but may just indicate that the user came to that page, found what they needed, and left.
Measurable Data Points: Visitor Behavior Stats
To answer this question, we'll need a few data points: Average time spent on page, entrances, bounce rate, and exit rate. The average time spent on page is an average of how long individuals digest content before leaving. Entrances identify the number of users who entered your site through that page. Bounce rate indicates the rate at which someone visits your site and leaves without engaging with any content or visiting a second page. Exit rate indicates the percent of individuals who exited your site via that page. While these data points can be analyzed separately, together, they answer the question: are our pages performing up to par?
Here are a few things to consider as you analyze these data points:
If a page has a high bounce rate and low average of time spent on page, or has a high number of entrances and a high bounce rate, this likely indicates that the content does not meet user expectations in one form or another. This is especially true for blog and resource content. Read the content yourself and determine how long it takes to digest it as your own benchmark.
Pages with high bounce rates and high average time spent on page likely indicate that visitors found the content they were looking for and left, maybe because you didn't provide a next step. The same may be true if a page has a high exit rate. Pages with this quality are "low-hanging fruit" that you can optimize to further nurture users down the funnel by adding a call-to-action or additional content for them to engage with.
Pages with low bounce rates and high entrances are a good thing, indicating the page is doing great! Take a look and ask yourself: what is this page doing correctly? How can I copy this success?
How to Find These Stats in Google Analytics
From within the same "All Pages" tabs, you can find the average time spent on page, entrances, bounce rate, and exit rate.
Measuring Overall Website Success
Question: Are we meeting our original website goals?
Measurable Data Point: Custom
If you've set measurable goals in relation to your website performance, you can easily tie those goals back to Google Analytics using the Goals tool. Within Google Analytics you can set up to 20 goals per domain. These "goals" should tie directly to the goals of your website.
There are five types of goals you can set
Destination Goal: This goal is reached when a specific location loads, such as a "thank you for registering" thank you page, or a "thanks for requesting a demo" thank you page. For companies looking to track their conversion rate for inbound leads, content downloads, sales-qualified leads, etc. this goal is the most helpful, as it helps you track a conversion rate on your site for specific goals. For example, if 500 individuals view the "Demo" page, but only 10 reach the "Thank You" page, this is an indicator that you may need to adjust the content and/or design of the "Demo" page to increase conversions
Event: This goal is reached when a specific in-page action—defined as an event—occurs. This can be as simple as clicking "play" on a video, sharing an article, or clicking an important call-to-action button. If your company is focused on conversion rates and data-driven improvement, this goal will be the second most helpful in tracking website performance. Without events, you're only tracking visitor behavior as they navigate between pages. Events give you a look into visitor behavior within the page.
Duration: This goal is reached when a website session lasts a specific amount of time or longer. For example, maybe prior to your redesign, the longest anyone spent on your site was 30 seconds. After a redesign, you may want to set a duration goal of at least two minutes.
Pages per session: This goal is reached when a user views a specific number of pages or screens during their time on your site. If your overall strategic goal is, for example, to decrease bounce rates by 10%, you may want to focus on the number of pages per session.
How to Find These Stats in Google Analytics
Look under the "Conversions" tab and toggle to "goals." If you established goals, you will find them here. If you haven't, you can easily set new goals up by following the steps here.
Key Takeaway
Your website is a continuous work in progress. It requires monthly progress reports, and defined courses of action to ensure you're making the most of your investment. If you need help with redesigning your website, setting up and making sense of complex data tracking, or making bigger strides towards your goals, we'd love to talk with you.