Five B2B Tech Websites Absolutely Killing It at User Experience
Good user experience design is like a great navigation app on your phone. You trust it to get you where you need to go quickly and stress-free.
Think about a website known for good UX. The design is mesmerizing. The navigation is seamless. The visual and text content flow like water. Calls-to-action are helpful guides, pointing you to the next place you should visit. Information architecture makes content easy to scan. There are many tools you can use, but how do you deploy them?
It's all just effortless — on desktop, and on mobile.
Poor UX is like a child trying to navigate a family vacation using a map from the 1980s. Confusing.
As a web user, you're frustrated in your hunt to find the content you're looking for. The navigation isn't logical. Contact information is buried. A mass (or lack) of calls-to-action makes the experience confusing. And you just end up hitting the "back" button, hoping another website is easier to use.
The world of B2B tech in particular is a place where user experience matters… a lot. Whether you believe it or not, as a tech company, your website's experience is a reflection of your product's experience and your company's digital savviness.
In our work with B2B tech companies across the country in growing B2B tech cities like Nashville, Atlanta, and Charlotte, we constantly hear one request along the lines of: "We want our website to be as innovative as our product." But, I'm going to stop you right there.
While websites are a place to showcase innovation, they are not a place to get so innovative that your user experience suffers.
So how do you blend innovation with a solid user experience? It is a bit of a science and an art. And because it is one of those things where "you know it when you see it," let's take a look at some B2B tech companies that know exactly what they're doing to showcase innovation and offer a killer user experience.
1. pindrop
If you find subtle animations mesmerizing, you're probably going to spend a lot of time admiring pindrop's website. Visualizing what sound looks like, pindrop's homepage is compelling to see and read.

Taking a problem-solution approach to the content experience, pindrop does an excellent job explaining why the company exists, and how it can help call centers around the world.
And while the homepage design and content is clear and compelling, what we love most about this site's user experience is its mega-navigation, which guides website visitors to find exactly what they're looking for in just a couple of clicks.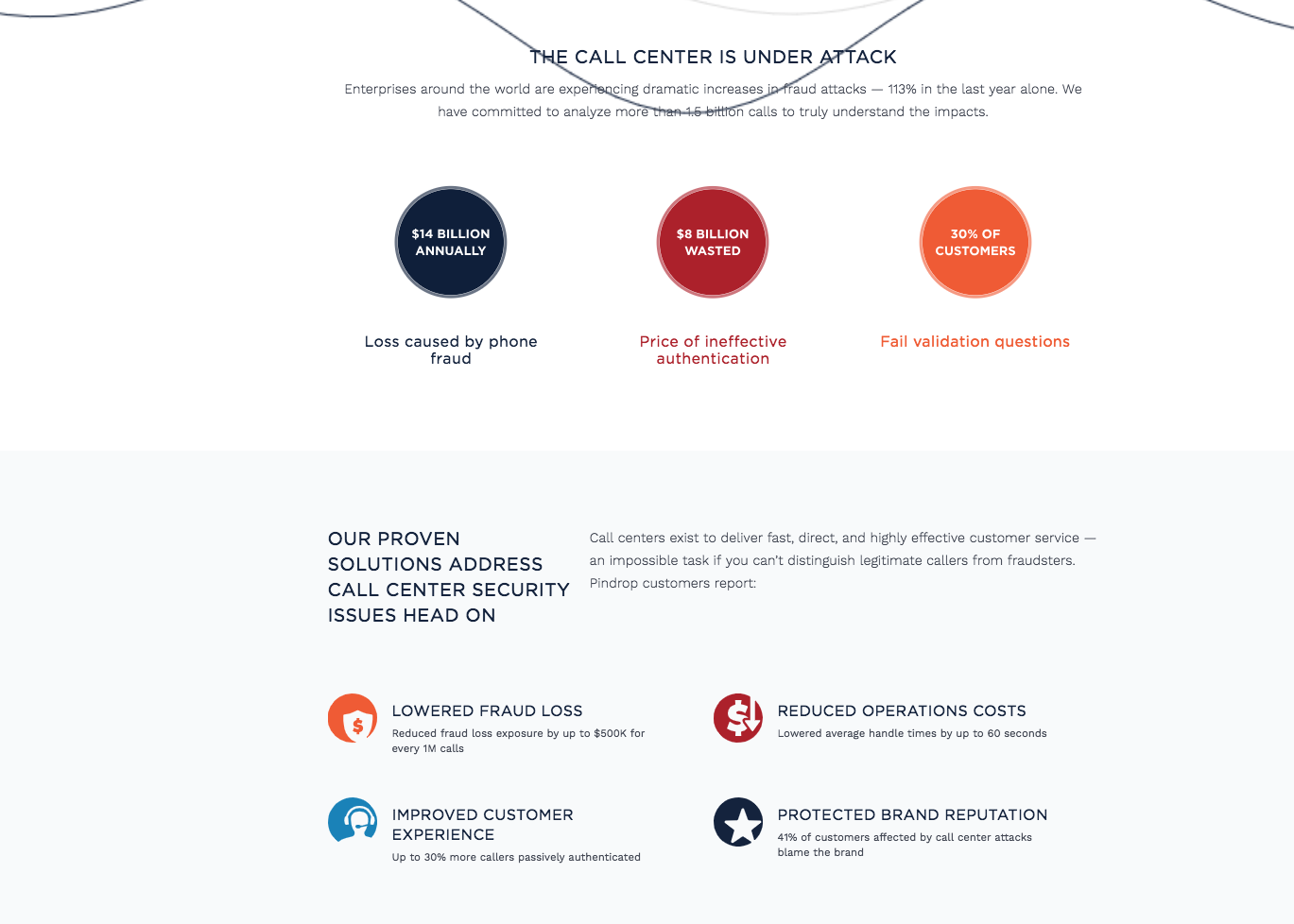 Located in Atlanta, Ga., pindrop offers multi-factor anti-fraud and authentication solutions that deliver full audio intelligence to help call centers establish security, identity, and trust on every voice interaction. 
2. Concert Genetics
Choice is an age-old sociological test. When you give someone fewer choices, they are more confident in their decision and are more likely to make one. When you give them too many, they feel less confident, and often don't make a decision.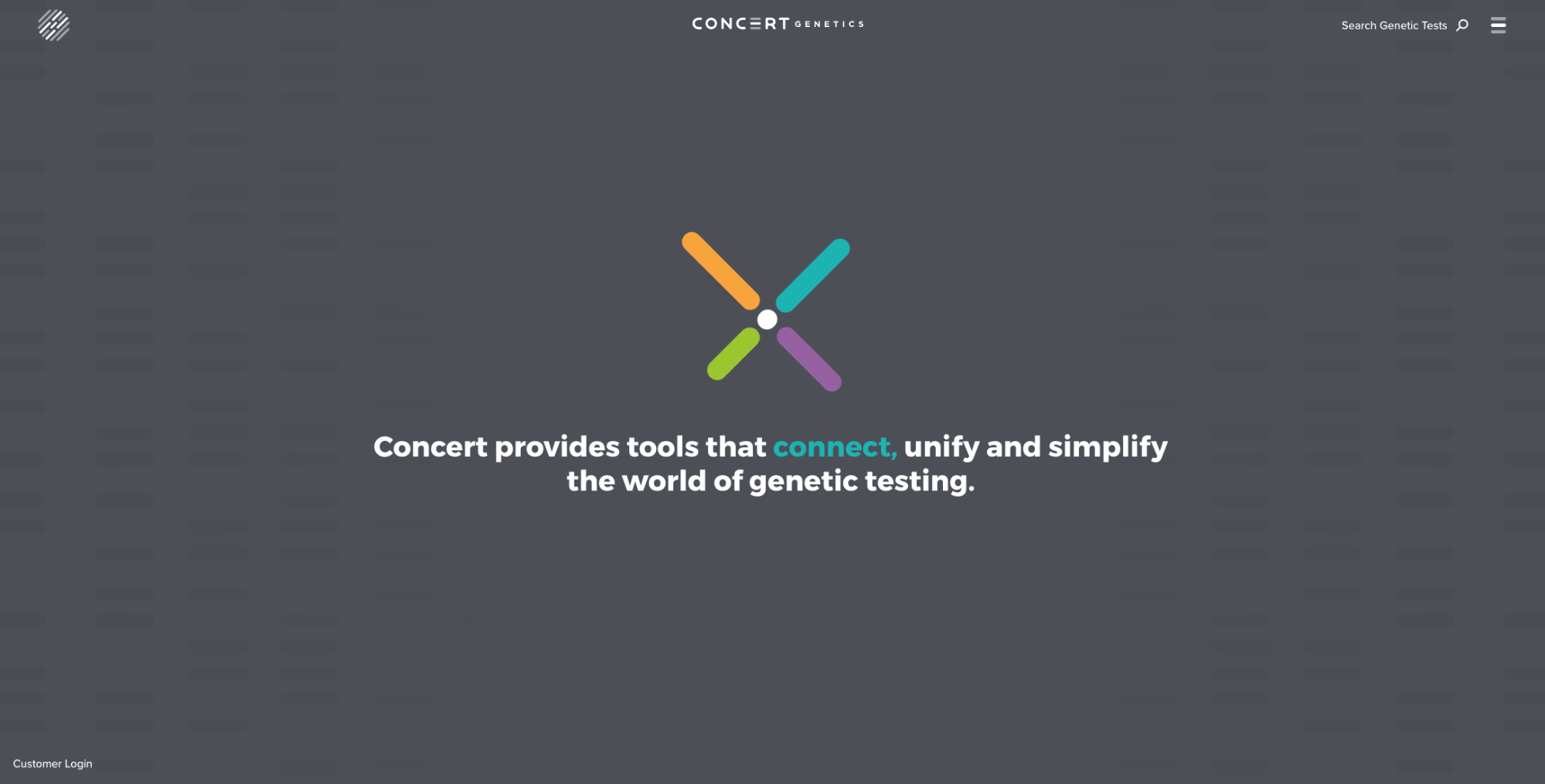 Concert Genetics takes a brilliant approach to this method, giving website visitors minimal choices — at least initially — forcing website visitors to engage with its value proposition before any other content. With the choice to scroll and engage, or log in as a customer, Concert Genetics fully controls the user experience for both prospective and current customers.
Once you've scrolled past the value proposition, you're introduced to a simplified "Find Your Solution" panel that again, forces you to make a choice and identify the type of solution you're looking for based on your persona. Genius.
Each button launches you to a new landing page, color-coordinated with the original icon on the homepage. The landing page's design is simple and conversion-focused with simple bulleted text, smart information hierarchy, and a form for learning more.
The site has numerous other subtleties that engage the user and improve the experience, including:
A "sticky" navigation that always stays within sight

Dozens of subtle animations that delight the user

Calls-to-action

A minimalistic footer with just the right amount of information, including navigation shortcuts
Located in Franklin, Tenn., Concert Genetics (formerly NextGxDx, Inc.) launched in 2010 as a technology company dedicated to enhancing the transparency and efficiency of genetic testing for clinicians, hospitals, laboratories and health insurers. Golden Spiral designed and developed this website and is proud to serve Concert Genetics as an ongoing client.
3. Endgame Protection Platform
B2B cybersecurity platforms are growing exponentially as the threat of data breaches also increases. With higher competition in the marketplace, ensuring your B2B tech company stands out is essential.
As a company focused on data security, Endgame's user experience is focused on making users feel safe and secure in making their choice to purchase the solution. This is, in part, by touting its personal accomplishments at the top of the site — and in a sense, above the fold.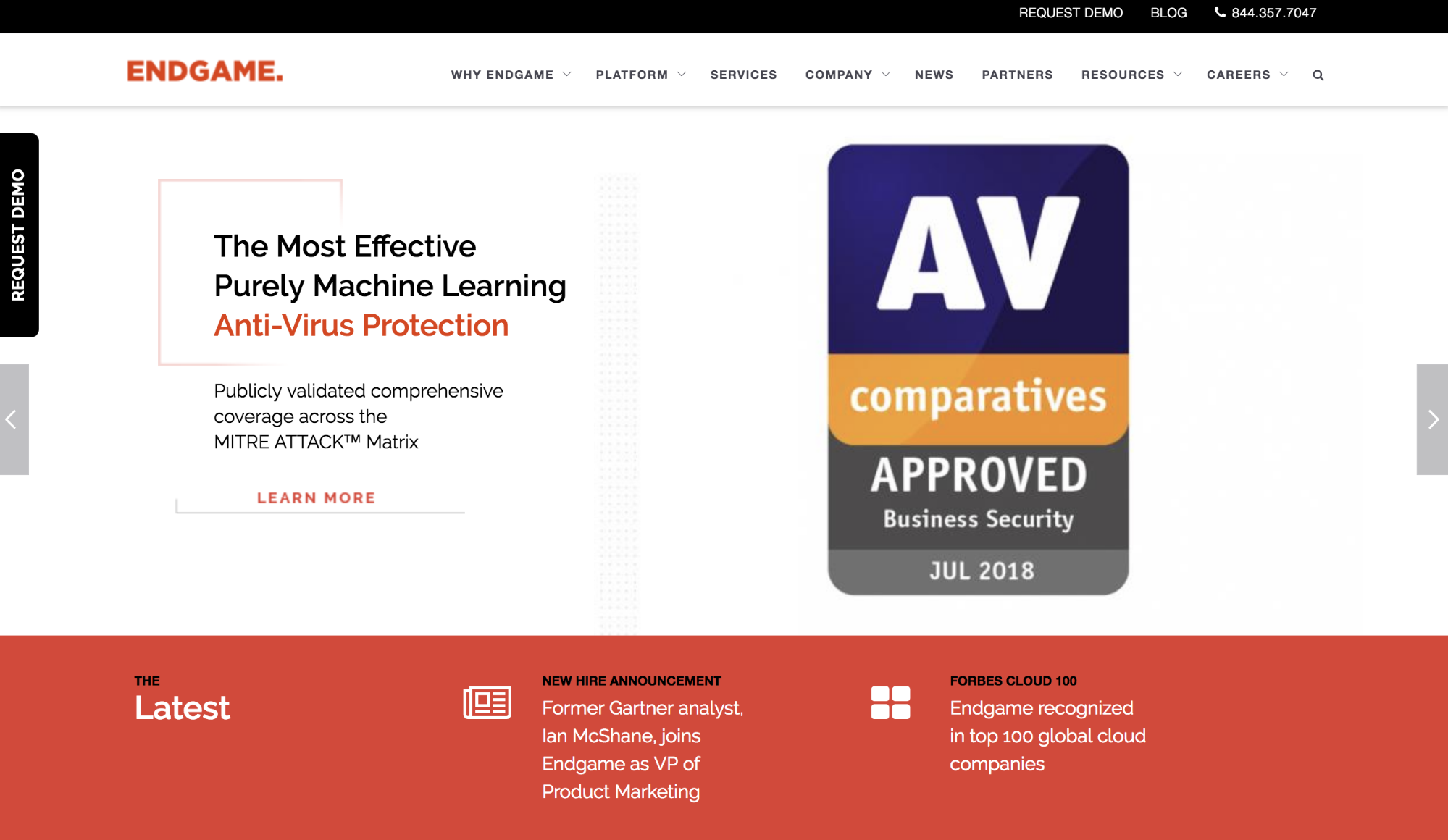 By first establishing credibility for the company and platform, Endgame gives website visitors a reason to scroll.
The company immerses the user in a scrolling experience that reveals key differentiators one by one, with bold statements that make the content easy to scan.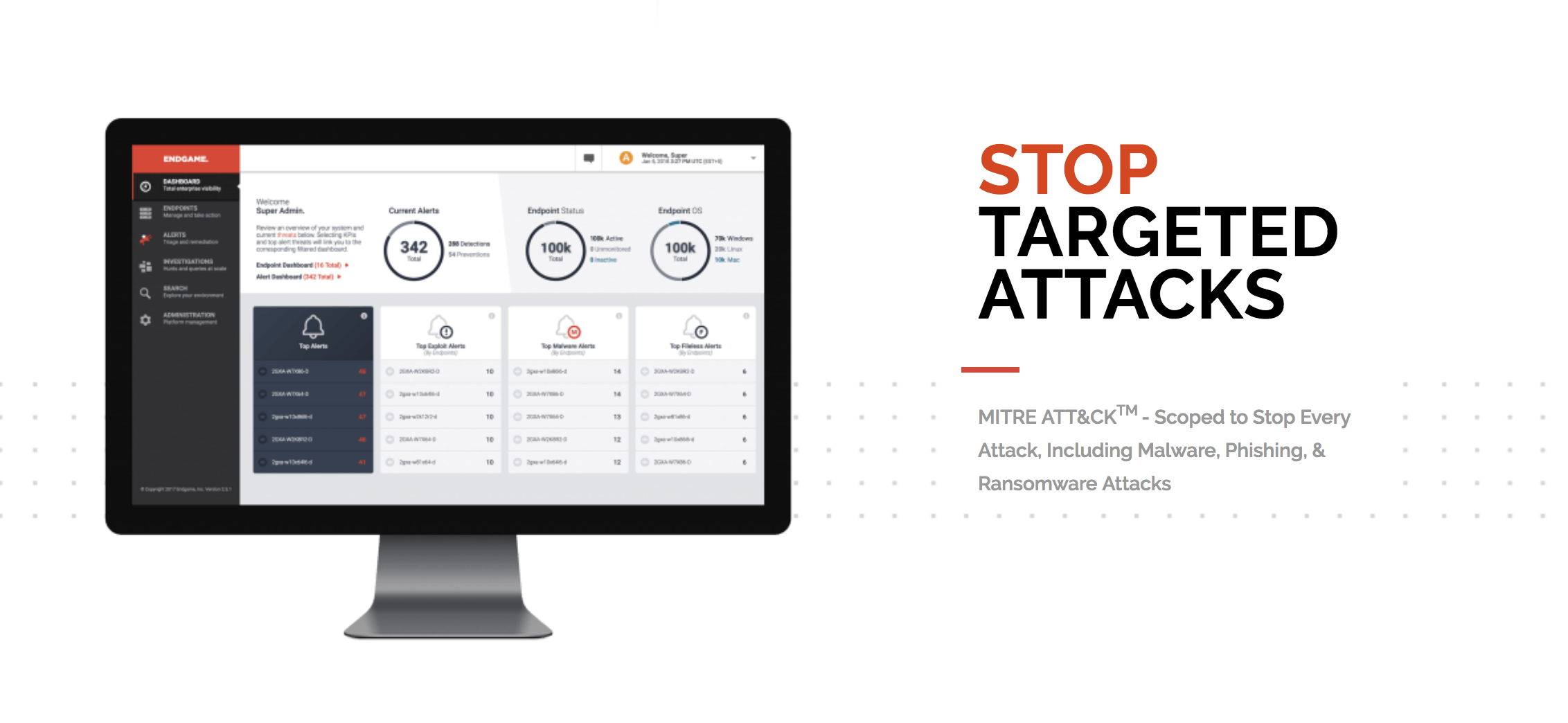 Understanding the importance of social proof, after Endgame establishes credibility and presents its products, the company then shares testimonials from customers around the world. The subtle animation in the background is slightly mesmerizing, likely increasing dwell time and time spent reading testimonials.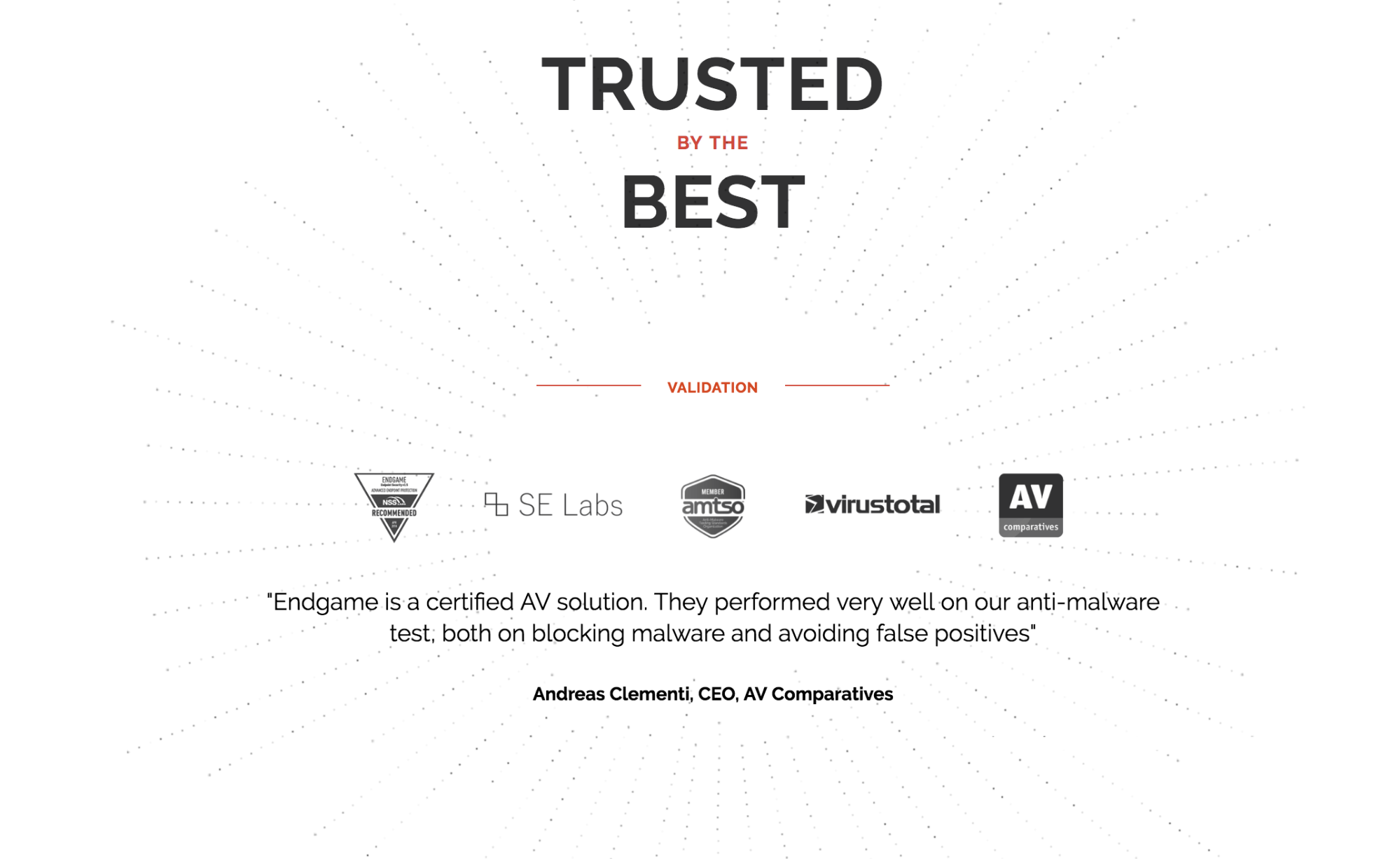 Endgame understands that every website visitor's journey is unique, and each one may be ready to learn more or request a demo at any point. To avoid forcing users to scroll back to the top or bottom to make a next step, Endgame's sticky navigation and "Request a Demo" button docked on the left makes it easy for any visitor to take the next step.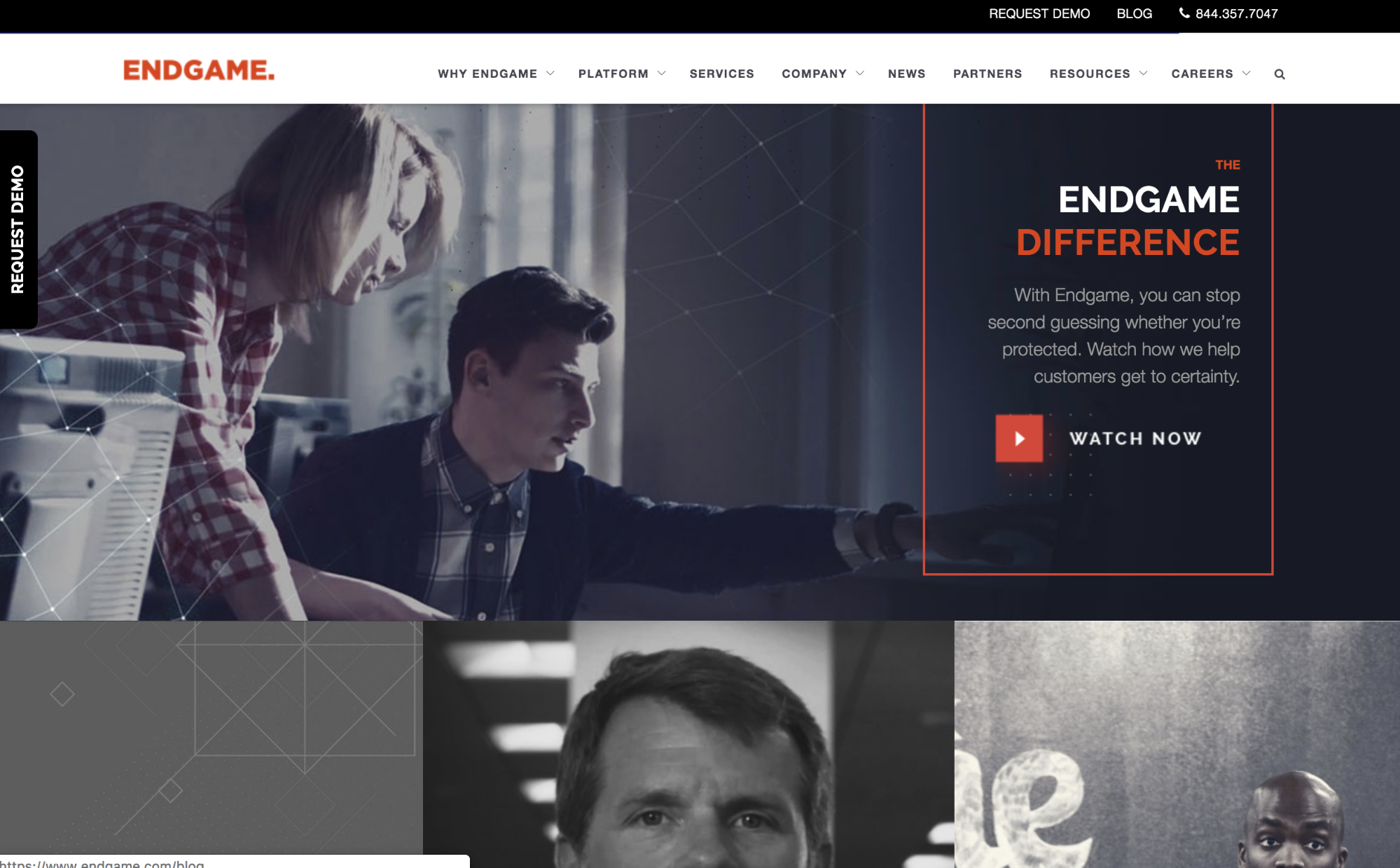 Truly digital storytelling at its finest. Well done, Endgame.
Based in Arlington, Va., Endgame is a cybersecurity platform built to protect commercial and federal organizations from data attacks.
4. Digital Reasoning
A good user experience is about striking a balance between making sure website visitors see the information you want them to see, and also making them feel like they're in control of their experience. In a digital world where consumers feel they're being bombarded with information, your customers like making choices — and Digital Reasoning's website embraces this approach.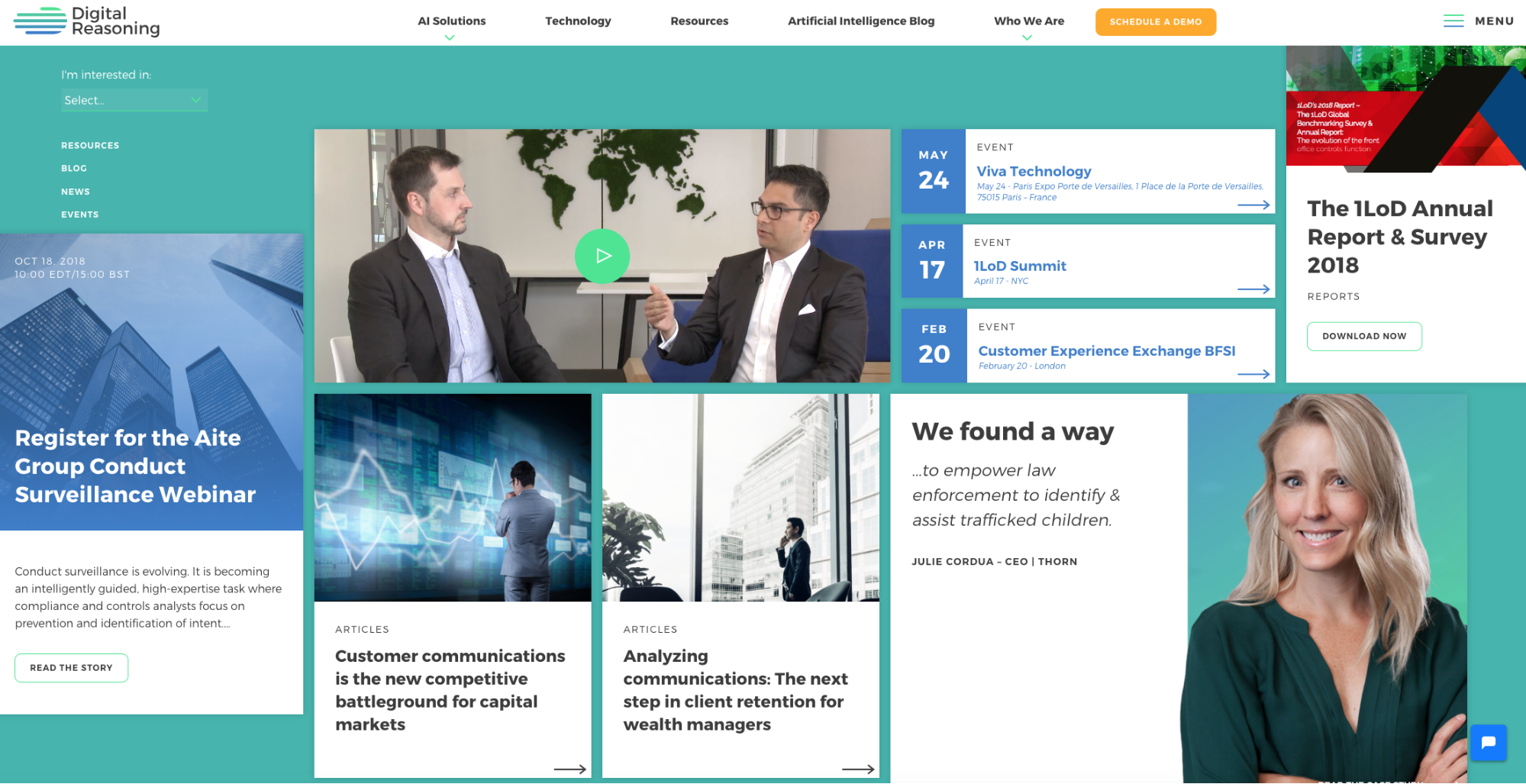 The homepage features this card-style panel that prompts website visitors to select what they're interested in. With just three choices to keep it simple, content automatically changes based on interests — personalizing and improving the user experience.
Continuing the trend of choices, Digital Reasoning's homepage also prompts users to select how they learn about products and services.
Diving into the website's interior pages, you'll find a consistent design — making it easy for website visitors to find the content they're looking for from page to page. Intelligent information hierarchy, bulleted lists, large buttons and stark contrast from panel to panel tells a visually compelling and engaging story.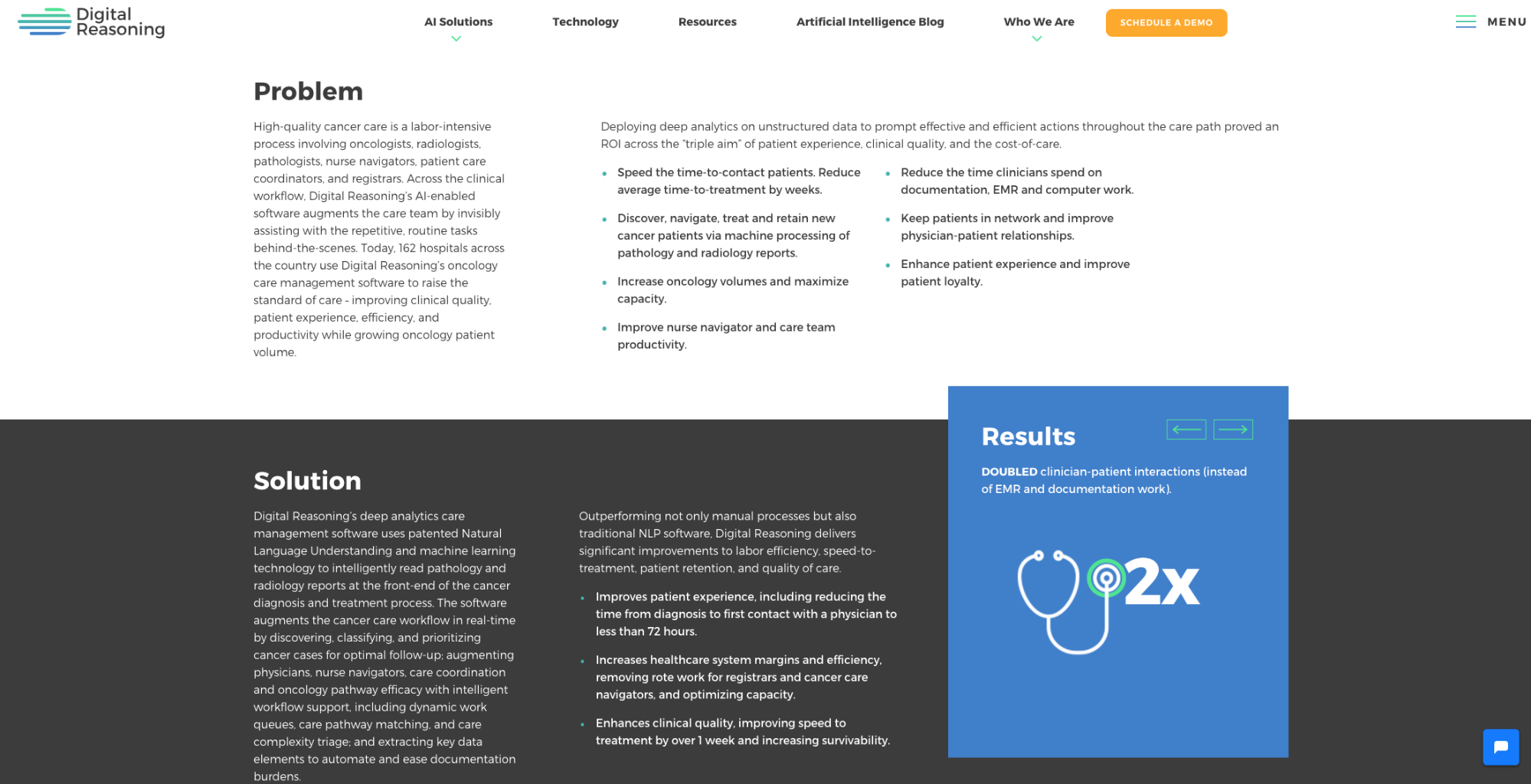 Aside from its thoughtful design, Digital Reasoning's website also features a chatbot tucked away in the corner. Powered by Drift, the chatbot allows website visitors to feel like they can easily contact someone with questions.
With offices in four major cities and a headquarters in Nashville, Tenn., Digital Reasoning creates technology that learns and gets smarter with the goal of helping people to see the world more clearly so they can solve its toughest problems. Golden Spiral designed and developed this website and serves Digital Reasoning in other ways as their agency of record.
5. 360 View
Remember the days where a good user experience meant cramming as much content as you could "above the fold" on your website? Those days are long gone…and have been for a while now. Thanks to social media, today's user is used to scrolling, and depend on it as the way to learn more, or discover more.
As a B2B tech company, you can take this preferred scrolling experience and maximize it on your website, as 360 View does.
Like Concert Genetics, 360 View greets website visitors with a bold problem-solution statement that drives users to learn more. With lots of white space, you can't help but focus on reading what 360 View has to say about its products.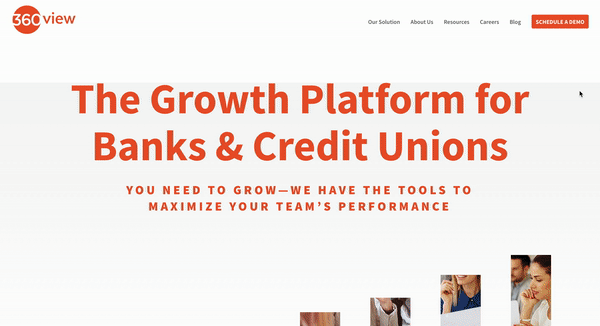 As you scroll down the homepage, you read information about the  products one by one.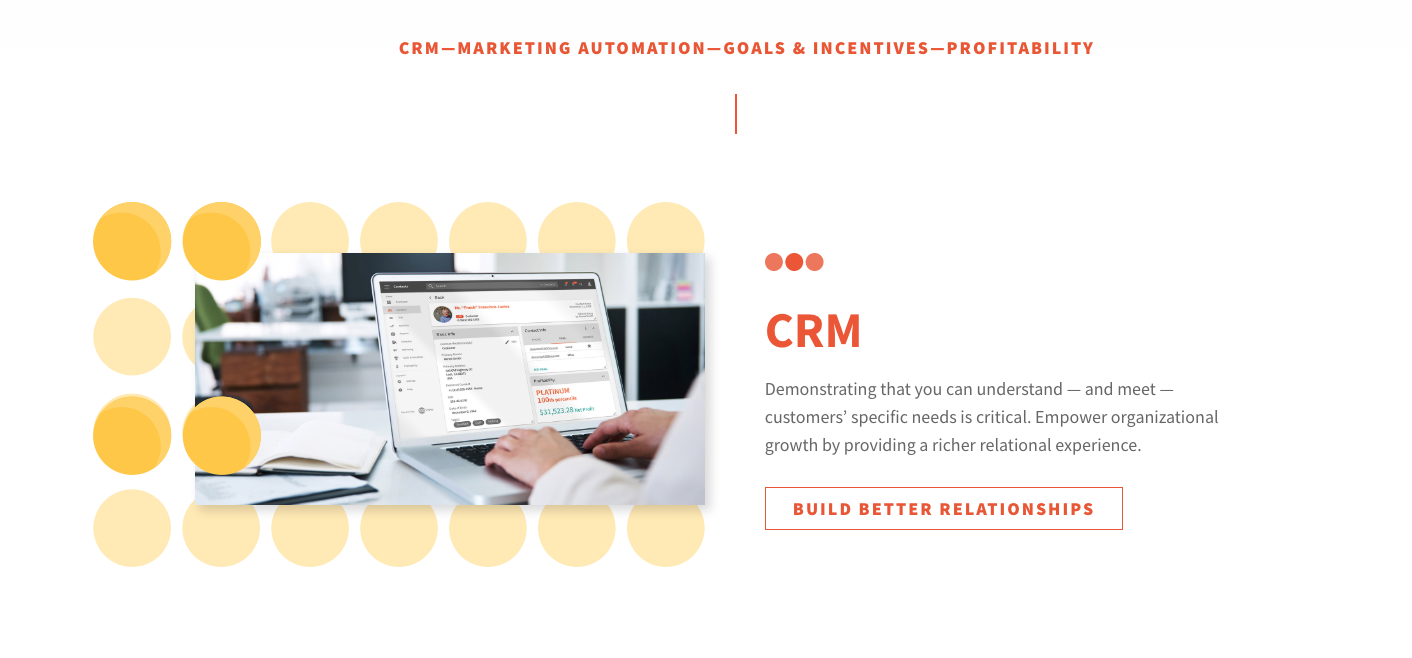 With short descriptions and large calls-to-action, 360 View makes it easy for website visitors to learn more about each of its product offerings. And, if you're not sure which 360 View product is right for your business, the company includes a catch-all CTA at the end of the scrolling experience.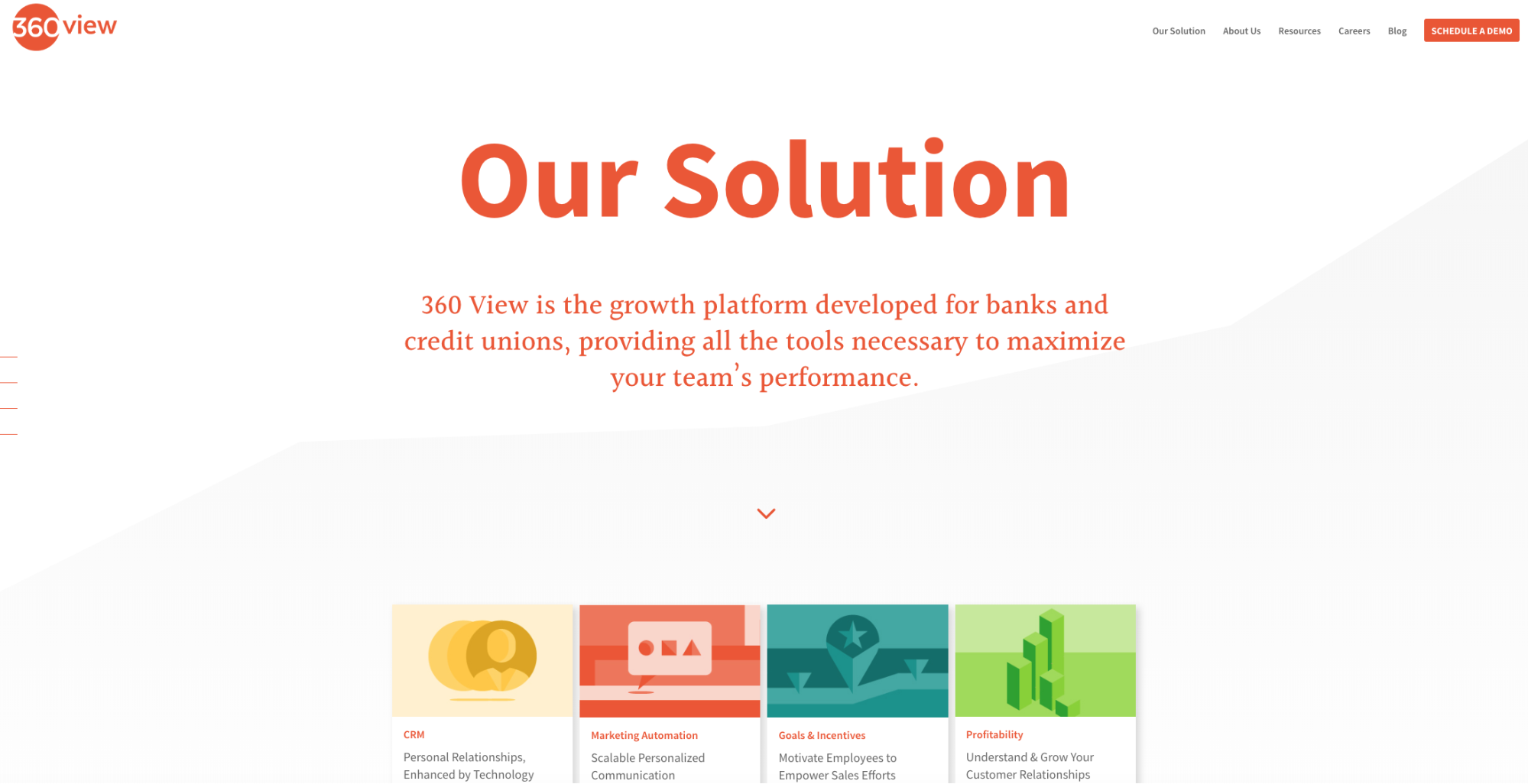 Of course, the site is sprinkled with subtle animations and bold colors within a sea of white space that makes it as visually compelling as it is easy to navigate.
360 View is a Nashville-based B2B technology company. 360 View created the growth platform for banks and credit unions, providing all the tools necessary to maximize team performance. 360 View's website was developed by Golden Spiral. Read more about our work.
Key Takeaway
There isn't a one size fits all answer to the question, "what makes a great user experience?" At Golden Spiral, we look through the lens your company's values and KPIs to develop clear, easily-navigable, and visually-engaging UX. We know what it takes to design and develop it. If your B2B tech company is interested in improving your website's user experience, get in touch with us today.