Four Reasons Your B2B Inbound Marketing isn't Working
So, you did it. You convinced leadership that inbound marketing was the way to go for your B2B company. You overcame your some of your lingering inbound marketing fears (and helped executives do the same). You scaled back your outbound efforts, hired a content marketer, redesigned your website, reallocated ad budget to digital mediums, became active on social media, and purchased HubSpot. But now, all of a sudden, you're questioning yourself. Website traffic hasn't skyrocketed. Few download your content and even fewer — if any — attend your webinars. The conversion rates on your PPC landing pages are disheartening. The rumbles have started. A few grumpy sales reps complain that inbound isn't marketing.
Then it happened… you lost that deal from an inbound lead. Then, an existing client didn't renew.
Should you just drop everything and go back to cold calls and restroom stall advertising?
No way! You've made it this far. You've laid rubber and kicked up dirt on the hard parts.
If you feel like inbound marketing isn't working as you anticipated, it might not be your process as a whole. As a matter of fact, it might be one small component that needs work. Think of it as a "crack" in your funnel.
If you can find it and fix it, the funnel still works. But, if you can't find it, the problem grows and grows until the funnel can no longer be used.
If you feel like your inbound marketing funnel has a few cracks, or might be broken all together, here are five reasons your strategy isn't working.
1. You're Not Investing Enough in Client Retention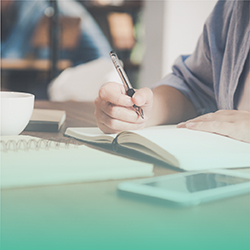 A staple of the inbound marketing methodology is organically attracting new prospective customers through the use of ads, relevant content, and a personalized approach. However, when companies invest too many of their resources into gaining business, they forget about maintaining current business.
Take for example, your content marketing manager. Is he or she only creating content for new business? Or is he/she also creating content for current clients? Is your business development team bigger than your support team? Do you have a client success team? How often do you communicate with your current clients? Do you make them feel valued and appreciated? Do you only reach out when you need to ask for something?
Inbound marketing's new flywheel suggests that customer engagement and satisfaction is the conductor that keeps the inbound marketing train on its tracks. Happy clients means higher client retention, and therefore, more referrals. Long-term clients and more referrals make the jobs of your inside and outside sales teams easier.
If you feel as though you've lost sight of delighting your customers, a net promoter survey can provide insight into overall client satisfaction, and pinpoint happy and unhappy clients. From here, you can connect with happy clients to assist in your inbound efforts, and attempt to remedy relationships with unhappy clients.
2. You're Driving the Wrong Traffic to Your Website
There's a reason that your company should spend time developing personas: they tell you who you should be speaking to, when, and how. This messaging becomes the center of everything you do — especially when it comes to driving website traffic.
As a B2B tech company, you are likely attempting to drive website traffic via:
Search ads
Social media ads
Organic search
Referral traffic
Outbound methods
If numbers didn't spike the way you had hoped or anticipated, it may be because the messaging on your paid ads is off or you're targeting the wrong audiences. (If you think the problem might be your search ads, here's a round up of our top six reasons no one is converting.)
Another consideration is your investment in developing blog content and website pages that drive traffic for particular keywords your personas care about. Are you thinking about the right short and long tail keywords? Are you developing rich blog content for them? If the answers to both of those questions is "yes", then it may just be a matter of time, as it takes on average 3-6 months for new content to rank in Google.
If you feel as though website traffic is the crack in your admissions funnel, it may be time to re-evaluate your ad copy and audiences. Keep in mind that paid ads are intended to offer immediate gratification, while ranking well organically is the long play. A successful inbound marketing strategy uses both. It's one of the many reasons that we suggest hiring an agency to help.
3. Your Landing Pages Don't Convert
Conversions are the key to getting new leads into your pipeline organically. Without them, we might as well just revert back to cold calling.
If you're struggling with earning a conversion, it likely has to do with three core website aspects:
The design: Your website's design should be mobile-friendly, load quickly, be easy to navigate, and above all else, be aesthetically appealing. More than ever before, consumers judge a business based on their website and user experience, so ensuring that yours at least meets (or even better, exceeds) their expectations is key. Looking for inspiration? Check out these five B2B tech websites that offer amazing user experiences.
The content: Was it something you said? It could be. If the content on your landing page doesn't meet the expectations of the visitor or speak directly to their "persona," they may leave without converting.
The form: Long forms are often to blame for low conversion rates. If you think your forms might be too long, it's time for your marketing and sales teams to work together and ask the important question — what information do we really need?
To determine if your website and its landing pages are the crack slithering through your funnel, you'll want to take a look at a comparison of time spent on page and conversion rates. For example, a page with a very high bounce rate and very low average time spent on page is likely to indicate that there is something wrong with the overall design. It is either confusing, difficult to navigate, or it might not even load. If your landing page's content isn't representative of whatever link or CTA the user clicked on to get there, then the user is likely to feel deceived. On the flip side, pages with a high average time spent on page and low conversion rates often indicates that the problem lies within the messaging (content) or the form.
4. You Don't Use Marketing Automation…
Or your marketing automation is set up poorly.
If you have a funnel full of leads, but you can't seem to convert them into clients, your marketing automation strategy may be lacking. Now is the time to evaluate your automated workflows and lead scoring by answering the following questions?
How soon do we send someone to sales? You may, in fact, be sending them too early or too late.
What happens when someone enters our funnel for the first time? If you do nothing with them, you're missing out the initial nurturing stages.
What does your lead scoring look like and how is it used? Lead scoring is intended to help your marketing and sales teams identify when someone is moving from lead to MQL and SQL. You may not be talking to the right person at the right time if your lead scoring doesn't reflect their journey.
If you're not using lead nurturing at all, you may find it helpful to read up on the best use cases for marketing automation in the B2B tech space.
Key Takeaway
Inbound marketing is a sophisticated methodology with a variety of moving pieces, each as equally as important as the next — especially for B2B technology companies. If you feel as though your company's inbound marketing strategy needs help, start by reading "The Essential Guide to B2B Tech Inbound Marketing," our latest guide exclusively for B2B technology companies. The guide also comes with a checklist to help get your website inbound ready. Get the details you need to develop the phases of the inbound marketing, essentials of a working funnel, learn how to align content to the phases of the funnel, and more.