The "Bump, Set, Spike" Approach to Great B2B Calls-to-Action that Convert
How many ads and marketing messages have you seen already today? Author and neuroscientist Daniel Levitin says our mental filters are on overdrive because we live in a world where we process 34 gigabytes of information every day. PQ Media's 2017 research says the average American spends 110 minutes a day interacting with brand messages.
In our noisy world, how do we entice our targets to notice and respond?
Combine vision-casting copywriting with a compelling Call to Action to see your click-through rate rise.
In this blog post, you'll learn a three-step formula—bump, set, strike—for creating the best calls to action while making the hook less cliché without losing clarity.
Bump: Intention
The ultimate goal of a volleyball play is to score a point. Your ultimate goal for every piece of content is the click.
Therefore, don't write your Call to Action (CTA) as an afterthought. Treat it as the most important content on the page. This tactic doesn't take away from quality research, creating backlinks, or excellent writing—all of which I hope you are striving for.
Start your work by asking: "What do you want your target to do?":
Complete a survey?

Download an ebook?

Sign up for your newsletter?

Schedule an appointment?

Discover more about you?
You can ask your website visitors to interact with you however you want. Write out with clarity what you want visitors to do, then craft your language.
Ask for the Click
Like in sales, you must actually "ask" for the click. It's not enough to present your case, facts, statistics, and reasoning. Your visitors are scanning and skimming through the text. Your Call to Action stops them and causes them to make a decision. Don't expect them to click without an ask.
Employ a Strong Verb
The verb is the most important word in the CTA. How's your arsenal of verbs? Download the mega-list using the form below and increase your vocabulary.
This list comes from years of frustration because finding the right verb was a struggle. Years ago, I fell into the trap of using the same words over and over again. The Calls to Action never had any bite to them. So I began compiling a list of imperative verbs—words that give a command. What started in my journal blossomed into a spreadsheet and eventually this guide. Creating this list isn't brain surgery. I encourage you to use this list as a foundation and build a list of your own.
A good verb will broaden the meaning or sharpen the clarity of your CTA. It can also confuse. Be discerning with your selection but don't be shy.
Many times, you can use "Don't" or "Do Not" in front of a verb to create a completely different feel of your CTA.
Don't Miss Out

Don't Attempt Programming Alone

Don't Disappear
Practical tip: Skim through the list thinking about your products and services. Try to write out ten or more calls to action using verbs on the list. You'll be surprised how the verb changes the intent of the CTA.
Avoid the Cliché
Sometimes, the best Call to Action is the most obvious. If possible, without losing clarity, give the actual button some life. One of my favorite examples is from the agency Huemor. Their animated homepage shows an astronaut on another planet zooming in. The CTA uses negative language. Check out how the page works.
In a past blog post, we encouraged B2B tech companies to more greatly understand empathy in nurturing leads. When we promoted the blog post, our CTA was: Show Some Empathy
When promoting a paste video about B2B Positioning, we wrote some teaser copy about the three "knows" that would be discussed in the video. The CTA: Get in the Know
Check out this CTA: Go Soul Searching. It works in tandem with the promotion of an article about understanding the soul of your brand.
It doesn't take much to use an imperative verb and continue to the promotion of the copy, images, video, or interactive content that precedes it.
"You" Versus the Implied "You" Versus "My"
Most Calls to Action imply the word "you." They say "Download the Guide" instead of "You! Download the Guide." This is the strongest form of an imperative verb and the most effective.
Others will add "your" to more personalize the text saying "Download Your Guide." This warms up the copy by turning the volume down a little on the command.

HubSpot takes it one step further. They found that targeted CTA convert 42% more visitors into leads than untargeted CTA. By using your CRM's smart tools, you can serve up a different CTA depending on where your visitor is in their relationship with you and where they are in the buyer's journey.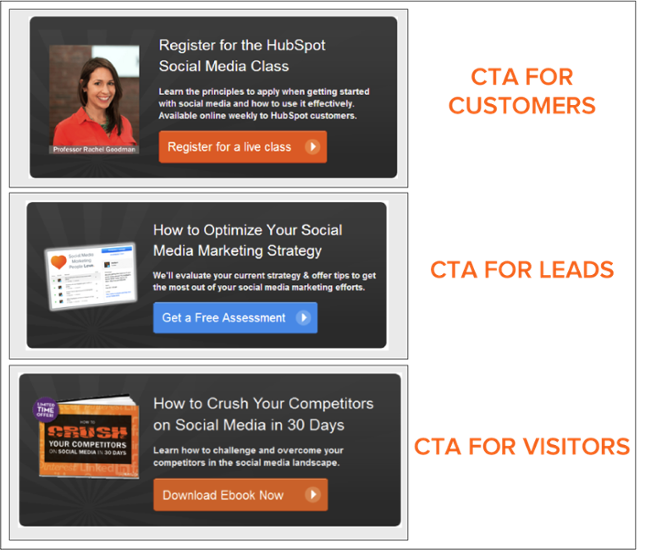 BeemDigital saw a 90% increase in click-through rate for one campaign by using first-person phrasing: "Start my free 30-day trial" vs. "Start your free 30-day trial." They also saw a 24.91% reduction when changing from "my" to "your." Using "my" flips the implied "you" on its head. The visitors may now feel in control and are bossing you around. "Hey, I want my product. Send it to me." They are using imperative verbs for their advantage now. Using "my" doesn't work with all verbs in all contexts. Test the language of your CTA both ways to make sure it doesn't sound clunky or awkward. You can also take it the next step and conduct an A/B test to see how your visitors respond.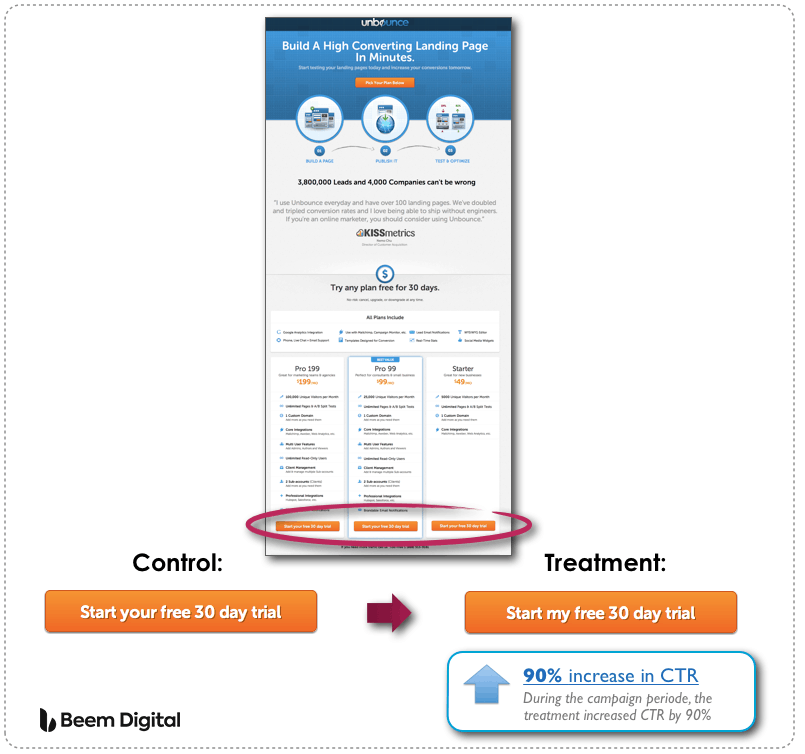 Set: Content
No matter what type of page you're creating—blog, landing, about, video, interactive—your copy should foreshadow what comes next.
Offer a "piece of the cookie" allowing your visitors to sample the data in your rich content piece. When they arrive at the CTA, they will be hungry for more. Below are three examples of pages that accomplish all three objectives well but in different ways. Click on each image or GIF to see the actual webpage in action.
First, Connotate's desire is to schedule a consultation. They offer many rich content resources as well, but in most every blog post, they offer a form inline to secure an appointment. Click on the picture to see the three points on the page where they attract the click.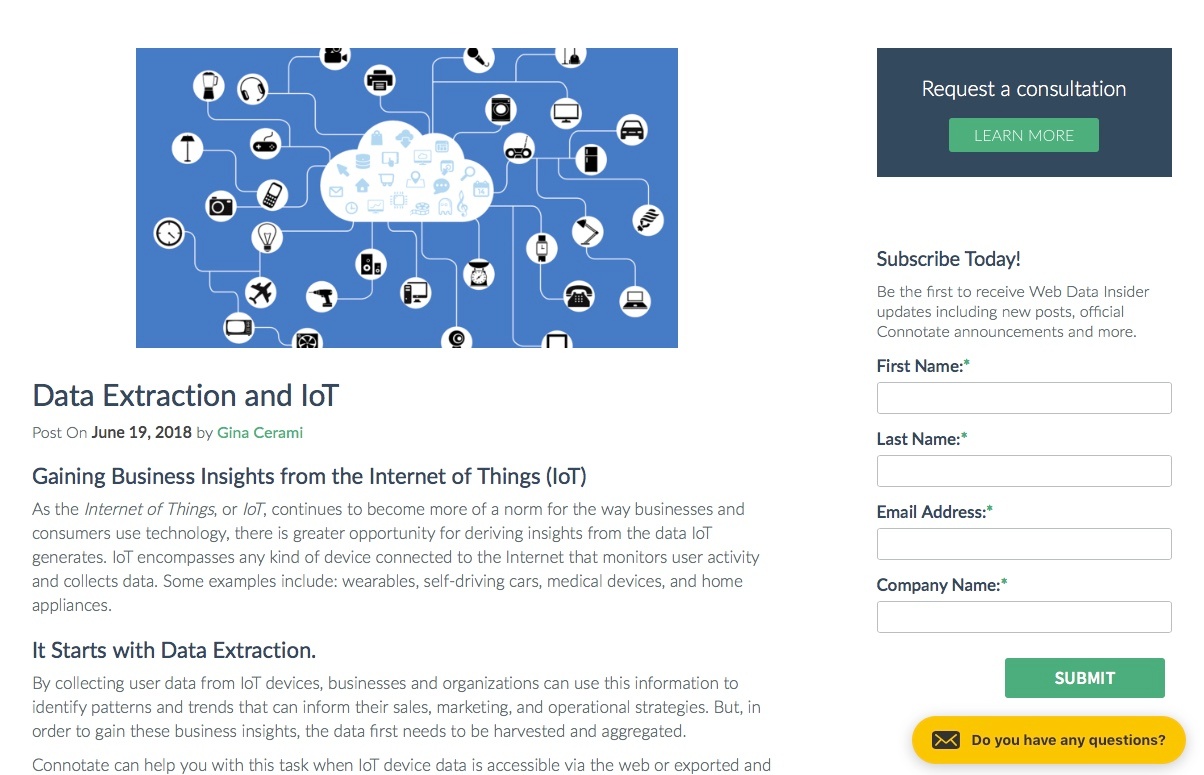 Second, Digital Reasoning's home page is one big beacon for the click. Visitors that scroll will find much content "below the fold" and many more opportunities for interaction, but Digital Reasoning wants to present their case. As the dynamic words in green change, the destination for the click changes, too, but only slightly. All clicks go to the same page, just different parts attempting to meet the visitors where they are and address their pain points. Digital Reasoning has gone one step further. If you're in the financial services industry, when you visit their site, you'll find personalized, custom-curated content directed at you and your company.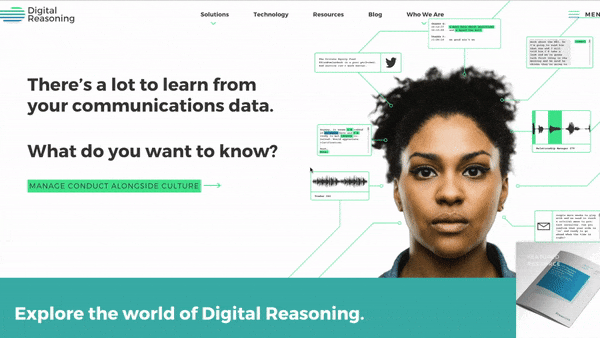 Third, Axial Healthcare uses infographic-style statistics to give their visitors a "bite of the cookie." The click takes them deeper into the research behind the numbers by presenting an interactive graphic with multiple clicks to explore.
Spike: Design
Simple text on a solid color button is the best practice for CTA buttons. But that doesn't mean that design isn't important. CRM tools like Pardot, HubSpot, and Eloqua have CTA tools built in that create links and make placement easy throughout the ecosystem. These tools are best because the buttons are dynamic and are automatically resized to work on all platforms—phone, tablet, desktop.
How you deploy them most effectively is up to your designers. Here are some matters to consider as you place CTA buttons throughout your emails, website, and landing pages.
Placement Matters
The most natural place for a CTA is after you've presented your information—the bottom of the page. Your visitors will want the cookie after they've tasted it, not before. The "fold" has little to do with it. Visitors want information that solves their problems. If they are getting that information, they will interact with you and click on your CTA. That's why the "Set" is important.
This doesn't preclude you from placing CTA above the fold, at the top of the screen, or popping in from the side. Just make sure your most compelling CTA is at the bottom.
White Space Matters
White space draws the eye to the object in the middle of it. One of our designers, Kyoko Eng, says, "There are no groups without space. One of the cornerstones of visual design is to group information to be easily digested in a particular way by the viewer. We can't do that if there is no separation."
Logistics software company Open Mile reduced the clutter surrounding their CTA and saw a 232% increase in their conversion.
Intuit's QuickBooks page demonstrates grouping and white space.
Size Matters
According to Apple's Human Interface Guidelines, the size of a touchable area should be at least 44 px x 44 px so that the thumb can have a large enough area to land. Building larger CTA is okay if it works with your design. Sometimes adding more white space around the button is more effective.
Color Matters
You may have heard red or orange buttons have the best conversion rates. The key factor is use a contrasting color that pops from the rest of your page. Your designers may want to use a color palette. Just ensure that it includes a bright CTA color for the purpose of conversion. Camouflage is not your friend here.
Conclusion
Like most marketing efforts, when we are intentional, we get better results. If you will intentionally create every web page with a "bump, set, strike" approach to your Call to Action, you are sure to score higher conversion numbers.