Your B2B Guide to Important Google Updates
Google makes hundreds of changes every year to its search algorithm and collection of tools for SEO and PPC. It's nearly impossible to keep up with all of them. From time to time, a change is significant enough to warrant comment for B2B tech companies. This blog will be a living document with our most recent comments at the top. We encourage you to bookmark this page and visit from time to time to stay in tune with Google.
Golden Spiral is an official Google Partner.
---
June 18, 2020
Google User Experience Update
Summary
In the past, Google has made it clear that users prefer sites with great page experience. Chances are you're already familiar with Google's current user experience guidelines, such as site speed and mobile-friendliness. You may have also seen the recent release of Chrome's Core Web Vitals, a set of metrics related to speed, responsiveness, and visual stability that help site owners measure and optimize for the users' experience. In late May 2020, Google revealed an upcoming search ranking change based on those page experience metrics.
What Will Change?
Great user experience will no longer be an option when it comes to SEO—they will be… vital. Once the update is rolled out, both Chrome's Core Web Vitals and Google's existing signals for page experience, such as mobile-friendliness, page element load speed, safe-browsing, and no intrusive interstitials, will be combined to determine a site's ranking in search as well as its eligibility for Google'sTop Stories feature on mobile. Additionally, AMP will be removed as a requirement from Top Stories eligibility.
What's Next?
It's important to note that "good page experience doesn't override having great content," said Google in a recent blog post. Your site is still in great shape if you're producing relevant, high-quality content. However, in cases where webpages are offering content of similar value, page experience will become an important factor for determining search visibility.
These ranking changes won't go live until 2021 in order to give site owners ample opportunity to prepare. If you're not sure where to start, a great first step is to measure your Core Web Vitals to determine what areas of your site are in need of improvement.
Further reading:
---
February 13, 2020
Google's January 2020 Core Update
Introduction of Favicons and Black Ad Text to Desktop
Summary
Google's January 2020 core update began rolling out on January 13. This update is global and impacts all Google search regions and all languages.
In terms of preparation guidelines, Google referred to an existing blog post when announcing the update with tips on maintaining a high-quality site—meaning a site with relevant, evidence-based, and authoritative content. With this update, Google continues to encourage site owners to follow the E-A-T and YMYL criteria when creating content.
In addition to the January 2020 core update, Google launched a desktop display update, featuring a new presentation of text ads and organic listings. This update, originally pushed out to mobile search in May 2019, introduces branding to search results, is predicted to increase paid ad CTRs, and aims to help users easily and effectively scan search results.
What Changed?
Although Google didn't announce exactly what was changed in the January 2020 core update, we do know that a large number of sites have been impacted. For example,
RankRanger released data revealing huge increases at the top of the search engine result page (SERP) for all industry niches, especially Health and Finance.

Personalized favicons and black ad labels now appear in Google search on desktop. In addition to simplifying search results for users, the SERP change allows Google to continue enhancing the types of content in search results—video, hi-res images, 3D objects—and types of action buttons and previews enabled.
The introduction of favicons in search is especially important for branding. A favicon used to act only as a visual additive, but now that Google is integrating favicons in more locations, it has become a subconscious expectation. Having no favicon or a low-quality favicon won't decrease your rankings on Google's end, but it could deter searchers from clicking on your site if they perceive sites with high-quality favicons as more legitimate.
What Comes Next?
Before making any significant changes to your organic and/or paid listings, track CTR changes on your site first. Remember, it often takes a couple weeks for Google core updates to roll out completely. It's best to wait for your searchers to adapt.
If your site experiences an increase in CTR and/or you're already providing relevant and quality content for your target users, then keep it up!
If your website experiences a hit, it doesn't always mean there is something wrong with your pages. However, it won't hurt to double-check Google's list of questions to consider following a core update.
To add a favicon, insert a <link> tag with the following syntax to the header of your home page:
<link rel="shortcut icon" href="/path/to/favicon.ico">
For limitations and requirements when adding a favicon, check the official Google tutorial.
---
November 25, 2019
Google Search Update: BERT
Bidirectional Encoder Representations from Transformers
Summary
BERT, which stands for Bidirectional Encoder Representations from Transformers, is a neural network-based technique for the pre-training of natural language processing (NLP).
BERT is a NLP update to allow the Google algorithm to better understand the context of the words included in a Google search query. NLP is a branch of artificial intelligence (AI) that deals with linguistics, focused on enabling computers to understand the way humans naturally communicate, a.k.a. contextual comprehension.
What Changed?
Overview
BERT allows the language model to learn the context of words based on surrounding words, rather than just the word that immediately precedes or follows it.
The Change
The BERT algorithm is a core update that began its roll out on October 21, 2019 with the goal of helping the entire Google algorithm better understand the intent behind users' search queries. The integration of BERT should mean more relevant results. BERT will impact 10% of searches (for English-language queries). The BERT model is being deployed in other languages as well. BERT runs in parallel to RankBrain.
What Comes Next?
With this update, there aren't any immediate responses from SEOs and business owners. The update helps move results closer to contextual relevancy; which should already be a focus for both parties in ensuring the right users are seeing your pages for the right topics.
Further Reading
---
August 5, 2019
Google Search Quality Rating Update
Search Quality Evaluator Guidelines
For the first time since July 2018, Google updated their Search Quality Evaluator Guidelines which are what human "quality raters" use to evaluate websites and Search Engine Results Pages (SERPs). The updates focus on vetting content, the creator's credibility, and user interruptions during the experience. The update was completed in May 2019 and went into effect over June and July.
What Changed?
Overview
Search evaluators represent the human element in the algorithm, offering feedback on search results and websites. The evaluators are focused on rating the relevance of search results. Their feedback is used to test improvements on the search engine's algorithms.
The change
Google made some "minor" changes in the language around interstitial pages (ads) to avoid interrupting users ability to engage with the main content, vetting the credibility of the content creator(s), and their E-A-T (Expertise, Authoritativeness, Trustworthiness) criteria.
What Comes Next?
The biggest takeaway from these updates to this pre-existing program is that the directives from Google to the search evaluators focus on verifying that there are credibility references supporting key declarations, conclusions, and thought leadership. The other takeaways are:
Avoid using distracting ads and pop-ups on key informational pages
Ensure statements, claims, and declarations are substantiated with verified references, research, or credible first-hand data
Pursue and cultivate third-party locations and references to your content that will demonstrate you value content and support the domain authority of other industry resources
Further Reading
---
May 1, 2019
Indexing Bug
Over the weekend of April 5-7th, Google confirmed an indexing bug that affected many websites. John Mueller, Webmaster Trends Analyst on the Google Search team commented on the issue, saying, "Sorry — We had a technical issue on our side for a while there — this should be resolved in the meantime, and the affected URLs reprocessed."
Aside from stating that the indexing issues were a bug and should be reversed, Google declined to comment further on the technical cause of the issue. Google has since confirmed that the issue has been fixed. However, some sites are still seeing indexing issues, so we encourage you to monitor the situation over the coming weeks and make optimizations as needed.
UPDATE (5/1/19): Google has since confirmed that in addition to the indexing bug, Google Search Console is showing report inaccuracies for the majority of April. A Google representative has issued confirmation, stating, "Search Console experienced a data outage that ceased on April 26. The outage affected all reports except the Performance report. All missing data from April 9-25 was replaced with the data from April 26, when data began to be available again".

Further Reading
---
March 12, 2019
Ranking Update
Overview
Google has acknowledge the ranking update citing, "This was a noticeable update that we felt warranted confirming, in keeping with what we've said before," but hasn't gone into detail regarding its purpose or key business categories it has affected. That being said, several significant surveys have been conducted to get some insight into what changed in the algorithm update. These surveys have shown decreases in visibility for many B2B, Health, and eCommerce sites, but overall, haven't shown a single major trend.
Our Take
An evaluation of our clients in the B2B Technology space has shown a strong trend: nearly across the board, companies we evaluated dropped in visibility but overall site traffic increased. The reason for this is that many sites stopped ranking for irrelevant and unimportant keywords in search results, but actually rose in rankings for important brand and product-related keywords. As a result, the sites we evaluated saw majorly increased clickthrough rates and most saw a net increase in site traffic (despite the drop in impressions). Site engagement is largely up across the board as well, indicating that the update is better filtering relevant searchers to each site.
Further Reading:
---
December 18, 2018
Google Search Console
Summary
Google Search Console (GSC), formerly known as Google Webmaster Tools, is a platform used to monitor how Google views your website, and to therefore optimize its organic presence.

What Changed?
Google Search Console graduated from beta earlier this year and introduced a sleek and more efficient version of Google Webmaster Tools. With the graduation, Google launched the Manual Actions report and a "test live" capability to the newly launched URL Inspection Tool. The beta launch of GSC provided us more data with the Index Coverage report, Performance report, links report, and once again, the URL inspection tool.
Performance Report
The Performance report allows you to review your search analytics data with a variety of filters.
Every single filter option also offers the ability to contrast two types of each filter with the "Compare" tab. The Search filter gives the option of Web, Image and Video. The "Compare" tab is a handy tool to contrast two types of traffic, whether that be Web vs. Image, Image vs. Video, etc.
The Date Range filter now offers 16 months of data as opposed to 90 days. There are preset time periods as well as the option to set a custom range. Use the "Compare" tab to contrast two sets of date ranges.
The "New" option next to the Search and Date Range filters gives you the ability to add five additional filters: Query, Page, Country, Device and Search Appearance. All these filters can be layered on top of one another. Different combinations of filters further limit and specify your results.

Index Coverage Report
The Index Coverage Report assigns pages to one of four statuses. Error, Valid with Warnings, Valid, and Excluded. This section is mainly used to monitor what pages haven't been indexed and why.
Sitemaps Report
The Sitemaps report allows you to submit Sitemaps and view which ones were processed or any errors in processing. Submitting a valid sitemap helps Google discover the right content on your site.
Links Report
The Links Report allows you to view data on links pointing to and within your site. This section can be used to identify what sites you link to the most, identify the most popular anchor text within your site, etc.

URL Inspection Tool
The URL Inspection Tool allows you to view crawling, indexing and serving information from the Google Index for any URL of your site. This section can be used to inspect an indexed URL, request indexing of a URL, and to inspect a live URL. The latter option is brand new and tests whether a page on your site is able to be indexed.

Common Uses of GSC
Identify highest-traffic pages
Performance → "Pages" tab → adjust date range and/or other filters → select "Total Clicks"
Identify highest-traffic queries
Performance → "Queries" tab → adjust date range → select "Total Clicks"
Identify highest-CTR queries
Performance → "Queries" tab → select "Average CTR" → adjust date range and/or other filters
Identify average CTR
Performance → "Queries" tab → select "Average CTR" → Performance → adjust date range → Total Impressions → Status → Performance → adjust date range → select "Average Position" (at this point, "Total Impressions," "Average CTR," and "Average Position" should all be selected)
Identify ranking increases/decreases
Performance → "Queries" tab → adjust data range → "Compare" tab → select time periods → Apply
Compare site's search performance across desktop, mobile and tablet
Performance → "Devices" tab → Select "Total Clicks," "Total Impressions," "Average CTR," and "Average Position" → Compare
Identify which pages haven't been indexed and why
Index Coverage → Details box will identify the errors causing indexing issues → click any Error type to see the affected URLs
Identify mobile usability issues
Mobile Usability → select "Error" → Details box will identify which Errors are causing mobile usability issues → double click the Error type to see affected URLs
Monitor backlinks and backlink activity
Links → Top Linked Pages report → see "Total External Links" and/or select "Incoming Links"
Identify what sites you link to the most
Links → "Top Linking Sites" → select "More"
Identify most popular anchor text
Links → "Top Linking Text" → select "More"
Identify how many total internal links your site has
Links → "Top Linked Pages" → select "More" → "Total Internal Links"
Further Reading
---
September 27, 2018
Google Image Search Update
Mobile Design / Desktop Design
Summary
In March 2018, Google released an image display update for mobile devices. This update aimed to provide more context on the image search results page, generating more efficient and useful visual discovery. The mobile design update consisted of many parts:
your website's URL and caption are now added below
green bubble filters added to the top of the results, containing relevant search terms
On September 24, at Google's 20th Anniversary event, they announced adding the changes to desktop design, but that Creator and Credit metadata support were additionally planned to launch. The Creator and Credit metadata is only visible on mobile design, and there are no current insights as to when this update will subsequently be featured on desktop.
This update was rolled out on Thursday, September 27th.
What Changed?
This update added a caption and the website's domain URL underneath photos in Google image search, as well as bubble filters to the top of search results on desktop. The bubble filters on both mobile and desktop design were changed from the color green to the color white. Lastly, the Creator and Credit metadata support was only added to the mobile design and involves a text box listing the Creator and the Credit due.
Desktop Design Update: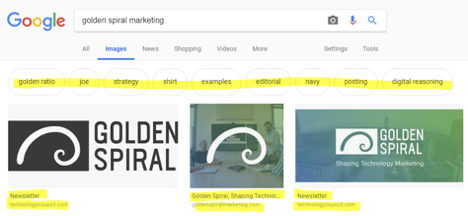 Mobile Design Update:
Concerns
This update will mainly affect websites whose images are buried deep within their pages. Google announced the overall authority of the website will affect its rankings on image search, as well as where the image is placed on the page; Google suggested aiming for the top-center.
Action Items
The addition of captions underneath image thumbnails acts as a further reminder to label title tags for images accurately and descriptively. The bubble filters could even act as a tool in determining what relative words should be included in the image titles for maximum discoverability.
Further Reading