The Complete Product Launch Guide for B2B HealthTech Marketers
Successful product launches and product launch campaigns don't happen overnight. They demand time, planning, and precise execution.
As a marketing agency that specializes in B2B marketing for HealthTech companies to create and implement successful go-to-market strategies, Golden Spiral understands the art of a successful product launch — and it begins long before the product hits the market. This guide outlines a proven ten-step method for bringing your product to market.
A caution before we begin: your product launch will not live up to your expectations unless grounded in two things:
You must fully understand your Buyer Matrix — who your buyer is, what motivates your buyer, and the real, career-challenging problem your buyer needs to solve.
You must dedicate yourself to talking more often and more effectively about the problem(s) your product solves rather than just the cool tech it's built upon.
1. Create a Timeline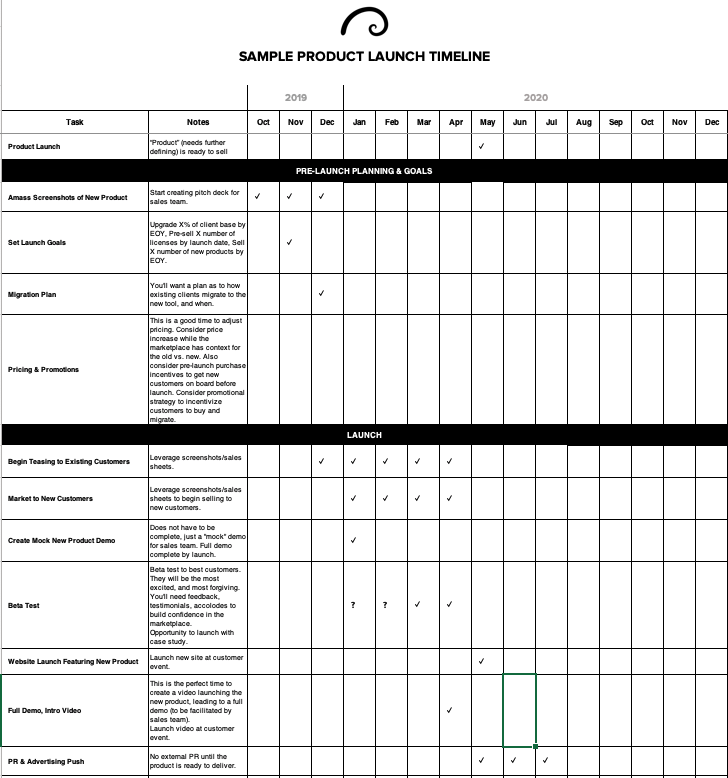 The first order of business: create a defined timeline. An effective product launch is typically scheduled around a specific date: a customer event, an anniversary (business or product), or a time of year coinciding with the buying cycle (e.g., a new fiscal year).
Your organization and product can't be "ready" if there's no documented timeline, milestones, and launch date. A timeline keeps your entire organization focused and accountable, and sets realistic expectations.
Don't develop your timeline in a vacuum. Convene a cross-functional group with members from the Product, Marketing, Sales, Customer service, and Executive teams. There are more pieces to a product launch than one department can handle. Work together to get all of the needed touch points out in the open and understood by all.
Keep your customer at the forefront of your mind. You will uncover hurdles and dead ends in your current processes that block the launch of your product. Identifying them now will give you time to overcome them before launch. Don't let a procedural problem block you from the best launch possible.
Depending on how product development goes, however, you may have to alter your timeline slightly.
The most successful launches have healthy tension between the product launch date and the rollout of marketing materials. That tension can turn deadly, though, if you hype features that don't make it into the final product or have to reschedule the launch. You don't want to burn customer goodwill or set yourself up for failure.
Create a master timeline. Every team — not just Product Development — needs its own timeline. Every department needs lead time to develop the best resources specific to their function.
No timeline is complete without a set of goals and the metrics to track them. Create them now, but recalibrate them closer to launch. (See step #7.)
2. Gather Feedback and Innovate
Before pouring resources into your product, you'll want to make sure it's viable.
More than likely, you've been listening to your customers for years and hearing about the problem your product seeks to solve. John Farkas, our CEO, has witnessed many HealthTech and SaaS companies go off the rails during product development because they begin to develop something for the sake of the technology. But just because the technology performs well, it doesn't necessarily mean it will sell.
Successful HealthTech product launches flow out of feedback, and now is the time to gather more. You can obtain feedback via surveys and/or one-on-one interviews. In either case, create a list of set questions to ask your current clients. Be sure to share their responses with your cross-functional team.
What have your clients said they wish your product could do?
What is lacking in your industry?
What will save your target audience time and money?
3. Beta Test with Current Clients
All of your research and hard work don't mean anything until it's in the hands of real customers who will push it, pull it, stretch it to its limits, ask questions you never thought of, and discover new applications for it. They will break it. They will learn how to fix it.
These tests are your litmus test of success. Let users inform and influence if you have a product ready for the marketplace.
When beta testing with existing customers, use your best ones. They have a relationship with you. They want to work with you and they want to be involved. After all, it's in their best interest for your new product to succeed.
However, it's important to supplement this with new customer testing for real insight. Product and development teams need to closely align with this process — user testing is not relegated to marketing teams behind a mirror.
Listen carefully and gather all of the information you can from both current clients and new users. Your cross-functional team can learn a great deal from the test results:
Engineering will learn the limits of the product — and where there is the most potential for improvement
Marketing will hear experiences and phrases that they can develop into usable materials
Customer Service will discover what obstacles to overcome and how to respond
The C-Suite will gain confidence and see the possibilities
4. Go to Market with a Functioning Product
At launch, your product needs to strike a delicate balance between being a minimally viable product (MVP) that will require well-orchestrated iterations to get it up to full speed, and a fully-functioning, benefit-focused product that meets the needs of your users (at least most of them). A key step to achieving that balance is through your beta testing.
But what happens when your product isn't ready for the market?
Do you move forward or recalibrate your timeline?
How you move forward determines the success of the launch and the long-term success of the product.
There are two important extremes when it comes to the functionality of a B2B HealthTech go-to-market scenario:
Your new product is over-engineered and can't be easily grasped and assimilated (a common scenario)
It's under-engineered and you haven't solved the basic problems of your users.
In either scenario, you're not going to see success.
If the product isn't everything you hoped it would be at launch but is still the MVP, make sure everyone throughout the process knows the details so that the message remains clear and consistent. Don't allow Sales, Marketing, or an executive to tout a feature that's not in version 1.0.
Likewise, if you decide to postpone the launch, communicate the reasons why throughout the organization so there is no confusion or resentment. Keep the healthy tension on the schedule and move forward to your new launch date.
Note: the product will never be perfect. But a launched product is always better than a product never launched. Be wise, but be bold.
5. Create a New Product Demo and a Sales Deck
After developing an MVP and inviting others to kick the tires, it's time to polish up your product and get it ready for the final phases of the launch.
Choose the proper demo type for your product.
Would a video or photographic walkthrough be best?
Should you create a sandbox version that allows your customers to put in real data and play around with it themselves?
Could you create an experience that involves your salesperson and a potential customer?
No matter what demo you create, you will also need a sales deck. Consider creating a deck that aligns your marketing and sales teams. Allow Marketing to create a deck that communicates the core messages and addresses the customer problems, but allows Sales to personalize or modify the deck based on the types of presentations needed.
6. Get Buy-In from Your Entire Organization
Software product launches are not solely the responsibility of your Product, Marketing, or Sales team. The responsibility belongs to your entire organization and everyone needs to be ready and aligned for a product launch.
Building a cross-functional team at the beginning of the process makes this stage in the launch sequence much easier and much more effective.
At this point, your messaging is locked in, your demo and sales deck are working well, all departments are buzzing, and the Finance department is holding its collective breath.
Host a handful of live internal trainings or webinars to introduce the product and answer important FAQs. You'll also want to use this time to distribute collateral and documentation to each team so your message is consistent. We call this practice "internal communications alignment."
7. Recalibrate Measurable KPIs
Look back to the goals and Key Performance Indicators (KPIs) you created at the beginning of the process? Are they still the right metrics to track success? Are there some to eliminate? Add? Change?
For a product launch, your KPIs might look something like this:
Increase website traffic by 75% within three months of product launch
Up-sell 30% of clients within three months of product launch
Close 25 new deals within six months of product launches
Maintain 90% client retention within one year of product launch
Your goals should be based on the success of previous product launch campaigns (if you've done any), the need of the market, time of year, and available resources.
Remember, the most important attribute of any goal is that it is actually achievable. The healthiest goals push every department but don't break them. A goal set too aggressively tempts a department or individual to move the goal post instead of inspiring second effort.
Like product messaging, share and update these KPIs throughout the organization. After launch, let everyone see how the company is progressing toward success. Give moments to celebrate. Point to the game clock and scoreboard to inspire more grit.
8. Determine Pricing
A new HealthTech product launch is the perfect time to evaluate your pricing.
Your new product will set the tone for previous products. Should you raise prices across the board? Is the new product a premium and former products now slightly discounted?
If you updated — or overhauled — an existing product with attention to UX/UI, position it as more valuable than its predecessor.
Capitalize on the "newness" of your new product while you can. You can also create sales incentives that allow buyers to purchase the new product at "old" product pricing for a limited amount of time before the price increases. Again, your goal is to create sales velocity, so there are several strategies you can explore to find which best suits your offering.
If your product and your market require a pricing page on your website, don't neglect these concepts.
9. Create a Product Launch Plan
The objective of a product launch plan is simple: build momentum and sales velocity.
A new product launch can be rocket fuel for your sales pipeline, both in renewals for existing customers and share-of-wallet for net-new business. When you construct a product launch campaign, you'll want to consider two key launches: the existing customer launch and the prospective customer launch.
The Existing Customer Launch
Arm yourself with a migration plan to eliminate fears and trepidation about this potentially disruptive process (depending on the complexity of your product). The true kickoff of your new product begins when you start marketing to current clients.
Before launch, you should have already considered how to keep the migration as cost effective and hassle-free as possible. Failure to do so may lead to losing some existing customers.
Additionally, you should have a KPI in place for how many customers you want to upgrade in a certain amount of time (upgrade X% of client base in next Y months). This should coincide with the sundown plan for your "old" product.
With this launch plan, your key objectives are to:
Keep your existing customers with you (and potentially upgrade them)
Reduce the attractiveness of alternatives from competitors
Dislodge or disrupt the competition who are knocking on your customer's door
The Prospective Customer Launch
Your timing for selling to new clients is also important. Doing so too early means you'll lose momentum and excitement for when the product is finally available. Too late and you may not reach the velocity you need leading into launch day. Plus, you'll miss out on the opportunity for pre-launch incentives that can help achieve sales goals.
A product launch campaign geared towards prospective customers gives you a new opportunity to speak to two important audiences:
Cold or dead leads that know you, but decided to either not purchase your product, or go with a competitor
New prospects that have never heard of you — until now!
Pay-per-click ads, content, email, collateral pieces all blitzed around a launch date will give you that momentum.
With this launch plan, your key objectives are to:
Build greater brand awareness through marketing and PR efforts around launch time
Increase the number of product demos and trials (if you have them) conducted by your Sales team
Increase in product sales to new clients
With this campaign, you will also want to set a measurable KPI, such as several new deals, inbound leads, or demos by a certain date. Your momentum is highest in the months right after launch date — so capitalize on it!
In either case, you'll want to rely on a combination of marketing automation and one-on-one human interaction to make the process go smoothly.
10. Launch
Maximize your product launch by choosing a specific, relevant date:
Company anniversary
Significant trade show
User conference
Though the Sales team has already been teasing the new product in the marketplace for several months, launch day makes it official: the product is ready to purchase, migration can start, the new website launches, and PR efforts begin.
Key Takeaway
If you want your product to be successful, you need to plan and implement a go-to-market strategy. It requires cross-company collaboration, planning, strategy, and focus! And, if you need help crafting the perfect launch plan and go-to-market strategy, we have a deep bench of B2B HealthTech marketing experts who can help you craft the perfect launch plan.
Let's Talk
If you are interested in starting a conversation, start by contacting us here.