How to Create an Epic HealthTech Website Resources Page
Content marketing is a foundational element of a successful HealthTech marketing strategy. It drives website traffic, fuels the funnel, closes deals, builds trust, and aids in retention.
But in order for your content marketing efforts to work, you need to consider the user experience of the resources section of your website.
Can your visitors find content organized by pain point?
Is your copy compelling or milquetoast?
How simple are your download forms?
Do you say an enthusiastic thank you?
Think About This
Before the pandemic, researchers downloaded five pieces of content. Now, 41% anticipate interacting with more content before making a purchase decision. [IDG]
Properly constructed resource pages attract greater search engine results because they are naturally rich in your highest quality keywords [Higher Visibility]
70% of marketers are actively investing in content marketing. [HubSpot]
"Content Marketing Strategy" is the most searched query related to content marketing. [Semrush]
1. Make it Easy to Sort Content by Pain Point and Topic
When you consider the keywords people might be searching for in relation to your company's product or service, "ebook" or "white paper" probably don't come to mind. Rather, they're searching for long-tail keywords related to their pain point, goal, needs, etc. They don't know if their question can be answered by an on-demand webinar, eBook, white paper, guide, or template. What they know is they have a question and it needs answering. So, be sure it is easy for website visitors to sort content by pain point and topic. If you can make it easy to sort by type of content, that's great too. But, sorting by pain point or topic should come first.
A well-constructed resource page will point to both ungated and gated content.
Take a look at HubSpot's resource library. On the left side of the screen, you'll see a column that makes it easy to click through to the topic you want or, below, type of content. Each resource in the library is tagged with both topic and type. That makes it easy for users to differentiate from content piece to content piece.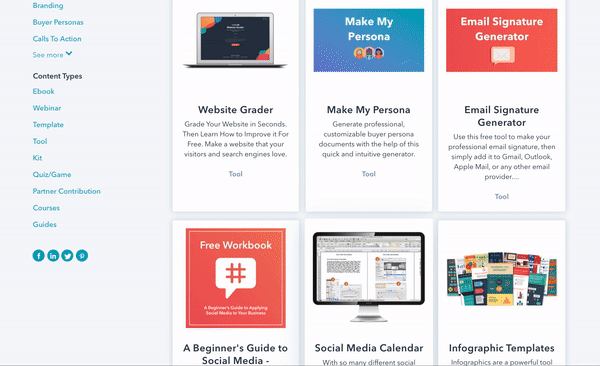 The grid/modular layout mimics the user experience of Pinterest and other scrolling sites. This is the optimal and recommended UX for resource pages.
2. Write Compelling Copy to Earn the Click from Your Resource Page to Resource
Each cell of your grid needs:
A heading that grabs attention and speaks to the visitor's need. Not every piece of content will be attractive to every visitor, but work hard to make every headline attractive so the right targets will click through.
A short description of the resource. Let your visitor know if it's a video, a calculator, an article, a download, etc.
An answer to the "why." You don't have a ton of space. Focus on why this resource will meet the visitor's need.
An image of the resource. While you may think a picture of an eBook is boring, adding an image to your landing page helps with visual hierarchy and creates a more engaging user experience.
A compelling call to action. Move your visitor. The words "click here" at the bottom of every resource cell will become static but a CTA that matches the copy will move your visitor.
3. Design Actionable Resource Pages for Gated Assets
Once your visitors click through to the resource they want, what do they find?
The landing page itself has two jobs. Its primary job is to attract search results. The copy must contain the right keywords and promise to do what it set out to do so that it ranks in SERP. We cover this in detail in our Complete SEO Guide.
The second job matters for both those who find it through your website and from search. It must sell the resource.
Sales Copy Reminders
Don't tell me what's in the resource. Tell me how it will change my life/perspective/marketing
"You" is the second most powerful word in sales copy. ("Free" is the most powerful.)
Cut your copy as deeply as you can. Every word matters. Accomplish your goal in 50 words. Thirty is even better.
Bullets help lead the eye to the button
Write a compelling CTA button. You can easily reuse the one from the resource listing page here.
Simplify Your Download Forms
Remember that content download forms are not lead qualifying forms! Your website should make it easy for website visitors to download content by limiting the number of fields required to download a resource. Five form fields (or fewer) are appropriate for a resource download. Collect as few pieces of information as possible and use what you collect. Nicholas Holland, VP of Marketing Hub at HubSpot believes that personalization matters but most companies aren't leveraging the information they collect. Better to collect less and use it well than push visitors away by asking for too much.
Ensemble Health Partners is an outsource partner for collecting payments for healthcare providers. Their download forms are simple and straightforward.
What happens if you want to collect more than five pieces of information? This is where progressive fields come in handy! If you use a marketing automation platform with progressive fields, you'll automatically be able to "sub in" new form fields to collect new information, without making your form any longer. Progressive fields only work if your website visitors enable cookies.
4. Send Them to a Thank You Page with More Content
Where your web visitor should go after clicking download remains one of the hottest debates in inbound marketing. Should you:
show a quick thank you message and allow visitors to choose their next page to view?
deliver the resource immediately on screen in a new browser tab?
generate an immediate download process?
send the resource via email and display a thank you page?
The best option for your company depends on your ultimate goal. If you plan to capture the information for phone follow-up by SDRs, an immediate download may be your best option. If you want to build a relationship through more emails and more downloads before live contact, a Thank You page is a must.
Thank you pages allow you to capitalize on the momentum of a conversion, without requiring an extra click. Because website visitors should automatically be sent to a thank you page after downloading a resource, you have the opportunity to engage them even more (and if you have progressive fields enabled, learn a little more about them).
For example, Optimizely, an integration tool to help software companies collaborate between departments to deliver better software faster, serves up the requested piece of content first and then suggests further resources based on their download. The personalized tone and approach are likely to earn more conversions.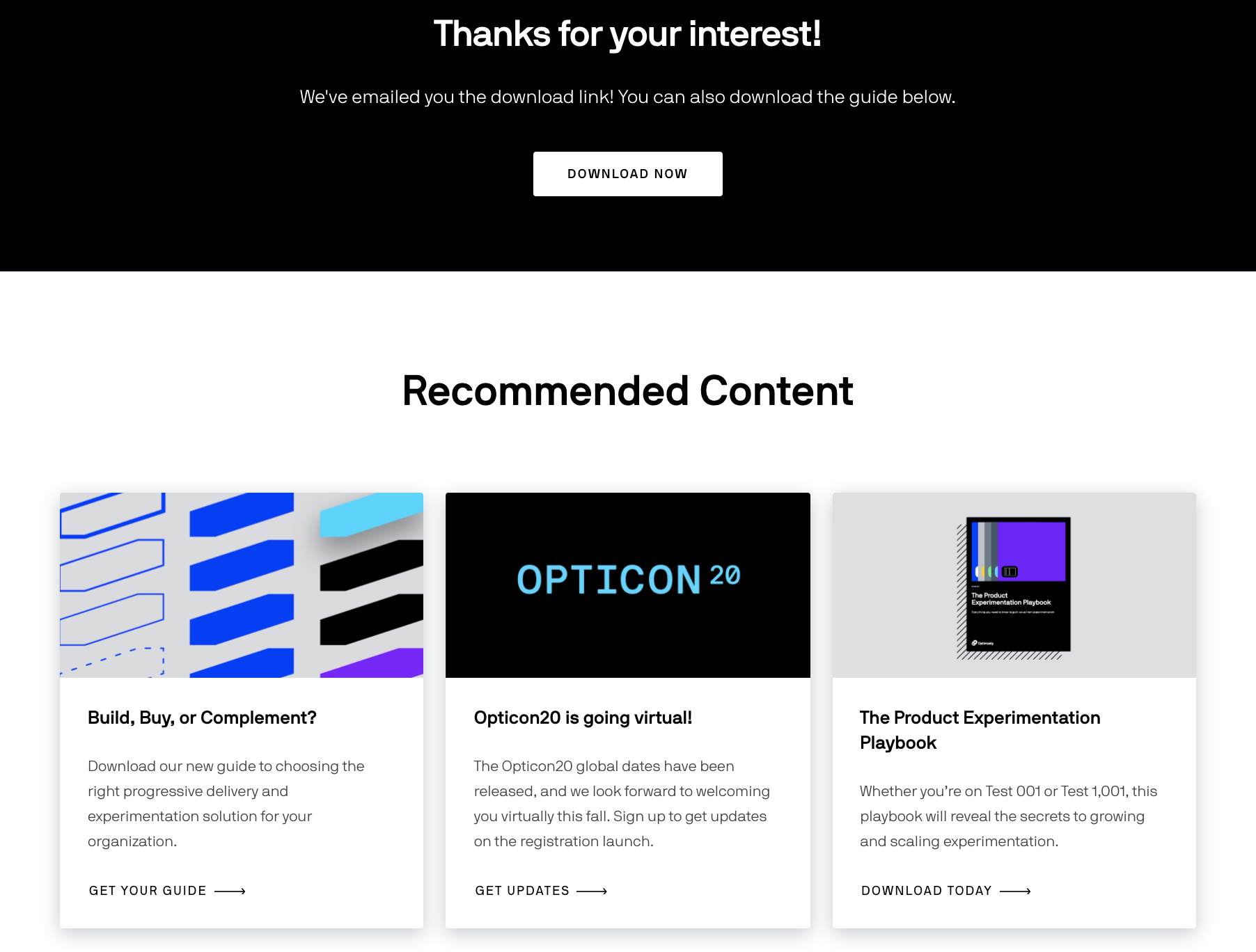 5. Follow Up On Purpose
While your follow-up strategy won't impact the front-end user experience or increase the number of downloads in your resource section, it will help with your inbound marketing efforts.
Put some automated email efforts into play to further engage downloaders and inform your sales team. You'll need:
A single, simple "welcome" email that is sent when you gain a new contact via a resource download.
Lead scoring set up in your inbound marketing software so that content downloads can move individuals down the funnel from a lead to an MQL or SQL.
Bonus: a lead nurturing campaign set up for particular content downloads.
The First Thing You Should Do After Reading This Article
Run a report of your top three most downloaded and bottom three least downloaded resources. Then audit the entire experience from finding the resource on your website through the reception and thank you pages and/or emails. Where does your resource delivery process break down?
Once you've identified the problems, put a plan in motion to fix them.
---
Second Update since March 21, 2019.