HealthTech Voices Marketing Leaders Should Tune Into in 2021
The Article in 60 Seconds
Life and work move at supersonic speeds. If we're not careful, the only voices we hear are those in our own heads or the chatter from those closest to us. How do we grow, gain perspective, be challenged, and wrestle with emerging ideas?
By listening to challenging, contrarian, and wise voices.
In the health tech marketing ecosystem, these are a handful of voices that have much to say.
Andrew Trask
Lionel Reichardt
Mike Biselli
David Vreeland
Lirio
ReviveHealth
Danielle Siarri
Maneesh Juneja
John Nosta
Think About This
Educators have determined that most adults learn best by experiencing a blend of cognitive, affective, and behavioral experiences.

Cognitive learning refers to studying a body of knowledge or going deep into one subject matter
Affective learning includes working on and growing attitudes and beliefs
Behavioral learning occurs when we experiment and apply what we've learned

While we all learn through a blend of ways, each of us has a primary learning style

Visual: looking, seeing, viewing, and watching. Includes reading, video, live events, and more.
Auditory: listening, hearing, and speaking. Includes audiobooks, podcasts, live events, and more.
Kinesthetic: hands-on, experiencing, moving, and doing. Includes experimenting, typing, brainstorming with others, and more.
Andrew Trask
Website | LinkedIn | Twitter | Slack
Leader of OpenMined, a fast-growing open-source community on the razor's edge of AI, data, and privacy. Their goal is to make the world more privacy-preserving by lowering the barrier-to-entry to private AI technologies.
Their recent conference, PriCon 2020, exploded overnight into one of the most talked-about conferences of the year.
Watch Golden Spiral CEO John Farkas' presentation, "Privacy as a Brand Asset, at PriCon 2020.
Why You Should Follow
Our lives are now inextricably linked to our data profiles. More and more data will be extracted in the years to come. On the one hand, we need to protect our data and keep it private. On the other, the more data available, the more solutions that can be uncovered. OpenMined sits at that junction and will be one of the most influential voices of the next decade.
OpenMined partners with Golden Spiral for aspects of their communication and marketing.
Lionel Reichardt
In 2012, Reichardt founded Pharmageek to stimulate discussion on digital health. Two years later, he created 7CS HEALTH to support health stakeholders. Reichardt is a serial entrepreneur who has helped spin up a number or start-ups and trained hundreds of healthcare professionals around the world in the area of digital health.
You'll need to have more than a conversational understanding of French or use Google Translate to read his material, but what he posts and what he links to are worthy of reading.
Why You Should Follow
His global travels and conference attendance give him a perspective that carries over into his thinking and writing. An international perspective is worth pursuing.
Mike Biselli
Website | LinkedIn | Twitter | Podcast
After an All-American football career at Stanford, Biselli grew a career in digital health innovation. He serves as Vice President of Emerging Technology Partnerships at Olive, an AI company focused on helping hospitals solve problems. He produces the Passionate Pioneers podcast, interviewing many leaders from insurance, government, health systems, and health tech companies.
Why You Should Follow
Biselli has a wide variety of guests from multiple disciplines on his podcast, allowing every listener to cross-train on parts of global health innovation.
Lirio's Behavior Change Podcast
A veteran marketer and challenging thinker, Greg Stielstra interviews a wide variety of leaders from research, influence, behavior theory, medicine, and more to explore how we "leverage behavioral science to personalize our messaging, engage our audience, and drive better behavior at scale."
Lirio is led by Marten den Haring, who has contributed to the international success of several software companies. He has led initiatives in AI, "big data," unified communications, and mobile.
Why You Should Follow
Pharmaceutical companies can develop new drugs. Doctors can develop new treatments. Technology can offer new tracking tools. But if the patient doesn't change his or her behavior and mindset, the other breakthroughs won't matter.
Golden Spiral is proud to provide marketing positioning and marketing efforts for Lirio.
ReviveHealth
Website | LinkedIn | Newsletter
ReviveHealth, led by Brandon Edwards, is a seasoned healthcare marketing communications company that has worked in crisis and reputation management for a number of health systems and other players in healthcare.
Their newsletter, Weekly Hash, is a fun read and source to connect to issues facing the industry today.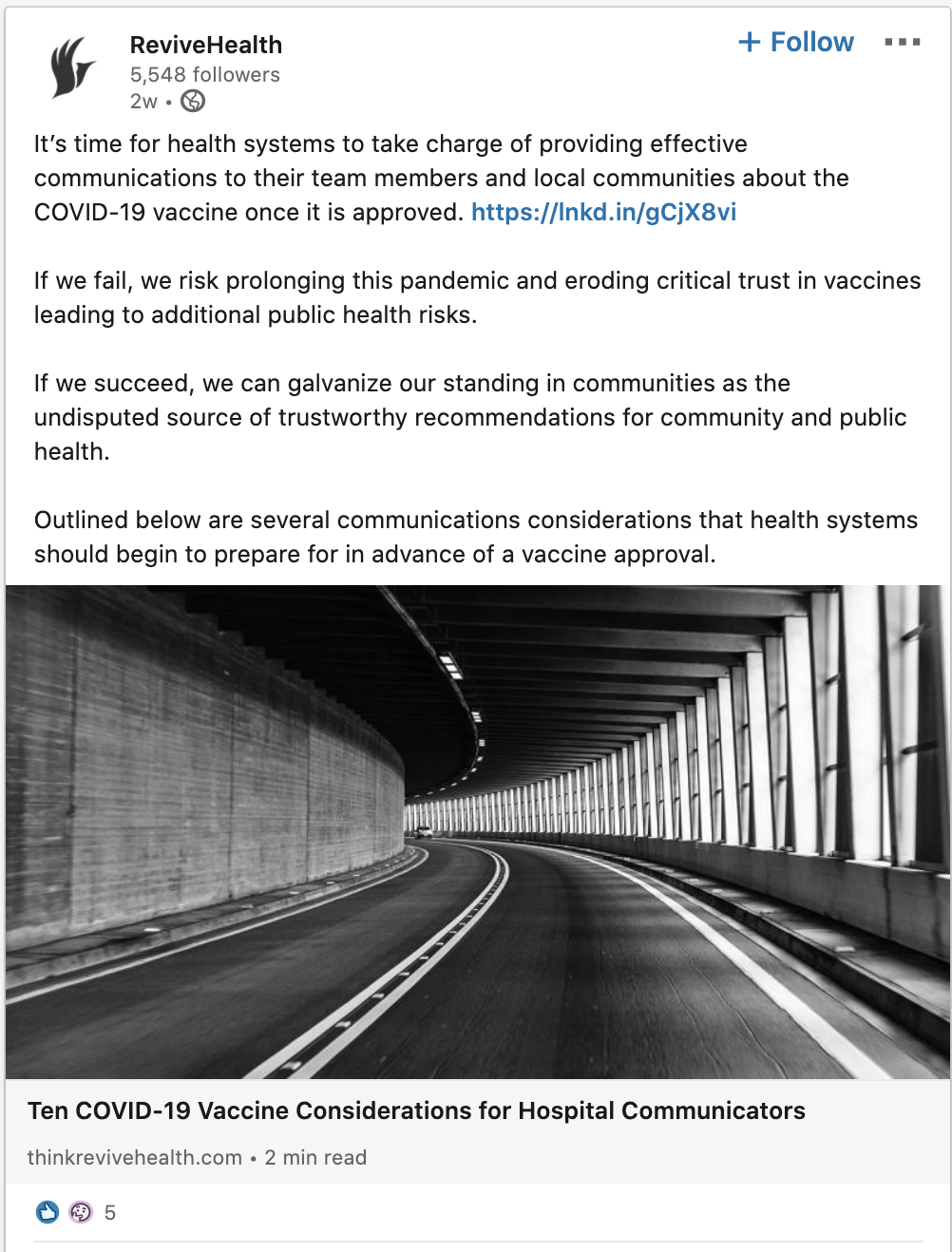 Why You Should Follow
ReviveHealth won Healthcare Agency of the Year from PRovoke media.
Danielle Siarri
Danielle Siarri is an adjunct professor at the University of New England in the Health Technology Department and has contributed to blogs at The British Journal of Healthcare Computing, HIMSS, Infermedica, Microsoft Intel in Health Nurse, and many more.
She is a creative nurse informatics specialist focused on medical database innovation and management. Her content creation at InnoNurse positions her as a thought leader in HealthIT.
Why You Should Follow
Nurses are on the front lines of healing. She is a thoughtful and insightful voice from a nursing perspective.
Maneesh Juneja
Maneesh Juneja is a digital health futurist who views data as the key to the future. For the last few months, he has personally battled coronavirus, which has given him a front-row seat to the most profound health crisis since HIV/AIDS.
His Twitter feed has become a must-have resource for those wanting the latest information and breaking news with insight into their implications.
Why Should You Follow
In addition to personal insights into coronavirus treatment, he finds and comments on advances you need to consider.
John Nosta
His name shows up on every health tech influencers list for good reason. He's everywhere. Nosta serves on the Google Health Board and is listed on the WHO's Digital Health Roster of Experts.
Forbes, Bloomberg, Fortune, and others all seek out his opinion.
Why You Should Follow
Nosta has a knack of breaking down complex information into digestible bites.
The First Thing to Do After Reading This Article
Which profiles stood out to you? Follow them on your favorite platform.