How Can B2B Tech Executives Lead Teams & Customers During this Crisis?
The Article in 60 Seconds
We have seen major business shifts before. After the dot-com bust. In the wake of 9/11. Following the housing market meltdown and recession. However, none of us has seen anything like the effects of the pandemic in our lifetimes. There are hundreds of nuances to navigate and thousands of to do items to complete, but in the midst of it all, your employees and customers need you.
Since the advent of shelter-at-home orders, our podcast team has conducted interviews with four marketing executives. Our guests spent many minutes discussing the "new" normal. In this article, we excerpt key parts of those conversations.
Think About This
The pandemic's effect on our global economy is unfolding every day. Some analysts expect our global GDP growth to be cut in half. [McKinsey] If your company's growth was cut in half, how can you respond?

Leaders believe the top priority for this time is serving and retaining current clients. [5by5]
Into the Breach
Retired Army Green Beret and Bronze Star recipient Stu Weber said, "Courage is doing the right thing in every circumstance regardless of the cost." Marketing leaders today are trying to lead—with courage—through an unprecedented and overnight shift in business.
You have thousands of choices to make today to lead your team through this crisis and to help your company emerge in the "new" normal with as little damage as possible.
"Courage is doing the right thing in every circumstance regardless of the cost."
Our podcast team has talked with four B2B tech marketing leaders since the onset of the pandemic. Their insights into leadership can help you.
Marketing Leaders Need to Lead with Empathy
Empathy is one of the most important factors in all of our work at Golden Spiral. When Rishad Tobaccowala, Senior Advisor to global advertising and communications agency, The Publicis Groupe, brought up empathy, we leaned in. He believes that every leader should listen more deeply and care more practically for their workforce during this season. He said: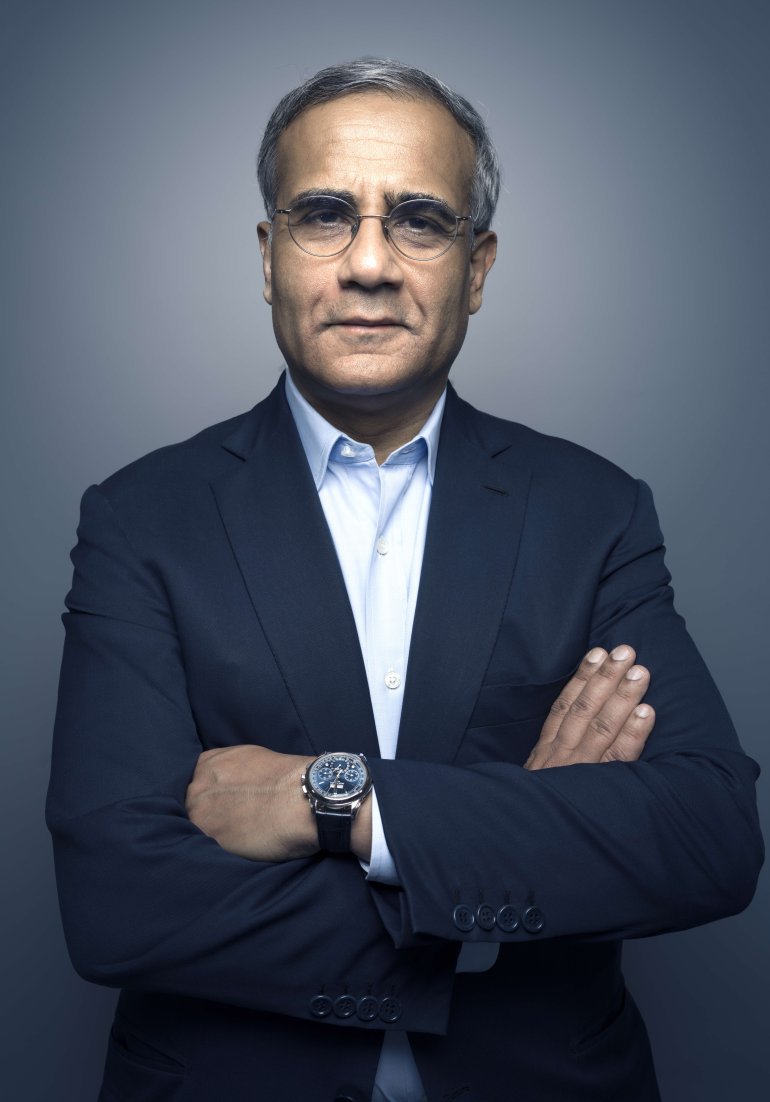 Like never before, whoever you are working with has at least three new challenges that they did not have before.
Anxiety about the future
The challenge of staying at home, and depending on their age, looking after someone older or more likely looking after children who are home from school.
At least half the workforce are women, and unfortunately women still do most of the housework even if they work. They have amazing issues facing them there.
So if you have to have empathy you will see your workers not as employees but as people who are anxious about the future, having to homeschool their kids while basically trying to figure out how to make sure there's enough toilet paper.
So if you have to have empathy you will see your workers not as employees but as people.
Listen to the full interview here.
Rishad's new highly-ranked business book is all about the human connection of leaders to those they lead.
High Touch Has More Value Than Ever
Social distancing is a misnomer. More than ever, we need soul connection to others. We may need physical distancing, but we need interpersonal interconnectivity. Even if we can't get within six feet of another human being not related by blood, marriage, or adoption, we can reach another's soul with our words and intent. A meal left on a porch, a letter sent through the mail, or a phone call to an old friend in another state carries more weight than just a few weeks ago. In business, high touch may be the difference between retaining a customer and losing one.
Empathy moves Kyle Lacy, CMO of Lessonly, every day. His team responded to the crisis by creating a coloring book featuring their mascot, Ollie Llama. They knew their customers were facing the challenge of working from home with children in the same orbit. While the workforce is adjusting to the change (mourning the loss of normal), their children were trying to find their way, too. The coloring book brought families together and provided a high touch moment for Lessonly with their customers and mailing list. Kyle said: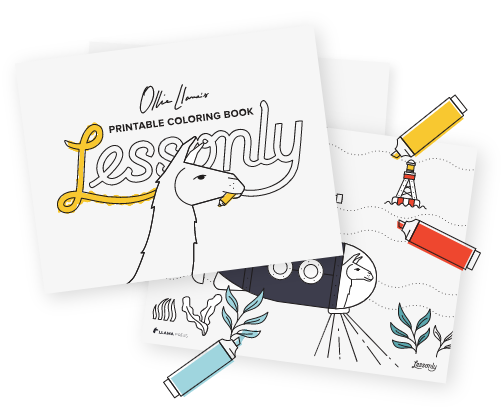 Everybody is sending their COVID-19 plan. We did it. We wrote a blog post about it. And our two designers designed a 13-page coloring book, and we threw it up online yesterday. And we've had I think over 2,000 people hit that page in the last 24 hours downloading this ebook. And we don't ask for their email or anything. And we have about 15 pictures now of people sharing their kids coloring. And you can't pay for that and are we going to get revenue from it? I have no idea. But guess what, we did something a little bit different than everybody else. And to be fair, we stole it from Drift. Drift was doing it as well.
But guess what, we did something a little bit different than everybody else.
Since our podcast recording (which will be available soon), Kyle's team has gone a step further with these two ideas posted on LinkedIn.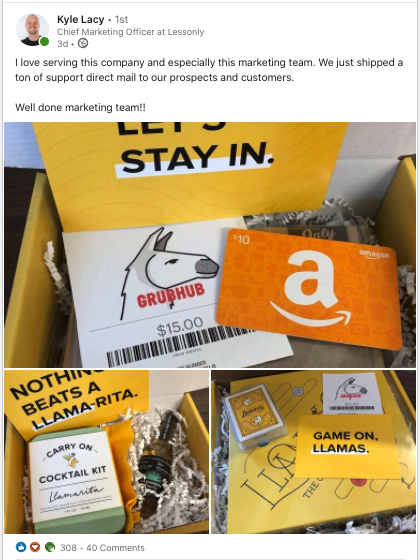 P.S. They just released another activity, word search mysteries, for "little llamas."
Just Keep Marketing
Dory kept swimming. You've got to keep marketing. Especially if you've just released a new product or a major upgrade.
Every day, another video goes viral about the pandemic, a shortage of toilet paper, the quarantine, or an artist entertaining from home. Video is more important than ever with video meetings and video calls to keep in touch with others.
Daniel Glickman, CMO of Wave.Video, presided over the launch of a major upgrade to their platform whose majority users are B2B. The video funnel they help companies create has high engagement and success for their customers. As companies use video more, Wave is seeing a crest in business. Daniel said before we started recording, "We just released last night [March 5] a major, major release to a product which completely changes our positioning. And that fits into a major trend in the marketplace, the replacement of content marketing with video marketing and the ability to create funnels based on video alone."
Wave must present their new message and meet the changing needs of their customers. In our interview (in a forthcoming episode), Daniel discussed why video marketing is so essential right now for B2B. Daniel continued:
Content marketing is not dead. We still need SEO. We still need text-based content. Video does not replace it, it is just a new way of tapping into new audiences. On social media, Google results, and anything mobile, video simply surfaces more, gets more reach, and gets higher engagement. In some cases, video builds more authority and more trust. It depends on how it's done. I'm not going to make a blanket statement, but video is a key way to get more reach.
If your competition is already posting video to social channels and you're not, you are being drowned out and you're not going to surface in search.
Video can dramatically boost the SEO as well. If you're creating blog posts, add a video to the blog post. It can show up in the video snippets for the search terms your prospects are using. Video snippet click-through rates are dramatically higher than click through on a text search—three or four times higher. If you are doing text content well, adding a video layer on top of it or adding a video component to it can boost your SEO dramatically. Consider a teaser video for the blog article. Promote the blog post with a video on social. You get much more reach and much higher clickthrough on those posts than you will on a text social post alone.
If you are trying to get your message out in a chaotic marketplace that's noisier than it's ever been because of the pandemic, video will help you forge ahead.
How to Understand Your Clients and Team Better
Drew D'Agostino, co-founder and CEO of Crystal, knows their solution helps teams understand each other better, and more importantly, helps sales and marketing teams understand their buyers better. He's noticed a fascinating truth during The Great Quarantine of 2020. In our forthcoming interview, Drew talked about the new challenges of communicating:
When you're working remotely, personality differences seem to blow up more. When you're communicating, people mean totally different things when they write something and it creates real problems.
For example, my head of technology and I have had a tough time. I am more expressive in my messaging. I'm an artist. I like expressing myself and words are my thing. I love words. But when he writes to me, it's like he's writing command lines of code into terminal. No capital letters. No punctuation. Just raw facts. I've gotten used to that now, but in person, he's very different. He's warm, kind, and uses a similar communication style to me.
Your teams are facing vastly different communication styles with each other and with your customer base.
Suddenly getting tossed into that is a challenge. You know? So what Crystal is doing first and foremost is trying to understand how this whole remote shift will affect how people are actually using our product? I'm spending most of my days talking to our customers and learning.
My hypothesis: there are people who are spending lots of their time thinking about personas and messaging and then using that information to support a sales team or support a marketing team, so I'm trying to identify who those people are and then how to really solve their problem.
Our CEO, John Farkas agrees. John said, "When leaders are building personas, they tend to look at them at a surface level—what their social preferences are and the like. Instead, when you dive into the problem sets, what does the anatomy of communication look like? How can you communicate to them past the surface? We are carbon-based, emotional beings. Our humanity gets overlooked especially in our data-driven culture."
Have you taken a look at your personas and how the problems and emotions of your customers and potential clients have changed even in the last few days? If not, reach out using that high touch strategy talked about above. Find out what they are thinking about, anxious about, and what's at the core of how their businesses are responding.
The First Thing to Do After Reading This Article
Take out your journal or open a new notes file on your device. What are one or two activities you can do tomorrow in each category:
Expressing empathy

Offering a high touch

Continuing to share your message

Change the way you address your customers
Who do you need to involve on your team to accomplish these ideas?