How Golden Spiral Increased Our Blog Readership by 58%
Is a blog still important for B2B tech marketing in 2019?
The evidence and statistics are overwhelming: it is the most important content tool for inbound marketing.
91% of B2B marketers say their company has a blog (Content Marketing Institute)
55% of companies say blog content creation is one of their top marketing priorities for 2018 onward. (HubSpot State of Inbound 2018)
96% of companies expect their content marketing budgets to increase or stay the same in 2019. (HubSpot State of Inbound 2018)
57% of marketers plan to increase their use of blogging specifically in the near future. (2018, Social Media Examiner)
We agreed with the data: blogging is important. Then we asked ourselves a question many clients ask us: "How do we increase our blog readership?"
And just like we instruct our clients, we counseled ourselves that before that question, we must ask more foundational ones.
Why Do We Have a Blog?
Improving your blog readership starts, like every marketing effort, with "Why?"
Our blog exists to provide B2B tech companies with the information they need to help them market themselves more effectively. It coincides with our company purpose: to help B2B tech companies realize their market potential. Most of our blog articles are educational in nature and range from brass tacks "how to" articles to step-by-step guides to marketing philosophy. Our content is also designed to introduce our readers to how we do business and invite them to explore partnership with us. Just like you, we're selling our services, which we believe align with our purpose.
As we compared our answer to the question to our results, we realized we were having mixed results. We were accomplishing some of the objectives, but not all. We could do better.
Why do you have a blog?
What Does Our Traffic Look Like?
With our purpose clear, we looked at our numbers to give us a baseline. The bulk of our traffic to blog posts came directly from The Angle, our weekly email newsletter, or from search or referral traffic from other places.
However, very little traffic was coming to blog listing page. Traffic to our website was healthy, but sessions including a blog visit were much lower than expected. While we know that the bulk of traffic will come from other sources, we wanted our blog listing page to be a strong resource for visitors to our site. Our website was not leading visitors into our articles.
Have you looked at your traffic sources lately?
Where Do We Need to Improve?
After analyzing our traffic, we took a hard look at the rest of our blog: topics, style, images, and more. We discovered we had several opportunities:
Our blogging frequency wasn't optimal
HubSpot's research into blogging frequency shocked us. "B2B companies that blogged 11+ times per month had almost three times more traffic than those blogging 0-1 times per month."
If we wanted more traffic, we needed to publish more often. We moved from four times to eight times per month.
How frequently (and regularly) do you post new articles?
Our blog articles were too short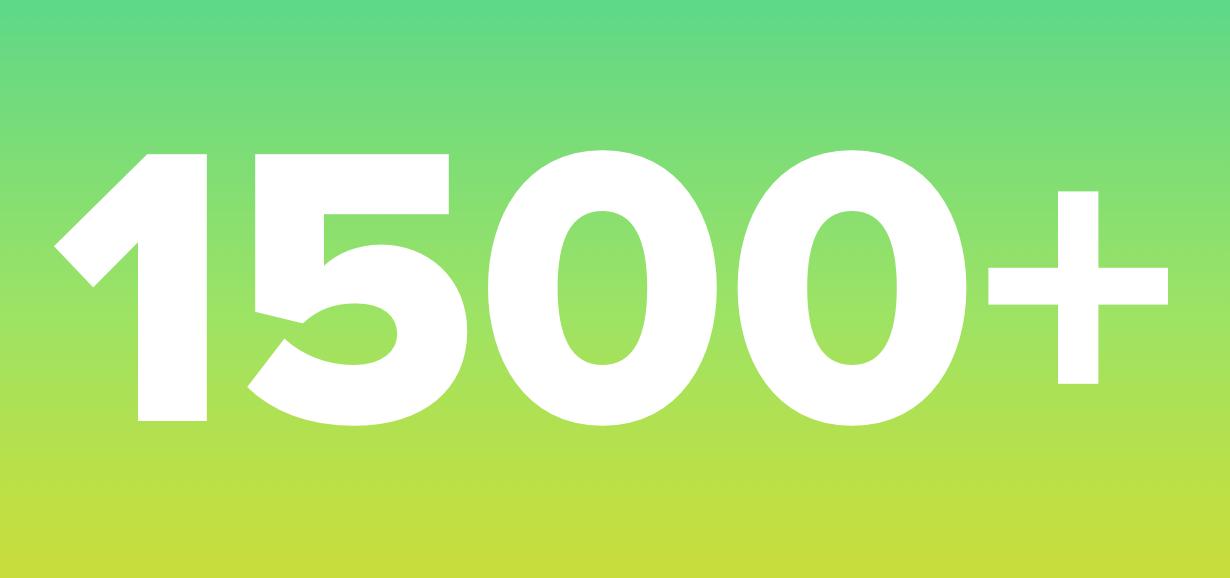 We were averaging between 500 and 700 words per post, a commonly followed guideline. However, we looked at posts related to our most important keywords. The articles that ranked highest were much longer — 1,500 to 1,700 words. We knew that to compete, we needed to write longer, higher quality articles. While longer isn't always required, it was for us. These statistics bear that out.
We increased the word count on our articles and saw a quick rise in Google search rankings.
What's the average length of the best ranking posts for your keywords? What's your average article length?
We didn't have a consistent topics list
While we had identified our top keywords, we weren't writing consistently on those topics. We then debated and honed our list of core topics to 12 different ones on which we would write on a regular basis. We spent time on these topics and we knew they were the right ones. With our topics list, we created a drop down menu on our blog listing page so readers could find all of the articles on a core topic. We also went through and reassigned topics to all of our past content so that all of our posts were consistent throughout time. Our editorial calendar is built off of this topic list to make sure that in two months time, we have covered each of the 12 topics at least once.
Do you know your critical keywords? How purposefully are you writing about them?
Our content was not mapped to the buyer's journey
We wanted our content to move readers from a place of interest to a desire to hire us to help them with their marketing strategy and services. We audited our existing and planned content and realized we didn't have content for every stage of the buyer's journey. We weren't writing to our intention. We changed our editorial calendar to make sure we were not only discussing the right topics but also hitting the right stage in the buyer's journey.
Are your blog readers finding their way to your services?
Our blog content was not interlinked
Our desire was that blog readers who found an article of interest would then stick around to read more on the topic. However, when we started our analysis, we noticed that few blogs were interlinked with each other. We weren't giving our readers an opportunity to find more articles. We surveyed all of our content and invested time to make sure every blog post connected to at least three other posts.
How easily can your blog readers find other articles?
Our blog featured images were weak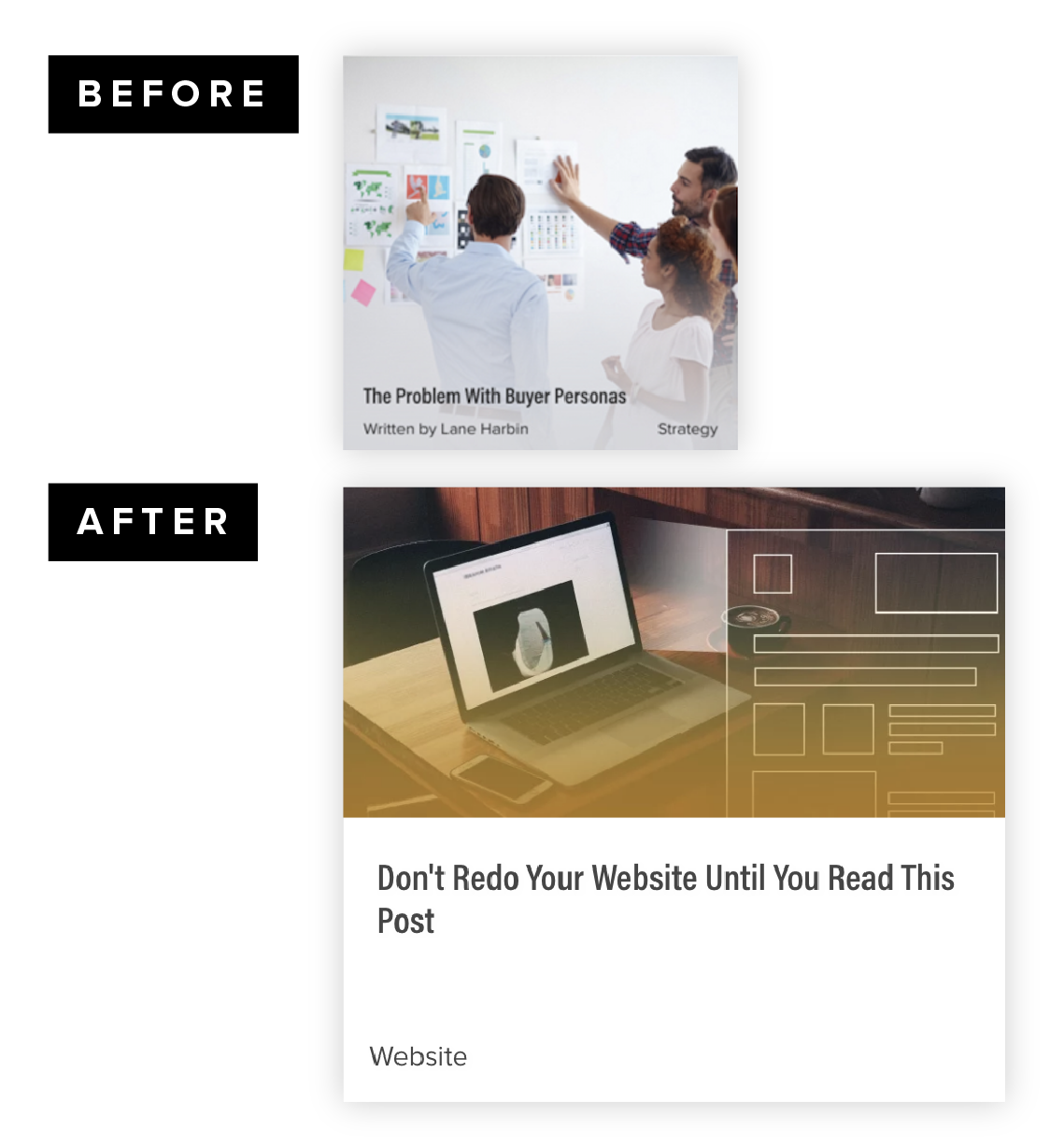 Most of our images weren't original. We were choosing high-quality stock photography. But when those images were shared through social channels or through email, they seemed to blend in with everything else in the marketplace. To reflect our brand more, we began creating hybrid images that combined photography with our unique illustration style inspired by the geometry of the golden spiral.
Do your featured images pop and draw readers in or blend in with their surroundings?
Our blog listing page was clunky
We did not highlight the titles well enough.
The title, topic, and author information appeared on top of the images and not by themselves. Our readers were most attracted to the topic and title, not the image. We moved the information to a white background to help them find the information faster.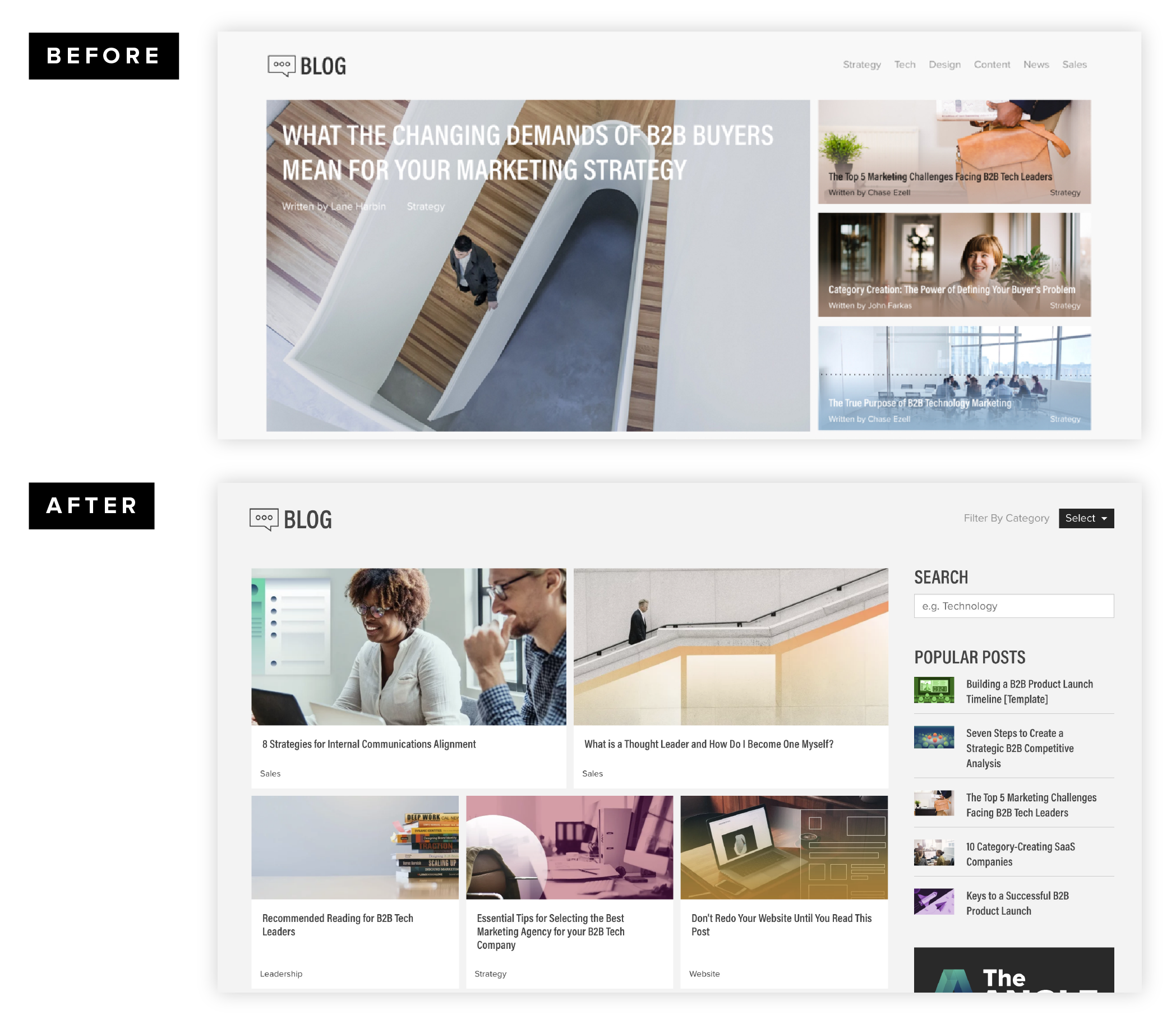 The order of articles seemed distracting.
The original blog homepage featured one main image, three secondary images, and a host of other images. The aspect ratio changed from primary, to secondary, to tertiary. Sometimes, the automatic formatting of the images cropped them in strange ways. At times, we would have to create another image to avoid the strange formatting. This took time. Now, there are two primary images and the rest are secondary images. All images are the same aspect ratio, allowing us to maintain the storytelling in the images. It also reflects our new frequency — two articles per week.
Do your images reflect the purpose of your blog? Do they reflect your brand in all applications?
Our old content was lost
When we surveyed our content, we realized that many articles dating back to 2015 and 2016 were evergreen and still applicable to today. HubSpot's research into its own blog showed that 75% of blog views and 90% of blog leads come from old posts.
Because of the hierarchy of our blog layout, readers would struggle to find our older posts. We want to meet our users where they are and let them consume our content they way they want to. We addressed that in three ways:
We added a Featured Posts section. This shows all of the most popular posts.
We created a topical drop down menu. As mentioned above, we unified our topics list and created a drop down to allow users to find content sorted by their areas of interest.
We added search capability to the blog homepage.
Our own team members would ask, "Have we ever written an article about…?" This was a much needed programming feature we hadn't taken the time to enable.
What would make your blog easier to use for your readers?
Readers weren't lingering
Like you, we spend time, energy, and money to attract new and returning visitors to our website. Once someone entered our site, we weren't doing a good job of inviting them to interact more, a best practice of blogging. There were plenty of articles and downloads (and even more now), but we weren't serving up suggestions for further reading.
We added a sidebar to:
Display recommended reading. Our five most popular blog articles appear right below our search window.
Advertise downloadable content. We added a call-to-action feature we can change as new content is added or older content is promoted.
Invite email subscription. Our latest articles, news, and information are highlighted every Thursday in The Angle. A simple form on this page makes it easier and faster for users to subscribe.
What is the length of your current session duration? What could you do to increase it?
We weren't helping ourselves with Google search
One of our goals was to rank higher in search, but we were tripping over ourselves in our blog template and formatting.
We improved our hierarchy
Solid H1, H2, and H3 tags throughout your articles can boost how Google grades your blog. We made sure that our formatting wouldn't break, allowing us to be consistent in the application of these tags.
We got serious about meta data
We added a step to our blogging process to make sure every image was tagged with the proper metadata to help with our search results. We also started making sure that our blog titles were data-driven based on research into other successful posts online, and standardized the length of our meta descriptions and titles. added another step to make sure that our keyword research — which we conduct before writing every post — was applied well to the final product.
We incorporated keyword research
We started conducting extensive keyword research into what our readers are searching for before every post to be data-driven in our content strategy. This influences the direction we take posts and the language we use. It also includes optimization after posts are finished, to make sure correct SEO practices are applied well to the final product.
How effective is your blogging back end?
Our blog posting process wasn't very efficient
We also made some programming changes. There were parts of every article setup that were clunky. We were spending at least an hour more than we needed to formatting the text in HubSpot once it was written. So, we:
Smoothed reader flow
Most blog articles, especially in B2B tech, are skimmed. For some reason, our bulleted lists displayed poorly, causing the eye to slow down when skimming. We asked a developer on our team to fix the glitch. To most posts, we added images about every 200 words to keep the reader's eye moving.
Got smarter about programming
One of our developers installed modules allowing for faster application of styles. We reduced our options by half so that our articles would appear more consistent from page to page.
Got serious and consistent about alt tags and other optimizations
We added a step to our blogging process to make sure every image was tagged with the proper metadata to help with our search results. We added another step to make sure that our keyword research was applied well to the final product.
Where can you gain productivity in your blog process? Is your blogging platform programmed for ease of use so you can spend your time focused on what really matters — your content?
Key Takeaway
Our changes paid off. Our daily readership is up 58.06% since the shift. New visitors to our blog listing page are up 10.16%. Returning visitors have increased by a whopping 57.53%. Our bounce rate has dropped to negligible levels, and the average session duration is up 31 seconds. More people are finding and reading our content.
What is your goal for your blog? If your blog is an important tool for brand recognition or lead generation, it may be time to redo a stale layout and ensure you are blogging consistently.