How to Boost and Measure PR ROI
Public Relations (PR), as a part of an integrated marketing plan, can dramatically boost your return on investment (ROI). PR, for the most part, is "top-of-the-funnel activity" — generating leads. When PR is working, it brings visitors to your website and social media channels, generates phone calls, increases foot traffic at trade shows, and fosters speaking engagements and awards nominations.
At its best, PR builds brand awareness. PR also:
drives loyalty to your brand
helps you communicate to your target audiences
manages the reputation of your company, your leadership, and your subject matter experts (SMEs)
In this article, we will look at how to attribute leads to PR, track the results of a PR placement, and report on PR's successes.
The Value of Integrating PR with the Rest of Your Marketing Efforts
Standalone PR can produce results, but PR is more powerful when it is aligned and integrated with the rest of your marketing activities. PR as part of your plan allows you to maximize the results of everything else that's working alongside it.
We've met companies who hire an outside vendor for SEO or content marketing, a PR agency, a graphic design firm for their website and collaterals. If your marketing is decentralized, you're not maximizing your time, dollars, or effort. In fact, you're likely duplicating services. Despite your best efforts, the programs will not support each other or feed off each other. You'll end up doubling or tripling your workload. For example, your marketing manager will have the same conversation multiple times. Each week. Imagine updating everyone on changes; items will be missed, causing you to miss your goals.
Plus, you'll be missing opportunities to align all of your efforts, maximize results, and thus waste money. Duplicating efforts will blur the lines between the services, muddying your message and confusing all of the teams.
If you want to maximize the return on your PR spend, start with integration.
Traditional PR Tracking
A number of years ago, PR was looked upon as a separate service altogether. Companies and PR professionals both tracked certain metrics, for example:
Coverage volume: How many times was the company covered and in what types of publications (for example: business, technology or vertical press)?
Coverage sentiment: How was the coverage received? Positive, neutral, negative?
Coverage type: What type of coverage was it? Feature? Mention? Thought leadership?
Influencer briefings: How many conversations with reporters (or analysts) did your SMEs partake in?
Reach: How many readers/viewers/listeners did each piece of coverage receive?
Ad value: If this PR placement had been an ad, what would the company have paid for it?
That is all helpful information, but when looked at in a vacuum, it doesn't really show the whole picture. Reach numbers, for example, can be faulty. A placement in the New York Times — obviously an incredible piece of coverage — is expressed in terms of circulation number. However, you have no idea how many eyeballs the specific article captured. The number is misleading. (Warning: if a PR firm is still using ad value as a measurement of success, consider it a large red flag.)
More Insightful Tracking Methods
In general, track a few key numbers over time to reveal the trends. At Golden Spiral, we track every goal with multiple KPIs to hold us accountable to action and notice trends as soon as possible. These gradual changes over time will be the most insightful numbers and can help you adjust and adapt your PR program for even greater success.
What is possible in PR and what the client expects from PR are not always aligned. That's why you need to discuss deliverables upfront. Have a benchmark that you're executing against for what's possible in your industry, and come up with a plan of attack. If it's not working, manage expectations. Be ready to switch strategies. Sometimes, PR is not going to be the best tool for every company for a variety of reasons. Be ready to share that as well.
These tracking methods could be good starting places for you to determine your KPIs for the next quarter or fiscal year.
New Leads
Ultimately, this is the only number that matters.
Share of Voice (e.g. Competitor Comparison)
Over time, are you being mentioned more often alongside of — or instead of — your competition? If you're spending more time, money, and focus on public relations, your mentions should rise dramatically.
Reach Comparison
Compare the size of outlets to each other to determine their effectiveness. For example, your story gets picked up by the New York Times and the Atlanta Journal-Constitution.
New York Times circulation: 317 million
Atlanta Journal-Constitution circulation: 10.81 million
You could expect roughly thirty times as many web visitors and leads from the New York area compared to Atlanta. However, if you received 300 sessions attributed to Atlanta and only 400 from metro New York, you would know your Atlanta placement was more influential and you could pour more attention into the area.
These numbers are just examples. Be cautious. While every B2B tech firm wants placement in the New York Times, the Wall Street Journal, or Forbes, an article in a niche industry magazine or blog could be far more valuable to you over the long haul.
Reporter Relationships
Is your PR team building said relationships with reporters in your niche? Do the reporters reply to emails? Are you receiving quote requests from them? When journalists are writing an article that covers your industry, are you being included in the mix of mentions?
Social Traffic / Community Growth
Are you noticing community growth across social platforms as a result of getting better coverage? Are the articles being posted on those channels getting engagement? Are you causing some sort of debate online? Is your brand or product a part of the conversation? Your social community can be tracked to demonstrate growth, like every online feature.
PR Attribution
The Internet has been both a blessing and a curse to PR professionals. Seeing hard numbers on a regular basis revealed weaknesses in PR strategies, but the industry quickly pivoted to proven methods that produced the results needed. The blessing came with the ability to track and attribute the work of PR on behalf of a company.
Some reporters may decide not to include links back to company websites. But for those that do, your SEO team can use Google Analytics (GA) to track traffic from those websites to yours. In the event of a mention without a link, you can use time and geography tools in GA to give yourself a good idea of how much traffic has been generated.
How to Use Google Analytics to Track a PR Event
Benchmark organic and direct traffic before sending a press release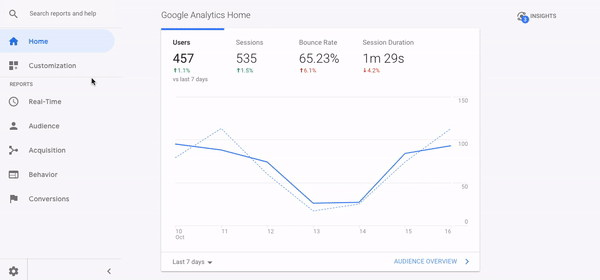 Open GA
Click on AUDIENCE > Geo > Location
Click Secondary dimension > Acquisition > Source/Medium
Set a timeframe. We recommend looking at organic and direct numbers from each of the past four weeks individually. Then average the response numbers in those categories. This gives you your "regular" traffic before the launch. Even without a backlink from a publication, a sharp increase in a category like organic traffic after an article feature is a way to get a general idea of the number of visitors that article sent your way. If you want to take things a step further, you can even check Google Search Console within that timeframe to see what organic keywords new visitors used to find your site.
Track results each week
Repeat the process each week, taking particular note of geographic regions. For example, if you were covered by the Atlanta Journal-Constitution during a trade show at Cobb Galleria Center, you can expect more traffic from Georgia than your benchmarked traffic.
If a press release finds traction in a number of publications and online outlets, the geographic information might play a role in helping you, but the total for organic and direct traffic will be most important.
In either case, if your numbers are higher than your benchmarked ones, you can attribute the jump to your PR efforts.
Track leads each week
If a release hits a specific city, look for leads from the general area. But you know that the Internet is available anywhere and everywhere, so any leads coming in following a release should be examined. Work with the person responsible for lead nurturing to find out the source of any leads coming in during the 14 days following a release. This could become a part of your lead nurturing strategy with progressive fields on your forms or a question in an automated introductory email.
Sustain the Power of a PR Event
When you get traction from a release, maximize one — or many — mentions/placements. Repeated messages matter. You've probably heard of the famous "rule of 7" which states that a consumer will hear/see a message seven times before considering taking an action. Opinions are split on whether this "rule" still holds true, but what we do know is that in our culture of noisy messages, you must repeat and repeat to be noticed.
Integrated marketing is the true sustaining power of a PR event or campaign. Working with your team in advance of the release will maximize the effect for everyone. Here are some specific examples of ways you can encourage the rest of the marketing apparatus to lock arms with you.
Geographic Ideas
In our example of the trade show in Atlanta, you should reach out to other business publications in the area like Smart Business Magazine, Atlanta Business Chronicle, and The Atlanta Business Journal. Contact influential bloggers and podcasters based in the area like Jennifer Dennard. You could also contract with an Atlanta marketing agency to reach out on your behalf. A few piggy-backed mentions or new stories will multiply your effectiveness.
Backlinks
Backlinks are reputable links from established websites to your website. They are the most valuable currency online. Talk with your SEO team about a backlink recruiting strategy following a PR hit. In cooperation with that department, reach out to target websites, inviting them to add a mention of your story to a particular blog post or piece of content. In return, offer to link to them from your content or blast out a link to that specific content from your social media. We all need backlinks. The "Let me scratch your back so you'll scratch mine" process can maintain interest in the story and, most importantly, generate traffic and leads from it.
Social Media
Work with your social media team in advance of every press release so they can post about it and use social listening tools to pick up — and repost — any time the story is picked up.
Your social team can direct your followers to the original article or directly to a reposting of the article (or an excerpt) on your site. Either way, you can track engagement with those posts.
Don't forget the importance of hashtags. In our example of a trade show, make sure you've communicated the official hashtags for the trade show. That will build your exposure with the captive audience at the show. Also use the general industry hashtags your competitors are using and the high-volume hashtags related to the problem your service or product solves.
Content Team
Integrating PR into your overall marketing strategy means working with every team in your marketing department where it makes sense. Your content team could create a blog post based on the press release or even write a feature story motivated and inspired by it. This gives you another piece of content on the same subject to share through social and in backlink development.
Tell your own success stories. Highlight the media coverage you received in your e-newsletter.
Automation
In the event of a landmark PR placement (e.g., New York Times), consider preparing a specific nurturing campaign for new leads from that campaign alone. This same technique will work in relation to new leads from a trade show or a human interest story that finds traction at the time of a product launch.
Subject Matter Experts
Do you have subject matter experts (SMEs) who post on social, speak, and write for your company? Even though they may specialize in areas other than the current press release, coordinate with them for any mentions in their articles or presentations and encourage them to repost any social content related to the story.
Reporting
With all of the tracking mechanisms, reporting on results and trends becomes automatic. You can report to your leadership based on each press release and/or in general about your efforts and the new leads generated from the PR team or the PR agency integrated with your team. The KPIs become your key stats. Leadership will trust your numbers and see what you see. The work you've done in Google Analytics will give you backup to "show your work" if asked.
Remember, your leadership doesn't truly realize how difficult it is to get into certain publications and foster those relationships. So, at the end of the day, if they're not happy with the results for whatever reason, then it's a fail no matter what.
I've been there. I've been presenting our results, how we increased our metrics, and demonstrating the leads that have been generated, but the leaders say something like, "Well, we don't have enough stories in this vertical" or "I'm glad we're getting a lot of traction related to thought leadership, but you didn't get any coverage about our product."
Take that type of direction to heart. Add the factors they highlight to your goals and KPIs for your next quarter and demonstrate that during your next season. Sure, reporters don't want to write about a product by itself, but you might be able to find the story hooks or the human interest angles that will garner placement.
A Real World Example
I worked with a technology company to place a story in many places, but most prominently, on LifeHacker, a publication where people go to read about tricks to make life simpler and be more productive. That one placement continued to get click after click because it answered a question: how to save on energy costs.
The company who hired us was a start up with an ultimate goal of being acquired by a larger company. The timing couldn't have been better. Acquisition talks began after the story hit. That one story continued to generate traffic, social media mentions, and other stories in other venues. To this day, we are convinced that the acquisition went smoothly (and lucratively) because of the great coverage.
Key Takeaway
This is a great example of how a media placement in a publication with the right message generates visitors to your site. They read the article. The story answers their questions. They search for your company and visit your site to learn more. Along the way, they may give you their information so you can nurture them through the buyers' journey. Eventually, some will purchase.
Golden Spiral can help you gain traction for your PR efforts. Reach out to us to discuss how we can integrate with your team to get the placements you long for.