How to Create and Maintain a SaaS Marketing and Sales Scorecard
The Article in 60 Seconds
In the world of sports, there's a lot more to keeping score than just recording the number of points, goals, or runs scored. Teams use stat sheets and box scores to track each player's performance in a given game. This allows them to see which lineup combinations work well so they can form winning strategies.
The same is true when it comes to measuring marketing and sales success at a SaaS company. You need a scorecard to track each department's KPIs and determine the overall effectiveness of the initiatives you launch.
We dive deep into scorecards in this article. You can expect to learn:
Think About This
The majority of B2B KPIs are structured for different departments, rather than company-wide [Databox]
65% of B2B marketers have established KPIs for measuring content performance [Grazitti Interactive]
Only 34% of companies have a dedicated function for assessing return on marketing investment (ROMI) [Boston Consulting Group]
Why You Need a Scorecard
At Golden Spiral, we talk about KPIs a lot.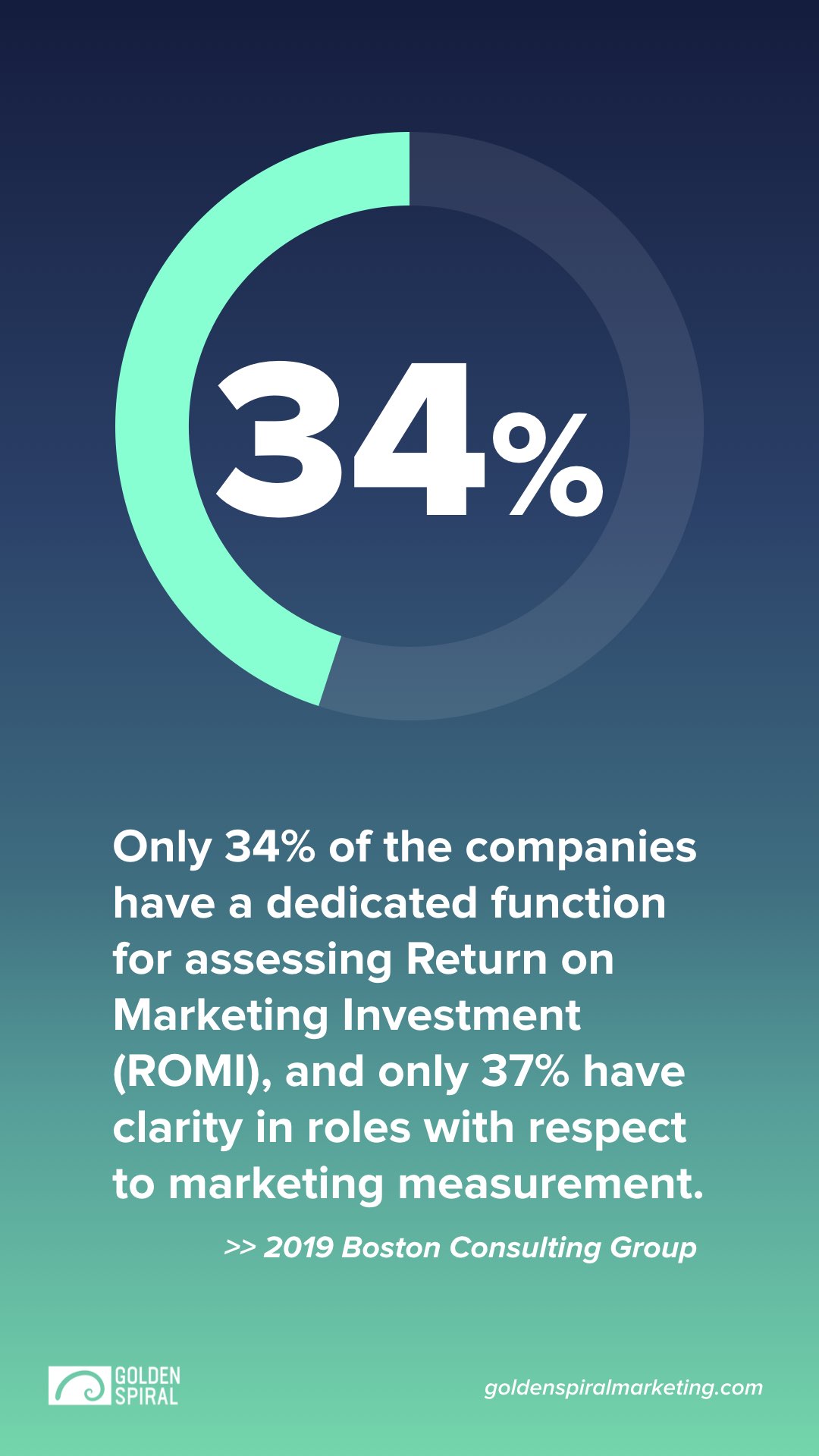 We have to because without them, we'd have no framework for the marketing strategies we build and the tactics we execute for our clients and ourselves. Establishing KPIs, or the numeric values associated with your goals, is the necessary first step in creating a marketing plan. You must have these in place so you and your team have a clear view of what you're working toward and an easy way to quantify your progress.
But, what happens after you set up your KPIs? This is where a scorecard comes into play. A scorecard is the tool you use to track each major KPI; it can be a simple spreadsheet or a more complex dashboard program, as long as it provides a quick view of the latest metrics for your KPIs. It's critical for determining your ROMI—something only 34% of companies do, according to Boston Consulting Group.
Setting your scorecard up can be easier said than done. Here, we'll share how to build and maintain an effective scorecard for your B2B tech marketing efforts over the long run.
Building Your Scorecard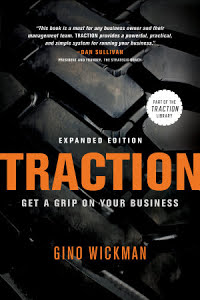 The purpose of your scorecard is to provide a starting point for deeper analysis. By reviewing your progress on a regular basis, you'll be able to determine which KPIs you need to focus on. According to Traction author Gino Wickman, the scorecard should be a proactive tool that helps you anticipate and mitigate issues before they arise. As he describes, imagine you are on a desert island and you only have a single sheet of paper to gauge the health of your business/department. What numbers would you need represented?
The scorecard should be a proactive tool that helps you anticipate and mitigate issues before they arise.
We have four tips to help you get started as you build out a marketing scorecard for you SaaS company:
1. Deals Matter Most
For the marketing and sales departments, you need to close deals in order to increase revenue. This means your ultimate KPI should be "X deals closed," based on your specific revenue goal. Start with this ultimate goal, and build your scorecard backward from there.
For example, if you need $1,000,000 in revenue from new customers this fiscal year, and your average deal size is $100,000 paid up front, you need to close 10 deals in order to achieve your new customer revenue goal. Once you have the number of new customers needed, you can review your funnel, look at your historical data to identify conversions rates from one stage to the next, and build your KPIs by moving backward through the funnel.
2. Consider Each Stage in the Funnel
Each stage of the funnel should be represented on your scorecard so you can monitor your progress of moving leads from initial contact to a new customer.
It is also important to assign accountability for each major metric, ensuring the accountable parties have the authority and influence to own their metrics. Your head of marketing and your head of sales need to work closely with one another, but they will be held accountable for different stages in the funnel. For example, your head of sales likely leads sales meetings to close deals, making them accountable for deals closed. Your head of marketing's key metric is likely the number of sales qualified leads (SQLs) generated.
If you're having trouble determining the most important KPIs for each stage, we recommend starting with these KPI examples: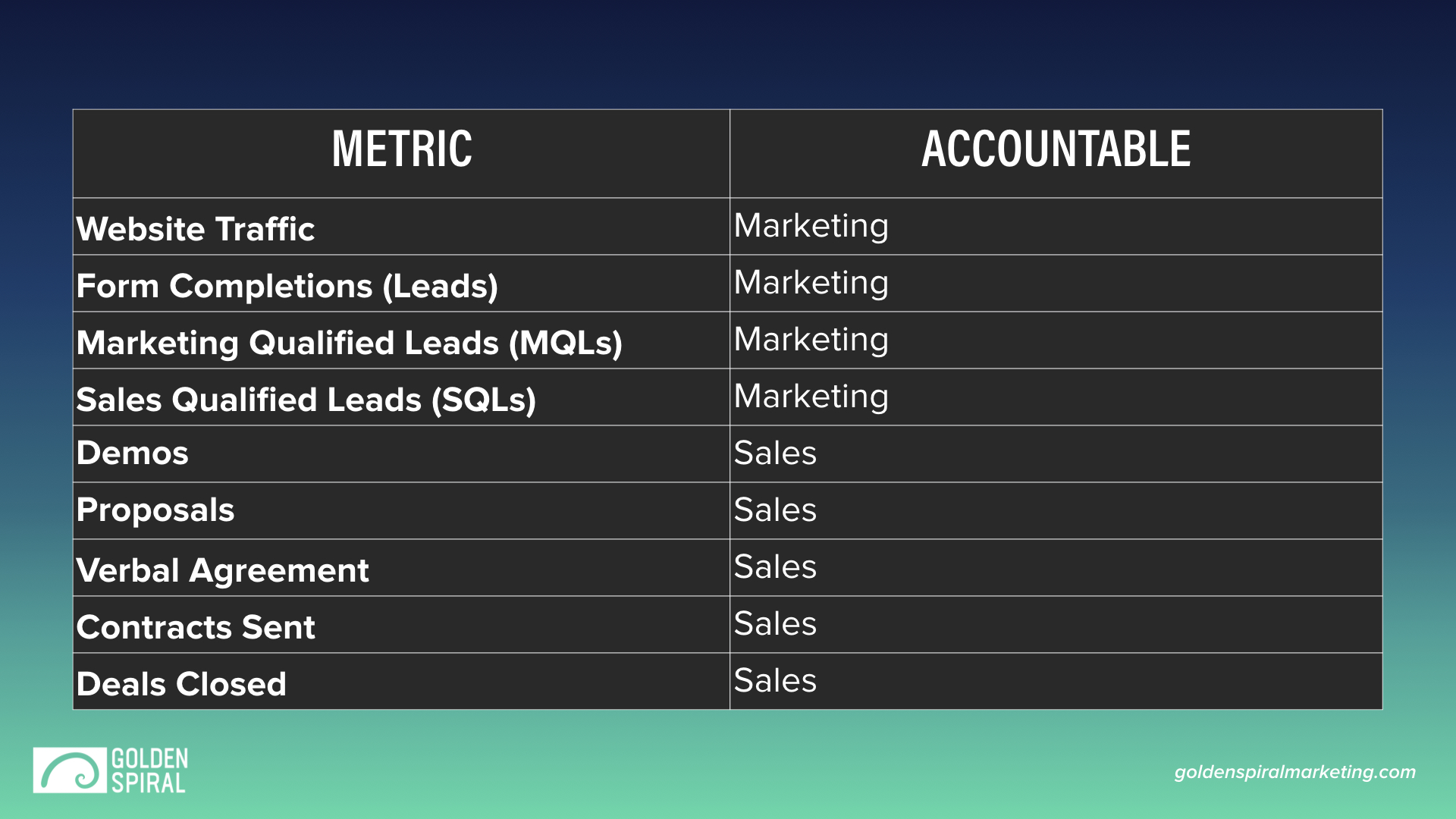 3. Account for New Initiatives
Note: the scorecard does not need to encompass every KPI you track; it is intended to be a "quick look" at the most important ones.
Is your SaaS marketing team launching a new initiative this year, such as a webinar series, podcast, or newsletter? If so, you'll need to include the associated KPIs on your scorecard. For example, in preparation for the launch of Golden Spiral's podcast Studio CMO, we added several KPIs to our scorecard (podcast KPI examples: subscribers, downloads, and subscriber conversions). Since this is a new venture for us, we don't have a current baseline and will assess the value of each KPI as we continue releasing episodes. When we create next year's scorecard, we may determine that one of these metrics represents the success of that marketing program, allowing us to cut the other two metrics from our scorecard.
4. Use Historical Data to Determine Quarterly Split
If your scorecard segments KPIs by quarter, it's important to note that your annual metrics will likely not split evenly across the board. For example, you can't plan to hit 25% of your web traffic goals in each quarter. Instead, consider seasonal factors and review historical data to set your KPIs per quarter. If you don't have historical data, but your industry is highly cyclical, consider the major events that could influence your metrics.
Maintaining Your Scorecard
After you've built out your scorecard, you need a plan for maintaining it—this is how you "keep score" over time.
Another Traction rule of thumb says your scorecard should include weekly activity-based numbers. That's why we recommend conducting weekly meetings with key marketing stakeholders to review where you stand with your KPIs.
Here are a few things to keep in mind during these meetings:
Don't Feel Pressured by the Weekly Review
While it's important to look at your KPIs each week, you can't expect to see progress on all of them weekly. Focus instead on identifying the right duration for measuring each KPI. For some this will be weekly, while others make more sense to measure on a monthly or quarterly basis. This means that it's not a big deal if those with longer durations have a few stagnant weeks in a row — keep in mind the end goal and don't get bogged down by weekly numbers.
Focus on the Trend, not a Single KPI
In a similar vein, remember the scorecard provides a big picture view of what's working and what's not in your marketing efforts. If one KPI is off track for a week, it may not mean anything, but if this continues over the course of several weeks, it could point to a larger trend you should examine. Use your scorecard as a springboard for discussions about how to resolve critical issues impacting your business.
Use your scorecard as a springboard for discussions about how to resolve critical issues impacting your business.
Track by Department, but Prioritize the Company-wide Goal.
According to Databox, the majority of B2B KPIs are structured for different departments, rather than company-wide. We recommend taking this approach with an emphasis on sales, marketing, and customer retention teams. These three will drive revenue, so you'll want to monitor their activities to determine where you are ahead or behind on the ultimate company-wide goal of closed deals. Always keep this goal at the forefront of your analysis.
The First Thing to Do After Reading This Article
Don't have a marketing and sales scorecard? Now is the perfect time to create one — especially if you're entering a new quarter. If you do have a scorecard, take a look at it in light of the tips above and consider adjustments to ensure it brings ongoing value to your business.