How to Humanize Your B2B Tech Brand Through Your "About" Page
In preparation for this blog, we spent quite a bit of time searching for excellent examples of "About" pages in the B2B tech space — and were taken aback by the number of B2B technology companies that don't have an About section. How can so many companies be lacking this essential web page?
Take Cooleaf for example, an Atlanta-based B2B technology company delivering employee retention solutions. A B2B technology company focused on people should showcase its people, right? Unfortunately, the page is non-existent. The same was true for more than a dozen Atlanta, Nashville, and Charlotte-based B2B technology companies that we viewed at random.
So, we did a quick Google search of "is the about page on my website important?" — which yielded dozens of credible articles that answer this question, in short, with a resounding "yes." This article in particular from CopyBlogger will tell you that the number one mistake you can make is not having an "About" page.
Why Is an "About" Section Important on Your Website?
Humanizing your brand is one of the most effective ways to differentiate your company and product from your competitors. People want to work with people who are like them and who they can trust. So, showcasing the who and the why behind your products, services, and brand is essential to your success.
Having an "About" section on your website gives current and prospective clients points of contact for their questions and/or concerns, while making your company more honest, open, and approachable — which isn't always easy to find in the B2B technology space.
What Belongs in an "About" Section?
If you're going to have an "About" section on your website, you'll want to include the following sections:
Your Company's Mission and Your "Why"
The Values You Live By
Leadership Team And/Or All Employees
Careers, Contact Infoformation, Etc.
How Can I Use Our "About" Section to Humanize Our Brand?
The "About" section of your website is your prime opportunity to showcase who you are and why you do what you do. It's a great place to share photos and stories, be honest, and get creative — especially when it comes to your employees. Here are four ways to humanize your brand using the About section of your website.
1. Show Pictures of Employees
The easiest way to humanize your brand is to show the humans who make your brand and product possible. Whether it is a prospective client moving through the sales process, or a current client constantly interacting with your support team, it is human nature to want to put a face to a name. Adding photos to your "About" section also makes your brand more approachable and real, which could certainly set you apart in the B2B tech world.
Let's take a look at two competing B2B tech solutions for comparison: Wistia and Vidyard. Both Wistia and Vidyard are video marketing platforms with an impressive feature set.
Wistia's "About" section features an interactive "yearbook," with two options for engaging with the page's content. The first option is "Directory Mode" which shows standard headshots of all 88 employees. But, surprise — when you hover over each individual, the series of photos changes to employees dancing, making funny faces, and showcasing their personalities.
Toggle from "Directory Mode" to "Drum Machine Mode" and you can make all of the employees dance in unison, to the beat of a drum. A+ for creativity — we've never seen that before!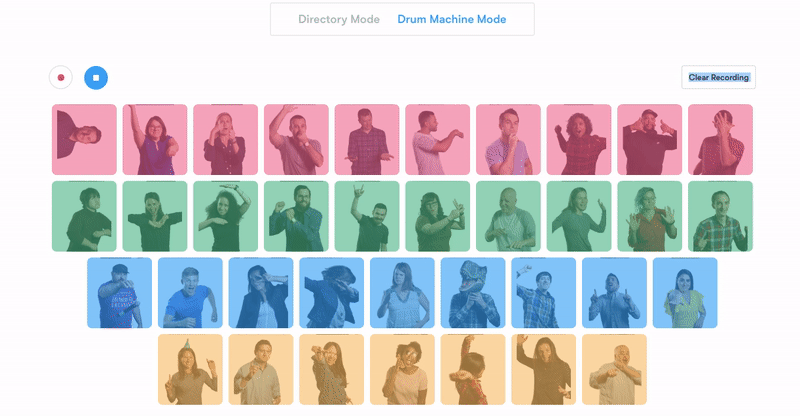 Now, let's compare this to Vidyard's employee page — which only features leadership. While this might be a viable option for a massive company like GE or Salesforce, for a small company like Vidyard, it should be easy to show everyone that works at the small B2B tech start up. Kudos for calling your employees Vidyardians, though.
If you had to choose a video marketing platform solely based on the "About" page of each company — who would you choose? The answer is rather clear: Wistia. Wistia's "yearbook" goes above and beyond humanizing their brand through a series of photos, but the interactiveness of the yearbook also speaks to who they are as a company: innovative, daring, and different.
When adding photos to your "About" section, you will want to consider the following:
Do we want all the photos taken in the same professional setting?
What is the attire that we want people to wear?
What is our plan for removing an employee headshot when/if someone leaves?
What kinds of photos are representative of both our employees and our company?
Do we want to showcase all employees, or just leadership?
2. Add Biographies and Contact Information
Headshots and titles only go so far. If someone is looking at your company's leadership page or employee directory, they're looking to learn a bit more about the people that make your B2B company special.
Use leadership and employee bios to establish the credibility of your company, while humanizing your brand. For example, Fortified Health Security showcases its leadership on their website, with vibrant headshots and detailed bios.
Click the "Read More" button for any member of leadership, and dive into a three-paragraph bio about each of them.
Part of being human is being approachable. Adding each leadership team member's LinkedIn profile and email address to their bios lets prospective and current clients know that the leadership is open-minded and willing to hear from to their audience.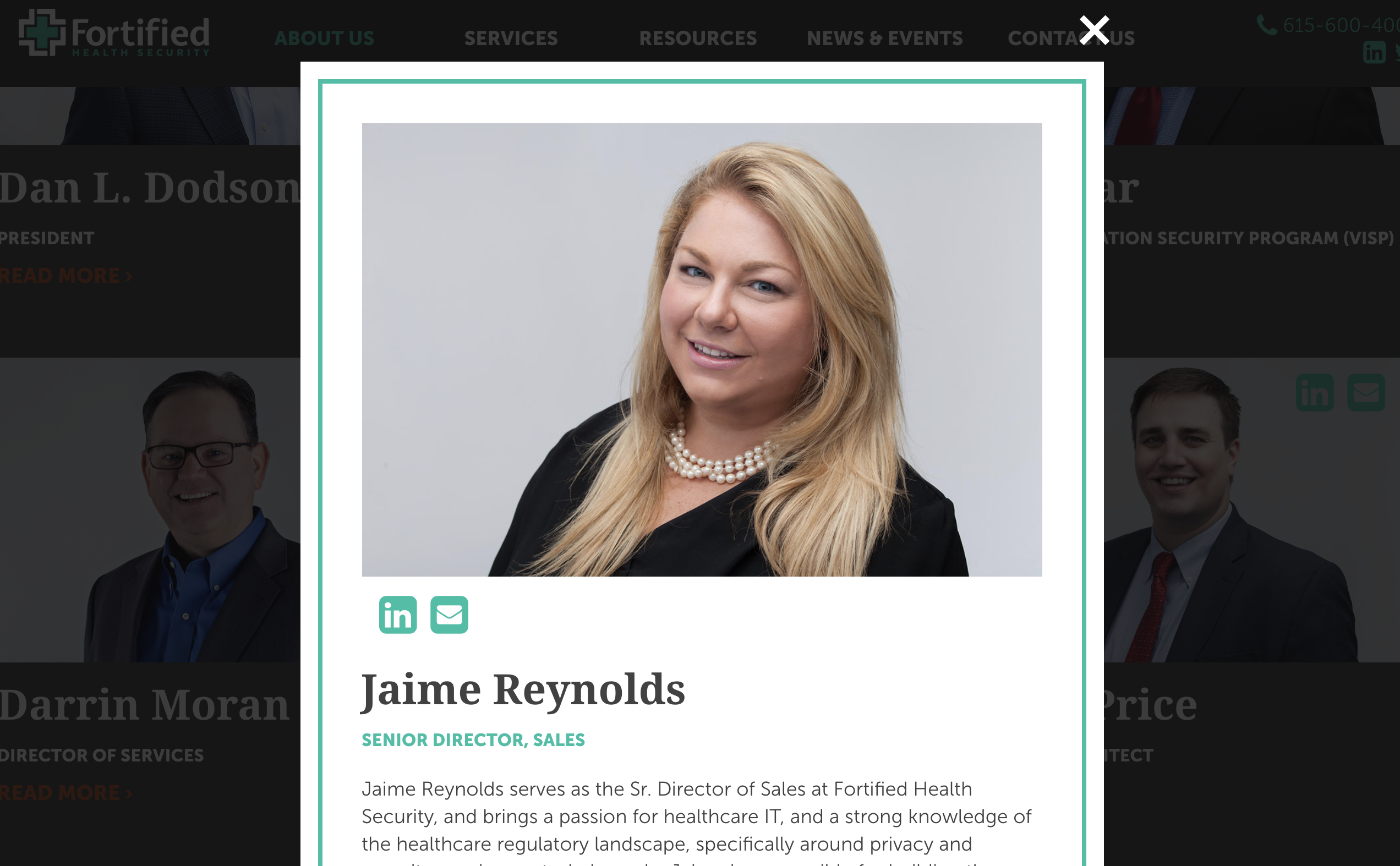 In the competitive B2B technology space, there is definitely a desire to lean toward the bios that speak to experience — and this is important. But don't forget the human aspect. After you've established an employee's credibility, add a couple of sentences about what they enjoy to do in their spare time, and why they love what they do.
For example, on Digital Reasoning's Executive Leadership team page, credibility meets relatability, as the leaders share their industry experience and knowledge, alongside hobbies of cycling and music.
3. Tell Your "Why"
At Golden Spiral, we help B2B tech companies discover and share the soul of their brand. Your brand soul answers the "why" in regards to why you do what you do.
According to our CEO John Farkas, "'Why' is the heartbeat of your company. It's the passion that drives you: what you will pound the table for. When we are talking about B2B technology products, our buyers often put their careers on the line to advocate for a particular solution. They want to know that the vendor they have chosen cares enough to stand with them in that boardroom defending their decision and is every bit as concerned as they are that this is going to win. Your solution is backed by a company full of people who care and are committed to going and growing with them over the long haul."
Soulful brands also tend to have higher levels of loyalty and show higher conversion rates — so why not show a little soul on your "About" page? Take Socure for example, an identify verification software for B2B companies.
This company does an excellent job sharing its "why" from both a historical and personal standpoint. Read the company's "story," and you'll find that it was founded on honesty, drive, passion, and most importantly — meaning.
But perhaps the most engaging and humanizing portion of Socure's "About" section is its Leadership section, which ditches the standard bios for quotes and testimonials about each employee's "why."
This brilliant approach to introducing the company's leadership is humanizing and unique — and you learn more about the people at Socure by reading what makes them tick, rather than their resume.
4. Use Candid Photography
No matter the size of your company, adding headshots of each individual person on your team (and removing them if/when they leave) can easily be perceived as a daunting task, which is why many companies rely on candid photos of their team and offices.
For example, at Golden Spiral, we use our About section to show a mix of headshots, employees having fun, and employees at work. It provides our prospective and current clients with a well-rounded glimpse of who we are professionally and personally — and that's important to us. We are not a tech company but this same approach might work for you. The key point: candids communicate more information and soul than portraits.
Key Takeaway
The "About" section of your B2B tech company's website is vital to the success of your company. It humanizes your brand and provides an open and honest look into the people who make your company a success.