How to Make Your Website Navigation Stress-Free for Visitors
Do you remember the days when you had to use an actual map to get from point A to point B? Or, when printing step-by-step MapQuest directions seemed like a revolutionary change to navigation — even though it wasn't always helpful if you made a wrong turn or if you were driving solo.
Navigation has come a long ways since then, with mobile apps like Waze that not only help us get to our destination quickly, but also alert us about accidents, nearby police, road work, and alternate routes. Apps like Waze and Google Maps make navigation easy, as our phones and cars rattle off each directional cue along the way.
Think about your website's navigation the same way. It should be easy, intuitive, and even somewhat predictable, whether someone is a first-time visitor, or a repeat visitor. Taking that "next step" should be obvious, and guidance along the way should be helpful.
Just like how a good set of directions can make your trip less stressful, and a bad set of directions can lead to frustration (and maybe a bit of fighting with your co-pilot), a good navigation has the power to increase conversions and time spent on your site, and a bad navigation has the power to make your bounce rates skyrocket. Obviously, as a B2B tech company you want to do anything and everything to avoid the latter — so let's dive into how to make your website's navigation as seamless, stress-free, and intuitive as possible.
Website Navigation: Defined
The term "website navigation" seems pretty straightforward. Most commonly, it is referred to as the menu used to get visitors where they want to go. However, with the growing importance of UX, "website navigation" has also grown to include how visitors navigate your site.
For example, Fortified Health Security's website features a standard navigation with direct access to the company's most important content. Of course, this navigation is accessible from any page on the website, ensuring a visitor's "set of directions" is always handy.
But, because we know not everyone enters your website through your homepage, you also need to enable visitors to easily navigate to the content they need from their entry point.
This is where user experience comes into play. On Fortified Health Security's website, visitors have a clear indication of where they are on the website through the subtle highlighted term "Resources" and the "Resources" header at the top of the page. Not only do these features show visitors where they are, but they also provide a roadmap for where they can go next.

Subtleties like we see on Fortified Health Security's website help provide a simple and engaging navigation experience for visitors — decreasing bounce rates and increasing the time spent on your site.
Popular B2B Navigation Styles
A website's navigation is hardly the place to get creative. Just imagine if you downloaded a new map app, and it spoke in a different language…or maybe it used landmarks to tell you where to go, instead of actual street names. You'd be pretty frustrated and slightly confused.
Needless to say, there's a reason why most website navigation bars you stumble across — in the B2B tech industry and beyond — all take a similar shape and form: you need to make the navigation experience as easy (and familiar) as possible. That being said, here are the most popular "navigation trends" in the market right now that offer a solid user experience (and even a little room for creativity, if you wish).
1. Standard Horizontal Navigation
This is the kind of navigation you're familiar with on almost every website you visit — from consumer brands like Allen Edmonds:
To big B2B technology companies like HubSpot:
There's a sense of "safety" that comes with using a standard navigation like this because website visitors usually know where to go to find what they're looking for.
2. Hamburger or Hidden Navigation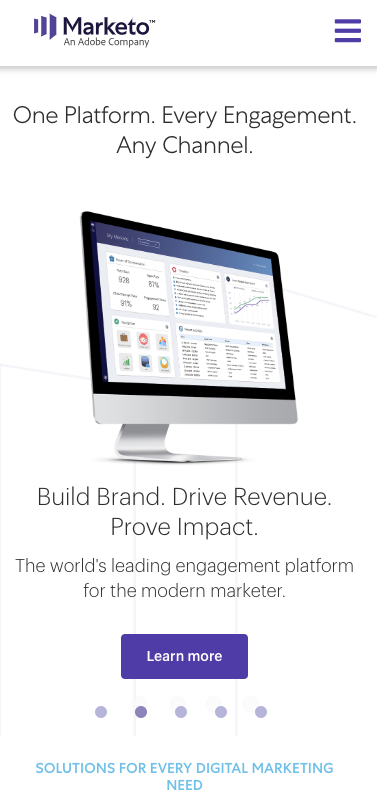 A hamburger (or hidden) navigation originally gained its popularity on mobile devices where space is limited. This kind of simplified navigation is often associated with the "hamburger icon" (three stacked bars), which can be found at the top right or left of mobile websites.
Due to the popularity of mobile and desire to create an improved user experience on desktop, many B2B tech companies have opted for a hamburger menu. While the hamburger menu saves precious real estate and provides a consistent user experience as users re-visit from a variety of devices, it does come with some cons. In general, website visitors may report they have a harder time finding the information they need, and of course, the menu requires an "extra click" out of the gate in order to expand it.
3. Mega-Navigation
A mega-navigation is a large dropdown that generally takes up a large portion of the page, vertically and horizontally. This option is ideal when you want to make a statement about the products you offer, clarify some of your secondary and tertiary navigation elements, or even add visual calls-to-action. For example, Salesforce uses a Mega-navigation to highlight upcoming events and product updates:

You can use a mega-navigation for every section of your navigation, or use it sparingly, as Fortified Health Security does here to showcase all of its products on hover: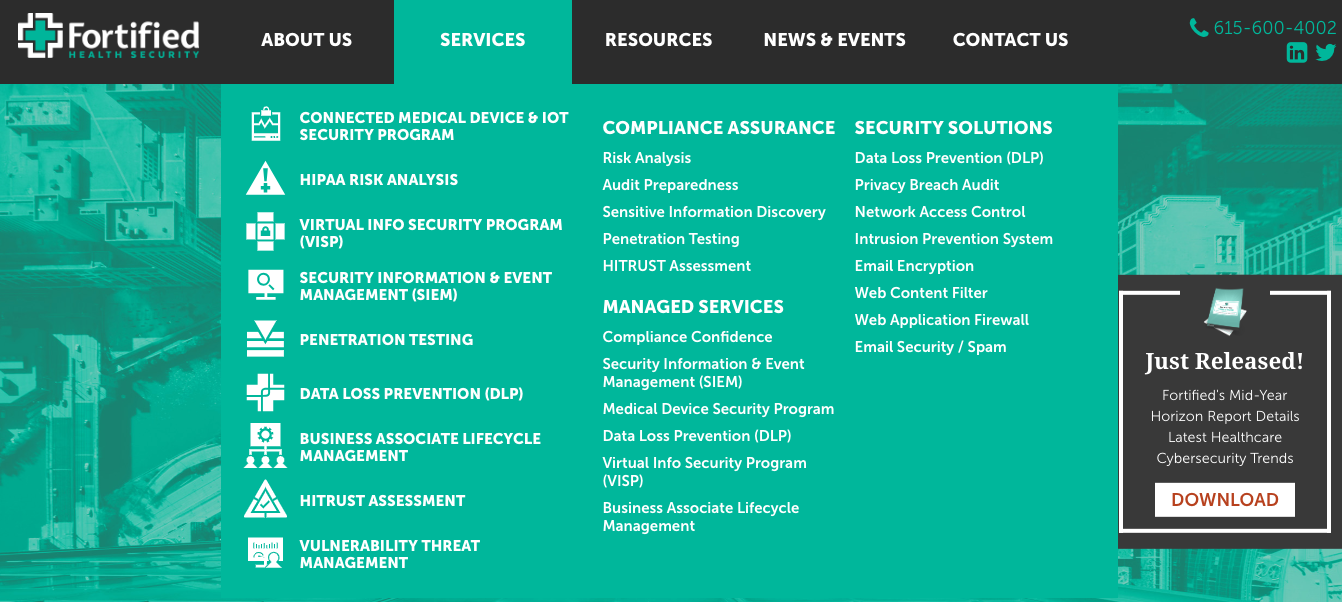 4. "Sticky" Navigation
A "sticky" navigation "sticks" when a user scrolls down your web pages, so your menu options are always accessible. A sticky menu is often helpful on long pages where users might get confused or overwhelmed as they scroll, or become frustrated when they have to scroll back to the top to make their next step.
A sticky navigation takes up precious real estate, so it's important to keep the navigation small, so that it does not compete with your main content. So, in other words, don't create a sticky mega-navigation.
For example, Digital Reasoning uses a standard horizontal navigation, but makes it sticky so that wherever users are on the homepage or interior pages, they can always make that "next step" easily.
Navigation Best Practices
No matter which type of navigation you choose for your website, there are a variety of other best practices for an improved navigation experience that go alongside any choice — from a standard horizontal navigation to an intricate mega menu.
1. Avoid Jargon
Working in B2B tech, you've likely spent a large chunk of your time coming up with intuitive and creative product names that mean a lot to you and your company…but likely not to your website visitor.
Avoid using product names and other industry jargon in your main navigation to simplify the user experience and make visitors feel confident in their choices.
For example, let's compare the navigations of two cyber security companies: Code 42 and Dark Trace. Code 42's website has a "features" drop down that showcases its product in industry-known terms.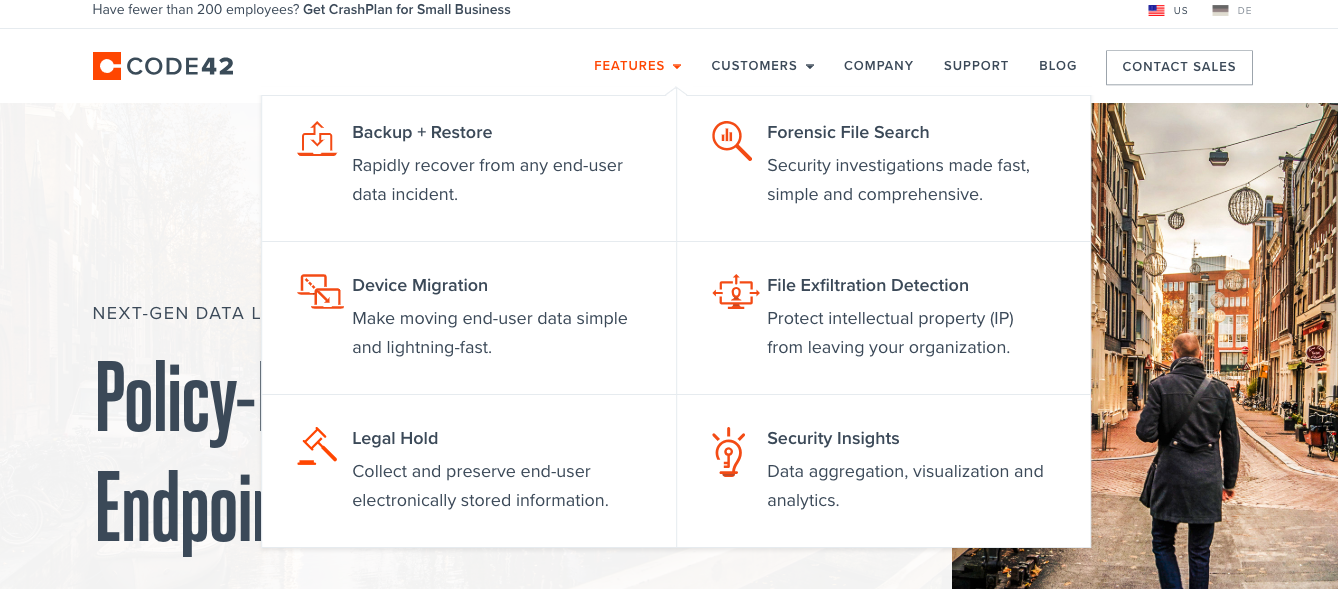 Compare this navigation experience to DarkTrace, who uses company-specific terms.
While both navigation experiences are acceptable, a website visitor first investing in cybersecurity software would likely have a better experience on Code 42's website because they know what kind of content they will get when they click, unlike on Dark Trace's website.
2. Limit the Number of Navigation Options
When you have a lot of products (and a lot to say about each one!), it is tempting to include everything in your navigation. However, a general rule of thumb is to keep your main navigation to a maximum of eight choices (including a call-to-action).
For B2B tech companies, SOME OF these "top eight" options likely include:
Product/Features
Demo
Many B2B tech companies also have navigation elements that prompt website visitors to select an industry, a need, view a client list, etc.
3. Add a Call-to-Action
What is the most important conversion for your company? In an industry like SaaS, it is almost always a free demo. Because your navigation is your most clicked and viewed part of your website, adding a call-to-action for a demo (or consultation, or any other important offer), can help increase the number of individuals filling out your form.
For example, on LiveAction's website, there is a bright orange "Request a Demo" button, which stands out from the other navigation elements. The website also features a sticky navigation, which makes this button easily accessible from anywhere on the site.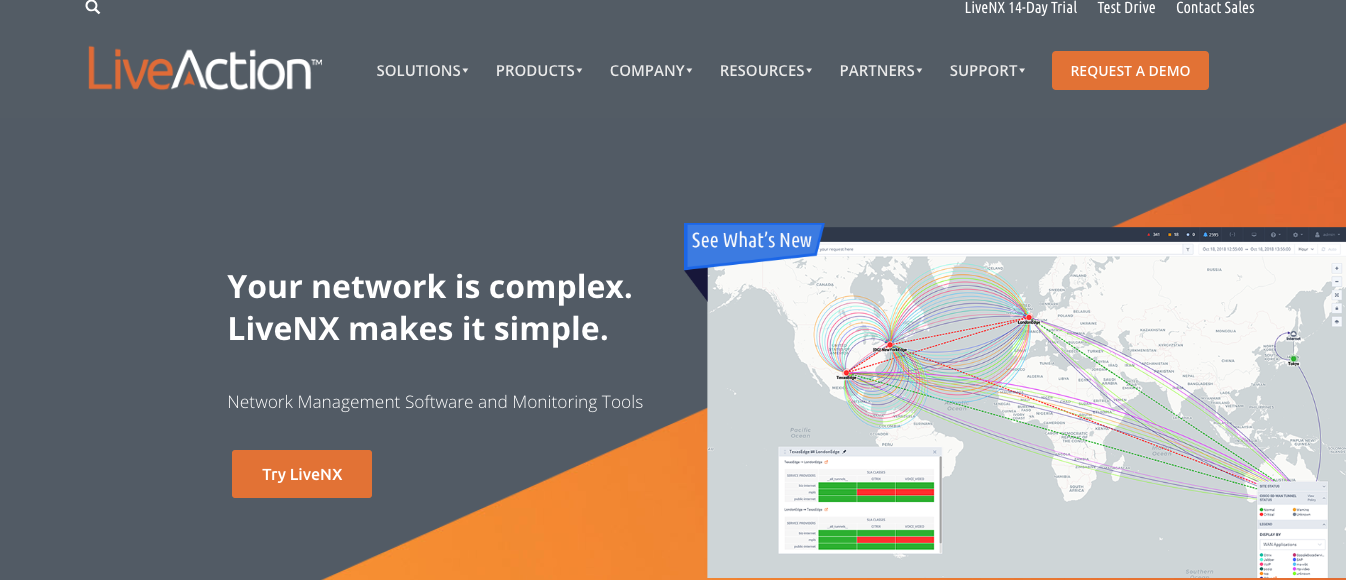 Focus on as Few Clicks as Possible
There is an age-old navigation rule known as the "two click rule," which states that any and all website content should be found in two clicks or less. This is important, as website visitors are impatient and are used to finding content within seconds.
Most website navigations experience a "hover" effect, which means secondary and/or tertiary navigation elements display when a user hovers over a navigation element. However, with the growing importance of web accessibility, some B2B tech companies have switched to "clickable" navigation elements—which works if you have a limited number of navigation options.
For example, Blackbaud's mega-navigation requires three clicks just to visit the "Analytics" page of the site because its navigation works on click, rather than on hover. Some users may find this experience frustrating. The navigation also doesn't include breadcrumb navigation, a secondary navigation idea that helps visitors know where they are at any given time, (more info) on interior pages, which may also frustrate the user who, again, has to make three more clicks to go to the next destination.
Compare this navigation experience to AudioEye, a leading web accessibility company based out of Arizona. While its navigation also works on click, rather than on hover, you can still access any and all content in as few as two clicks.

Key Takeaway
A good website navigation is like a good set of directions. With it, you can easily find your way from Point A to Point B, and as a result, your pleasant experience leaves you with a positive impression of the company. A poor user experience will negatively impact your website KPIs and digital marketing goals.
Improving your website navigation doesn't happen overnight, though, and typically goes hand-in-hand with a website redesign. If your B2B tech company needs help improving its user experience, we'd love to chat with you.