How to Maximize Online Reviews for Your SaaS Company [Updated]
The Article in 60 Seconds
Online reviews are important. But are they as important for B2B tech companies as they are for restaurants and apps?
With increasing frequency, your prospects are conducting online research to seek the answers to their problems long before they contact a company specifically. And they trust what others say a whole lot more than what you say about yourself.
In this article, we'll provide step-by-step instructions on how to maximize reviews on the top sites relevant to B2B shoppers and give you a strategy to respond to negative reviews.
Download a free infographic on how to respond to negative reviews below.
Trends Matter
Consumers' daily interactions with websites like Amazon, Zappos, Google, Yelp, and Facebook have groomed them to depend on reviews to make any kind of decision — and that is especially true when making a lofty financial investment for their company.
Consumers used to rely on W.O.M.M. (Word-of-Mouth Marketing) to learn about companies, products, and services, but now we rely on online reviews, and their prevalence across the Internet has naturally made them part of our decision-making process. As a matter of fact, 90% of consumers read an online review before visiting a business (or their website). And, they trust them just as much as their friends — 88% of consumers trust an online review (from a total stranger!) as much as a personal recommendation.
Online reviews matter.
They impact your website traffic, brand trust and loyalty,
the length of your sales cycle,
and ultimately, your revenue.
Online Reviews for B2B SaaS Companies
Like all things digital marketing-related, online reviews require a dedicated strategy if you want to do this right. This strategy includes:
prioritizing which review websites you want your customers to interact with
eliciting positive reviews from happy clients
determining how and when to handle negative reviews
Online Review Websites
A select group of review sites applies to B2B technology and SaaS companies. Online reviews are different than references, testimonials and case studies that would be found on your website; prospective clients are likely to perceive those as biased. Online reviews are popular because they are perceived as unbiased and honest.
Here's where your prospects might be searching for online reviews about your business:
Google
Google is unique for B2B technology companies because Google won't display online reviews for B2B the same way it does for B2C. Online reviews typically display in the knowledge panel for B2C companies, restaurants, etc. Take a look at this example from bartaco, a local Mexican restaurant located two blocks south of Golden Spiral.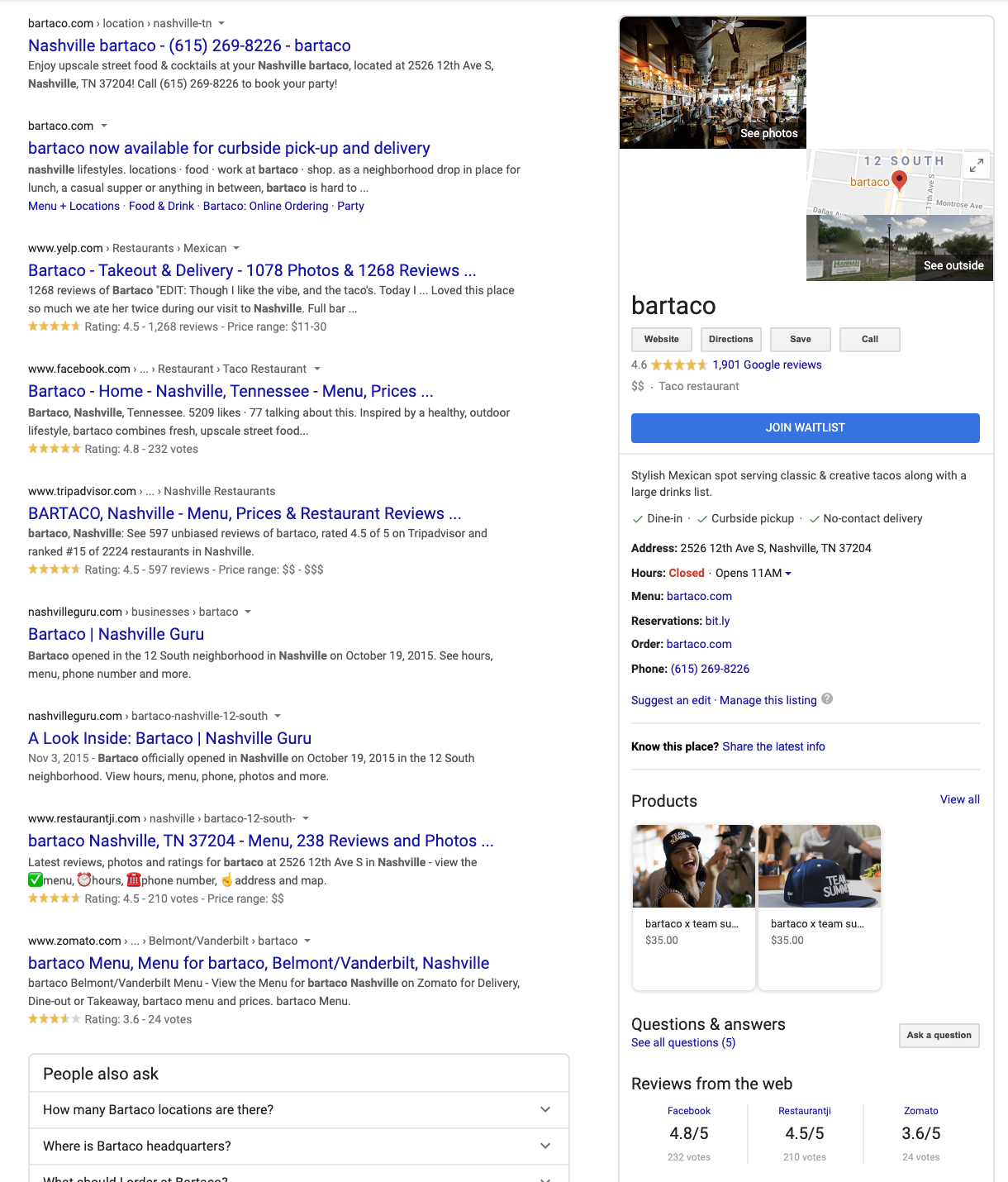 As you can see, Google serves up a whole variety of information in bartaco's knowledge panel including two sets of reviews: Google reviews and reviews from across the Internet.
While this would be helpful for B2B and SaaS, your knowledge panel may look different. In Google's never-ending quest to improve the user experience, it has crafted a different knowledge panel for B2B companies that doesn't always include reviews.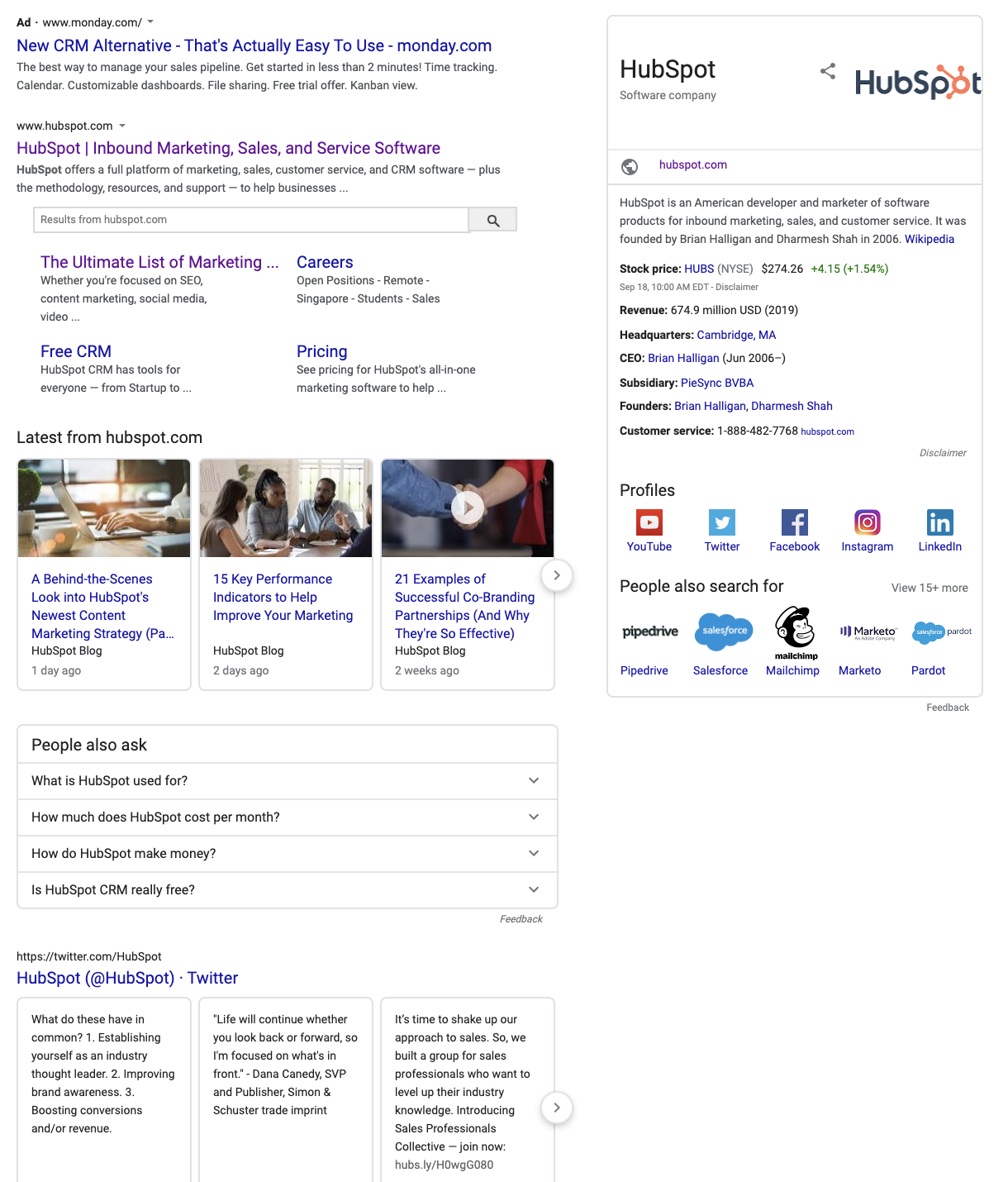 If you are using Google My Business, reviews may show up in your knowledge panel. Online reviews are often served up directly in Google search results which could impact your website traffic.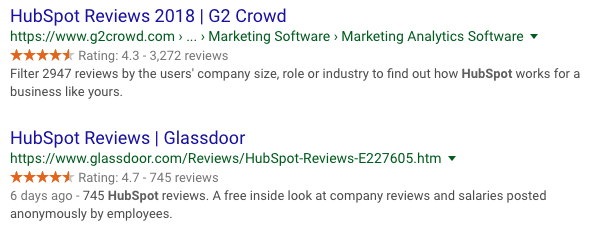 G2
G2 (formerly known as G2 Crowd) specializes in online reviews for software and services, and decision-makers typically visit this site when comparing technology solutions. Your company's G2 Crowd rating displays publicly in Google Search alongside a visible star-rating. Make sure you pay attention to what G2 Crowd shows about your company.
Within G2 Crowd, users have the opportunity to rate their overall experience with a brand and company, as well as individual products.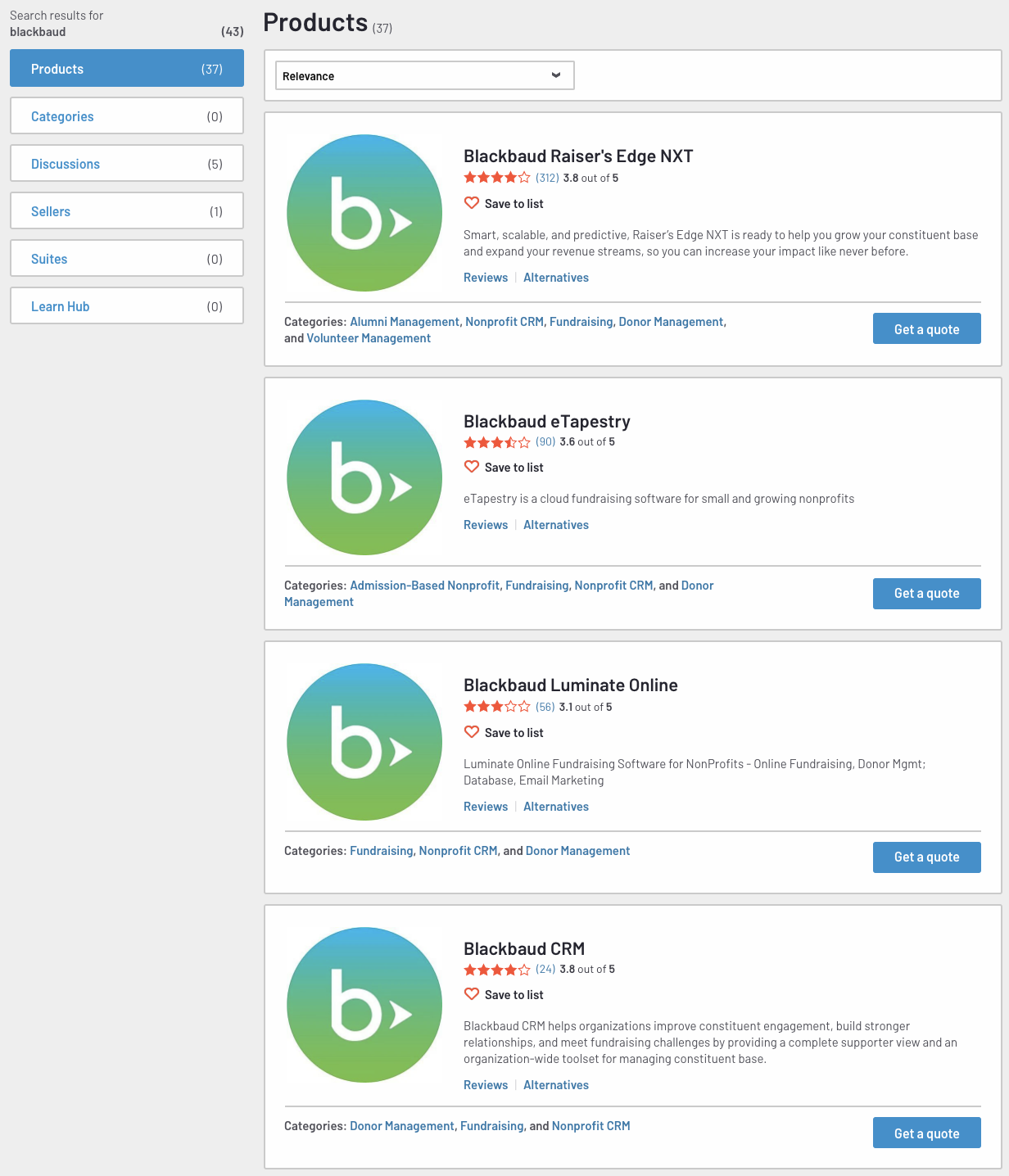 Because G2 Crowd allows users to search for particular companies or a type of product (such as cybersecurity software), you'll want to be sure that your company:
has a presence on G2 Crowd
has positive rating
As a matter of fact, if your company has a presence on G2 Crowd with limited reviews, the website will actually serve up your competitors on your page.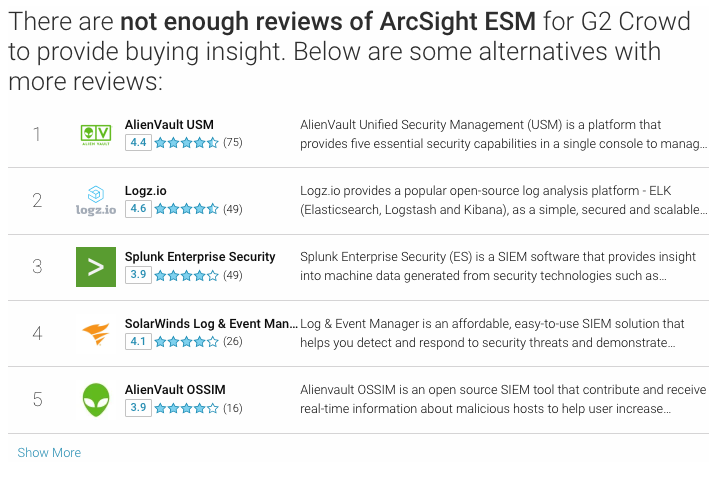 To get started on G2 Crowd, search for your company to see if a profile already exists. If it does, you can click the "Update this Profile" button on the landing page to begin making updates to your company's landing page on the site. If your company currently does not have a page, you can create one by visiting the "Vendors" page.
It is completely free to have a website on G2 Crowd, but some additional services may cost you upwards of $10,000.
Glassdoor
A big piece of why someone might choose to work with (or at) your company is based on the honest opinions of your employees. Unlike Gartner and G2 Crowd — which allow clients to review their experience with your company and/or products — Glassdoor allows employees to leave honest reviews about your company culture, values, etc.
While this may not directly influence a purchase, Glassdoor reviews do show up in Google search results like G2 Crowd's, so if you have negative reviews here, it could hurt you.
Facebook
While Facebook may not be where the majority of your prospects are spending their time shopping for B2B technology, individuals can leave reviews here. Unlike all other review sites, you can turn Facebook reviews off, which can come in handy.
Earning Positive Reviews
If you're now convinced that online reviews need to be a part of your strategy, you're likely wondering, "Well, how do we get positive online reviews?"
For starters, here's what not to do: Send an email blast to your entire client base and ask them to leave you a review. It's a quick way to wake a sleeping giant, and you might end up getting some nasty reviews from unhappy clients who were simply remaining silence.
Asking for positive reviews needs to be strategic. Here are a few strategies for asking for reviews:
Conduct an NPS Survey: An NPS (Net Promoter Score) Survey measures customer experience and business growth. Most importantly, it identifies key clients who would be willing to say good (or bad) things about your business via an online review.
Read our detailed article on NPS.
An NPS survey helps you identify three groups of people:
Promoters: Those who score a 9-10 and are willing to refer others and fuel growth. Promoters are the group of individuals you'd want to reach out to about leaving an online review. Craft an email to this delightful group and ask them just that. You may even feel the need to incentive them with a contest or small gift card.
Passives: Those who score a 7-8 and are satisfied but unenthusiastic. You will likely want to avoid this group due to their passive nature — although they're likely to leave you a rather honest review.
Detractors: Detractors can hurt business. These unhappy customers can damage your brand through negative word-of-mouth. Therefore, asking them to leave a review would be detrimental to your brand (although, they might do it on their own).

Space out Reviews: Earning 17, five-star reviews on December 18 is going to look fishy to just about anyone. Consider asking smaller groups for reviews, such as 5-6 clients at a time. Then, wait a few weeks and ask another 5-6. Rome wasn't built in a day.
Piggy-back on Positivity: Occasionally, you might hear from a client about an amazing experience with one of your teams or team members. Use that opportunity to ask for a review on one of the websites that matter to your business initiatives.
Don't Be Afraid of Bad Reviews
While you may be afraid to implement any sort of online review strategy due to the potential of bad reviews, it is important to not be afraid of bad reviews. Earning a five-star review may be your goal, but many consumers are skeptical of this. Bad reviews give people the opportunity to do what they'd do naturally: weigh the pros and cons, and make a confident decision.
However, it is essential to have a plan in place for bad reviews. Who will respond? When? And, how?
Download our infographic
as a quick reference for responding to negative reviews.
If you receive a bad review, consider the following:
Respond promptly: Leaving a bad review unanswered for months isn't a good idea! Responsiveness, even in difficult situations, is good for your brand. Most review websites have an area for comments and responses, and we believe it is important to post these comments publicly. However, sometimes it is appropriate to take the conversation offline.
Be real, admit mistakes, and correct inaccuracies: Is what the reviewer said, in fact, true? If yes, work with your communications team to craft a response that is real and human. If what the reviewer wrote is false, now is your time to correct inaccuracies, kindly. Don't let your emotions get involved! Don't delete bad reviews either. You will anger the customer who left the bad review and prevent any chance at restoration.
Enlist your delighted customers: Rather than having your business reply to a negative review, you can ask a happy client to do so. The honest and candid response may be more well-received than one from your leadership or marketing team.
The First Thing to Do After Reading This Article
Take a look at your online reviews. I bet it's been a while since you reviewed them. Download our infographic by filling out the form below, then talk with your digital and social teams about your procedures and systems for responding to negative reviews. Where can you improve?