How to Navigate a Successful Trade Show Product Launch
Trade shows are the top business-to-business marketing spend to support sales, beating out specialty publications, internet, promotions, and PR respectively. It makes sense: at trade shows, 83% of the attendees have some kind of buying power, 79% say that attending helps them decide on what products to buy, and 91% report that they get the most useful buying info from trade shows and events. Converting a trade show lead to a sale costs 38% less than sales calls alone. The combination of these factors make trade shows the perfect place to launch a new technology product.
One of our clients, 360 View, recently made a significant, strategic investment in their trade show presence that paid off in brand recognition, event demos, warm leads, and more. 360 View was originally developed and described as a CRM for financial institutions. However, as we built a relationship with 360 View and learned more about the capabilities of their solution, we realized that their product is much more than a CRM: it is the growth platform that provides all the tools necessary to maximize the performance of financial institutions.
This was the angle that we chose to rebrand and relaunch their product. A leading sponsorship at the one of the financial industry's top trade shows, The Forum, gave them the opportunity to turn the event into what Play Bigger calls a "lightning strike" moment in which they could really make a splash and formally announce their pivot from CRM to The Growth Platform.
If you're looking to relaunch your product — or launch for the first time — take note of the most effective elements of 360 View's trade show strategy:
1. Targeted Content
In preparation for the trade show, we targeted the list of attendees and built up an audience to send targeted content to pre-show so that they would have a point of reference for 360 View's brand when they arrived. Attendee lists are not freely provided by the trade show, but in most cases, it is included within a leading sponsorship. We further built up their audience through LinkedIn Ads, Google remarketing, and new rich content pieces. In doing so, we helped them into a progressive approach to inbound marketing and demand generation. Rich content, such as white papers and webinars, positioned 360 View as a thought leader in their space and contributed to inbound leads through downloads.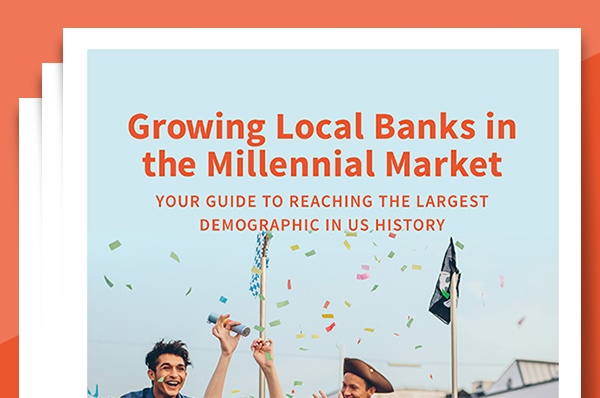 2. Account-Based Marketing
Part of 360 View's trade show sponsorship included a handful of free tickets to the show. Since 360 View is ultimately a one-to-one sale, this was a great opportunity to personalize outreach to the most promising prospects. We put together an Account Based Marketing plan that included sending a VIP gift box, full of travel-themed goodies, along with a ticket to The Forum to top prospects. 360 View hosted a private dinner in their penthouse suite the week of the show for prospects and top customers that attended. This served as a great opportunity for customers and prospects to network and share success stories about their relationship with 360 View.
3. Booth Design
When we rebranded 360 View, choosing a color palette that would set them apart in the financial industry was mission critical. At the trade show, this decision paid off: their distinct orange booth was the brightest, boldest presence at the entire show, especially in the context of the incumbent's blues, greens, and grays. The splash we made definitely established 360 View as the "big orange booth" and built brand recognition for the still somewhat-new brand.
The 360 View booth naturally had a ton of energy due to its vibrant color and design, but a few fun touchpoints made it the hit of the show. On opening night, we set up an orange candy display on the two high top tables to give people another reason to come deeper into the booth. On the second night, we had Smilebooth do a pop-up GIF-making station where attendees, other vendors, and the 360 view staff joined in on getting crazy for the camera.
Functionally, the 360 booth did a great job of complementing the flow of conversations. Greeters stood in the aisles with friendly faces and drew in those passing onto the "green carpet." From there, top sales people were waiting deeper in the booth ready to have more pointed conversations and, once a sense of the prospect's need was established, bring them over to one of the internal demo stations for an actual look at the product.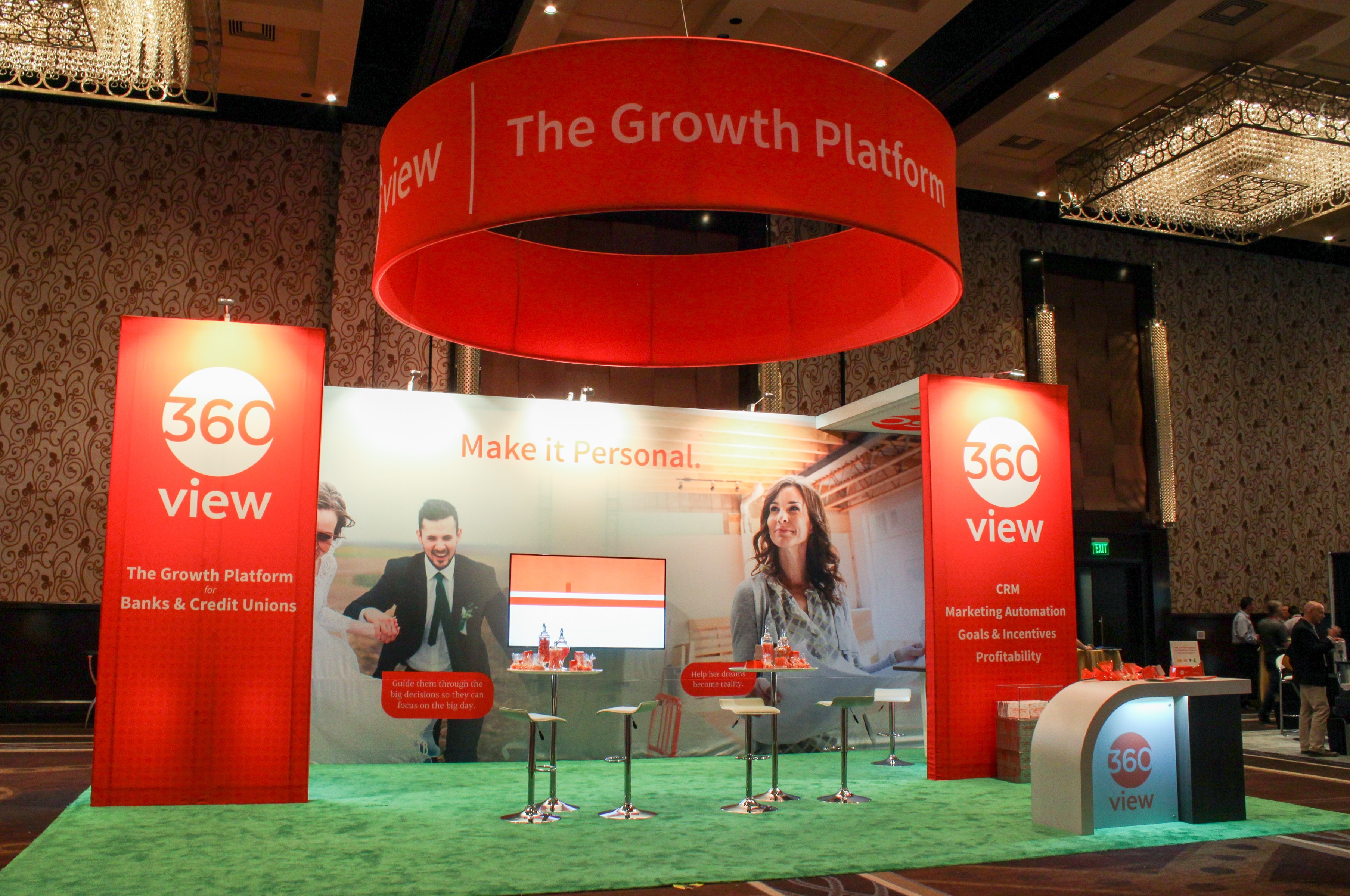 4. Virtual Reality Viewer
We wanted to create a piece of collateral that piqued people's interest and drew them to the 360 View booth. The VR Viewer was the perfect way to reinforce the brand name "360 View" and give guests a lasting impression of the brand. As a piece of swag, the VR viewer was less about the video itself, but more about this substantial and valuable toy that people would hold onto, rather than tossing into the trash (the fate of most trade show collateral).
We made sure they were compact, easy to assemble and disassemble, and bright orange for brand recognition. The destination video we promoted alongside the viewer was a 360 view (get it?) of Times Square which allowed us to work in some marketing messaging via in-video billboards without detracting from the fun, immersive experience. The VR Viewer brought people into an understanding of 360 View as a brand, led them into the booth, and ultimately generated leads and awareness for the product.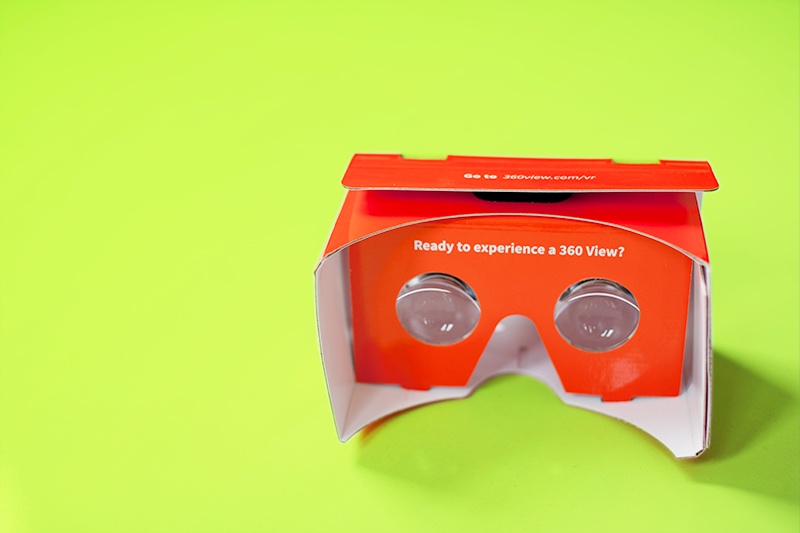 5. Print Collateral
As a part of 360 View's trade show sponsorship, they had the opportunity to leave a seat drop on every chair in one of the main sessions. We knew that attendees would be overwhelmed with reading materials, so we decided to take a different tact and create a Mad Libs game centered around the Growth Platform campaign theme of "Make It Personal", complete with a 360 View pen.
360 View's seat drop stood out as an activity, rather than another thick packet that attendees had to read through. As expected, this approach engaged attendees much more than a plain promotional card would have. The pens were everywhere around the show and people could be seen filling out their mad libs and swapping stories around the conference center.
6. Exclusive Event
Part of 360 View's sponsorship package included hosting a private event in one of the event's lounges. The whole party was branded, from giant orange balloons flanking the doorway, to monitors animated with 360 View's logo, branded pillows on all the lounge seating, and a custom blood orange cosmopolitan cocktail. The floating orange slice perfectly mimicked the 360 View logo. The exclusive event proved to be a great brand awareness opportunity and chance to have one on one social conversations with top prospects. It was a way to mingle and build rapport without the pressure of being in a sales environment. We saw stronger relationships with customers and leads established. Even better, there were leads praising the 360 View team and product in front of new prospects.
This trade show was where 360 View really saw the effectiveness of their rebranding, repositioning, and relaunch. By investing in their trade show strategy from the big things (like a splashy booth) to the small ones (like a signature cocktail), they stood above the competition, established brand awareness, built promising new relationships, and captured leads for follow-up — a confident play that helped them gain velocity in the market.
Want to learn more about launching your technology product?
We don't charge for conversations, clarifications, discovery calls, or just getting to know one another — and we're always eager to meet new people in the B2B technology world. Reach out using our contact form.