How to Prepare for Your First Webinar | Webinar Preparation & Planning
Are webinars on your B2B tech marketing priority list? Are they on your wish list?
Webinars were reported as one of the top revenue drivers for B2B marketers, with 75% of sales and marketing professionals agreeing that webinars are one of the best ways to generate high-quality leads (only closely behind trade shows).
And while webinars are certainly one of the most fruitful forms of content marketing, they are quite a bit of work — planning, promoting, practicing, and presenting. This hefty time (and sometimes financial) investment can steer B2B marketers away from webinars, but don't shy away; the results are well worth it.
If you're new to webinars, here's how to get started with hosting your first one (and hopefully, many more after that).
Purchase a Webinar Hosting Platform
In order to host a webinar, you're going to need a webinar hosting platform. Among the most popular are GoToWebinar, ON24, and Zoom. The three platforms offer very similar offerings.
Some points of comparison include:
Webinar Management: How easy is it to add, update, and share webinars?
Analytics: What kind of data are you provided on each webinar? Most platforms should provide analytics on webinar registration, attendance, and engagement.
Integrations: Does your desired webinar platform integrate with your marketing automation platform, such as HubSpot?
Webinar Storage: How and where are webinars stored? Webinars can get pretty big in size, so opting for a platform with large storage options is key.
Additional Webinar Tools: What kind of additional tools does the webinar platform offer? Using surveys and polls during webinars is a great way to spark engagement and get some pretty awesome insights for your sales and marketing teams.
Pricing: If you have plans with GoToWebinar or Zoom already for meetings, you may be able to score a discount on their webinar plans as well. Most platforms base pricing on how many attendees per webinar are anticipated.
Determine Your Overall Webinar Strategy
Integrate webinars into your overall content marketing plan. They will give a big boost to lead generation.
Before you host your first webinar, consider the following:
Frequency: How many webinars do you plan on hosting each month?
Timing: When do you plan on hosting your webinars? According to GoToWebinar, Thursdays at 12:00 PM PST is the golden hour for attendance.
Length: How long will your webinars be? According to GoToWebinar, 60-minute webinars attract 2.1x more registrants than 30-minute webinars. And believe it or not, 90-minute webinars attract 4.6x more registrations than 30-minute webinars!
Live vs. Recorded: This is a very important detail to sort out prior to hosting any webinars! While you will likely always host your webinar live (and promote it), it's essential to determine if, how, and where you'll share recorded webinars. Research shows that 84% of B2B customers prefer the recording over the live version.
As with all content, you'll want to ensure your strategy is consistent, sustainable, and produces your desired results.
Build an Awesome Presentation Template
The design of your webinar will say a lot about your company's brand, authority, and expertise. So spend time crafting a presentation that converts! Focus on streamlining your brand across all presentations, adding animations, focusing more on visuals, and removing text.
Plan Topics Based on the Funnel
Typically, webinars are seen as bottom-of-the-funnel content because of the level of commitment they require. A prospective buyer is willing to spend an hour of their time with you. That's a pretty big deal! However, offering webinars that appeal to all stages of the funnel can help you get more individuals into your funnel earlier, and improve client retention.
According to the ON24 2018 Webinar Benchmarks Report, training webinars have the highest registrant-to-attendee conversion rate at 41%, closely followed by marketing webinars at 39.92% and continuing education webinars at 36.38%.
*Make sure your webinar strategy is a mix of:*
Marketing Webinars: These are demos and other promotional webinars that discuss your product, company, etc. These make for great bottom-of-the-funnel content.
Training Webinars: These webinars are geared toward training current clients on your products.
Continuing Education: Continuing education is a broad term that encompasses webinars like best practice webinars, strategies, reports, etc. These make for great top-of-the-funnel content and provide your company an excellent opportunity to position itself as the industry expert in your field.
Plan Your Promotion Strategy
In order to get prospects to your webinar, you'll want to communicate to them at least two weeks in advance about your webinar.
We recommend the following cadence:
15 Days Prior: Invite #1
7 Days Prior: Invite #2
1 Day Prior: Invite #3
Day Of: Invite #4
According to ON24's report, longer promotional campaigns do translate to more attendees.
Here's a breakdown week by week:
24% of registrants sign up 15+ days before
23% of registrants sign up 8-14 days before
30% of registrants sign up 1-7 days before
23% of registrants sign up the day of
In addition to email cadence, you'll also want to consider your promotional strategies for social media, and how you can promote the upcoming webinar on your website.
Determine What Measures Success
There are quite a few metrics related to webinar success, including:
Total Number of Registrants (Keep in mind that you're not alone if registration numbers seem low. Sixty-six percent of marketing webinars have fewer than 50 registrants.)
Total Number of Attendees
Registrant-to-Attendee Conversion Rate
Landing Page Visitor-to-Registrant Conversion Rate
Average Time Spent on Webinar
Number of On-Demand Webinar Downloads
While we recommend tracking all of these metrics for all of your webinars, there are two from that list that are key indicators of success: total registrants and total attendees. These two numbers can provide you great insight into the overall interest in your webinar — which is what you care most about, right?
Practice, Practice, Practice!
Webinars always feel just a little bit uncomfortable. You're sitting at your desk and talking to a computer screen. It's enough to make even the most engaging presenters feel a little out of place, when not being reinforced with the audience's reactions.
Practicing the webinar in advance gives the presenter a sense of confidence and familiarity with the topic, which makes talking to a computer screen for an hour a little more enjoyable. Practice also ensures the presenter is fully knowledgable in the subject, which means your slides can have less text and more visuals. And, if you decide to distribute the recording afterwards, your well-rehearsed presentation will show your audience the true industry expert you are.
Keep in mind that even when you plan and practice, remember that webinars depend on technology — and we all know that even the best technology can run into hiccups. Be sure to have a plan for the Internet going out, your webinar host's computer crashing, or a variety of other minor hiccups. We recommend always having at least one other person from your company join the webinar to be on the lookout for any technical errors.
Write an Intro and Outro Script
While we don't recommend writing an actual script for your webinar (because that can seem really staged and inauthentic), having a set intro and outro helps keep your webinars consistent and notifies your participants of important logistics.
You'll want to keep them both short and sweet. The intro is all about establishing webinar frameworks. For example, here's a simple intro you could use for your B2B webinars.
"Hello everyone and welcome to today's webinar, [WEBINAR TITLE]. My name is [PRESENTER NAME], and I'm the [TITLE] at [COMPANY]. Today's webinar will run for about 60 minutes — with 45 minutes of presentation, and 15 minutes for questions at the end. Please submit your questions using the chat feature as they come to mind, but please know I'll be waiting to answer all questions until the end of the webinar. This webinar is being recorded, so if you need to leave early, you'll have this in your inbox tomorrow. Now, let's get started."
As for an outro, you'll want to confirm any details or contact information you promised during the webinar. For example:
"Thank you everyone for attending today's webinar, [WEBINAR TITLE]. I appreciate you taking an hour out of your day with us here at [COMPANY NAME]. As a reminder, I will be sending today's webinar recording, slides, and resources to all registrants tomorrow, so keep an eye on your inbox. If you'd like to join us again for a future webinar, visit [ COMPANYNAME.COM/WEBINARS]."
Have a Planned Follow-Up Strategy
What will you do with the webinar after it's over? Well the first logical step is to share the recording. According to ON24's benchmark report, 35% of webinar registrants will watch the on-demand version only, while another 5% will watch the live and on-demand version.
We recommend sending the recording and slides to all webinar attendees. For webinar registrants, you can still send the recording and slides, but place them behind a form. It will be important for your sales and marketing team to track who is truly engaged with the content.
Once you've distributed the content to the webinar attendees and registrants, you'll want to find a place on your website for the webinar to live permanently. An "on-demand" webinar section of your website is likely to garner the attention of previous and potential webinar attendees. Chelsea Scholz, campaign strategist at Unbounce, calls this "marketing like Netflix."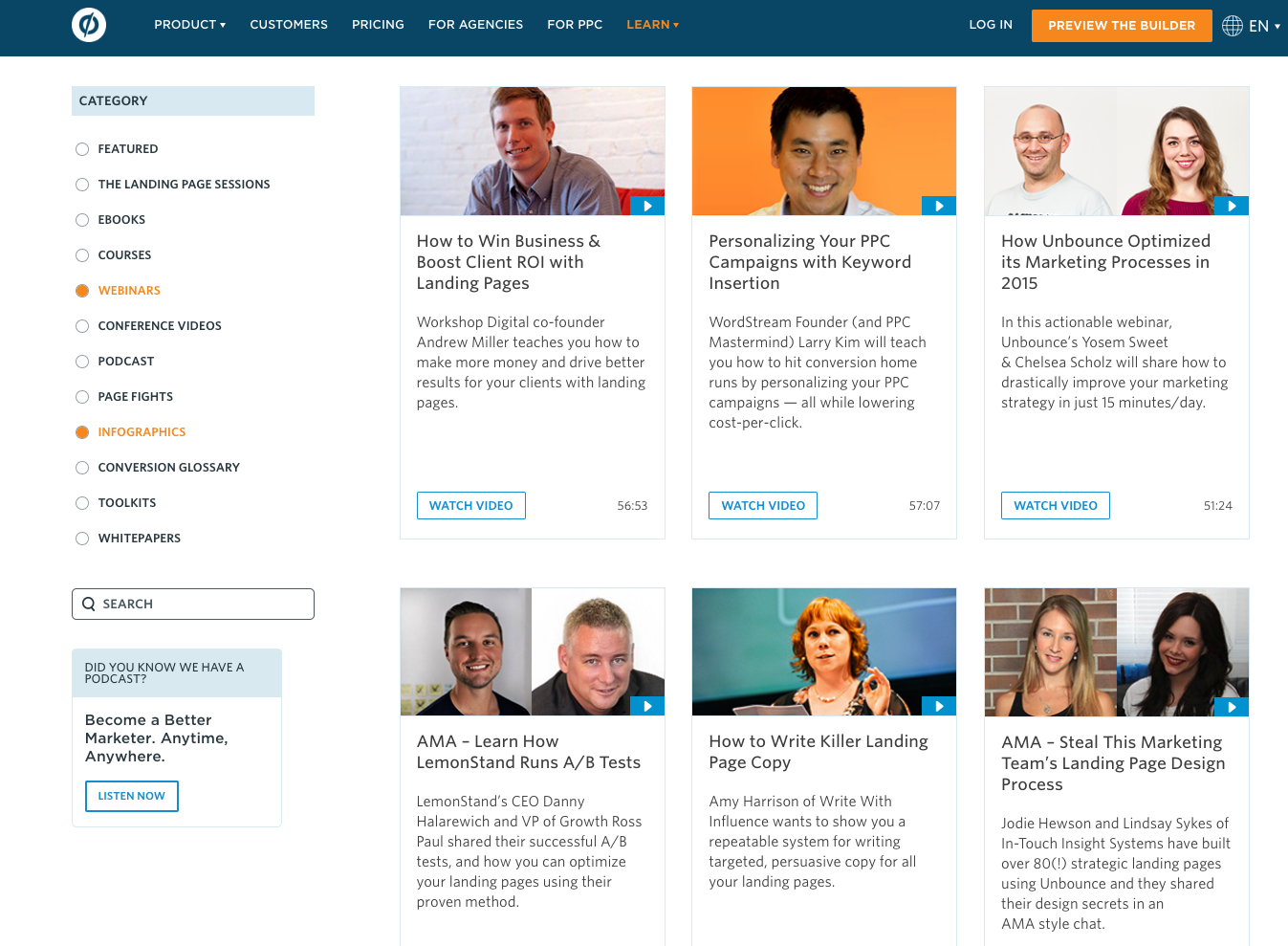 Key Takeaway
Getting started with webinars may be a lot of work, but the impact they have on growth and revenue is undeniable. Adding webinars to your B2B technology company's content marketing strategy can help you build brand awareness, authority and trust, position yourself as the industry's thought leader, speed up the sales process, increase prospective and current client engagement, and more.
Let's just say if you're not incorporating webinars into your content marketing strategy, you're missing out. So what are you waiting for?