How to Prove Your SaaS Product's ROI [Updated]
The Article in 60 Seconds
The Article in 60 Seconds
"Does your product truly do what you say it does?"
B2B buyers approach business transactions with skepticism: they don't want to be the fool who was separated from their money.
Your marketing content must convince potential buyers that your solution delivers the value they crave.
If you back up your promises, emphasize the right messages, and paint a clear picture of a better future, prospects will choose your solution over your competition.
In this article, we'll cover the three battle-tested methods for proving your product's ROI:
Back Up Your Claims with Social Proof
Find the Right Messages with Voice of Customer Data
Promise a Brighter Future with Outcomes-Based Copy
Think About This
Think About This
The SaaS market has never been more crowded than right now. Forrester analyst Jay McBain estimates there are 175,000 SaaS companies growing to over one million by 2027.
Gartner estimates that B2B buyers only spend 17% of their customer journey meeting with potential supplies. 27% of their time is spent researching independently online.
Content from suppliers that made the process of buying easier were 2.8 times more likely to experience a high degree of purchase ease.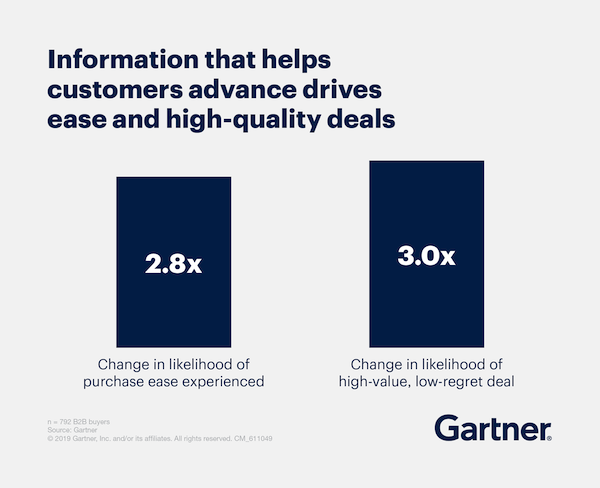 Updated from July 23, 2019
1. Back up Your Claims with Social Proof
In his indelible book, Influence: the Psychology of Persuasion, Robert Cialdini defines and explains the concept of social proof:
[Social proof] states that we determine what is correct by finding out what other people think is correct. We view a behavior as correct in a given situation to the degree that we see others performing it.
It's always been a good bet to trust the wisdom of the crowd, because large groups of people almost always choose the safe option. When we're unsure of what is right, we defer to the choices of others.
This phenomenon is even more powerful if we can relate to the people who have performed the action.
For example, B2B prospects are influenced by people who are like them. Product managers trust the opinion of other product managers.
Social proof is so powerful that it's become foundational to driving conversions and demonstrating the ROI of your product. Without it, you're just making promises with any evidence.
Any product company needs to integrate social proof as part of your content strategy, but what kinds do you need, exactly? Here are the most common (and most effective) variations:
Testimonials
The key to a good testimonial is context and specificity. It's easy to have a quote from one of your customers, but it's much more effective if the content directly relates to the subject at hand. If the quote articulates a measurable result, even better.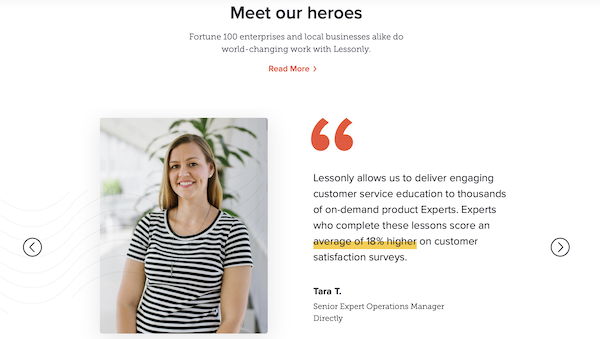 Lessonly uses testimonials to not only prove people appreciate their product, but also to advertise specific outcomes.
During COVID, Lessonly has seen a boost from those who love their solution and has garnered even more business because of leveraging the voice of their raving fans.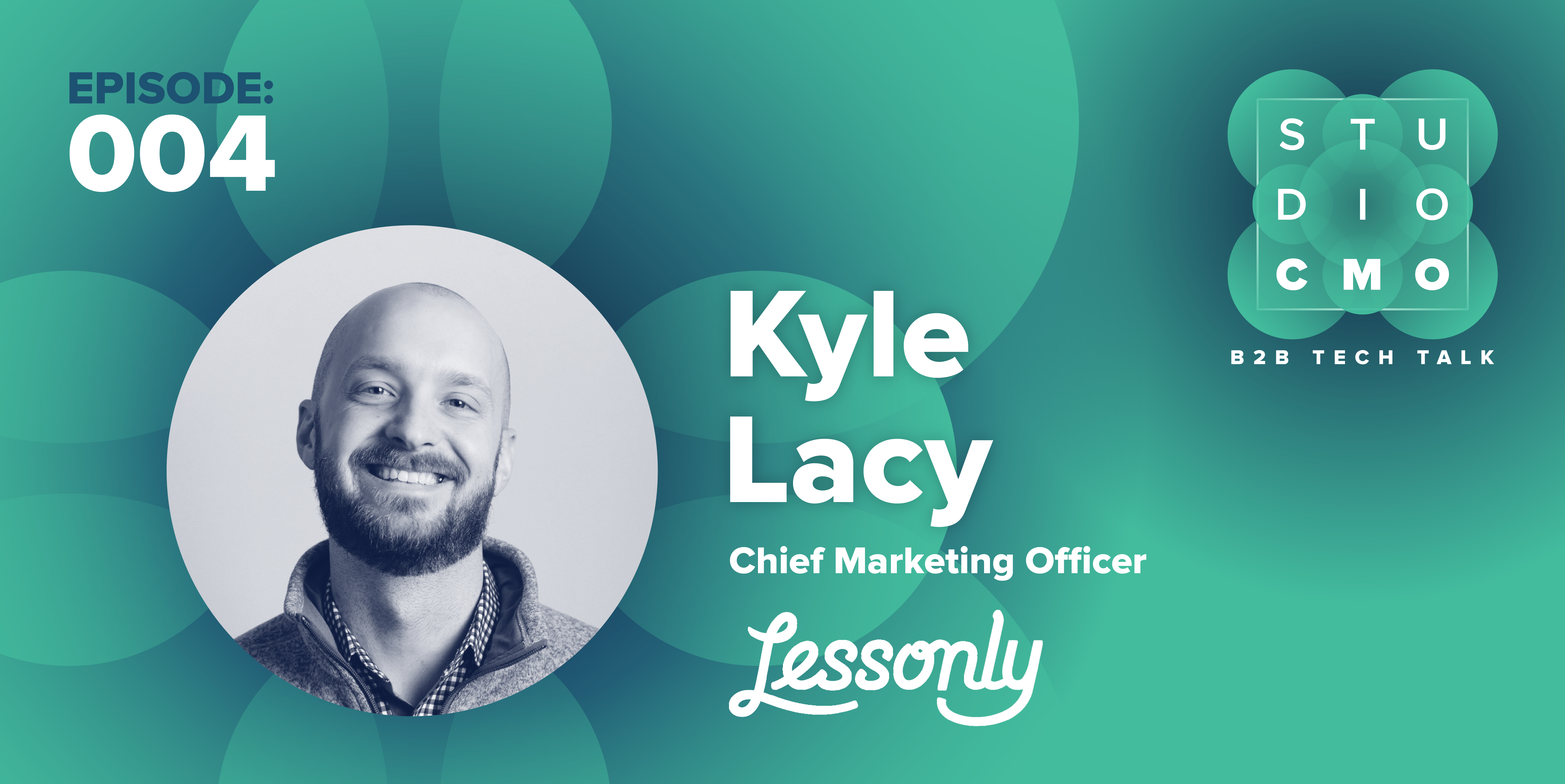 Case Studies
Testimonials are great for in-the-moment validation, but sometimes prospects need to know how the sausage gets made. That means detailed case studies that support a desirable outcome with real data.
At Golden Spiral, we always lead the with the case study result. That's what people want to know, and that's what will convince them to buy your product.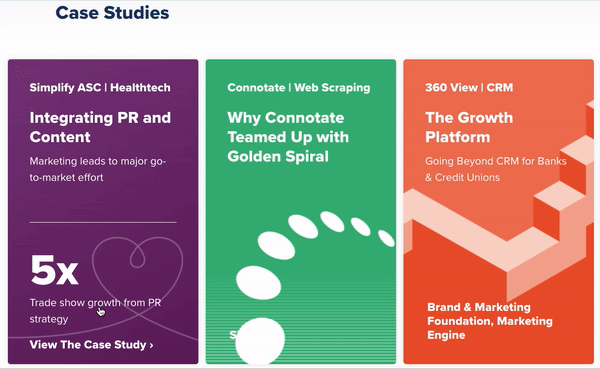 Reviews
93% of potential buyers read reviews before buying. 84% of people trust online reviews just as much as a personal recommendation. 68% of people form an opinion after reading between one and six reviews.
You can use online reviews on your site, but this type of content is particularly powerful on review sites like G2 Crowd and Trust Pilot.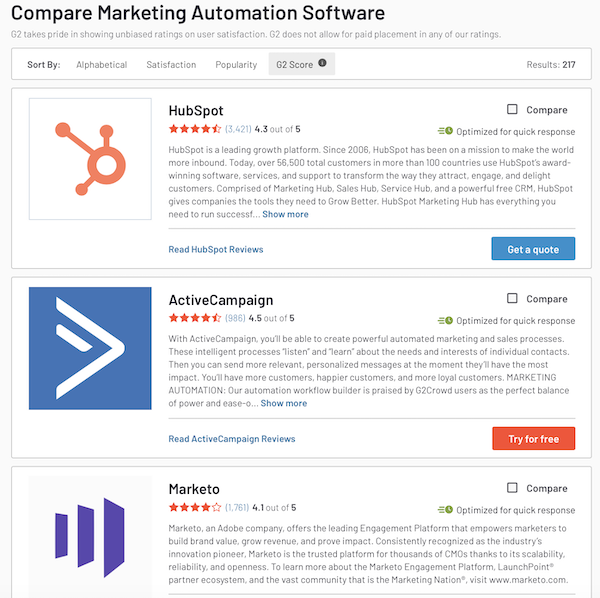 ActiveCampaign is much smaller than Hubspot and Marketo, but it's able to compete for visibility on G2 Crowd because of its strong reviews.
Advocates
Few things are as persuasive as an unsolicited outpouring of appreciation. When people really love your product, they'll post about it online. It's hard to effectively encourage this type of behavior, but when it happens you need to capture and promote it.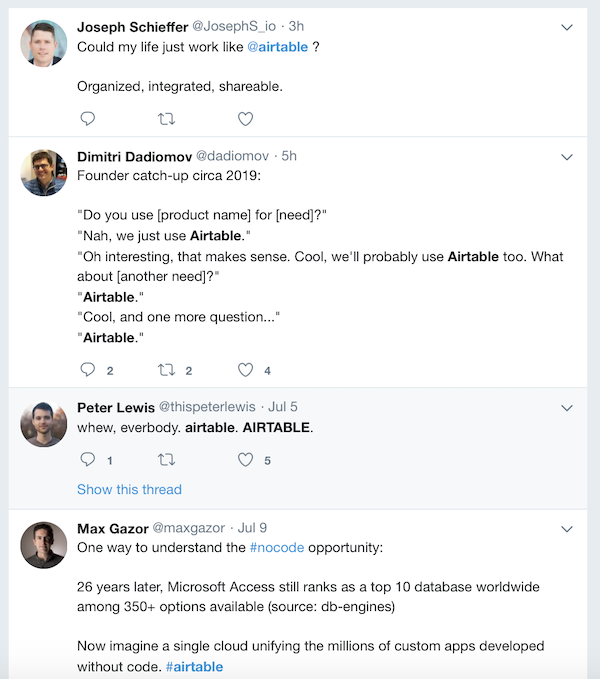 Airtable is an excellent piece of software. Because of that fact, they have a lot of fans. Every time someone advocates, they'll be much more likely to believe Airtable is worth purchasing.
Trust Icons
Trust icons are the modern day stamps of approval.
The classic example is a rating from the Better Business Bureau. These days, logos of noteworthy clients and awards from third parties serve as the small yet powerful indicators of quality for products.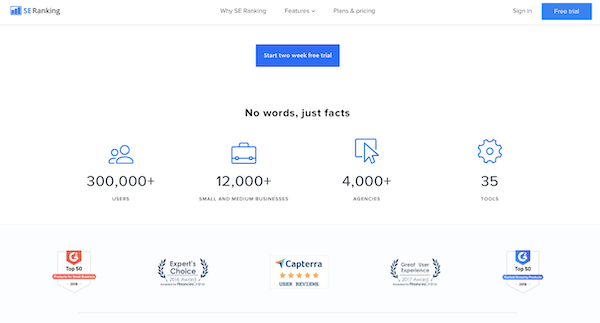 SE Ranking goes all out by combining data (another type of social proof) with awards from G2 Crowd, Capterra, and Finances Online. Notice how these are right besides the free trial button?
2. Find the Right Messages with Voice of Customer Data
UX designers have a saying: "You are not the user." This reminds them to keep an open mind and work to empathize with the users. Just because the designers think they know their audience doesn't mean they actually do.
Marketers need a similar saying: "You are not the customer." Too often, we fall prey to thinking we know exactly what matters to our audience, when in fact we only know what matters to us.
Naturally, this bias makes our campaigns and messaging less effective. It creates a disconnect between how we talk about our product and what matters to our customers.
Luckily, there's a corrective mechanism; voice of customer (VoC) data. This information is just what it sounds like: qualitative data sourced directly from customers through surveys, interviews, support emails, and basically any other type of interaction where customers give you feedback.
What's the value? You get to learn the challenges and ROI that truly matter to your audience, and you discover how you should connect those ideas to your product.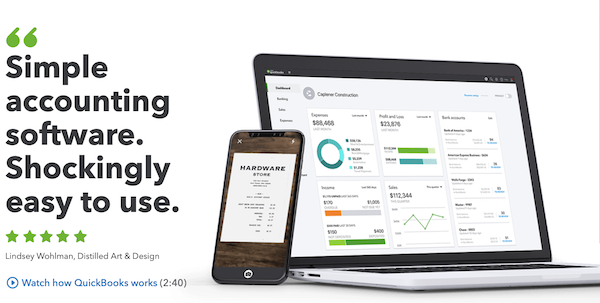 Quickbooks gets it. The message "shockingly easy to use" seems to be the most important benefit for their audience. So they're put it at the top of the page and connected it back to their customers.
VoC also helps you prioritize your messaging hierarchy, or the order in which messages appear on the page. The order in which the following copy appears on the Quickbooks homepage is decided by the frequency it appears in the customer data.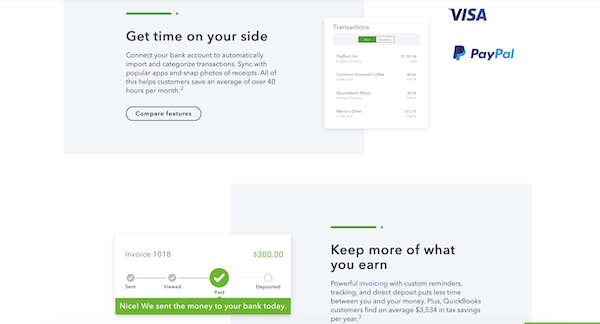 Suffice it to say, VoC data is a scientific approach to connecting your product's ROI to what your customers value. Without it, you're just guessing.
How do you determine the voice of the customer at a deep level? Worthix has developed a SaaS platform that helps companies understand their worth and keep their value propositions updated by deploying AI-assisted surveys that tap into customers' decision-making process, capture the voice of customer, and harness raw, unbiased insight that delivers a clear portrait of what value means to customers.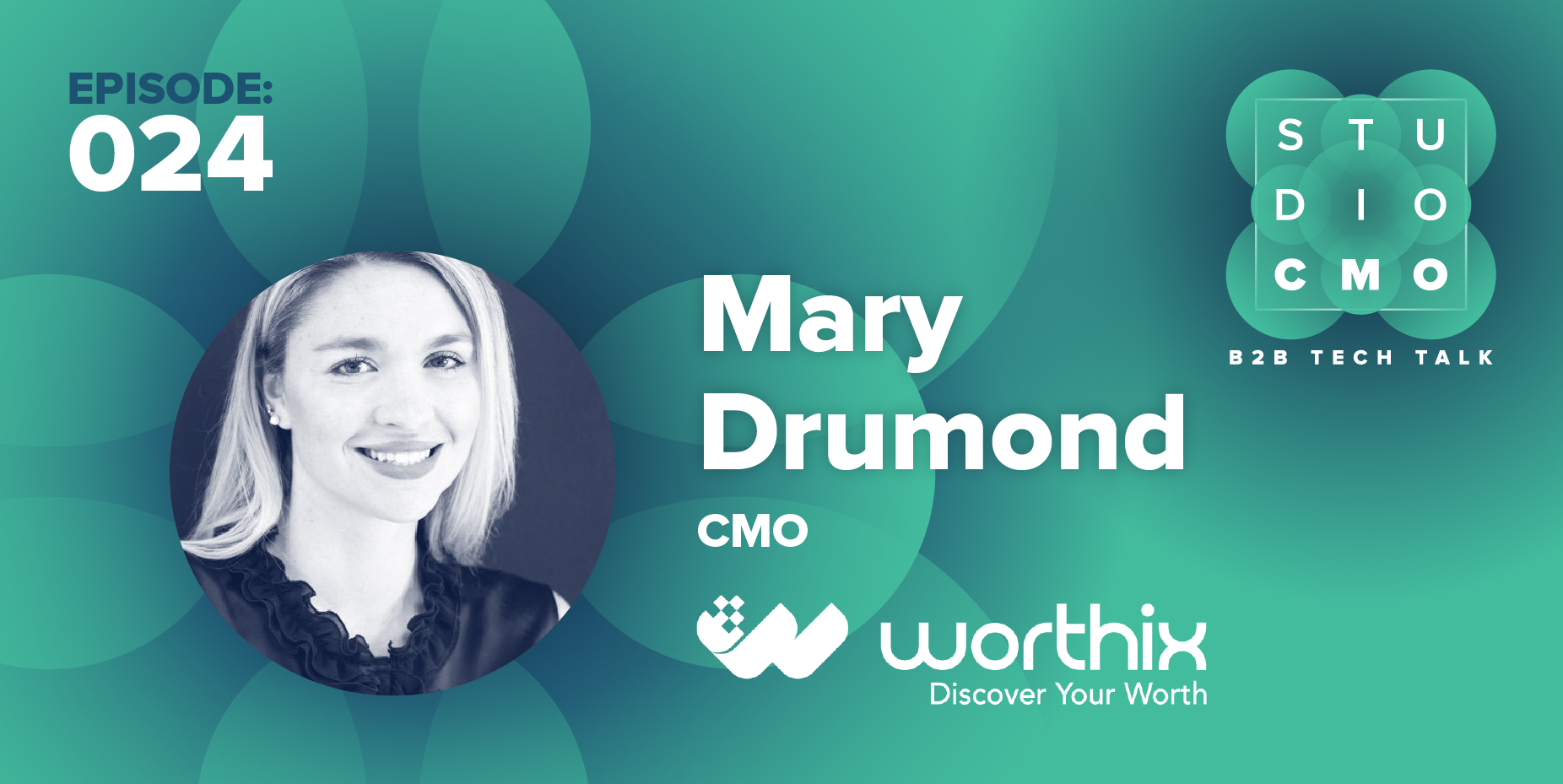 3. Promise a Brighter Future with Outcomes-Based Copy
In the end, it's the execution of your messaging that determines whether people understand and believe your product's ROI. More often than not, it's the actual copy on the page that will influence someone the most.
So what's the best way to articulate the life-altering returns of your solution? For copywriters, this line of inquiry quickly turns into a debate about features versus benefits.
But that misses the point. The most effective copy focuses on outcomes, i.e., what will change for your prospects or the ideal outcome they'd like to achieve.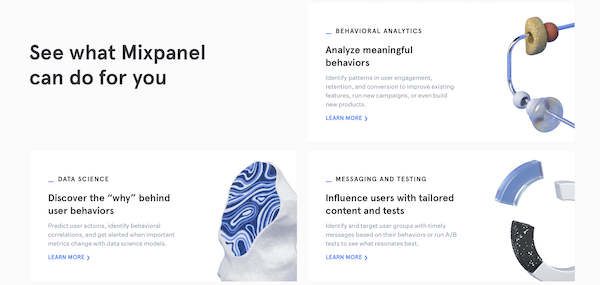 Mixpanel does an excellent job of outcomes-based copy. The outcomes aren't unbelievable or too distant; they're immediate and realistic. It's easy to comprehend how you can achieve these results using Mixpanel's system.
The First Thing to Do After You Read This Article
Audit your content and copy
Step 1: Take a look at your social proof. Is it working hard enough? Do the testimonials convince? Do your case studies describe the details of how your product delivers value?
Step 2: Do some voice of customer research. Most companies are way behind in this area, and making sure you have the right messaging is fundamental to acquiring new customers.
Step 3: Once you know what you need to say, make sure you're saying it in a compelling fashion. All your copy — particularly your landing page and web copy — needs to support or directly articulate the outcomes your product delivers.