How to Use Video in Your B2B Lead Nurturing Strategy
Today's consumers and key decision-makers love video. It is how they learn about pretty much everything in their personal and professional lives. The individuals searching YouTube for tutorials on installing a new kitchen faucet are the same individuals craving to learn about your B2B tech company's products via video.
Despite the favoritism towards video, and the dozens of stats to back it up all across the Internet, many B2B tech companies struggle to integrate video into their lead nurturing strategy due to both the financial investment and the amount of skill required to produce professional videos on a regular basis.
Incorporating video into your lead nurturing strategy is essential and, in some cases, doesn't have to be costly. Without incorporating video into your digital marketing strategy for 2019, you risk losing website traffic, engagement, and revenue.
Let's start with the basics of using video for lead nurturing.
Why Use Video for Lead Nurturing
The goal of lead nurturing is to move an individual through the buyer's journey from awareness to decision. As a B2B tech company, you need video to do so.
According to a 2017 survey of nearly 600 unique marketers conducted by HubSpot, video marketing helps individuals better understand your product, and therefore, increase sales.
97% of marketers say video has helped increase user understanding of their product or service.
76% say using video in the lead nurturing process helped them increase sales.
81% of people have been convinced to buy a product or service by watching a brand's video.
69% of people have been convinced to buy a piece of software or application by watching a video.
Additional research also backs up that video is essential for successful lead nurturing.
Types of Video
Now that you're totally convinced that video needs to be a part of your lead nurturing strategy, you may be wondering, "What kinds of video should I create?" We've got a few suggestions:
Brand Video: A brand video is a 2- to 5-minute video that explains your company's brand, mission, and story. It is an excellent way to capture the soul of your brand, humanize your employees, and share how your company can change the world for the better. These videos are essential to share during the awareness and consideration stages of the funnel.
Explainer Videos: Explainer videos go into detail about a particular product or product feature. These videos are often shorter, ranging from 60 to 90 seconds in length, and should address how key features relate to key buyer pain points. These videos are most helpful during the consideration and decision stages of the funnel.
Testimonial Videos: While you might incorporate some testimonials into your brand or explainer videos, having individual 30-second authentic clips of happy clients sharing why they chose your product is especially helpful during the decision stage of the funnel.
Social Video: Posting videos on social media is another way to engage prospects throughout the buyer's journey. The number one rule of social video is to always upload natively — meaning, to upload your videos directly to the platform, rather than just sharing a link. This boosts organic engagement and reach, as well as the overall user experience. On social media, you have the option of posting live video or uploading any video you've previously created.
Webinars: While you might not think of webinars as a type of video marketing due to their length, they are, essentially a long-form video that can play a key role in your lead nurturing strategy. For example, during the consideration phase, you may want to invite prospects to a webinar about your product, which may be a live demo.
Understanding Your Audience
As with all marketing strategies, understanding your audience is key to a successful video marketing strategy. Consider the following factors before you get started.
Needs
Your customers' needs and pains are the most important part of understanding your audience. If you start with their demographics or reach for style first, you will miss your audience and may not get another chance to gain their trust. A simple video that addresses needs is always better than a slick video that misses the mark.
Demographics
Millennials and baby boomers love consuming video on YouTube with 82% using the video giant. These two generations (who are the generations with growing decision and buying power) also consume gigabytes of video on mobile. Video is their preferred learning method. If you're not using video or adapting existing content for video applications, you're missing out.
Method
Before developing your video marketing strategy, research how and where your target audience engages with video content to ensure you're investing time and resources intelligently. This research will lead you to know the optimal length, format, and engagement techniques you need to be successful.
Using Video in Lead Nurturing
1. Use Video On Your Website
Your website is the first and best place to use video. Integrating brand, explainer, and testimonial videos into your website, in general, and your blog and resources specifically, will put key messages in front of your prospects where they're already searching for answers.
When adding video to your website, make sure the video is easy to find. For example, Leadpages has a 90-second video embedded in the header of the "Features" page, which makes it almost impossible to miss.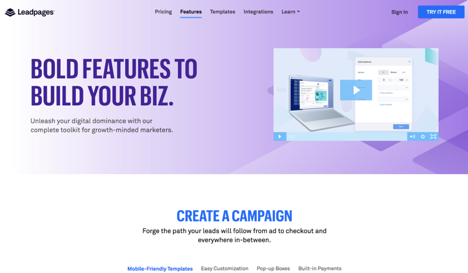 Similarly, this Atlanta-based B2B tech company, Calendly, uses video instead of photos or graphics to explain how key features address the top pain points of their buyers.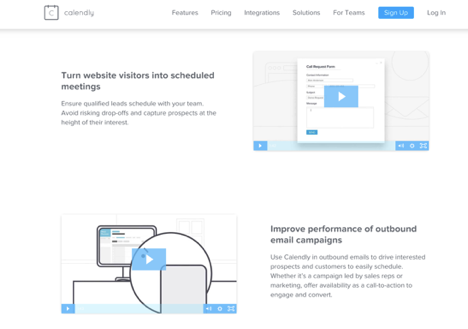 Here's a video from our website that's part of a information series on web design for B2B tech companies.
2. Use Video in Marketing Emails
Adding video to your lead nurturing emails is a must! According to Forbes, emails with video content lead to a 200-300% increase in click-through rate (CTR), while according to Wistia, including video thumbnails instead of images in your email can increase clicks by over 21%.
While video content can't auto-play in emails, you'll certainly want to use it because of its high engagement! Most B2B tech companies use video in email to showcase a new product or product enhancements, or send humanizing videos, like a holiday greeting.
Golden Spiral worked with XOi to create this video to correspond with the launch of their SaaS product, Vision.
3. Use Video in Sales Emails
Think about your sales reps. How many are hams and will talk to anyone or any camera? How many are better one-on-one? Urging all of them to get in front of the camera can pay huge dividends. Free video marketing tools — like Wistia's Soapbox and Vidyard's GoVideo — allow sales reps to get personal in their emails, and stand out in their prospective customers' inboxes. Both tools come with options to record your face and screen at the same time. Their interfaces include analytics so you can know who watched your video for how long.
Our personal preference is Wistia's Soapbox because the tool offers more customization options, including player color, adding a CTA at the end, changing the thumbnail, and some basic editing. This Soapbox video was produced just for this blogpost.
4. Use Data
No lead nurturing initiative is complete without data, so be sure you select a video marketing platform (like Wistia) that offers you information on:
Total Number of Plays: Highlights how much traffic your video received
Page Visits-to-Play Ratio: Indicates if your video is too hidden on a page or if there isn't a clear "play" button.
Average Length Watched: While you might find a 5-minute video about your latest product interesting, your prospects likely won't. Getting information on how long the Includes how much time the average visitor spends watching your video , serving as a guide for future video lengths.
5. Add Video to the Content Download Process
Want to earn more content downloads? Adding a video to your content download landing page can help increase conversions by up to 80%. The video can simply describe what the content offer is and how the user will benefit. You'll want to keep these videos to 60 seconds or less.
Another way to incorporate video into the content download process is to add video to a thank-you page. It is a great way to humanize your brand, and let prospects and customers know you appreciate them Your main goal is to move your prospect through the process so 30 seconds is the recommended max for thank you videos.
Golden Spiral produced this video for 360 View's "Schedule a Demo" page.
Lead Nurturing Video Mistakes
As with all marketing strategies, where there are best practices, there are also some not-so-great practices out there we want to help you avoid. Here's a round-up of what not to do with video in your lead nurturing strategy.
1. Gating Video Content
With webinars and demos as the exception, none of your video content should ever be gated. Today's consumer is used to not having to fill out a form to watch a short video (a short ad, yes, but not a form). Therefore, adding a form complicates the user experience, reduces engagement, and earns your video fewer views than it deserves.
2. Making Your Videos All About YOU
In the world of B2B tech, it is really easy to talk about your company and your products. But, the difference between marketing and great marketing is the ability to tell a story, resonate with your audience, and speak directly to pain points. When crafting the video outline or script, try your best to avoid writing in the first person, and write from the perspective of your customer. Replace "our product can," with "you can," and so forth.
3. Posting the Same Video in the Same Length Everywhere
One of the best parts of video marketing is the ability to repurpose the content over and over again in different formats optimized for their respective networks. For example, shortening a 60-second video for Facebook to a 15-second video ad for your Instagram stream ensures you're getting maximum engagement in both places, and not simply posting the same video, the same place, at the same time. The same is true for your website. You may want to have one long video that showcases all product features, but then it's also a great idea to make a few shorter videos that focus on individual features.
Key Takeaway
Video marketing is no longer a "nice-to-have". It is a full-blown "must-have" for B2B tech companies looking to showcase their products, features, and brand.