How Your SaaS PR Can be Newsworthy When You Don't Feel Like It
Your SaaS company just scored some amazing earned media hits for your new product launch or acquisition. Congratulations! Now the pressures on to follow up that success with more. There's only one problem: you don't have anything to say. Or at least you think you don't.
Uncovering newsworthy content about your company, takes a mix of ingenuity, luck, and skill. Here's how to leverage the tools of public relations to amplify your brand voice and keep you a part of the industry conversation.
PESO Is the Coin of the B2B PR Realm
When it comes to B2B tech product marketing, public relations is at its most powerful when it is integrated into your entire marketing strategy and not as a separate initiative.
Bringing together Paid, Earned, Shared, and Owned media, and using all four to focus on your buyer while satisfying the requirements of the particular media channel you're targeting is what effective B2B public relations is all about.
PESO means:
Paid – advertising
Earned – generating news stories about your company
Shared – social media channels
Owned – your website, white papers, blogs and other content you generate
This deft combination creates a mutually reinforcing ecosystem to help your company, its products, and its reputation flourish.
If PESO is the coin of the B2B realm, then Earned media is where the bulk of PR programs for tech companies should be concentrated.
Earned media is the art and science of cultivating relationships with the reporters and editors who cover your industry, and working with them to include your company and its products, messages and thought leadership into their publications/sites.
Effective B2B tech PR — especially with earned media — helps to educate your audience, earn their trust, and boost your credibility.
To earn that coverage, start with a plan. Look at your marketing goals. Examine the current news pipeline of your organization. In between product launches, new hires, and other items, there are likely less obvious, but nevertheless newsworthy items on the company agenda.
What Does Newsworthy PR Actually Mean?
To build a steady stream of earned media, think like a journalist. Here are the 6 elements of newsworthiness, as adapted from Georgetown University:
Timely – Any fact or event that recently occurred. It's the "new" in news.
Proximity – A fact or event that has special relevance for your audience. It can be geographically close by, or have local news relevance, but this also holds true for proximity of subject matter. For example, a breakthrough in cybersecurity is of greater interest to a cybersecurity audience than an Artificial Intelligence development, even though both may be covered by the same tech industry publication.
Controversy – It isn't the only thing that makes something newsworthy; but it is something.
Unusual – The old journalism cliche holds here: "dog bites man" isn't news; "man bites dog" is.
Human interest – We're humans. We like reading/hearing about other humans because they remind us of our common experience.
Relevance – News we can use to help us make good decisions, like how you can be better at your job, or how to be a better parent.
In short, a newsworthy fact or event is something your audience isn't aware of yet, but that has relevance and impact to your audience. Not all of these things have to be present in order to be newsworthy, but the more there are, the better your chances of generating press coverage.
The new product launch or acquisition mentioned earlier fit the newsworthy criteria. The product was groundbreaking and the acquisition had high relevance to the industry. But it also succeeded through careful preparation and planning. The press release was well written and devoid of spelling errors or embarrassing grammar mistakes. It was distributed at the right time to the right audience. Key media contacts were alerted prior to the announcement and given time to review it, ask questions and connect with a company spokesperson so that it fit their publishing window.

Don't Rely on Press Releases Alone
Public relations isn't just cranking out press releases. In fact, Google doesn't send out releases; instead, they post announcements on their blog. Newsworthy content can also include infographics, videos, events, awards, surveys, Twitter chats, and the like. No matter what you choose, the editorial calendar should reflect your marketing goals and support company marketing messages, and be grounded in a consistent flow of regularly scheduled, newsworthy content.
Build a Newsworthy Calendar
Keeping in mind the newsworthy criteria, here's how to approach building an newsworthy calendar or a news section to your overall editorial calendar:
Timely
It's unlikely you have what most journalists would consider breaking news. But there are always popular industry trends of the moment to leverage. Do you have data that supports or refutes the trend? Can you point to other groups that might be impacted by the trend, but who haven't been included in the conversation?
Proximity
Can you localize your company's data into data visualizations that show some sort of contrasting geographic impact? Do you have a customer story that can be localized? Beyond the geographic definition of proximity, is there a new partnership your company has forged that brings you into new markets or provides new expertise?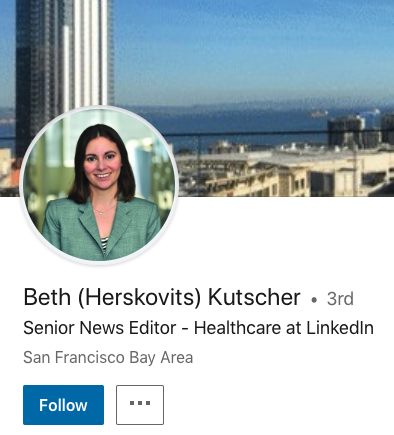 Beth Kutscher, senior health editor at LinkedIn, is tasked with harvesting data from LI and fashioning it into news LI readers can use. In time for Nurses Week, and in conjunction with the American Association of Critical-Care Nurses, she published a post on the talent deficit for nursing in the US, Canada and the UK. The news was timely, made proximate by country, and generated critical conversation among the nursing community.
Controversy
No need to bring this into the mix. You risk danger and more attention than you want when you see a controversy happening in the marketplace and comment on it. Others may be telling you it's a surefire way to gain traffic. You may gain more than you bargain for. Proceed with caution.
In our opinion, the only place for controversy in a public relations plan is to make sure you've developed a solid crisis communications plan to fend off or minimize the impact of a crisis.
Unusual
Like its companion, controversy, most companies don't want to go down the "unusual" rabbit hole. Yet this can be a golden opportunity to break through the media noise. Do you have a company subject matter expert with a highly unusual take on a timely, relevant topic that showcases the role your company's product plays in addressing that topic? Can you take your company anniversary event to the next level?
Human Interest
Do you have a colleague who annually travels across the country to compete in the Boston Marathon? Is there a customer who uncovered a new way to use your product? Capture the story in a blog post and share it on social media — it may even be newsworthy enough to pitch to local news media. If it develops into a local story, that sets off a whole new cycle of newsworthy developments to add to your calendar.
Nothing's more human than humor, so if you have a lighthearted way to capture your audience's attention, do it. Just make sure your attempt at humor has been well vetted. Humor is a risk, but it should be an acceptable risk to take.
John Anthony Jones, the director of digital marketing at Ducks Unlimited, posted a query about the "why" of couches in women's bathrooms:
Not everyone appreciated his humor, but most did. Though not directly about Ducks Unlimited's role as a wetlands conservation nonprofit, the post generated 8,000+ views and generated a lively discussion.
Relevance
This is your chance to educate your audience with new information or a new perspective on a shared concern. Has your company received a highly coveted industry award? Even if you're a private company, you can prepare a quarterly or bi-annual "company momentum" report tied to metrics that you are comfortable sharing. Things like year over year revenue growth, number of partnerships, growth in employee base, new or expanded service lines and investments in new verticals.
Studies and surveys are always catalysts for generating earned media, as the Kaiser Family Foundation and the Los Angeles Times found, when they polled individuals about their employer-sponsored health plans. Most were satisfied with their plans, as long as the deductibles were kept to $1,500. The poll went beyond coverage on the two news platforms to include a range of healthcare trade and consumer news media.

An extensive news profile reinforces your reputation as a dynamic, growing and successful enterprise. With a little digging, a bit of creativity, and a commitment to keep your news pipeline filled, you can identify the newsworthy stories that resonate with your industry's reporter/editor gatekeepers and your buyer personas that access their content.
Key Takeaway
Do you need more E in your PESO? Add an agenda item to all of your content discussions and meetings to uncover opportunities to find timely, close by, unusual, interesting, and relevant ideas.
Golden Spiral specializes in helping companies build their newsworthy pipelines. Schedule your strategic PR consultation today.