Improve Your SaaS Search Rankings: Focus on Keywords and Backlinks
Ah, the mystery of rankings. High rankings — in Google, Yahoo, and Bing — mean your potential clients can easily find you online. You know rankings are important, but how do you get there? And, what does SEO have to do with it?
Research tell us that almost 60% of the buying decision has been done online before your potential customers reach out to you. Are you doing all you can to get on top of the rankings? You (and your company) need to be seen as an authority in your niche, which means producing quality content on your website to draw attention from tech buyers, decision-makers, influencers, and researchers. Establishing yourself as a credible resource heightens awareness of your brand and your website.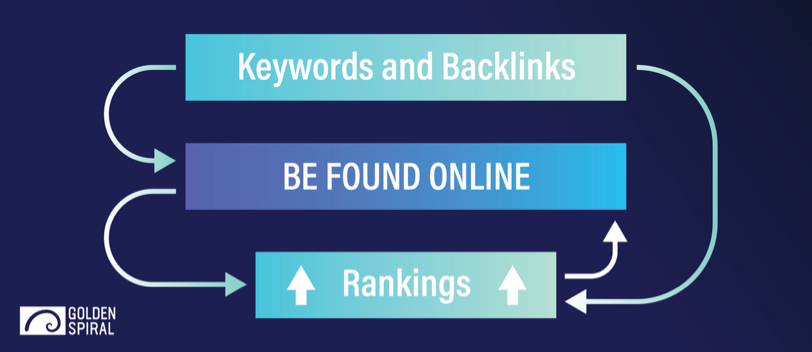 But content isn't everything. Search Engine Optimization, or SEO, is how your content is found. As Golden Spiral's in-house expert in automation Micah Owens says often, "Content speaks loudest in the world of SEO, but even the best content will fall on deaf ears if it isn't discoverable."
There are things you can do, in-house, to improve your company's search engine result page (SERP) showing, including focusing on backlinks and keywords with the suggestions you'll find in this post.
Identify and Target Certain Keywords
Understanding the core of what your company does is a good start, but knowing your potential clients' pain points is even better. Potential clients aren't searching online for "trusted SaaS partner" or "B2B tech committed to employees." They have a problem or an issue, such as how to prepare for upcoming consumer privacy changes or successfully launching a product. Assuming your content has the answers, the trick is figuring out what keywords are being used to search for your content.

Research what your prospects and customers are searching for so you can tailor your content accordingly. It's important to look for terms both C-suite executives and analysts are googling, so you're able to get in front of your decision-makers and target users. Keyword research can even inform word choice for a topic.
For example, consider the chart below from Google Trends. Here, we see search volumes for Health Tech and Health IT keywords:
Even this cursory amount of keyword research reveals that focusing the example post on keywords close to "Health IT" will be the best option, as that term and associated topic sees roughly 70% more search volume on average than the other keyword variations. Look for alternatives, such as cybersecurity versus cyber security.
Researching your competitors for popular keywords is a great way to get your site into the same arena. Checking on competitors' websites directly can reveal a lot about their tactics and strategy. Discovering more about their keywords can give you insight into what they're trying to do.
Keep in mind that your ultimate goal is not the amount of traffic, but the number of form submissions that lead to new business. Keywords with high volume may send traffic, but are they converting? The right keyword is one that aligns with the solutions you offer to the pain points and supports the search users' intents when they search the term.
The right keyword is one that aligns with the solutions you offer to the pain points and supports the search users' intents when they search the term.
Using the right keywords will not only help you be found online, but it can also improve your rankings by validating you as a credible authority in those topics. Creating high-quality content that addresses your audience's needs should remain your first priority, but strategic keyword research will improve the likelihood your content will reach your target audience.
Backlinks
Building backlinks is the digital version of word of mouth. With 90% of researchers reading online recommendations before visiting your website, backlinks are an inbound marketing gem. As more websites link to your website, users and search engines alike will view your website's content as a credible source for the topics your content covers.
You can organically build backlinks through:
great content going viral
building relationships with other companies
social media
Those are just a few examples.
Backlinks to your blog articles, especially from authoritative sites, are essential for improving your content's rank. Once you have a bank of resources, leverage content syndication and partnerships to tap into markets, industries, and audiences that your regular efforts don't reach. Contributing to others' blogs, guest posts, and publications build backlinks that contribute to your overall efforts.
Digital content relies on internal and third-party backlinks to show credibility. Just like a teacher requiring you to cite your sources, search engines like Google and users alike look for references in the form of cited sources and embedded links. Part of this quality check is making sure that subject matter experts are consulted and cited, and that they share the content themselves.
The true value of social media for link building is in the traffic a social platform can send to your website and the opportunity for other experts to see your content on social media and link to it in their own content. LinkedIn is the most effective social media avenue for audience engagement and content delivery, at 80%. Twitter and Facebook deliver the remaining 20% of B2B leads.
Not sure what sites are pointing to yours? Google Search Console's Links Report allows you to view data on links pointing to and within your site. This section can be used to identify what sites you link to the most, identify the most popular anchor text within your site, etc.
Remember, quality is much more valuable than quantity. Think of it this way: One link sending thousands of visitors to your website is much more valuable than 1,000 links sending no traffic to your website. The winner doesn't have the most backlinks; the winner has the backlink that converts. That isn't to say that those 1,000 backlinks have no value, but true backlink cultivation bears fruit, in both traffic and credibility signals.
SEO is a strategy that integrates your efforts on your website, blog, backlinks, referrals, and social media. It isn't complete when one of those pieces is missing. You need backlinks and referrals to earn your website authority so that Google recognizes it as a trusted source. You need blogs and content to increase your website's digital footprint, with weighted keywords. And you also need a responsive website that loads quickly when visitors click to come to your site. It all matters, and it's all SEO, in some form.
Key Takeaway
Positioning your website to be found boils down to value and smarts. Google, and other search platforms, determine value using a complex, evolving algorithm that rather effectively evaluates your site's content. While there are several factors that affect SERP ranking and results, strategically using keywords with backlinks can build authority and credibility. For more recommendations on using SEO in your marketing strategy, download Golden Spiral's Complete SEO Guide For B2B Tech Marketing