Is Agile Marketing Right for B2B Tech Companies?
How agile are you?
Does your product development team use agile product development to improve current products and develop new products?
The agile process has proven to increase employee satisfaction and results. Powered by a project management methodology called "scrum," consisting of daily check-ins, "sprints," planning and retroactive analysis, the agile process empowers your entire team to work towards achieving a common goal at a "sprint" pace, rather than a slow mosey.
But, have you considered using the same agile process for your marketing efforts? The internet buzzes with agile jargon and memes. Is it right for B2B tech? Is it right for you?
What is Agile Marketing?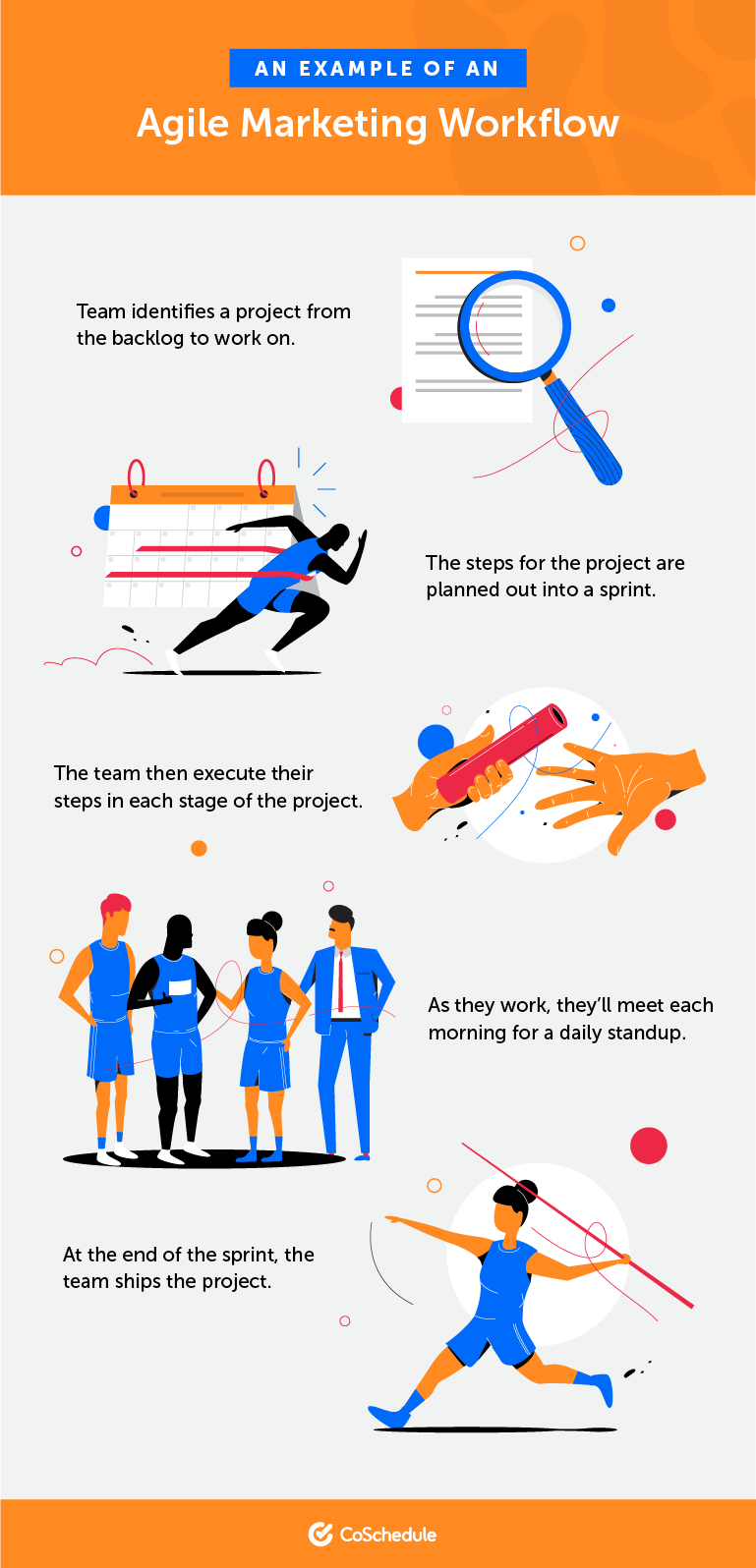 Agile marketing is a "tactical marketing approach in which teams identify and focus their collective efforts on high value projects, complete those projects cooperatively, measure their impact, and then continuously and incrementally improve the results over time."
This thoughtful, incremental approach to completing marketing projects and achieving overarching goals is meant to "improve the speed, predictability, transparency, and adaptability to change of the marketing function," according to Jim Ewel, founder of AgileMarketing.net.
Agile marketing has a few primary components:
Data and Analysis
Data will drive what your high value projects are as well as provide insight as to whether the changes that you're making are working.
Sprints
A "sprint" is the timeline your team has to complete their project. These can range anywhere from one to six weeks in length. Sprints should be seen as "bite size" components of accomplishing the overall high-value project.
For example, you're creating new 20 new PPC landing pages for high-value keywords. A two-week sprint means completing five of those pages start to finish. Completing all 20 wouldn't be a sprint.
Scrum Project Management
The scrum process includes daily stand-up meetings. Ask for very brief (approximately 15-minute) check-ins. Invite each team member share what they did the day before, what they're planning to do today, and any obstacles they've encountered.
Teamwork
The agile methodology is truly an effort of teamwork. Your team should not only want to work together, but should also have complimentary skills to make agile marketing work.
A Visual Tracking System
Whether you use an online project management software or a good ol' whiteboard, having a system to visually track sprint progress keeps everyone's eyes on the prize.
Pros and Cons to Agile Marketing
While the methodology promises big-time results, the requirements and dedication required often lead to unsuccessful sprints, and ultimately, to the point where B2B marketers throw their hands in the air and say "I give up." (And it's really okay if you fall into the latter category. Agile marketing isn't for everyone.)
Pro: Increased Productivity
As a deadline-driven process with a clearly defined agenda for each team member involved, teams who use agile marketing report increased productivity.
Con: It's an All-or-Nothing Approach
Because of agile marketing's nature of an entire team working tirelessly to complete one high-priority project, you can't just do it "sometimes."
Pro: Increased Accountability
When is the last time your entire marketing team met daily — especially if you are a partially- or completely-remote company? Having daily stand-up meetings with your team allows you to make sure everyone is on track. It also allows the chance to share any obstacles in the way of meeting sprint goals. Obstacles might be personal (like a sick pet) or professional (like a CRM crashing), and of course, everything in between. The agile methodology holds team members accountable, and allows them to help each other out when needed. This means your marketing team is less likely to miss a beat on these high-priority initiatives.
Con: Small Teams May Struggle
If your marketing team consists of two or three individuals, implementing and maintaining agile marketing may be difficult. Often, the high-priority projects that are intended to be accomplished using agile marketing require more hands on deck to get work done at a sprint pace. Also, agile marketing experts suggest that your team should be made up with individuals with a diverse set of skills.
For example, you may need:
A content writer
A graphic designer
An SEO implementer
A marketing automater
An email marketer
A UX and web design
A project manager (AKA, scrum master)
And, even large marketing teams don't always have the "right people on the bus" to make agile marketing initiatives happen. Agile marketing is really about bringing together diverse skill sets to accomplish goals at a rapid pace. So, there's no time for teaching. In most cases, there's room for experts only.
Pro: Rapid Results
Daily meetings and working in "sprints" allows your team to respond quickly to changes, both in the market and at your company. When a company works on one major project over a very long period of time, sometimes by the time that project is complete, the needs of the market have changed.
Con: burnout
In track, sprinters don't run marathons. After a number of sprints, your team may need a break to recover. If you don't plan these recovery periods into your schedule, you could risk burnout.
Applying Agile Marketing in B2B Technology
Agile marketing can help your B2B tech company reach goals faster and with improved results. The goal is to take a marketing projects — such as building a new landing page or writing a new eBook — and breaking it down into sections.
Here are a few common cases of how agile marketing can drive results for your company.
Speed Up Content Creation
Agile marketing can help most with content marketing. Many B2B technology companies create content at a slow and steady pace. (Some struggle with the steady part.) Content is integral to a B2B tech company's success, so developing a library of content is essential. You can't build content overnight; many weeks and months are required. Agile might be your tool to develop a library quicker and with greater impact.
SurveyGizmo claimed that they saw existing and potential customers often searching for "survey examples," but their current offerings weren't doing a great job of meeting that need. Using agile marketing, the company's marketing team conduced a one-week sprint to produce six new guides packed with survey examples. The page views climbed 252% and the conversion rate skyrocketed by 810%.
Improve Performance in Search
Consider a large project of improving organic SEO. Your sprints could include writing new title tags, meta descriptions, and identifying new high-priority keywords. You can make major enhancements at a rapid pace.
Product Launch
New product launches appear to be the most common uses for agile marketing. As your development and leadership teams plan for the launch of your product (potentially also using agile methodology), your marketing team should be planning to build awareness and drive sales. The agile marketing methodology can ensure that the tactics your marketing team are working on strategically line up with the product's launch, and that nothing is missed along the way.
Set Up Marketing Automation
Marketing automation saves time and improves performance only after it is implemented, but implementation can be a huge lift. Using the agile marketing method you can divide and conquer this massive undertaking. This also allows you to get the most out of the inbound marketing and automation tools you're already spending money on.
Key Takeaway
While agile marketing methodology can lead to impressive results at the companies who adopt it, it should be recognized that the agile marketing approach is not an appropriate methodology for all marketing teams. The methodology moves at a rapid pace, requires a diverse skill set, and a dedication to the company's greater good. With a suggested "all-agile-or-nothing" approach, it's important that you meet with your marketing team to determine whether or not the agile approach is right for you.