Is it Time to Rebrand Your B2B Tech Company?
The most visible part of your company is your logo. But is it the right logo? Many companies consider overhauling their brands. Is it time for you to do the same? Or should you continue to use your existing brand elements?
At Golden Spiral, we don't just focus on logos. We believe B2B tech companies should deploy a visual identity system that integrates with their mission and includes an icon (or "brandmark"), the name of the company (or "wordmark"), intentionally chosen colors, typography, and imagery styles that support the big idea of the brand and work flawlessly in the primary brand applications. Furthermore, Golden Spiral believes that a visual identity system only works inside the scope of a larger marketing strategy.
This blog post outlines three triggers that lead to a brand overhaul. To illustrate, we'll share how we assisted our client Digital Reasoning
Isn't It Dangerous to Change Logos?
Generally speaking, the impact of brand equity is different between B2C to B2B. When a consumer brand has thousands of impressions online, on store shelves, and through media advertising, changing the visual look too much will cause the brand to lose equity and traction.
On the other hand, a B2B brand tends to have fewer brand impressions. Therefore, rebranding could build your equity and extend your reach if it is well targeted, intentional, and accurately portrays the soul of your brand.
The larger the company—whether B2B or B2C—the broader your marketing campaign will need to be to introduce your new visual identity system and gain the mindshare of customers and onlookers alike.
Trigger #1: Your Growth Is Outrunning Your Brand
Digital Reasoning has experienced steady growth for the last few years with some major victories. The company has become a leader in cognitive computing, transforming the way banks and other industries monitor risks and reputations.
It's machine learning platform rapidly analyzes large volumes of electronic communications—in many languages, across many domains, and at enormous scale. The analyses cover communications such as emails, chat, voice and social media, revealing facts about people, places and purchases and the relationships among them. Additionally, the technology brings reason to a business' questions using a dynamic knowledge graph to aid in decision making.
As Digital Reasoning grew to be a leader in the industry, its visual identity also needed to grow. Initially, the company logo was a 3D technical globe which alluded to the idea of humanity and technology combined, but over time, the company simplified it to the foreboding black disco ball.
This logo didn't reflect the new desired positioning of the growing company. As a next step, Digital Reasoning needed to:
Communicate the intersection of "human" and "tech"
Hint that its solution augments natural abilities and empowers people to do incredible things
Communicate power in data analytics
Express an attitude of teamwork that reflected the idea of "We come along side you and empower you"
Focus on the customer's great achievements and missions that facilitated by Digital Reasoning's technology
Does your logo reflect your momentum? Companies evolve and adapt over time. One large customer who needed one of your services attracts other customers who need the same service and soon a large percentage of your energy is focused on one area of your business. When you think about the core of your business, does your visual identity system support it or confuse it?
As your leadership becomes aligned about your products, services, direction, and future, you need to ensure that your branding and visual identity system can grow with you and support everything you're doing. As your entire company understands the soul of who you are, your brand will become the flag you wave. An intentional and responsive visual identity system is the natural extension of the internal alignment in your company. Your rebranding strategy requires care.
Trigger #2: You Need to Look Like You Feel
If you lose a significant amount of weight, your clothes won't fit any more. You will need a new wardrobe.
Companies that are becoming laser focused about what they do and who their customers are sometimes have logos that are vague and general. Based on its new company focus, Digital Reasoning needed to demonstrate a clearer picture of how it integrated the human and tech elements of their key services in a way the old branding didn't achieve.
If your company is becoming increasingly intentional about what you do, you need to be just as intentional about your branding. It doesn't mean abandoning your history or roots. You can look at Digital Reasoning's old and new logos side by side and see the connection.
Trigger #3: Your Existing Brand is Too Complex
It's not overt, but Digital Reasoning's logo contains an homage to Paul Rand's famous IBM mark. You can see it in the use of bars to define the tech space. Rand's principles for logo design build from one question to the next. How would you answer these about your brandmark?
Is it distinctive?
Is it visible?
Is it adaptable?
Is it memorable?
Is it universal?
Is it timeless?
Then, when you have said "yes" to everything above, ask this final question: is it simple?
A complex logo can't adapt to multiple formats. Your logo needs to look solid on a trade show booth, in printed materials, in your web design, embroidered on shirts, and positioned as the favicon of your website. If your logo looks just as strong on a golf ball as it does on a New York Times Square billboard, you've perfected adaptability and simplicity.
A complex logo can't be timeless. Fabrics, papers, technology, and the culture around us are changing at an increasingly rapid pace, but logos like Nike, Apple, FedEx, Mercedes, and Major League Baseball are built to last.
B2B logos like Cisco, AstraZenica, and HubSpot meet the requirements, too.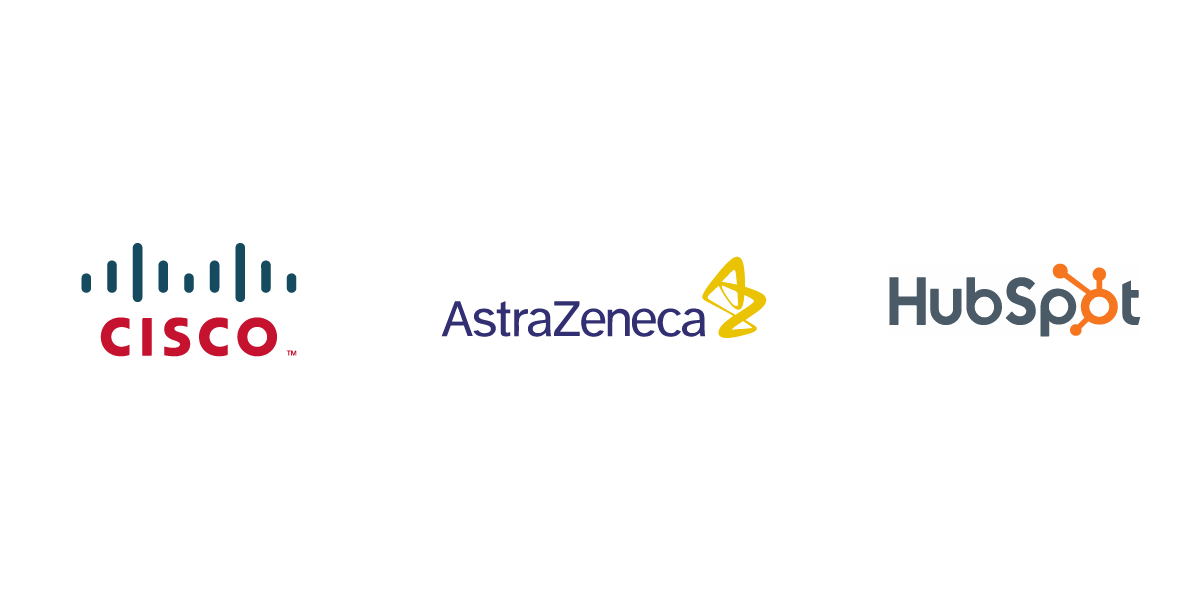 Many major brands have refreshed themselves in the recent past in an effort to simplify their logos and make them meet the other six requirements as well. IBM Watson launched in 2005 but overhauled its logo in 2011.
The concepts of the brain's neural network and a globe were maintained in the update. The gradients are subtle and give the feel of movement and three dimensions. The new logo is much simpler and more adaptable.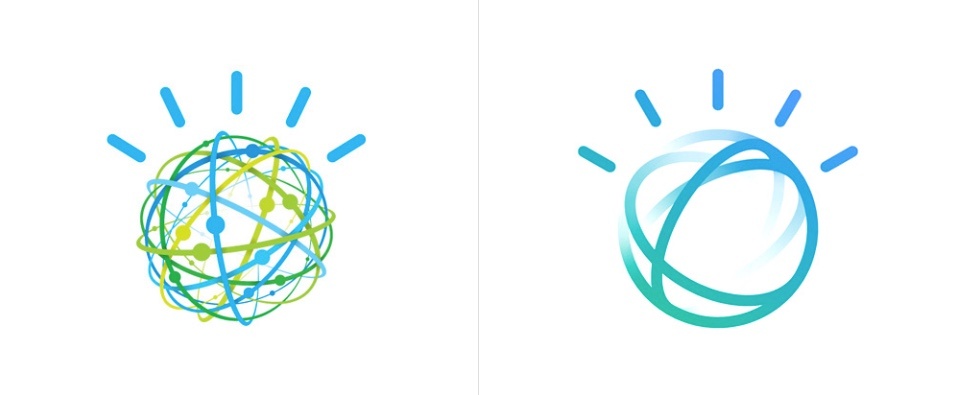 Bringing All the Ideas Together
By bringing all these principles together for Digital Reasoning, we were able to create a new visual identity that better reflected the overall brand, But don't just take our word for it. Here is part of what founder Tim Estes wrote about the new logo when it debuted:
"It is a fresh evocation of who we are, a mark of our progress and a signpost for our future. This is a momentous change and I'd like to explain to you why I believe it is significant.

Our outgoing logo, used since 2007, was adapted from an earlier 3D version created in 2003. It's metallic, grid-like structure symbolized complexity made clear by technology, with the globe representing the meaning of our vision. It embodied our aspiration to bring reason to disorder for the benefit of humanity. Our progress has only magnified that goal, but as vision becomes reality it needs a new expression.

The theme for our new brand is articulated in a new tagline: The Power to Improve Your World™. It encapsulates the meaning of what we do for others, distilling our values – integrity, excellence, teamwork, innovation, customer focus – into our mission to enlighten others about what is possible and be a partner in their achievements. Our new logo continues to evoke our global impact, but also implies the humanizing force that lies behind it. Positive, vibrant and colorful, it's five shapes echo our values, the world and the human hand."
In addition to the logo itself, Golden Spiral created an entire visual identity system so that sales, marketing, internal communication, and other departments could all be aligned and unified in communicating about the company.
Helping B2B tech companies position themselves well in the marketplace is at the core of who Golden Spiral is and what we hope to accomplish. How strong is your brand identity system? Is your leadership aligned? We stand ready to refresh or transform your brand identity for your future. Find out more about our branding process here, or click here to let us know how we can assist you.