Is Your SaaS Company Looking Beyond The Millennial Market?
The Article in 60 Seconds
While millennials make up the largest generation in the U.S. labor force, SaaS companies can't get hung up on this demographic for too long — Generation Z is right behind them. The time is now to prepare for the next wave of B2B tech users, buyers, and decision-makers in your market.
Here are three steps you can take as you expand your reach to include Gen Zers.
Design products for digital natives.
Speak their language.
Meet them on their turf.
Think About This
There's about to be a new boss in town. Gen Z will comprise 36% of the workforce by 2020. [Randstad]
Trust, compatibility, and connectedness matter more to this generation than business benefits and deliverables. [Harvard Business Review]
Patience isn't a virtue when it comes to technology. 60% of Gen Z won't use a website or app if it's too slow to load. [Commscope]
In 2014, roughly 25% of all $1B VC-backed private companies are under 25 years old. The number is growing. [Harvard Business Review]
The oldest Gen Zers are 23. Steve Jobs was 21 and Steve Wozniak was 26 when they formed Apple. Bill Gates was 19 and Paul Allen was 22 when they formed Microsoft. Mark Zuckerberg was 19 when he started Facebook.
It's Time to Get Ready for Generation Z
Millennials are considered digital pioneers, a generation that helped shape the digital world we know today. But, Gen Zers are digital natives — they've never had to adapt to technology because it's always been part of their lives.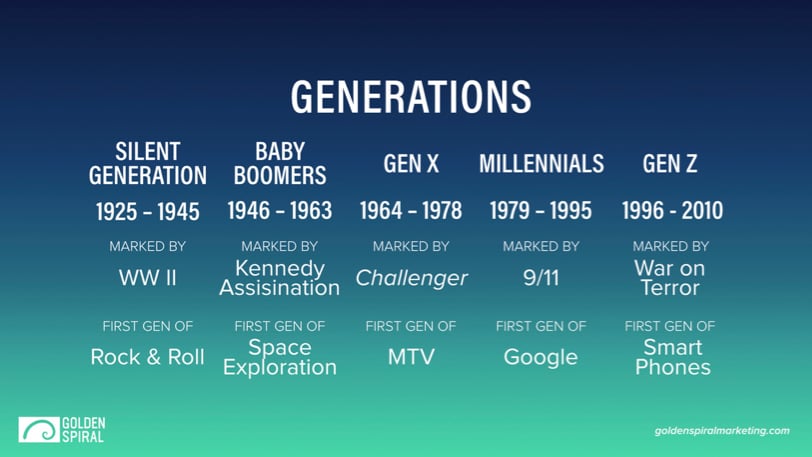 As a result, this generation has higher expectations for tech solutions than any generation prior. Speed, convenience, and usability are not negotiable, and they will only purchase products that can deliver on promises to streamline and simplify.
What does this mean for B2B tech companies? It means you'll need to adjust your product design, messaging, and marketing strategies to account for Gen Z users, influencers, and decision-makers at the table.
Here are a few ways to expand your reach to include these new faces.
Step #1: Design for Digital Natives
If your product offering fails to impress your Gen Z audience, nothing else matters. That's why product design (and the R&D that directs it) should be first priority for your organization.
Remember, this generation developed a much more instinctual relationship with technology than any generation prior, utilizing 4-5 screens on a daily basis before they even reached their teenage years. They have shorter attention spans and expect tech solutions to provide the information they need instantly without requiring them to dig for it. For Gen Zers, technology doesn't just make manual processes easier, it makes it so you don't even need the manual processes in the first place.
Tech Isn't Just a Problem Solver
This means your product design should not only solve existing problems your customers face, but anticipate future issues that technology can address. Push your team to look beyond problem solving and design your solutions with the expectations and preferred workflows of digital natives in mind.
At Golden Spiral, we're big fans of Slack for internal communication, Basecamp for external communication, Airtable for data management, and Mavenlink for project management. Because of the forward-thinking innovation of these companies, the next generation will have much more limited exposure to and use for tools like email and spreadsheets when they enter the workforce.
Stay focused on these kinds of leaders in your space; they're setting the standard for you to improve upon.
Step #2: Speak Their Language
Take a look at what your marketing messages say about your products. Do they reflect the technology's true capabilities? Or, do they make you sound like everyone else?
Because Gen Z grew up with constant access to the Internet, they are more likely to scrutinize information sources. They can sniff out false or misleading messages and won't always accept an idea at face value; you've got to have compelling data to back up your claims, or they won't be convinced of your product's value.
The Power of a Story
Social media has given people a platform to tell their personal stories to wide audiences, changing not only the way individuals communicate, but also the way businesses communicate. With 39% of Gen Z getting a social media account at 11.4 years old, these buyers think about brands in terms of the stories they tell. That's why, in addition to metrics, you need to share a narrative about who you are and the potential impact your products can make.
According to Michael Solomon, professor of marketing at St. Joseph's University Haub School of Business: "Generation Z are all authors in their own way and they are publishing their autobiography every day….If brands have an interesting backstory, tell that story and tell it often."
Step #3: Meet Them on Their Turf
It's no secret that we're all addicted to our phones, but Gen Z may be the most addicted, with research showing that 45% of Gen Z are on their phones "almost constantly." They've never known life without little red notifications luring them to check just one more social media app, one more email, and one more text.
If you want to be part of this digital interaction with Gen Zers, you've got to meet them on their smartphone turf. To do so effectively requires an integrated marketing strategy that includes everything from marketing automation campaigns, to social media, to search engine optimization (SEO).
First You've Got to Be Found
Nearly 50% of all B2B product researchers are digital natives, which makes online visibility more important to your business than ever before. These buyers conduct extensive online research about potential vendors before even making initial contact. They expect everything they need to know about a company or product to be easily searchable, and if they can't find what they need, they'll look elsewhere. As a result, you need to make sure you're at the top of search results for industry keywords and that you have the right measures in place to drive traffic to your site.
For example, Connotate (now part of import.io) recognized the importance of growing its digital presence in order to generate qualified leads, and engaged Golden Spiral to create and execute on a search engine marketing (SEM) and content strategy. Through a combination of pay-per-click advertising, optimized blog content, and ongoing social media activity, our team helped the company achieve 22% more new contacts from organic traffic and 24% more new visitors from paid traffic — for overall increased online visibility among target audiences.
B2B tech companies that employ this kind of integrated marketing approach have a higher chance of getting in front of Gen Z buyers and driving conversions.
The First Thing To Do After Reading This Article
Schedule a lunch meeting. Ask one or two key thinkers from your marketing team to join you. Then invite several high-performing Gen Zers within your organization no matter what department they represent. Ask them a series of general questions just to clear you of your biases. Then, ask specific questions about what they're really looking for in a SaaS solution. Following the lunch, get with your key thinkers to discuss the most effective means for marketing to Gen Z buyers.
When you send out the invitations, just be sure to use text or Slack first — this group isn't a fan of phone calls.