Marketing Automation Use Cases in B2B Tech
Are you ready to dig in to marketing automation?
If you're ready for rubber to meet the road, go deep into these case studies. Get at answers to some of your B2B tech company's core questions by taking a close look at some of the real-life ways to implement automation. These seek to strike a balance principle-rich concepts and hands-on ideas.
In some ways, tackling marketing automation is a bit like looking at a plate of freshly sliced cake on the table in front of you from every angle, surveying the base, eying the icing, and studying your best approach, before finally sinking a fork in and taking that first bite. Suddenly a conceptual idea transforms into a feast for the taste buds and makes the benefits seem much more real.
In the same way, looking at use cases with some of the key components in mind — lead scoring, a content database, key performance indicators (KPIs), and more — can bring the concepts of marketing automation into a savory blend of ingredients that make tasting success all the more possible and inviting.
We outline these use case details and more in our Complete Guide to Marketing Automation for B2B Tech.
Social Media
It's no surprise that experienced practitioners on this subject tend to touch first on social media marketing, since tracking, measuring, and analyzing results on most social media platforms amounts to low-hanging fruit in your B2B sales and marketing plans. (Yes, it might seem like a step down to go from cake to fruit, but "dessert first" isn't always a bad idea.)
Lead Nurturing
As the conversation about automation continues, focusing on the value of lead nurturing, the core necessity of robust content, the importance of well-oiled workflows, and the case for automation's positive impact on sales and marketing alignment, it might spur some questions in the mind of C-suite executives and/or marketing and sales chiefs. Such as:
Will automating our marketing cause us to lose the personal touch with prospective customers and current clients?
How can we be sure that those receiving automated emails, reminders, content-download offers, and other pre-built touches won't regard us as too robotic and not concerned specifically about them?
Will the investment of front-end work it takes to set up automation really be worth it?
Beyond the initial manpower, how much monitoring will be necessary to ensure that automation is working at all level of the sales-and-marketing funnel?
Will our messages get stale? How can we be sure they'll remain fresh?
Could it feel as if we aren't doing enough, that the approach is too hands-off to keep us sharp in our interactions with leads?
These are all fair questions to ask, and the good news is that they all have rock-solid answers.
It is not as if the process works like magic; the most candid conversations about use cases do not mince words or sugarcoat (back to sweets again) the beast it can be to set up winning marketing automation. But satisfying answers to such tough questions are available, and they tend to allay concerns about the value of automation. Those who have gone the distance in this realm almost all make a persuasive case that the benefits of simplifying and streamlining your approach through automation far outweigh any potential downsides.
If the idea of automating your marketing seems the least bit intimidating — or downright overwhelming — take heart. It is with good reason that savvy marketers advise starting small, choosing one aspect of your business to automate, perhaps a simpler, shorter-term campaign if you prefer, as you begin to implement the principles of automation. (For instance, a Welcome Campaign can be a solid choice as a starting point.)
Doing it right takes organization, focus, boldness, and a willingness to start from scratch if necessary. It compels marketers to begin with the end in mind but also with clear definitions of who we are, what we are after, and how we will measure results along the way.
Content Development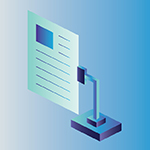 For one example, consider the meat of the messaging that is essential to automation. Developing smart, winsome content at the outset is one of the key components of making automation work in the B2B tech world. From cold-lead messages and lead-nurture follow-ups, to eBooks and white papers , to new product offers and beyond, a stable of tight, clear, ready-to-roll content is as important as it has ever been, especially considering the waves of messages rushing at potential customers and clients today.
Headlines and Subject Lines
To get a bit more specific, consider the importance of compelling subject lines in marketing emails. In your inbox this morning, you might have skimmed over some good and not-so-good examples along the lines of the following.
From a management coach: "Discover the All-Power Alternative to Willpower."
From an outdoor-adventure retailer: "What Did You Think? Write a Review."
From a video and social media consultant: "Being unclear is costing you money. How much?"
From a real estate publication: "Top 10 affordable and fun small towns."
From the organizers of an upcoming conference: "Essential Details & Reminders: Get the Event App!"
Of course, just as headlines are only one part of a news story, appealing subject lines are just the tip of the iceberg when it comes to building a comprehensive content database. Yet they set the tone for the rest of the messaging that it will take to fill a reservoir of content to plug in where needed as part of your overall marketing strategy.
Workflows
On a bit deeper level, workflows represent a critical aspect of automation, and the best use cases often provide details into the varieties of campaigns and opportunities for which the right workflow will ensure that the right messages reach the right people at the right time and place, whether they are closer to the top of the funnel or near the bottom.
It's also good to keep in mind that workflows can be created as specifically as a CRM and automation platform will allow — and most such platforms have developed an almost endless array of options — to reach leads along the entire spectrum, from piping hot to freezing cold.
Personas
As a corollary, one key part of any conversation about workflows will naturally lead into the importance of establishing personas that fit your organization's products and services. Doing so will make automating your marketing even more effective, as you craft messaging designed to reach specific people who want and need to hear from you. Don't just develop a persona, expand your understanding of your audience into a Buyer MatrixTM.
For many of us, chewing on the potential of automation to help align the sales and marketing functions of a company might prove especially savory. Those who have experienced any disconnect whatsoever between the sales function and the marketing function — blurred lines about where one ends and the other begins, the unintended peril of marketing to a seasoned lead as you might a first-time contact, and other pitfalls — can experience eureka or aha moments in discovering that automating can save time for both functions and unite them as each is able to focus more on their respective core roles.
Focus
Speaking of focus, that is yet another benefit of marketing automation. Once you begin to convert some formerly manual tasks into automated workflows — from updating contacts, to shifting contacts into new workflows as their place within the funnel evolves, and much more—you will most likely see clearly that automation is allowing your team to zoom in on the most essential jobs, increase the team's effectiveness, and boost the bottom line.
And that will be the icing on your proverbial cake.
Now if you'll excuse us, for some reason, dessert sounds like a really good idea right about now.
Key Takeaway
Marketing automation can change — even revolutionize — each aspect of your marketing. Each application of automation requires a learning curve and time to set it up, but the benefits and efficiencies gained far outweigh the investment.