Nine Tips to Make Your B2B Tech Blog Less Boring
Every relationship is a transaction. You have to give a little to get a little in return. This is true in friendships, professional relationships, and marriage — and it is true in B2B marketing.
Unfortunately, many B2B tech businesses have content marketing plans that are relatively off balance. They fall into the trap of only blogging when it is convenient for them, when they have some type of announcement, or need to share product information.
While that may be what your company wants to write about, your readers most likely find it boring.
So, if you're wondering why no one is visiting, reading, or subscribing to your business' blog, listen up: Marketing, especially content marketing isn't about you and what you want to write about. It is about your prospective and current audiences, their questions, pain points, needs, and wants.
The best B2B tech blogs are a strategic mix of best practices, product announcements, research and industry trends — sprinkled with the perfect amount of wit, candor, facts, great examples, humor, and storytelling.
In this blog, we'll dive into how to breathe life into your boring B2B tech blog with nine simple strategies.
1. Have a Personality
The easiest way to make your B2B tech blog less boring is to well…not be boring. The best business blogs find a way to make complex, dry, or even boring topics, interesting.
In order to give your blog a personality, you must first understand your brand voice. While this voice is important across As yourself — if our brand was a person, how would he or she communicate? What would he or she value? How would he or she earn trust? How would he or she educate? What stories would her or she tell? How would he or she make herself relatable?
Inject your blog with personality with these tips:

Always hook 'em with a good intro! Tell a personal anecdote, share compelling statistics, or provide a relatable scenario.

Keep content light. Even when content gets complex, find a way to keep it conversational and easy-to-read.

Use GIFs and Memes when it is relevant. Making your audience laugh is always a good way to obtain and maintain their attention. However, use these sparingly, as you want to be taken seriously.

Use blogger headshots and bios: Putting a face to the name and content humanizes your content and instantly gives it personality.
2. Write About the Topics Your Audience Cares About
This sounds obvious, I know. Writing about what your audience cares about seems to be the only logical thing to do. Otherwise, why blog?
However, the most common thread among unsuccessful B2B tech blogs is the inability to hone in on what prospective and current clients care about at each stage of their journey. And unfortunately, it takes a little more strategy than guessing.
Here are a few ways to find out what your audience really cares about:
Do keyword research: Use a tool like Moz Keyword Explorer to get a better understanding of the search volume and competition for the words related to your product. Keywords with a high search volume indicate that there's interest in the topic. High search volume and low competition indicate a blog that a lot of people care about, but not many people are writing about — and is a low hanging fruit that you should write about!
Research what your competitors are writing about: Pablo Picasso once said, "good artists copy, great artists steal." And while, there is a time and place to be original — drawing inspiration from your competitor's blog can give you an idea of what your audience cares about — and how you can do a better job addressing it. (Pro tip: include a blog comparison when you conduct your company's competitive analysis.)
Answer important questions better than anyone else: Humans are becoming more reliant on search to answer their everyday questions — so think consider every blog post that you write an opportunity to address a pressing question each of your key personas has during the awareness, consideration, and decision phases of their journey. If you can answer questions and solve problems, you will always be interesting and relevant.
3. Provide Value
The Internet is filled with noise. There are hundreds of blogs that cover the same topic, often with conflicting best practices and strategies. If you want to avoid boring your readers, avoid sharing general knowledge they could easily find on Wikipedia. Provide precise examples, backup your data, and give them the "ah-ha!" moment or idea they've been browsing the Internet for.
If you want to provide value, every post should answer the following questions:
Why should I care?

What do I do about it?

How can I execute it?

Why would I need your product or service to do it? And if I am a current client, how can I use it?
4. Supplement Content with Photos and Video
Every so often, I stumble across a blog post that, ironically, mentions that blogging is dead. However, blogging as we once knew it, is dead.
Short 300-500 word posts are no longer enough; and simply writing content isn't enough for today's tech-savvy and video-obsessed consumers. As a B2B tech company you should in fact, be ahead on technology, which means incorporating the latest technology into your marketing campaigns and blog.
Including photography in your blog posts are a must! However, most B2B tech companies rely on stock photos — which means your audience might be seeing the same photos over and over again.
Sites like iStock Photo and Shutterstock are the most popular stock photo sites with paid subscriptions, but sites like Unsplash, Pexels and Death to Stock Photo provide some additional high-quality stock photography free of charge. Additionally, you can use a site like Mockup World to create original mock-ups of your product in-action.
If you want to incorporate video into your blog posts, try using a tool like Adobe Spark, Promo by Slide.ly, or Lumen 5. All three of the platforms help you create short videos to help summarize blog content with the use of text, stock or original video, and music. These are extremely helpful when promoting your blog on social media, too.
Summarizing blog content via an infographic is a third way to make your content more digestible and engaging. Not feeling particularly creative enough for this often overwhelming content piece? Use Canva to build your infographic in a drag-and-drop interface.
5. Make Content Scannable
Today's Internet users have short attention spans, and scan more than they read. This means that dense paragraphs are both snooze-worthy, and unfortunately also not being read.
When you structure your blog, use the following best practices to make content scannable:
Stick to short 2-4 sentence paragraphs

Bold keywords you don't want visitors to miss

Use a smart content hierarchy with the use of header tags so that visitors understand the main components of the blog post

Use bullet lists when possible

Write photo captions — as studies show that they are more likely to be read than other content in your blog.
6. Be Consistent
Write and they shall come.
Nothing is more boring than silence. Posting on your blog consistently is not only good for SEO and your overall brand presence, but is the very foundation of an engaging content strategy.
While we recommend blogging 2-3 times per week to aid in your content strategy, if you're currently struggling with consistency, aim for at least one post per week to get started. Build a content calendar to hold yourself (and your other team members!) accountable.
7. Provide Next Steps
Dead-end blogs (blogs without a call-to-action button or next step) are a quick way to lose an engaged reader. Every blog post you write should be connect to some type of content offer or further reading to bring the reader further down the funnel. For example, HubSpot provides a relevant call-to-action at the bottom of every single blog.
Another way to provide next steps is to use internal linking. Internal linking makes it easy for readers to find other relevant content on your site that they may find interesting. (It also helps with your SEO efforts!)
8. Build an Engaging Blog Page
Your blog's user experience is a huge component of your blog's success. Make sure your blog landing page has the following elements:
An easy-to-use search bar to quickly find topics

A visually appealing interface

Suggested additional content
Check out this example from Steelcase, whose blog features bright photography, Pinterest-style scrolling, and a variety of resources:
The blog's intuitive navigation makes it easy for visitors to find content that interests them via a variety of content buckets:
9. Don't Write Boring Blog Titles
Everything on the Internet feels like clickbait, which is why I always write my blog title last. I often find that being given a blog title confines me to a box, when I need to be creative in order to earn someone's attention…and appease Google.
So, before I hit publish, I usually write about numerous different versions of it until I find the one that sticks. And you should, too.
When writing blog titles, write one of each of the following versions (For the purpose of providing examples, let's use the topic for this blog, which was "how to make a blog less boring."):
The numbered list

– 8 Tips to Make Your B2B Tech Blog Less Boring

The question

– How Can I Make My B2B Tech Blog Less Boring?

The hyperbole

– How to Write Killer Blog Posts Your Audience Can't refuse

The shock factor

– Stop Writing Blog Posts that Suck: 8 Tips for Crafting a More Engaging Blog Strategy

The adjective

– 8 Proven Tips for a Less Boring B2B Tech Blog
Keep in mind that using words like "best," "secrets," "surprising," "most effective," "essential," "creative," "new," "innovative," and "proven" often help you garner more clicks. Do's and Don'ts and pros and cons are other popular types of blog titles that visitors find engaging.
Keep in mind that you should avoid over-using any of the types listed above. For example, Niche.com does a great job at varying their blog titles: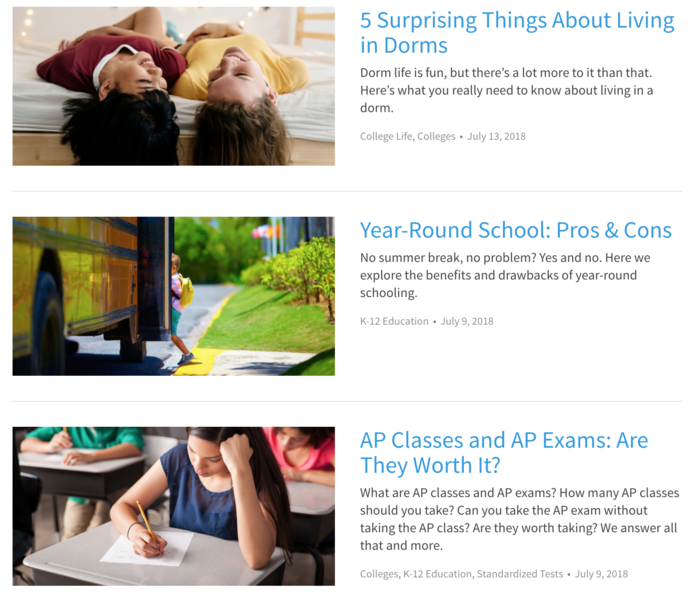 Key Takeaway
Your B2B Tech blog is about providing value to your prospective and current clients and being helpful at every stage of their journey. The easiest way to make your B2B Tech blog less boring is to write about content they care about, in an engaging manner, consistently.