Product Marketing versus Company Marketing for HealthTech Businesses [Updated]
Every marketing department must:
sell the brand in order to
sell the product.
More competitors are entering the HealthTech space every week increasing the complexity of the marketing and sales processes.
You can't sell your product without trust.
You can't build trust without establishing your brand.
You can't establish your brand unless you are focused on the problems in the market.
How different are company and product marketing? When do they work together? When do they compete? When do they do accomplish their own objectives?
In this article, we'll talk about
Think About This
61.7% of product marketers report to marketing while the balance report to product, the CEO, or business development.
21% of product marketers never have any interaction with their customers.
77% of buyers want different content at each stage of the product research process.
The Guiding Principle
Before you can even distinguish between company and product marketing, you must know your customer. So many HealthTech companies, especially those birthed by technical founders, spend much time and energy on talking about the power, features, and technology behind their solutions and miss the customer altogether. These companies have yet to develop a brand worth trusting or a product that will attract buyers.
Build a team that understands the core business needs of your customers. Foster a culture where those needs are discussed first and each team member has a passion for solving them. Then, you can be successful at both product and company marketing—as well as the orchestration of the two.
Marketing Functions
How have your organized marketing at your company? Do product and company marketing fall under the same umbrella both reporting up to a marketing executive? Or do marketing functions fall under two different executives, one over brand and one over product?
No matter which philosophy your company has chosen, all of the marketing functions must be covered. Take some time to assess the quality and the success of the marketing for both your brand and product. How well are you accomplishing each of the following for product and company:
sales enablement
customer support
Justin Steinman, CMO of Definitive Healthcare, believes that most marketing teams need to invest in another role to help all of the above succeed. He discusses the critical nature of a Campaign Planning Manager in our interview with him.
Once you have a sense of the quality, quantity, and success of your marketing efforts, think critically about how resources are applied in each category.
Company Marketing
Focus on establishing trust and a good reputation within your industry. Company marketing is broader and has a long-term emphasis.
Company Marketing Ongoing Efforts Should Prioritize:
Product Marketing
Keep this team solely focused on marketing your products.
Within the product marketing role, there are two key areas of concentration:
Introducing new customers to your product
Helping existing customers stay in love with your product and introducing them to upgrades and plugins.
Your product marketing team is poised to produce some of the most market problem-focused content you can produce by answering the FAQs of your customer base. These pieces—i.e., articles, webinars, podcast episodes, infographics, white papers—should start with a clear understanding of the problem before moving into technical support information.
The Message and Content
The core of marketing for both product and company teams will be your content. The more closely your content is tied to the buyer's challenges, the greater success you will have. We recommend mapping your content to the buyer's experience to determine where the holes are and creating a plan to fill them.
Company Marketing
Every piece of content, whether overtly or not, should uphold your guiding principles, positioning, and mission. Zapier is a great example of a company that accomplishes this. We use Zapier every day in our work.
Zapier's slogan "Zapier makes you happier" is evident throughout their website, social media, and overall messaging.
Product Marketing
On the flip side, product marketing is much more niche. Your messaging and content will vary from product to product. Ensure that you have the same marketing strategy and approach for each of your different products. For example, Zapier has a landing page on its website for every product it sells—each set up the exact same way with the same types of content.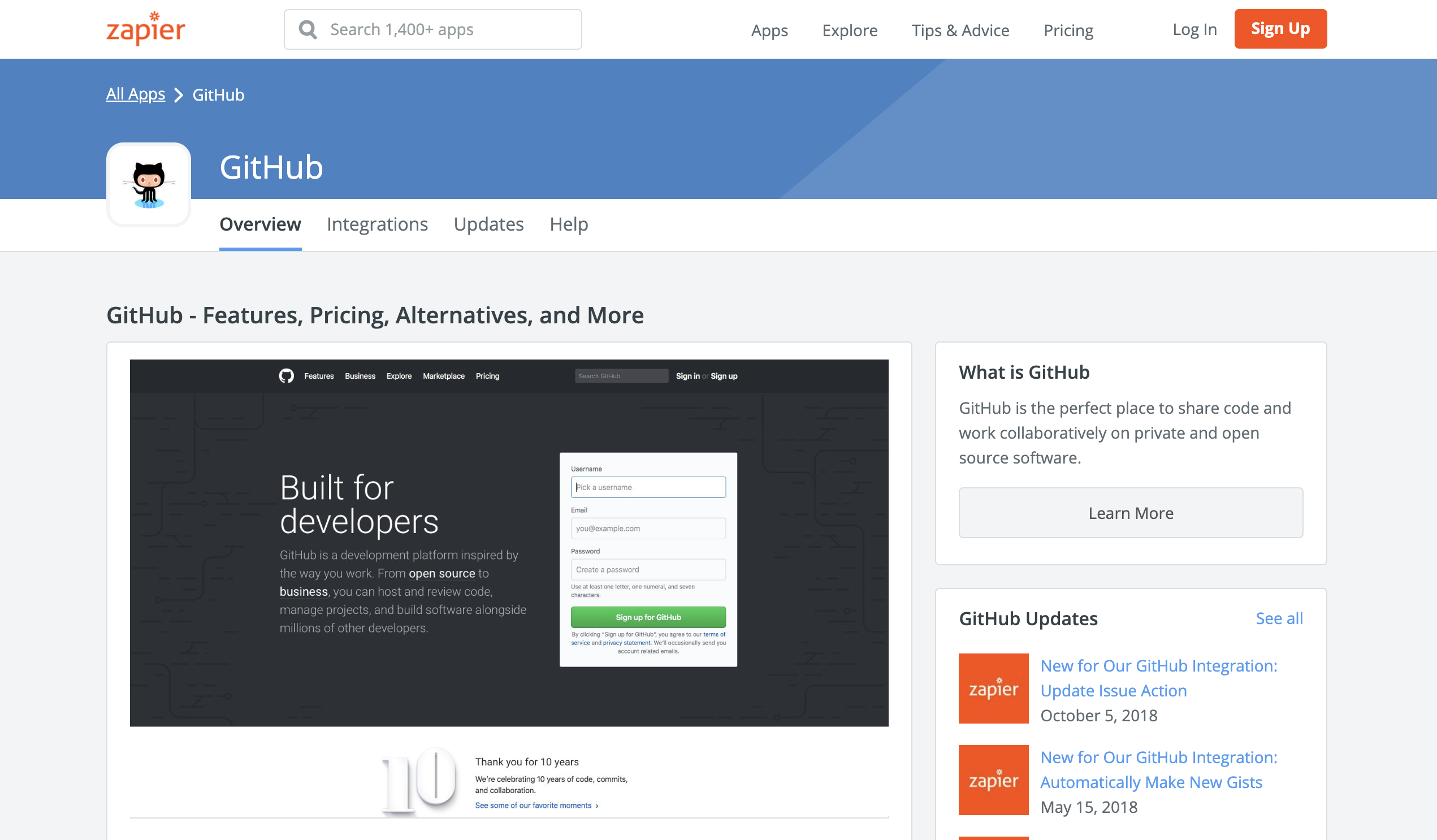 Messaging and content for company and product marketing should feel seamless and cohesive.
In other words, the average consumer shouldn't be able to tell the difference between what your product marketers and other marketing team members are putting together. An excellent example of how company and product marketing work together is on the Zapier blog, where they strike the perfect balance between content that builds trust in the brand, and content that builds interest in their products.
Often, we meet marketing executives who have inherited both marketing functions, but they are in disarray. The teams are working hard, but there is wasted effort, poor communication, and territorialism. They could be more effective. Marketing executives hire us to help bring unity of purpose to their companies. If you'd like to discuss how Golden Spiral can come alongside your efforts to grow your company, fill out the form below.
Let's Talk
If you are interested in starting a conversation, start by contacting us here.
updated from May 2019 and December 2018