Product Marketing versus Company Marketing for SaaS Businesses [Updated]
The Article in 60 Seconds
Every marketing department — whether you work in B2B or B2C — needs to:
sell the brand in order to
sell the product.
For SaaS companies in particular, this is critically important. Without the establishment of trust and reputation, selling a product—especially in a competitive marketplace—is difficult. You must understand the difference between marketing your company and marketing your product(s).
In this article, we'll uncover the answers to these questions, and share the differences between company marketing and product marketing by taking a close look at:
Think About This
61.7% of product marketers report to marketing while the balance report to product, the CEO, or business development.
21% of product marketers never have any interaction with their customers.
77% of buyers want different content at each stage of the product research process
The Role
If your B2B technology company has more than a one-person marketing team, you will likely have a product marketing manager that works alongside a team of marketers focused on content, emails, social media, sales enablement, marketing automation, online ads, SEO, and more. While you may not have a different individual for each of these roles, it's essential that your team (or an agency you enlist to supplement your team) possesses these skills.
It's important to note that while product marketing managers will be tasked with their own set of responsibilities, they should not operate in a silo. The product marketing manager will rely upon the expertise of the other digital marketers in your organization to create and distribute the product marketing assets.
Company Marketing
Focus on establishing trust and a good reputation within your industry. While this might look different from company to company, in general, company marketing is broader and has a long-term emphasis, while marketing for a given product often has a shorter-term purpose.
Company Marketing Ongoing Efforts Include:
Product Marketing
The role of the product marketer is to specifically market your products. This means doing everything your marketing team does to promote your brand and company, but specifically, for your products. This means creating a go-to-market strategy and launch plan that outline in detail how the product will be promoted and sold.
Within the product marketing role, there are two key areas of concentration:
What happens before the product launch
What happens after the product launch
Before a product launch, you product marketer(s) should be focusing on working backwards from the desired launch date. They should:
Create a timeline
Gather feedback from clients
Develop the positioning and messaging for the product
Create initial sales and marketing materials (such as website content, sales deck, pricing sheet, etc.)
Determine KPIs
Begin promoting the product to clients
Begin promoting the product to prospects
So, does that mean once a product launches, a product marketer is no longer essential? Absolutely not! After the product launches, the job is far from over. However, due to the shorter term nature, you may benefit from hiring an agency who specializes in product marketing, rather than hiring a full-time person.
Once the product launches, product marketers need to focus on enabling inside and outside sales teams to sell the product. This likely includes working with members of the company marketing team on the development of:
Email campaigns
Social media campaigns
Content for prospective users
Content for current users

The Message & Content
Developing a message that resonants is the foundation of a successful marketing campaign and brand on the individual product level, as well as the company level.
In both cases, your talented marketers are working on important messaging based on:
Company Marketing
Your company should have one company-wide value proposition and mission statement that transcends every marketing asset you create. For example, Zapier is a B2B technology company that integrates a variety of the apps you likely us daily, including Slack, Hubspot, MailChimp — you name it. Zapier's slogan "Zapier makes you happier" is evident throughout their website, social media, and overall messaging. (We use Zapier every day in our work.)
Product Marketing
On the flip side, product marketing is much more niche. Your messaging and content will vary from product to product. Ensure that you have the same marketing strategy and approach for each of your different products. For example, Zapier has a landing page on its website for every product it sells — each set up the exact same way with the same types of content.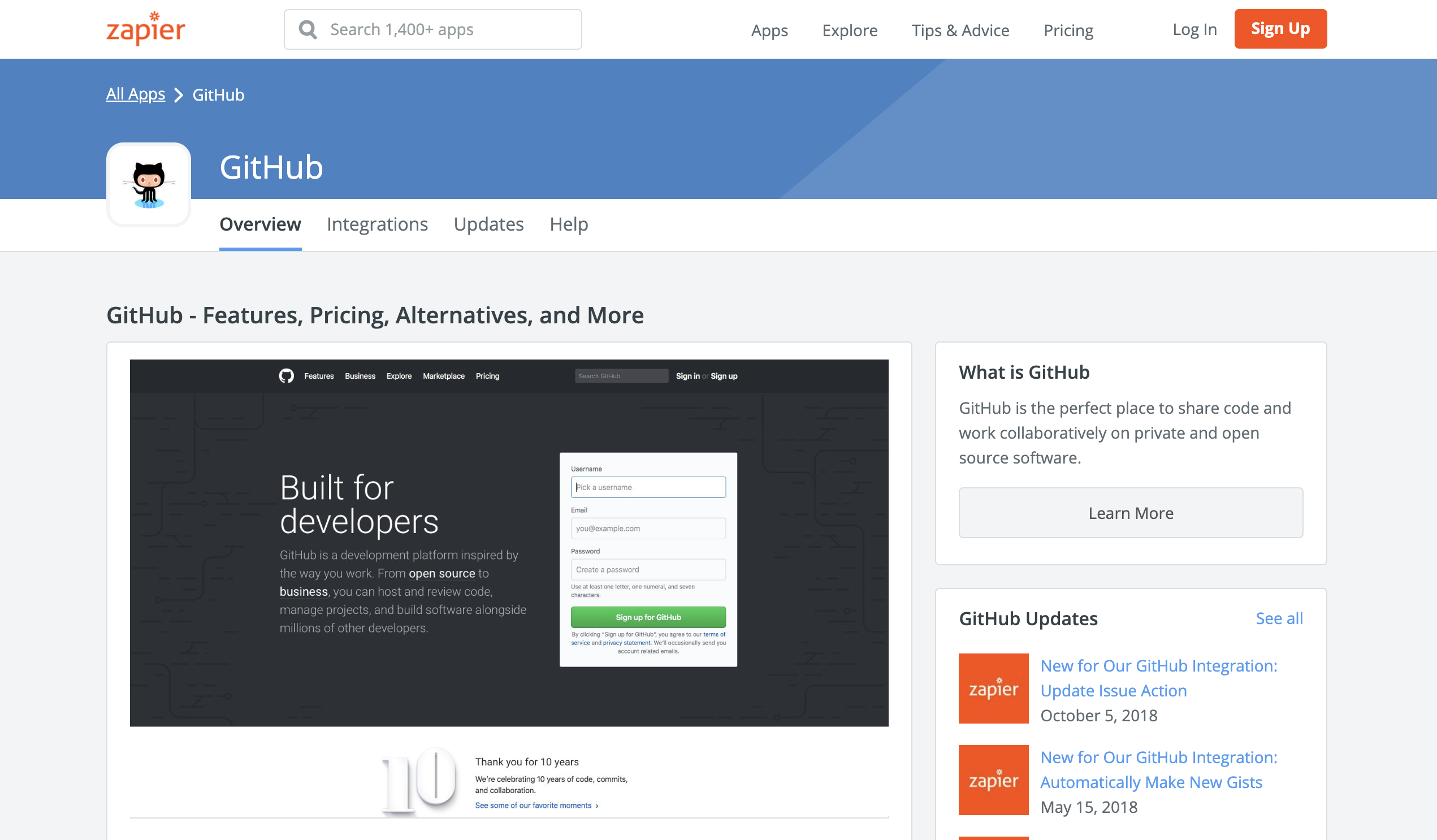 Curious about how the messaging and content for company-wide and product marketing work together? It should feel seamless and cohesive. In other words, the average consumer shouldn't be able to tell the difference between what your product marketers and other marketing team members are putting together. An excellent example of how company and product marketing work together is on the Zapier blog, where they strike the perfect balance between content that builds trust in the brand, and content that builds interest in their products.
The First Thing to Do After Reading this Article
Gather the leadership over both corporate and product marketing. Find out if everyone is clear on the lines of distinction and on how to collaborate. Then gather all of the tacticians together to clarify or communicate for better symbiosis.