Recommended Reading for B2B Tech Leaders
There's an old adage that says, "Readers are leaders. Leaders are readers." Reading — or the absorption and assimilation of content — has changed a great deal.
Audio books didn't exist 50 years ago. Audible has only been around since 1995.
The internet, bulletin boards, and ultimately blogs didn't start until the late 1980s.
The iPhone hit in 2007.
Kindle and iPad didn't come on the scene until 2007 and 2010 respectively.
The format, however, doesn't negate the need for learning and wrestling with new — and timeless — concepts.
Here are a few of the resources the Golden Spiral team turns to again and again.
Reading for Leaders
Traction, by Gino Wickman
John Farkas, CEO and Chief Storyteller
Traction is really valuable because it forces you to prioritize tasks and frames a clear accountability for moving things forward. In every company, there are lots of opportunities. Just because there are lots of opportunities doesn't mean that all are good. Traction, and the framework Gino Wickman teaches, brings clarity — how to decide what to do, how to evaluate progress, how to align goals, how to accomplish more.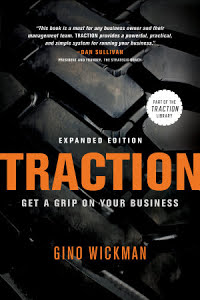 I get distracted. I think of new ideas and I want to take the rabbit trail. It's easy for me to chase shiny objects. But the Traction framework means we have agreed-upon objectives for the meeting and it empowers everyone to say, "No, that's a rabbit trail. Let's stay on target. This is the higher priority." Traction makes it easier to say "no" to the shiny objects. At the same time, the framework allows me to put a shiny object on a list — the issues list — to discuss it at an appropriate time.
Peter Smith, President/COO
Traction taught us how to maintain focus. Wickman's integrated system is an adjustment at first. It's unnatural. Our default had been to go into brainstorming and problem solving in our meetings. Traction forces you to keep your eyes on the bigger goals, the longer-term goals. I don't resonate with all of his vernacular but we've adopted the system throughout and it's made a big difference. We used to have pop-up meetings. I'd spend an hour talking with John about an idea only to discover that we didn't need to worry about that issue right now. I had a handful of meetings like that every week. Each of us did. Traction gave us a framework to discuss these matters more quickly while concentrating on the big picture.
We adopted our scorecard model from Traction. We map the most important numbers. We know when we're off track. That allows us to discuss and correct.
One colleague adopted just the scorecard portion of Traction as a leader in her department. She needed the focus it provided and it has helped the team be more productive. Another colleague became a first-time manager. Her company was growing so fast it felt like the wild west. She adopted the Traction system to bring order to her team. The goals her leadership set are lofty and tough. Traction is helping her reach them. A third colleague is a project manager for an agency. While the entire agency doesn't use Traction, he has adopted the framework for his projects to help him stay on task. Traction works for companies, departments, and individuals.
Play Bigger, by Al Ramadan, Christopher Lochhead, Kevin Maney, and Dave Peterson
John Farkas
Play Bigger pushes you to think about where you can take your company. The strongest part of the book relates to category creation.
Having a legitimate opportunity to define a new category can be golden. It is rare and can be extraordinarily lucrative. You have to go all in or don't go at all. Yes, you must define your value proposition, but if you spend too much time defining your value proposition, you won't have enough time to invest in the important conversations about your value. Play Bigger helps you avoid conversations where you spend more time taking about what you're not than how you solve your customer's problems.
Peter Smith
Play Bigger presents the big idea of The Lightning Strike event. It's a massive event which announces and establishes a new category and the product in the market. It's not enough to just establish the category; the world must know. The Lightning Strike is one way to, as John said, "go all in."
John Farkas
Elad Gil has written an intensely pragmatic book. It's case study after case study, experience after experience. Leaders and companies who have been down the road of early stage growth, like many tech companies we know, will find it helpful. The book dives into, "What do I have to do to make it work?" High Growth Handbook introduces you to people who have been in situations that make or break companies and explores what they did to lead the company through those critical growth hurdles. Gil helps you understand how to think about critical growth issues and make the hard decisions to scale those mountains effectively.
Peter Smith
There's a difference between growing fast and the type of growth High Growth Handbook is talking about. This book is for companies growing toward an IPO. That's a common reality for B2B tech companies. The book discusses potential shifts in your management team: the management team that took you from $10M to $100M probably isn't the management team you need to grow from $100M to $1 billion. If a company is going public, it needs leadership that's been there. That understands how to, for example, talk about business goals in such a way that investors don't get spooked and your competition doesn't find an angle to gain an advantage. There are also lots of regulations to navigate. A public company has many strict parameters to follow.
In addition, there are principles that any business can apply. The book started as a blog and much of it is still online. If you're looking for information on the role of CEO, how to manage a board, recruiting, hiring, managing talent, evaluations, and more, read High Growth Handbook. Chapter 6 covers marketing and public relations. Other sections cover product management, financing, mergers and acquisitions, and more.
Reading about Branding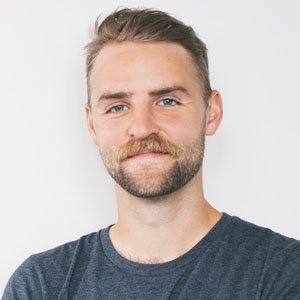 Bennett Farkas, VP of Design
I frequently check the excellent blog Brand New. This blog shows old and new brand marks for major companies, the history of the company, the rationale behind the logo change, and opinions about the design. It publishes new "Reviewed" and "Noted" logos every day of the week. It's a great place to watch for design trends and find inspiration. It stays relevant. (You can also sort by industry.) You can understand more about how a company is positioning itself by learning about its rebrands.
Designing Brand Identity dives into the timeless aspects of the design space, design process, and the concepts of visual identity. However, it feels different than other books or what you would learn in design school or marketing school. There is a space between this book and those lessons. This book isn't just about good graphic design. It's about the relationship between logos, design, colors, and copy. It's also about philosophy. For example, the word "positioning" wasn't common place in our agency until I read this book and we discussed it. We knew the concept and worked with our clients on differentiation, but the ideas of positioning in this book helped crystalize how we talk about it and how position affects visuals and copy. This book helps you see your brand holistically.
If you create logos or icons on a regular basis — for example, different icons for different parts of your products or your software UX — you will find Logo Modernism helpful. It is a book full of all sorts of logos. It is a place to go for ideas and to refine your thinking.
Reading about Content Creation
Mark Whitlock, Marketing Manager
I still go back to two very different books that have nothing to do with inbound marketing.
At my first real job, I walked into my boss' office and saw Ogilvy on Advertising on his table. I asked to borrow it, expecting to flip through and look at some famous ads. I ended up reading the entire book that day and bought my own copy soon after.
I learned more about how to establish the value of a product or service by reading the stories behind selling Steinway pianos and high-end watches. I think of those principles today because he found a way to tap into the problem and mindset of the audience.
I read On Writing every year. Actually, I listen to the audio book — which he narrates, making the experience more of a master class than a chore. I'm not a huge fan of his books, but I'm a fan of his process. I have a nail on my desk to this day as a reminder that rejection isn't final. He put a spike on his wall onto which he pushed rejection letter after rejection letter during the early days of his career. Just because someone rejects your work doesn't mean it isn't good. I think about my "ideal readers" — a group of people who offer the best objective criticism of your work. I twist this concept a little — my ideal reader is my audience. The principles he outlines help me keep the reader in focus. Also, King's dedication to a daily word count early in the morning is a constant reminder to get the long form writing I do finished early because the rest of the day and the rest of the task list are coming.
Key Takeaway
Keep reading. What books and resources are you reading and interacting with? We'd love to know.