RSA 2020: The Showcase of the B2B World's Most Frenetic Marketplace
The Article in 60 Seconds
For many B2B tech companies, trade show and conference expenditures will be the single largest marketing line item expense. If you're spending that much, maximize your efforts with these lessons. RSAC 2020 boasted 650 booths and more than 40,000 in attendance in San Francisco's Moscone Center. The trade show floor was massive and represented hundreds of millions of dollars in booths alone.
Who stood out? Why?
Think About This
The Current State of The Cybersecurity Market
The cybersecurity market is in a frenzy. That is NOT new news. Definitive stats surrounding growth in the field are hard to find, but suffice it to say that thousands of companies have popped up over the last decade trying hard to answer and capitalize on a problem set that is projected to cost our world $6 trillion every year by 2021 – That's up from $3 trillion in 2015.
Cybersecurity is a fast, fluid space fueled by this unique characteristic: the "problems" are, by their very definition, on an active mission to defeat the "solutions." This reality creates a mandate for innovation and a constant state of fast change and movement, making clarity inherently difficult to achieve.
There are many other issues facing this marketplace as outlined in the Cisco, Cybersecurity Ventures Almanac for 2019. Take a look at this representation of the marketplace.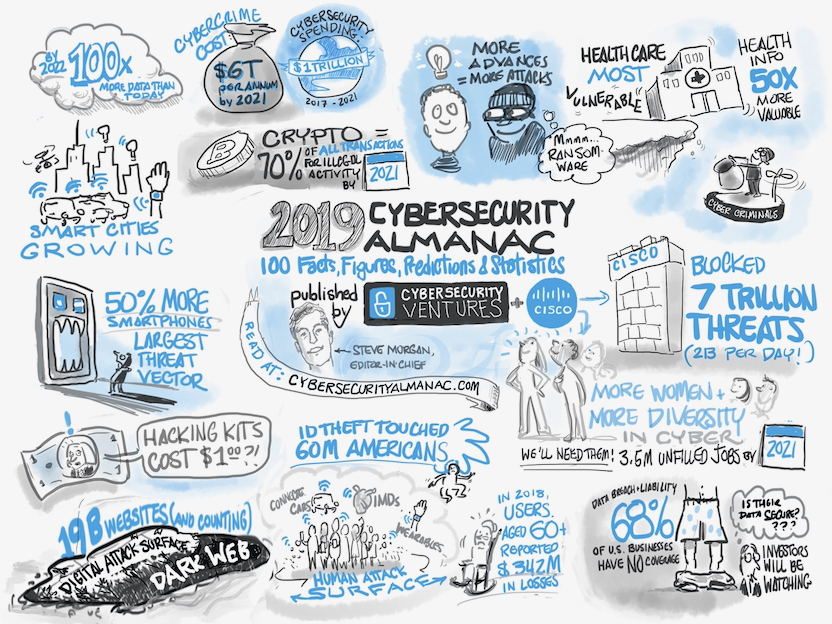 The Stand Outs at RSA 2020
Six-hundred-fifty (650) companies traveled to San Francisco for RSAC2020 to tell others why their solution is better than the other 649 on the floor. Did it work?
Common sense says that only a small percentage of companies in a marketplace are the top providers. During our conversations with marketing leaders and our own evaluation, these stood out to us. This is not intended to be a comprehensive list of those winning in the space, just those that stood out to us. We present our list in alphabetical order.
Agari
Agari, a secure email cloud service, won a marketing award as the best private cybersecurity company of the last year. New CMO Armen Najarian brought in the digital content ace Michael Cichon as vice president of marketing. They've pushed their brand forward in the marketplace and are maintaining 40% social media share of growth. (One of the Cybersecurity Top 150)
CrowdStrike
The best booth on the floor in 2019 inhabited a much smaller footprint at RSA 2020 but still had lines wrapped around it. The endpoint protection platform brought back their popular booth draw: a tee-shirt station . It was emulated in at least four other booths on the floor. (One of the Cybersecurity Top 150)
Dust Identity
Dust Identity allows for physical tracking and protection of any physical thing — like every part on a Lockheed fighter jet. Its process allows tagging of items as small as a microchip. The best 10×10 booth on the floor maintained a steady flow of demos at two demo stations. They mastered a ten-second "card trick" that demonstrates why you need their product and how it works.
KnowBe4
KnowBe4, a security awareness training program, has produced an internet streaming drama series, now in season two, that trains your staff on physical as well as digital security. This risky investment has paid off. Most impressive was Kendra Irimie walking her team through their trade show conversations and lead flow. In addition to being a Cybersecurity Top 150 company, they won the marketing award for the best publicly-traded company. (Update: Agari and KnowBe4 are partnering together on a future endeavor.)
Rapid7
Many companies hosted live screen demos for small groups (around 20) in their booths, but from our survey of the floor, Rapid7, an enterprise cloud security platform, did the best job. First, they partnered with another company that had integrated with their software. Secondly, they invited a highly-charismatic and funny emcee to gather and warm up the crowd before each presentation. Third, they used a tiered approach to their booth giveaways, luring you to go deeper and spend more time in their sales funnel, including a trip to their VIP lounge. Fourth, of all the companies my team interacted with, Rapid7 had the fastest and best approach to booth visit followup. (One of the Cybersecurity Top 150)
Veracode
Veracode was on display in a clean and dynamic booth. This application security platform has been a perennial leader with one of the sharpest booths and alert staff on the floor. New CMO Elana Anderson hit the ground running in her first weeks on the job to refine their message. She's also led the way on a brand refresh to bring clarity to their positioning. Their public relations efforts were helping spread the message to a larger audience while their booth team worked in pairs to keep conversations energized and on point. The brand refresh and new approach has helped them maintain their place as one of RSA's best booths. And if all else fails, bring in dogs to pet to reduce the stress of your booth guests. (One of the Cybersecurity Top 150)
The First Thing to Do After Reading this Article
Whether or not your niche is cybersecurity, take a few minutes to click through the sites noted above. What do you notice that these companies have in common? What are they doing better than you are? Consider this an exercise in competitive analysis and a chance to prime your creative pump.