Seven Affordable Engagement-Tracking Tools for B2B Tech Companies
When you first launch a lead generation campaign, don't expect your CRM dashboard to blow up with good news or your email server to shut down due to nurture campaign traffic. No matter how great the campaign, spot on the execution, or compelling the price, new campaigns take time to get going. Think slow roasting ribs not microwaving popcorn.
While there is no mythical standard, research shows that you can only expect 1–2% of your website visitors to complete a form to download an eBook, white paper, or other content. Most often, you will find value in your lead generation process by monitoring "engagement." Engagement means how visitors peruse your website, read a blog post, click through an email campaign, or fill out a form to download rich content. Tracking offers much insight into the effectiveness of your marketing efforts.
If you want to start tracking engagement, but you're not ready to make the investment in a heavy-duty platform like Marketo or HubSpot, we've compiled this list of seven budget-friendly ways to identify and follow up with engaged users:
1. Google Analytics
Google Analytics is your most important tool and it's free. Google Analytics is a service that tracks and reports website traffic and user behavior. For measuring engagement and visitor insights, you will be primarily interested in the following sections of Google Analytics:
Traffic overview: Always check your Audience overview for trending data on users, sessions, and page views. But also, in the Acquisition section, check traffic channels for where your traffic is entering your site as well as referral sources (you can unpack your Social channels here further). You can also drill down to see organic search terms that generated site visits.
Site Content: In the "Behavior" section of Google Analytics, check the traffic to your content to determine what topics might be trending or popular.
Events: Specific "Events" can be customized to monitor specific behaviors, like whether visitors are reading and scrolling through your blog articles. These are set up through Google Tag Manager, and allow you to not only track visitor behavior across web page, but also within them. Events in Google Analytics can be set up to monitor just about anything on your website.
Dig in and read more about Google Analytics in our Complete SEO Guide for B2B Marketing and the article, "Essential Data Points You Need to be Tracking on Your B2B Tech Website."
2. HootSuite
HootSuite is a powerful tool to schedule and post to your social channels (Twitter, Facebook, Instagram, and LinkedIn). It is also helpful to monitor your industry, keywords, and hashtags. We recommend using the HootSuite Pro dashboard. Plug in your URL, as well as keywords in your industry, and HootSuite will aggregate all mentions of both in one easy-to-digest, live feed. It provides up-to-the minute feedback and information about how people are engaging both your brand and your industry. You'll see how your followers disseminate your content.
3. Google Alerts
Monitor the web for interesting content about you and your industry, and have it feed to you via daily, weekly, or monthly emails. Google Alerts look for press releases, blog posts, and other types of content with relevant keywords you determine. You can also plug in market segments you're watching, names of those who may be talking about you, or a top competitor. And it's another free service from Google. Set up alerts for your company and key leadership as well to help you discover positive and negative mentions as well as conduct online reputation management.
4. WhoIsVisiting
WhoIsVisiting is a monthly subscription that allows you to see companies that visit your website, and their level of engagement while there. It will show you what and how many pages they have seen, time they spent on your site, and other engagement metrics. One important thing to note: this isn't tracking people, just organizations. As you see these companies start to appear on your dashboard, start researching some of the best ways to make connections:
Visit its website for more information on whether it is a company you want to do business with. If so, you can typically find a list of employees with email addresses and phone numbers. Find the most appropriate one and reach out.
Visit its LinkedIn page to learn more about it and how you may have a connection with an employee in your network.
5. HotJar
Heat mapping is a way to record the actual interaction of those who come to your website. You can see where they spend their time, what pieces of copy they read, what buttons they most often click, and where they exit. HotJar can help you discover the speed bumps in the journey you want your visitors to take through your website on their way to making a purchase or requesting a demo.
6. Email
Find insights into user engagement from your email campaigns through your email service. Using a tool like MailChimp or Emma, you can see exactly who opens an email, how many times, if they clicked through, and what they clicked on. These are engaged users. If you have some valuable content to leverage, you can manually or automatically send a follow up email linking to this content to those who open and/or click through an email. From there, continue monitoring for follow up purposes.
7. The Analytics Panels in Other Apps
We all use multiple tools to get the job done. For example, you might have video hosted on YouTube, Wistia, and Vimeo. Each service has an analytics panel where you can see activity and habits. Learn how to use these analytics tools to get the most out of each service.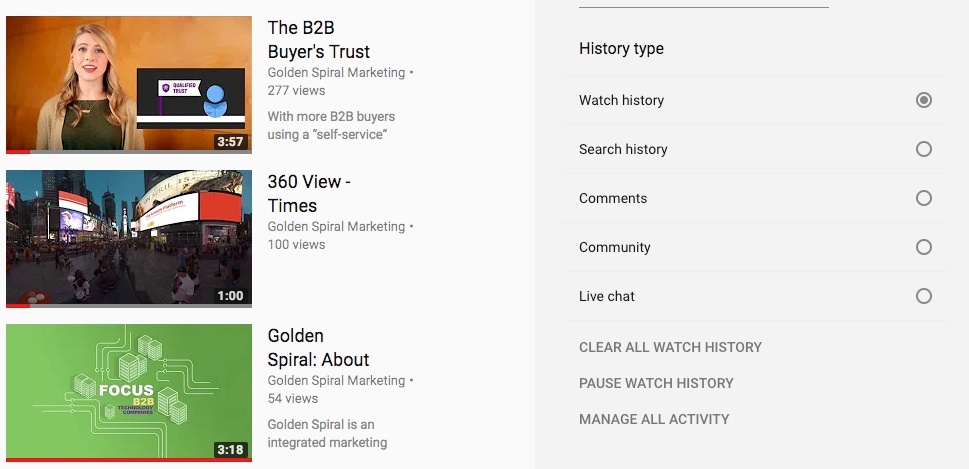 Key Takeaway
No matter what tools you're using to track engagement, the real key is engagement. Engaged users go cold quickly, just like leads. Your potentials are busy. They consume massive amounts of content and information daily. They are unlikely to remember a connection two weeks after the fact. Remember, reach out for at least six "touches" before you expect engagement. When that engagement occurs, follow up with an email, phone call, or marketing automation. Continue to engage them with content and relevant value.
Think about it this way: nurturing your leads to deeper engagement is like planting a tree and letting the roots grow. When the engaged lead becomes a client, the bond between you will be stronger, trust richer, and negotiation faster.
Lead Generation is the ultimate goal for your marketing efforts. If you're not getting the needed results at the bottom of your funnel, schedule a strategic consultation with Golden Spiral to see how we can help you deepen engagement and convert more new customers.