Six Reasons No One Converts on Your B2B Search Ads
If you're a B2B company, concern yourself with two types of digital ads:
Pay-per-click (PPC) ads: PPC ads (a.k.a. search ads) are an affordable way to get in front of the right buyer at the right time. PPC ads are a budget-friendly medium that deliver qualified leads and measurable data.
Digital display ads: These ads display on websites throughout the Internet based on your interests and website visit history. These high-volume ads allow retargeting outside of social media and can help build brand awareness.
In both cases, these ads allow you to drive website traffic and stay top-of mind throughout a buyer's journey through the funnel. But, some B2B technology companies claim they aren't worth the investment because they see little ROI—especially display.
Is the issue with B2B ad conversions an industry-wide phenomenon or do some companies not produce ad content that works?
[contentupgrade id="8241″]
I once read a stat that said: "You're more likely to get bitten by a shark than click on a display ad."
It might seem extreme, but, think about it—when was the last time you actually clicked an ad while you:
Checked the weather?
Watched a video on YouTube?
Researched content for a blog article?
Data shows that you probably never have. You're too busy with your own agenda and browsing experience (and honestly, just a little too savvy) to click on one of them. So then why did display ads account for 85% of U.S. display spending in 2019? They help you reach the masses, retarget and build brand awareness for a fairly low cost. Even if someone does not click, you're still getting your brand in front of them.
But in search, it's a whole different story. Pay-per-click ads are actually extremely "clickable"—especially when you take into consideration that about two-thirds of consumers can't tell the difference between a paid and organic search result. But, just because someone clicks on an ad doesn't mean they're going to convert.
Display ads and PPC ads are slightly different in execution. Search ads are primarily used for brand awareness and initial conversions Display ads are most effectively aimed at conversions through retargeting, thus building your audience and deepening brand connections.
While different in execution, they have the same goal: to earn conversions. And, if your ads are not performing to your expectations (or your boss'), here are the 6 most likely culprits:
1. Your Ads Are Just Noise
In the case of weather.com, forbes.com, and youtube.com, you'll find that many display ads are just noise. We're inundated with low-quality display advertising nearly everywhere we go online which has led to a phenomenon known as "ad blindness"–either people don't see your ads, or what is said in your ads doesn't register with them.
To get the most out of your digital ads, invest in retargeting—which allows you to follow website visitors from website to website with content they've expressed interest in. You're more likely to earn a conversion from a prospect who is already familiar with your brand — and even more familiar with a particular product, than someone who is seeing your brand for the first time while checking out the 10-day forecast.
2. You're Bidding On Your Own Company Name
Bidding on your company's own name may seem like a good idea, but it can actually lead to lower conversions and higher spend.
Consider this ad from Emma email marketing:
You'll see that the PPC ad appears directly above the organic search result. Because the majority of website visitors can't tell the difference between an ad and an organic result, they're likely to click whatever is number one.
However, if visitors are searching for your company's name on Google, they're likely familiar with your company's brand and product, or may already be customers. In either case, they're likely seeking out a specific piece of information—and that piece of information might not end in a conversion.
In short, bidding on your own name can lead to a lot of clicks but not a lot of conversions. Sometimes, bidding on your brand name is unavoidable, since your competition may very well be bidding on it too. What important is to have an understanding of the competitive search landscape, so that you can know how to get the most out of your advertising dollars.
3. Your Landing Page Doesn't Have a Clear Call to Action
How can you earn a conversion without a clear call to action? Your landing pages for PPC and display ads should send your prospects to a landing page that assures them they've come to the right place that:
assures them they've come to right place
provides them with an easy way to take the next step
In a simple Google search for "fundraising software," an ad for "Donor Perfect" came up #1 in search as an ad.

The ad sends visitors to a landing page that explains what makes them different and gives prospects a way to learn more via a short form: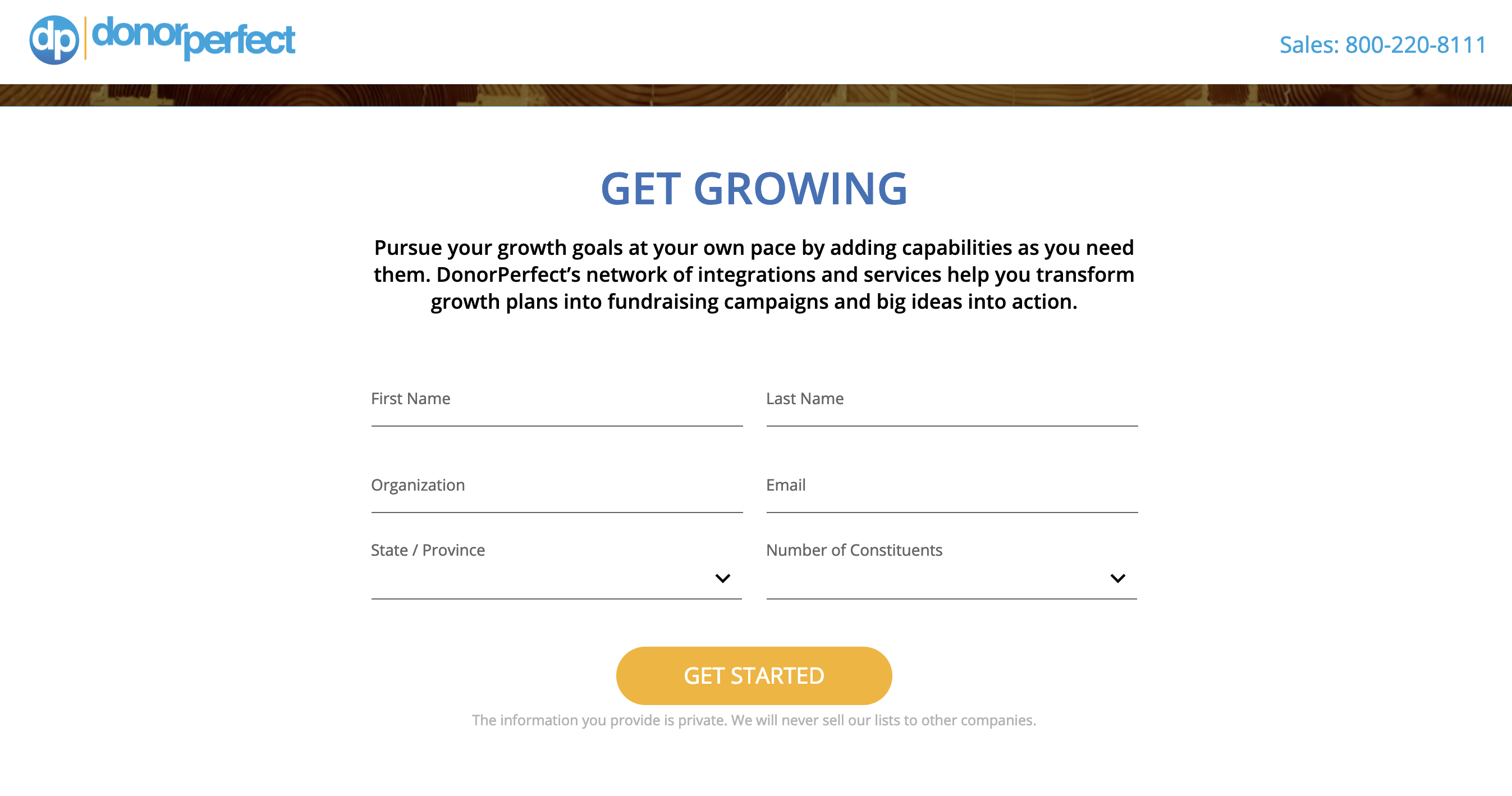 And for those individuals who don't want to fill out the form, there's a direct line they can call, too.
On the flipside, take a look at Zendesk, whose landing page doesn't have a form — and even the pages they link to don't have a form. Where do conversions happen?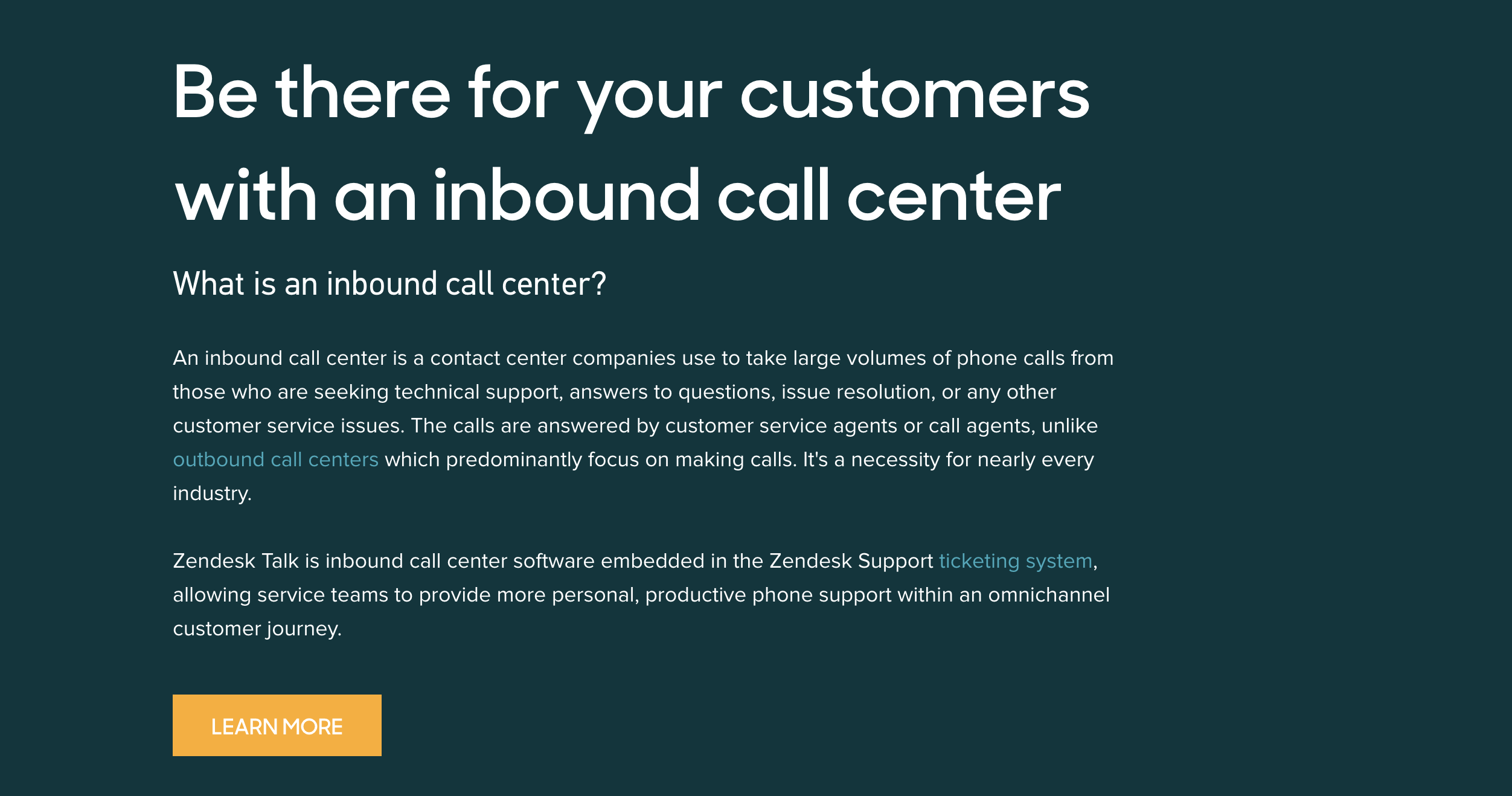 If you fail to give prospects an option to take the next step with you (in the case of Zendesk), or if you give them too many options, the lower the chances are that they will take any action at all. So if you want your ads to convert, give your prospects a clear, definitive way to take the next step.
4. You're Sending Prospects To Your Homepage
The only thing worse than sending prospects to a landing page without a clear call-to-action is sending them to your homepage. Asking website visitors to spend time navigating your website from a paid ad is asking a lot from them—and it can lead, at a minimum, to a lack of conversions, and at worst, a negative impression of your brand.
Additionally, by sending them to your homepage, you're likely not appealing to the exact pain point, question, or product they were searching for in the first place. Creating a landing page that's relevant to the ad your prospect clicked on allows you to control the message and customer journey, which can lead to more conversions because the message better resonates with the searcher's intent. You're creating a hole in your marketing funnel. And it's costing you.
By sending searchers to your homepage, you're not appealing to the exact pain point, question, or product they were searching for in the first place.
5. Your Forms Are too Long
There's plenty of research that supports the fact that short forms get more conversions than long forms. This is especially true on digital ads. Try shortening the form on your landing pages to 5-7 form fields. Remember, you can always get more information later on in the process! The goal is to first get the conversion, and shorter forms are the best way to get there.
MECLabs ran a test of three different web forms and found that a short form with only five fields had a conversion rate of 13.4% and a cost per conversion of $31.24. A longer form (with 9 fields) only had a 10% conversion rate, and the cost per conversion went up $10 – an astounding 34%!
Let's look at some examples of forms in real life. Zoho, a project management software, only asks for three pieces of information up front to get started: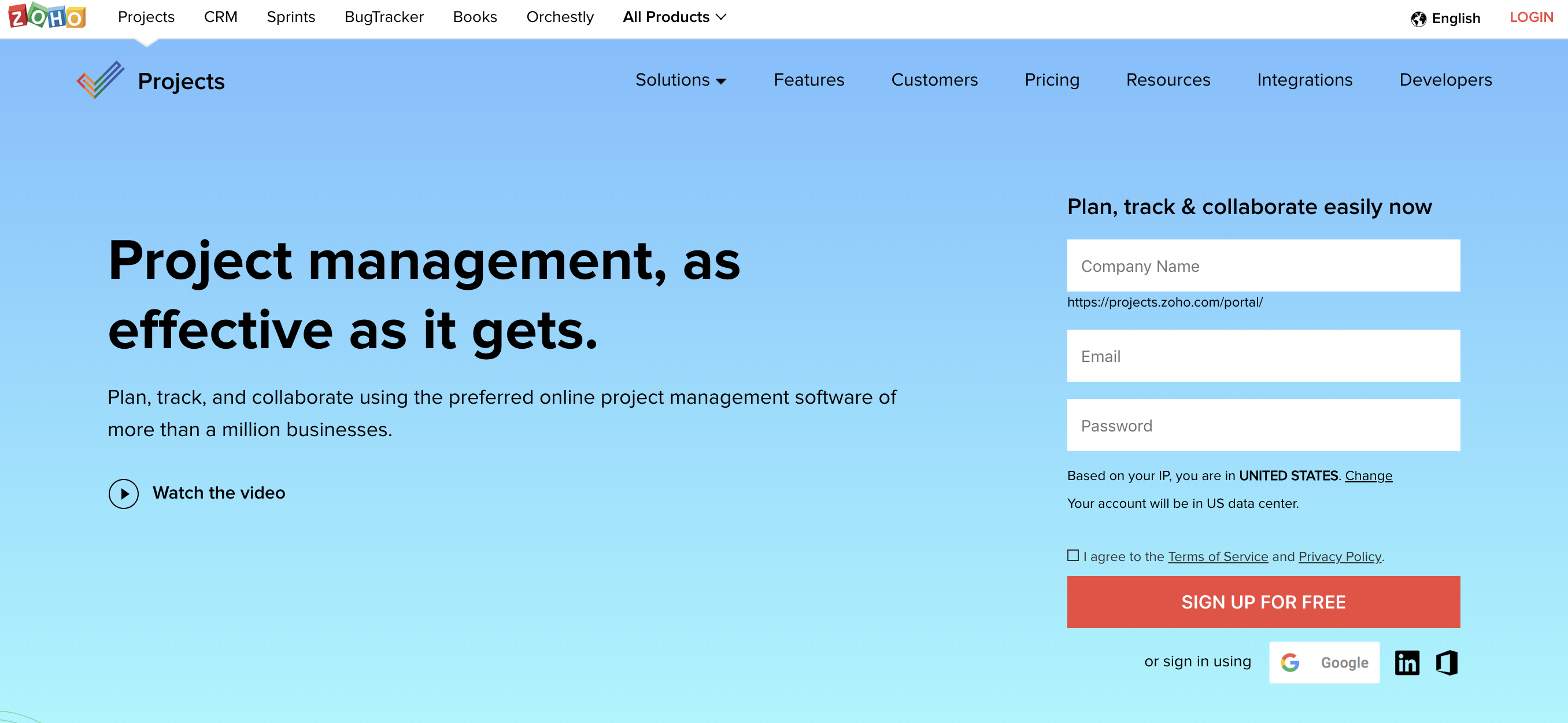 And their PPC rival, Workfront, only asks for four: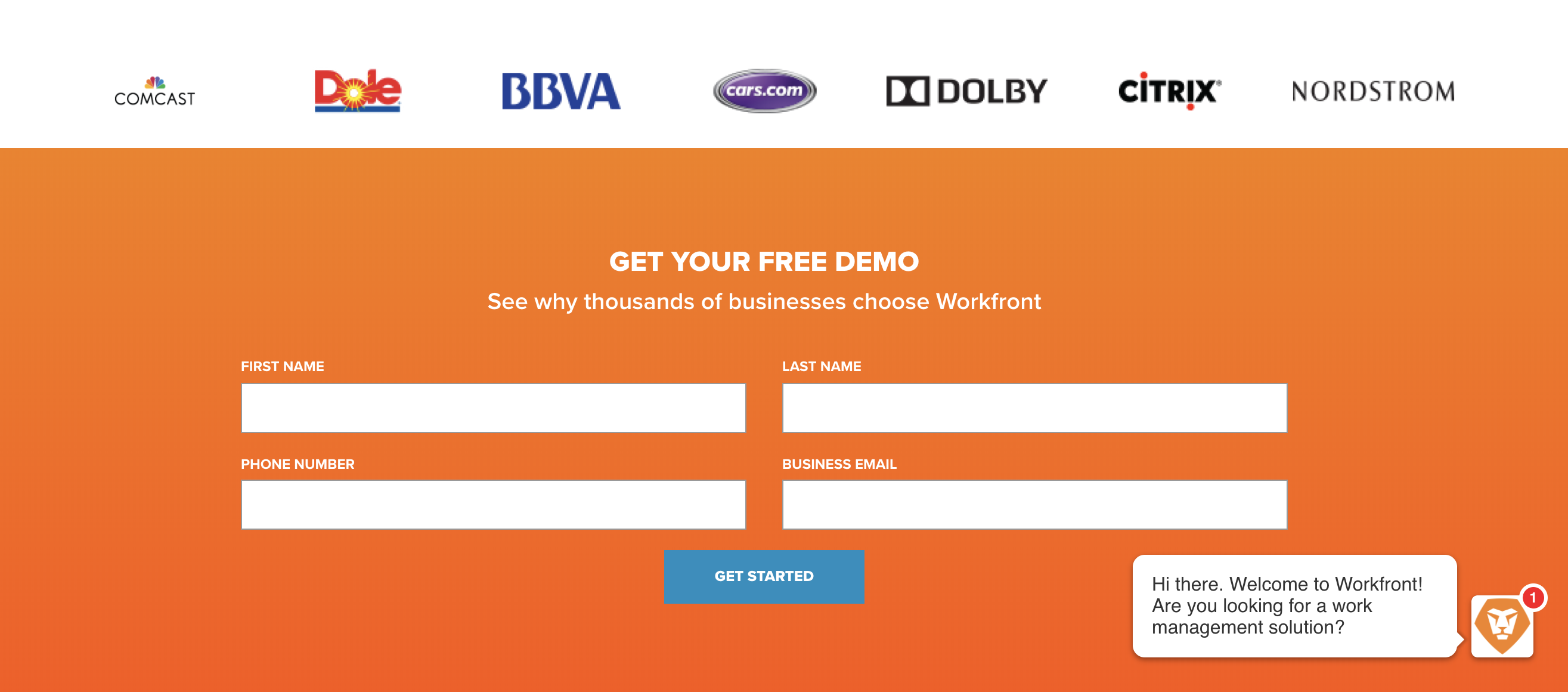 If you want prospects to take a desired action, the research is clear: make your form as short as possible to lower the bar to get your prospects to convert.
6. You're Sending Clickers Directly to Sales
You can't always assume that a prospect who clicks on your site is ready to begin a sales conversation. When prospects are earlier on in their journey – particularly the research phase – they are looking for helpful content that helps in the decision-making process. They aren't necessarily wanting to talk to a salesperson.
It all comes back to the funnel. If your PPC ads aren't performing well, you may be misinterpreting your searcher's intent, or where they are in the buyer's journey.
 There's also a chance that your leads might not be your buyers. The B2B tech sales cycle is longer than most, so the person who clicks on an ad might not be the one who makes a purchase.
Let's take a look at an example. A search for "ehr software" (a very general term indicating someone is in the research phase of the funnel) shows an ad for Kareo EHR:
Their landing page, however, drives prospects to view pricing (with a very long form, nonetheless):
You can be sure that by filling out that form, you'll be put in touch with a salesperson. But the original search intent wasn't someone who was ready to purchase – it was just looking for general information.
Contrast this to a search by someone who's closer to making a purchase decision. Type "EHR demo" into Google, and Athenahealth comes up with a beautiful landing page that focuses on providing a demo to those who are interested:
See the difference? Someone actually looking to purchase EHR software may be researching vendors' names, pricing information, or booking a demo. These terms indicate that they are further down the funnel and are closer to making a decision. Because B2B tech sales cycles are long, you always have to consider where your prospect is in the funnel and not get ahead of yourself. 
Don't worry – you can always have a secondary call-to-action to request a demo or contact sales. Or even better, use marketing automation to nurture form submitters until they are sales-ready!
Key Takeaway
Digital ads are an essential component of any HealthTech inbound marketing campaign. They drive new and returning qualified traffic to your website. Ensure you're making the biggest impact. The key to a successful digital ad campaign is to control the messaging, the journey, and to make it as easy as possible to convert. Contact Golden Spiral today to see how we can help optimize your B2B HealthTech Ads.