Social Media Marketing for B2B Tech Companies
There's no denying the power of social media. We've seen in our lifetime that a single 120-character tweet, hashtag, or photograph has the power to influence the masses. We've seen brands build (and destroy) their empires through social media alone. And all the data supports that all generations (with maybe, the exception of the Silent Generation: 1920s–1940s) are completely addicted, obsessed, and dependent on a variety of social media networks to connect with family and friends, learn about new products, engage with brands, and even learn how to do day-to-day tasks.
And while the power of social media is unmistakeable, we still see many B2B tech companies fail to adopt successful social media strategies. Maybe it's because they're scared of being so transparent. Maybe it is because they simply don't have the time. Maybe it is because they don't think their product is very "social." Regardless of your reason, social media is applicable for every B2B tech company — you just need to use each network appropriately.
How well have you integrated social into your strategy?
What Makes a Good B2B Tech Social Media Strategy?
A successful social media strategy begins with a deep understanding of your product(s), and your product's target audience(s). Understanding where and how your prospective and current clients spend their time is a key to investing resources into the right areas. For example, Generation Z (1990s–2005) spends the majority of its time on Snapchat and sifting through Instagram stories — which isn't where most B2B tech companies need to be investing their time and budget because Generation Z isn't buying their products.
In addition to understanding your product and audience, you'll also need to determine an appropriate ad spend and an overall time investment into social media. It's easy to say you'll start using your Facebook, YouTube, LinkedIn, and Twitter accounts — but if you have limited time or budget, you'll want to focus on a quality strategy across one or two networks, rather than trying to have a presence everywhere.
Lastly, a great social media strategy is goal-oriented. Whether you're tying social media back to marketing KPIs, or you're creating new KPIs exclusively for measuring the success of your campaigns, you'll want to set quantifiable goals. Typically, social media goals are tied to growth (such as an increase in total followers or post reach) or engagement (such as an increase in likes, comments, shares, etc.).
How should B2B Tech Companies Use Social Media?
For B2B tech companies, there are many ways to use social media as part of your strategic initiatives. The top seven ways to use social media include:
1. Reputation Management: Prospective and current clients are talking about you, your products, and your competitors online — and you should be tuned into these conversations.
2. Customer Service: More than ever, clients depend on social media for customer service, especially for quick questions and status report updates.
3. Public Relations: Control your voice and your message, and take it directly to your clients and prospects. When other agencies and clients share your content, it is free (and borderline effortless) PR.
4. Customer Acquisition: While acquiring a client via social media exclusively is highly unlikely, social media helps build brand awareness. Because it takes an average of eight touches with a prospect to make a sale, social media can help facilitate the sales process.
5. Cultivate Evangelists: Providing customer service, sharing content, and getting the faces and voices of your people out there makes it easier to cultivate a community of brand evangelists who are loyal to your brand and are willing to share your content.
6. Thought Leadership: Thought leadership is often one of the most popular uses for social media.
7. Networking: Social media networking is important to building personal brands for the individuals at your company. Your inside and outside sales teams, as well as your leadership and support teams, can all benefit from healthy social media interaction with potential clients, existing customers, and industry peers.
Which Social Media Networks Should B2B Tech Companies Focus On?
The number of social media networks may be overwhelming, especially if you're working in a start-up environment. From SnapChat to LinkedIn and every network in between, it is important that you choose to build strategies for the networks reach your prospective audiences.
In most cases, B2B Tech companies will see the most success on the following platforms:
Depending on your product, audience and resources, you will likely also find success on:
And, some social media networks where you likely don't need to invest any time or resources include:
For the purpose of this blog, let's focus on the big three for B2B tech: LinkedIn, Facebook, and Twitter.
Thoughts On Getting Started
Social media takes attention and focus. Many companies struggle to maintain a consistent presence amid other demands inside the company. If you are getting started — or getting started again — don't worry about winning at every channel. Choose one network to focus on and dig in.
Figure it out. What works for your company? How do you foster the greatest level of engagement? Interact with your followers and build loyalty.
Along the way, track the results. Give yourself a benchmark for what a social media win looks like. Once your feet are under you with the first network, move on to another. Keep the process going until you've established a strong brand presence on every network.
Which Profile Should Take Center Stage?
If you're like most companies, there are three types of social media users under your roof.
Company profile: the official stream for your company working under the name and logo of your company
Senior leadership profiles: your company's leaders more than likely have social media streams that could be placeholders, under developed, supervised by your marketing team, or run by the leaders themselves.
Social champions: every organization seems to have a few employees who love social media and have built a following for themselves.
Think about your own social activities. Do you follow people or companies more? As you determine what courses of action you want to take with each channel, also factor in who should be active in each on behalf of your company. What would your company channel look like compared to your president's channel? When should posts line up and when should they differ?
If you have social champions on your team, work with their direct supervisors to enlist them in the social effort for the whole organization. They can help you grow faster and build deeper engagement.
Facebook: The 800 lb. Gorilla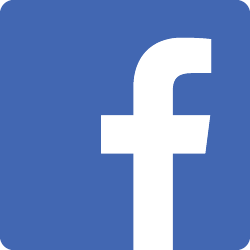 Along side the faded Myspace, Facebook was a birth place of social media more than a decade ago for businesses and consumers alike. Facebook still continues to drive social media trends across multiple markets. I like to refer to Facebook as the "Water Cooler," because it is a platform meant to inspire conversations among the masses. Its casual, yet open setting provides a public space where a conversation between two people can easily evolve into something bigger.
If you know one thing about Facebook, it's that its algorithms are always changing (similar to Google). Over the past few years brand pages have ridden a rickety rollercoaster to keep up. And even though algorithms have been unpredictable, the trend of declining organic engagement from brand pages has been steady. Between 2012 and 2014, organic reach plummeted from 16% to 6.5%, and recent research shows organic engagement leveling out at about 2%.
Why the recent substantial drop? Early in 2018, Facebook shifted its focus back to its roots — favoring posts from family and friends on individuals' news feeds. This shift has made it more difficult for brands to earn a coveted spot without a significant ad investment.
Whether you're a new B2B tech company just starting out in the social media game, or you have an established brand, for this reason, you might wonder if Facebook is actually a smart place to invest time and resources. The answer is yes.
Facebook's Audience
Facebook's users span Baby Boomers (1940s–1960s) through Millennials (1980s–1990s). These decision-makers have buying power and authority in their workplaces — and you're going to want to earn their attention on this social channel. Facebook is also where the majority of social media users spend their time even with new social media networks popping up.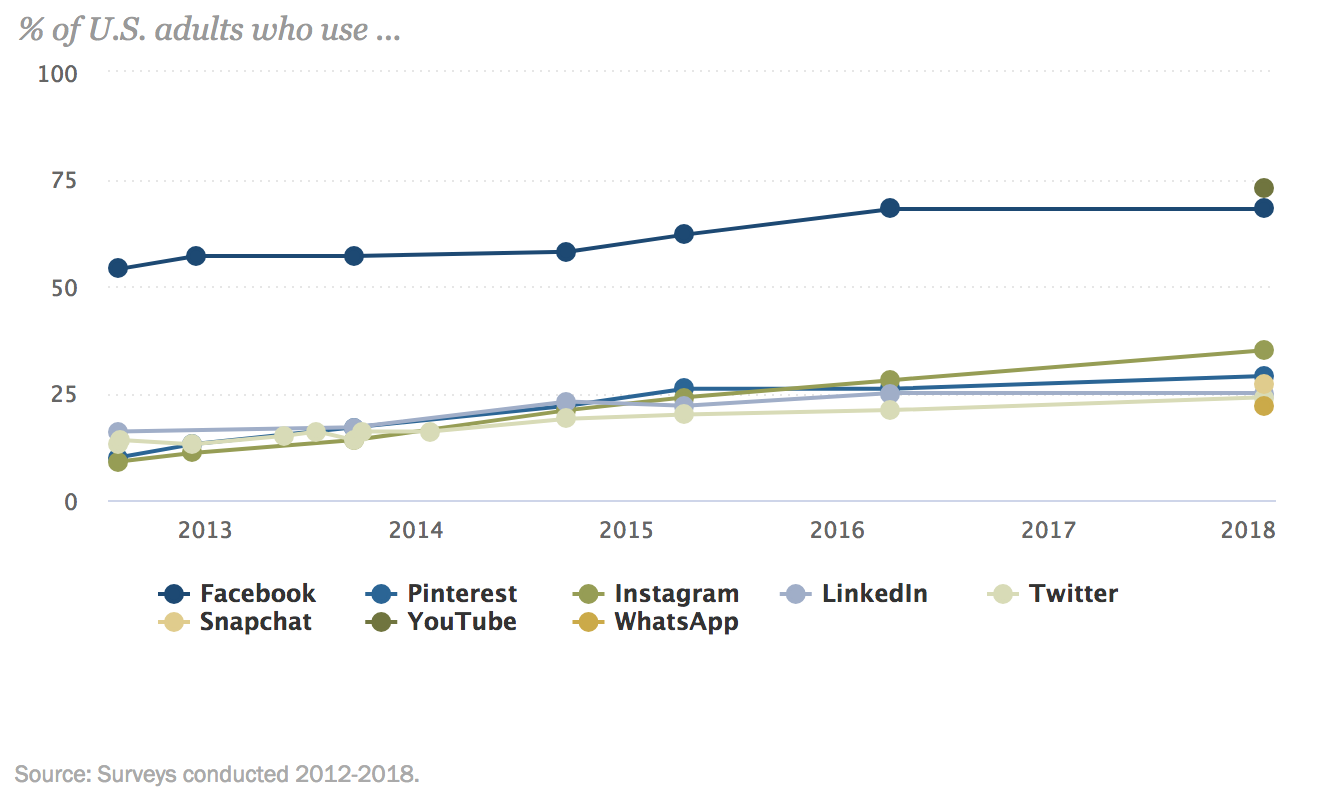 Your customers are checking Facebook daily:
93% of Baby Boomers
88% of Generation X (1960s – 1980s)
85% of Millennials
Your B2B tech company needs to have a presence on this social media giant.
But what does that presence look like?
Facebook Strategies
A successful Facebook presence is a combination of organic and paid content. This means that B2B tech companies should focus on posting twice per day on Facebook in an attempt to reach their audience organically, while running targeted ad campaigns to specific audiences.
The most important strategy to keep in mind when posting to Facebook is the importance of creating conversations, organically. Don't use Facebook as a podium to boast about your products — use it to stimulate conversations about industry trends and obstacles. The more individuals who comment, like and share your post, the more likely your post is to grow organically. To keep the conversation going, be sure to reply to comments and ask questions. The more comments your post gets, the more Facebook wants to promote it in other individuals' news feeds! Keep in mind that without creating conversations, your posts will likely go unseen.
In addition to creating organic conversations, using Facebook's video features can surely help your B2B tech company get by without having a YouTube account, while engaging prospective and current followers. Live video is shown to have a higher favorability in Facebook's algorithm, but uploading video natively to Facebook is also a great way to reach new audiences.
LinkedIn: The Professional Network
LinkedIn has always been known as the "professional network." It's a social media network solely dedicated to making connections in the professional space — which makes it an ideal platform for B2B tech companies.
LinkedIn's Audience
inkedIn's audience is largely professionals — like you — with the majority of users ( 33%) ages 30-49. Of LinkedIn's global users, 61 million are senior level influencers and 40 million are in decision-making positions. While the audience on LinkedIn is, on average, more educated and wealthy, this audience also spends much less time on the network per day (if at all) compared to Twitter and Facebook. Across the board, LinkedIn content gets less post engagement for this reason.
LinkedIn Strategies
LinkedIn is a content marketing powerhouse, and shouldn't be ignored. According to a survey released by LinkedIn last year, LinkedIn is the #1 channel B2B marketers use to distribute content at 94%, and makes up 50% of all social traffic to B2B websites and blogs. So, even though the engagement and user numbers are lower, the engagement is more meaningful. One of LinkedIn's greatest advantages is targeting customers via job title. Compared to other social media, users of LinkedIn are significantly more likely to regularly and voluntarily update their job information, allowing detailed (albeit expensive) targeting based on role, company, industry, and more.
To ensure your content gets seen, you'll want to utilize both the power of your brand profile and the profiles of your employees. Here are some tips for success:
Post twice a day from your tech company's main account. This will ensure you show up in the news feeds of those who follow your brand.
Use engaging visuals! Content with a visual get more engagement than those without.
Post articles using LinkedIn's article feature. Because only a small fragment of LinkedIn users have published an article via the network's free tool (and it is favored by algorithms) this could be an easy way to drive traffic and engagement.
Encourage your company's leadership and sales teams to share content on their personal profiles. Because LinkedIn is about networking, you'll want to maximize the networks of the individuals at your company to grow your reach organically, and obtain new followers.
Twitter: Home of the Constant Stream
Twitter is seemingly the easiest of the major social media networks. It is simply a place for conversation — and has been since its inception. However, Twitter (over the years) has quickly evolved into what industry experts refer to as a "customer service platform."
You can thank trailblazers like Southwest Airlines for using Twitter as a quick, efficient, and affordable way to answer support questions at the drop-of-a-hat, while making the brand appear more human and approachable.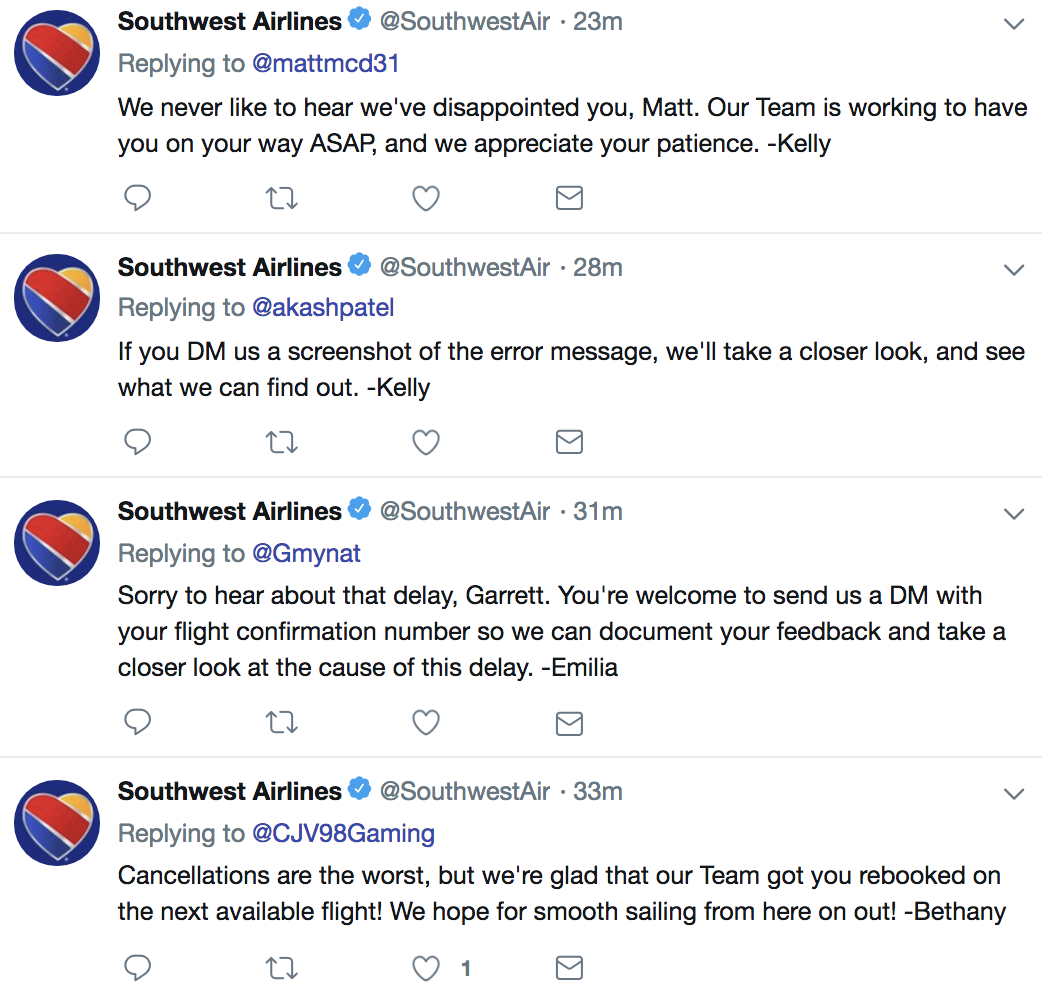 Twitter's Audience
Twitter's audience is diverse and engaged, with a bit of conflicting data on who actually spends time on Twitter. Twitter itself claims that 80% of its users are affluent millennials, while other research shows that the platform is mostly used by Generation Z.
Twitter users access the app less frequently than their other social apps, with only 42% of users accessing it daily (compared to nearly 100% on Facebook).
Keeping in mind that millions of Twitter users around the globe tweet all day long, there's one thing for certain on this network: in order to engage with this audience, you need to tweet…a lot. Some research shows three times a day. Others five times per day, while other research suggests upwards of 20 times per day. Our recommendation? Post at a frequency you can sustain and measure your results. If you need more traffic, increase the rhythm. If you need greater engagement, work harder on the language and images used.
Twitter Strategies
In general, Twitter has four key components:
Customer service: Today's consumer relies heavily on social media to seek resolutions — and there's plenty of data to back it up. When incorporating customer service into your Twitter strategy, it's important to be timely and honest. The team member(s) responsible for Twitter should keep the browser open throughout the workday, and be ready to respond to questions and concerns — and be ready to take conversations offline via a direct message or email if you become worried about your brand's reputation. Just keep in mind that an honest response (even if it isn't what the customer wants to hear) is better than no response — especially during a product outage or universally known issue.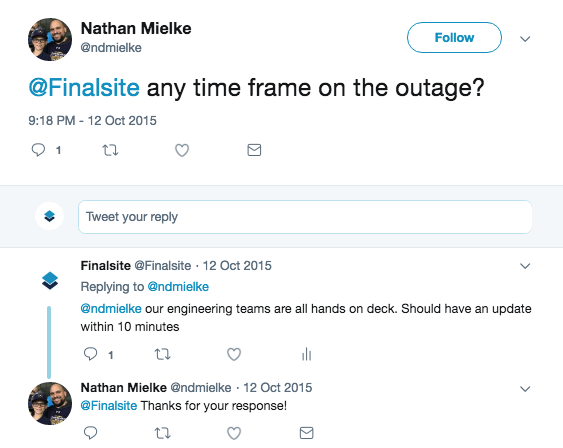 News: Twitter still has some content in its roots. Communities rely on Twitter for up-to-the-minute information. When creating a tweet, take inspiration from The New York Times. All you need is a good headline, a compelling image, and solid content (via a link) to formulate a great tweet. Throw in 2 – 3 hashtags for good measure.
Edutainment: Twitter is a mix of education and entertainment. It is a conversational network that inspires jokes, collaboration, insights, and more. Think of every tweet as a way to start or continue a conversation.
Reputation Management: Through the use of hashtags and mentions, Twitter provides an ideal platform to keep an eye on what people are saying about your brand online. Unbounce, a B2B tech company specializing in marketing automation and landing pages, does this particularly well.
Key Takeaway
A successful social media strategy begins with a plan, an understanding of your audience, and measurable KPIs to track your success. Whether you're ready to tackle every social network, or hone in on one, keeping the statistics and strategies in mind from this blog post will guide you on the path to success.