The Constant Pull of New B2B Marketing Trends
Odysseus asked his crew to tie him to the ship's mast so he wouldn't succumb to the sirens' song. He wanted to hear it, but not heed it. And that's where a lot of B2B tech marketers find themselves, when it comes to the constant call of current marketing trends.
At Golden Spiral, we study the trends, incorporating many of them ourselves, and we help our clients implement many, as well. But only where trends support their strategy and make sense as part of communicating their story.
What's Trending Can Tantalize You
How do you know which calls to heed? What among the seemingly endless stream of stories about marketing trends should you pay attention to? Phrases such as purchase-intent targeting, influencer marketing, and chatbot-powered marketing threaten to send you into a tailspin. What else does your marketing plan lack?
Let's consider just one: video. "Among tech companies, adoption of video marketing is expected to jump from 49% in 2018 to 68% in 2019!" Video marketing is being used to "share customer testimonials, livestream events, or deliver how-tos in an engaging way," according to Spiceworks.
Wait. You've never done a livestream event. You don't have a single how-to or customer testimonial recorded on video. So you're already behind. But you press on, reading about all the things you're not doing.
Looking for reassurance, you flee to another source. It says "ignore emerging trends at your own risk." That "staying up to date with changes" is "integral" to everything from audience demand to conversions. That all tech companies should invest in certain trends, including gamification and marketing automation. Should you invest in gamification and marketing automation? Why?
Stop.
Right. Now.
Tie yourself to the mast for a few minutes. The top B2B marketing trends may not be the sirens' song exactly, but they can become the proverbial shiny objects or squirrels to chase after. Certainly don't ignore them. But don't chase them, either.
Instead, evaluate trends as they relate to your company's position, your goals, and your customers' wants and needs. Carefully consider what's already working for you. Or you could end up way off course. Even shipwrecked.
Why Concentrate on Consistency?
Often marketing wins go to those who are the most consistent, not those who are the most innovative. Be more strategy-focused than tactic-focused and you'll prevail every time. Trends often center on tactics, and tactics need to be an extension of strategy.
Many B2B Tech Marketers have not spent ample time developing their marketing strategy. 61% of US-based B2B companies had no formal marketing plan in place during 2018.
Why Put Positioning Before Pursuit?
To think strategically, start with positioning and let your plans for execution flow logically from what you find during that all-important process. John Farkas, Founder, CEO and Chief Storyteller at Golden Spiral, often says, "If you don't differentiate yourself, you will just create more noise in the market. But a great product surrounded by a great customer-centric positioning effort will create an irresistible pull."
Where Can You Take Your Customer?
Two of our clients, 360 View and Digital Reasoning, are creating an irresistible pull with customer-centric positioning. In each case, we'll examine something old and something new in the tactics they've chosen.
Donald Miller echoes an important principle in his book Build A Story Brand. "Never assume people understand how your brand can change their lives. Tell them…. Every potential customer we meet is asking where we can take them."
Where are you taking your customers? That destination could be financial security. Technical proficiency. Or something far more significant.
Dig Deep: How Can Your Brand Change Lives?
Sometimes it takes digging deeper into your company's stories to find something life-changing. That's why we usually take our clients on an off-site workshop to do some strategic soul searching.
As part of Golden Spiral's work with Digital Reasoning, they began positioning their data solutions as "the power to improve your world." Then Digital Reasoning launched a series of case studies called "We Found a Way."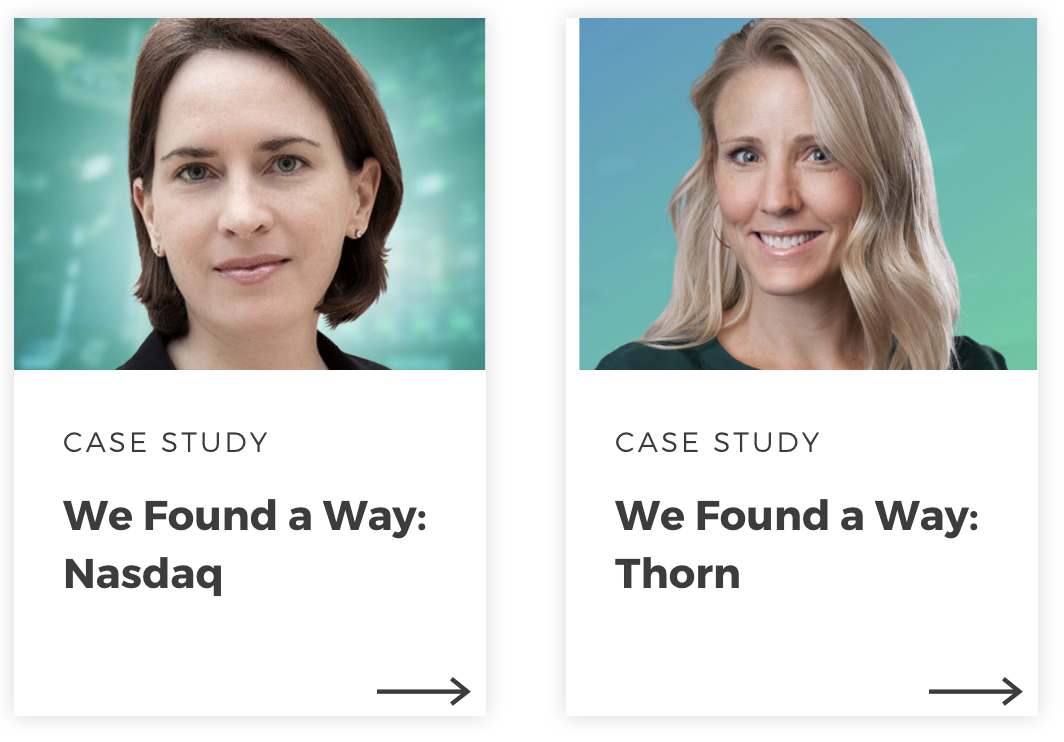 One case study focuses on Thorn, a nonprofit organization that uses technology innovation to combat the predatory behavior of adults towards children, rescue the victims of their crimes, and protect the vulnerable from sexual abuse.
"We found a way to empower law enforcement to identify and assist trafficked children," said Julia Cordua, CEO of Thorn.
Talk about changing lives — that's the story of Spotlight, a web-based tool Digital Reasoning helped develop for Thorn. Powered by Synthesys®, Digital Reasoning's cognitive computing platform, Spotlight provides law enforcement with intelligence about suspected human trafficking networks and individuals in order to identify and assist victims.
Spotlight has assisted in more than 8,300 investigations conducted by 780 law enforcement agencies and has contributed to the identification of 6,625 victims and 2,255 pimps. Its ability to help law enforcement handle the scale of human communications data has reduced investigation times by 44%.
"The sheer volume of data once made the task of quickly finding a child being sold online almost impossible, but with Digital Reasoning we've turned data into a tool to help defend the vulnerable," Cordua says.
How Does Your Company Serve as a Skilled Guide?
In this example, Digital Reasoning became the guide to help Thorn perform a heroic feat for law enforcement. Thorn, in turn, became the guide to help law enforcement undertake valiant deeds in pursuit of vulnerable children. The entire process demonstrates another principle in positioning: make your customer the hero.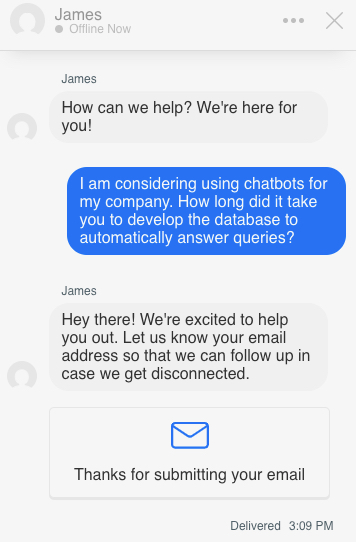 While testimonials are not new, Digital Reasoning used this tried-and-true tactic to tell a meaningful new story. Then, as we worked together to reimagine their website, Digital Reasoning chose a trending piece of technology to improve user experience: chatbots.
Will Chatbots Work for You?
Chatbots work best if your company has compiled a written database of answers to customers' questions. If you haven't yet, you may not have the capability to use chatbots effectively. It takes many months (or years) to build such a database. Do you want to chase that squirrel right now? Or can a staff member handle most questions and inquiries personally within 24 hours? Digital Reasoning's website features a chatbot powered by Drift tapping their database on a regular basis.
Do You Ditch Webinars and Email for What's New?
360 View, the growth platform developed for banks and credit unions, provides all the tools necessary to maximize team performance at financial institutions. Imagine for a minute that you are in their shoes. 360 View is successful at producing webinars. Should you shift your emphasis from producing webinars to creating videos just because everyone in B2B tech is planning more video content? Since email isn't making headlines this year, should you deemphasize it?
Even if email is not shiny and new, " 59% of B2B marketers say email is their most effective channel in terms of revenue generation." It's the "third most influential source of information for B2B audiences, behind only colleague recommendations and industry-specific thought leaders," according to WordStream.
Can You Re-energize Your Email Marketing?
But what if your email marketing is not working as well any more? Your open rates are down and your webinar attendance is off? That's what was happening with 360 View. Every two weeks 360 View was running webinars, which were product demos, and inviting their entire email list.
Together we created a new framework, reducing the webinars to one per quarter, upgrading the content, and introducing new promotion strategies. As a result, 360 View has seen a 700% increase in webinar sign-ups, a 98% increase in email open rate, and an 118% increase in email click-through rates. All from refining the use of a previously effective channel that had grown stale.
When Does Account-Based Marketing Make Sense?
Account-based marketing, often mentioned in what's trending lists, is a tactic that fit with 360 View's strategy. Since a customer's choice to work with 360 View is ultimately a one-to-one sale, it made sense to approach top prospects and clients in a personalized manner with a VIP gift box and complimentary ticket to a themed private event during a trade show.
Build on success, as 360 View has by not avoiding the hottest tools but by choosing only those that complement your goals. Refining. Not totally revamping. Unless it's strategically sound.
Do Detours Keep You from Your Destination
Winston Churchill once said, "You will never reach your destination if you stop and throw stones at every dog that barks."
For the sake of discussion, new marketing trends can be "barking dogs" that delay your progress. Or they can be brilliant tools that get you where you want to go.
Think back to Odysseus: He could have skipped the sirens' song altogether, but he wanted to experience its beauty. It's interesting that he filled his crew members' ears with beeswax so they wouldn't surrender to the sirens' pleas. Or to his.
If you can't resist the distractions, sometimes a little beeswax doesn't hurt, when you need to press on. Unlike Ulysses, you may need to heed some of the siren calls: B2B Tech Marketers need to be aware of what's trending, so blocking it all completely out isn't a viable option.
How Can You Find Clarity
Cal Newport, author of Deep Work: Rules for Focused Success in a Distracted World, says, "Clarity about what matters provides clarity about what does not." Author and clarity coach Steve Woodruff said in our interview with him, "Unless we are communicating in a clear and compelling fashion, nobody can understand our business, nobody can buy from us, and nobody can refer us to others. If we live in that state too long, we'll go bankrupt."
Here are a few tips to narrow your focus:
Go back to your core: your marketing plan and your KPIs. Are they solid? Are you tracking them? Do you have weekly and/or monthly meetings on everyone's calendars to discuss them? The much-maligned status meeting really can keep your team on target. If not, stop reading this article right now and create the calendar invitations.
When was the last time you updated your competitive analysis? Before writing our marketing plan for this year, we looked at our own analysis and discovered two new players who were in our top ten with a bullet. We also noticed some ground we were losing in our search rankings. Don't assume what you knew about your competition 12 months ago still holds.
Place boundaries on your distractions and schedule " deep work."
Take stock of what's working. Make sure you have KPIs for the tactics you're already using.
Consider partnering with an agency that can help you keep on track.
Consider new trends with two big questions.
Will this complement our strategy?
Will this distract us from our bread and butter?
Key Takeaway
Instead of listening to the siren song of current B2B tech marketing trends, strap yourself to the mast and focus on your strategy to get to your destination. Thinking strategically begins with developing a positioning statement, a competitive marketing analysis, and your buyer matrix. Then turn to tactics, incorporating trends only as they complement your marketing strategy. Figure out what customer success stories you'd like to tell, making sure you're positioned as a guide and your customer remains the hero. Ignore "dogs that bark," shiny objects, squirrels, or even sweetly singing sirens and keep your gaze fixed on the all-important destination. For Odysseus, it was Ithaca. What is yours?