What B2B Tech Brands can Learn from B2C Companies
What can an industry-leading cybersecurity company in NYC or a start-up SaaS in Atlanta learn from brands like Pottery Barn, Land Rover, Glossier, Lowe's, and Zappos?
Turns out, it's a lot.
While you face a number of challenges unique to the B2B tech universe, you also have quite a bit in common with B2C brands. If your company's sales and marketing strategy isn't quite cutting it, look to your favorite B2C brands for ideas.
Here are six things that B2C companies do exceptionally well that B2B tech companies should take note of.
1. They Speak to their Customers Like Humans
Often, B2B companies — B2B tech companies in particular — have trouble focusing on the human aspect of sales and marketing. And by definition, B2B does mean business-to-business. Remember, however, those businesses are run by human beings — just like you and me. They have needs, wants, desires, pain points, goals, and objectives in their personal and professional lives that your sales and marketing should speak to.
It isn't just about selling to a business, it is about selling to the people within a business by understanding them as people.
This is something that B2C companies do particularly well. By nature, their sales and marketing efforts are business to consumer or customer, so within their sales and marketing, they are always putting the customer's needs, wants, desires, pain points, goals and objectives in the forefront, and many do an excellent job of speaking to these areas. B2Cs think of them as people, not businesses.
As a B2B company, you need to consider the difference between buyer and user personas. While buyer personas have purchasing power, it is often your user personas who will spend the most time engaging with your brand and content to help solve their current problems.
2. Their Ads Aren't Disruptive
B2B companies are often really, really good at disrupting the user experience with a broadcast of their brand (which is as likely to be acknowledged as an outdated billboard on the freeway). One of the biggest mistakes they make (which also leads to a lot of wasted ad dollars) is how they use digital ads — particularly, paid social media.
Take this ad from ibml for example — a technology company and product I haven't heard of — and a message that doesn't resonate with me at all. Yet, they're on my LinkedIn feed, wasting their precious ad dollars. And we know from experience that ibml is not alone here.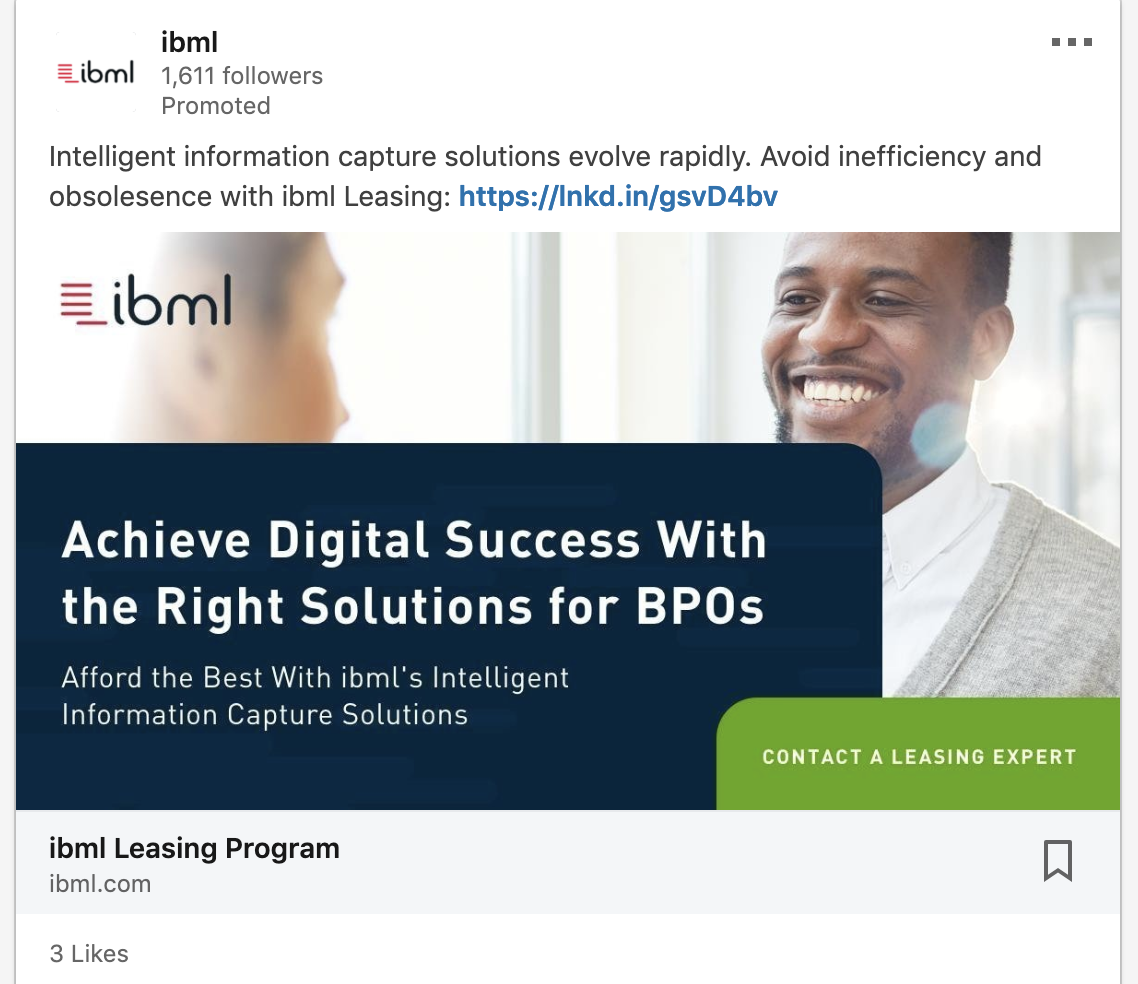 It is important to keep in mind that social media is a recreational experience. Humans use to it to relax and socialize, and often aren't in the state of mind to make a purchase — especially if it is a product they've never heard of before. B2C companies get this, and don't interrupt the user experience, but rather, become a part of it.
B2C companies are pros at retargeting previously engaged visitors, and new visitors who are likely to engage with them. The effort of retargeting is technically referred to as remarketing in paid media platforms. Think about it: have you ever shopped at an online retailer, and then seen ads online for the products you were shopping for or similar products? And then later — maybe, just maybe — you purchased the product or a similar one from the retailer? In these cases, you're much more likely to convert due to familiarity versus buying when you see an ad from a company or brand you've never heard of.
The old "rule of seven" certainly still applies here, too: a consumer needs to see an impression for a brand at least seven times before making action. We think, that when you place ads like ibml, that number doubles… or maybe even triples. And that is a lot of ad spend, depending on where you're placing ads.
So, as a B2B tech company, keep in mind that when it comes to ad views, it's quality and timing, not just quantity. Don't disrupt the user experience, contribute to it.
3. They're Social
B2C brands have a lot of fun on their websites, in emails, and on social media. They know how to speak to their customers like humans. They openly respond to questions, comments, and concerns on Facebook — even if those are negative.
Let's take a look at Southwest, who (maybe) single-handedly turned Twitter into the "customer service platform" it's known as today. The company responds to every single tweet, within minutes.
So, if Southwest can handle responding to thousands of tweets every week from disgruntled travelers, your B2B tech company — who is likely handling a much smaller number of communications — can too.
What is your plan for responding to social media mentions, questions, and complaints? Is it written? Do you have a point person for crafting and posting responses?
Integrating social media into your website is a common trend among B2B and B2C companies, as it helps to humanize your brand, as Zappos does here: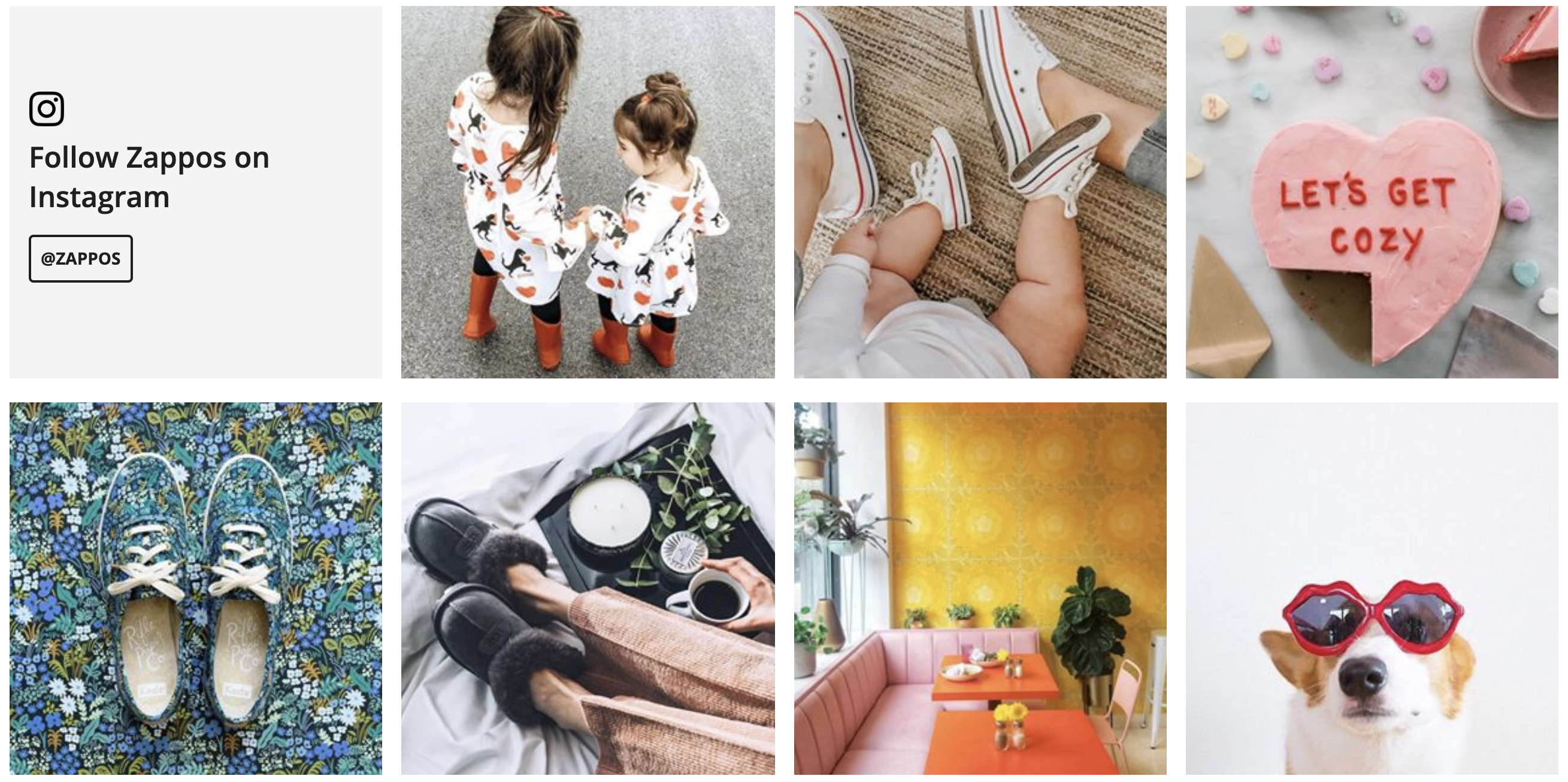 This type of website enhancement can help humanize your brand , and earn you more followers on social media.
They Speak to Real Problems with Real Solutions
When selling or marketing a SaaS or other tech product, it's really easy to get caught up in selling the "features." They are, of course, what you worked so hard on developing. But, to many people, features can be noise. Rather, they need to hear how the product as a whole can solve their problem or grow their business.
Take the Owlet baby monitor for example. The cool tech product helps parents sleep sound knowing their baby is safe — and that's the primary message they communicate.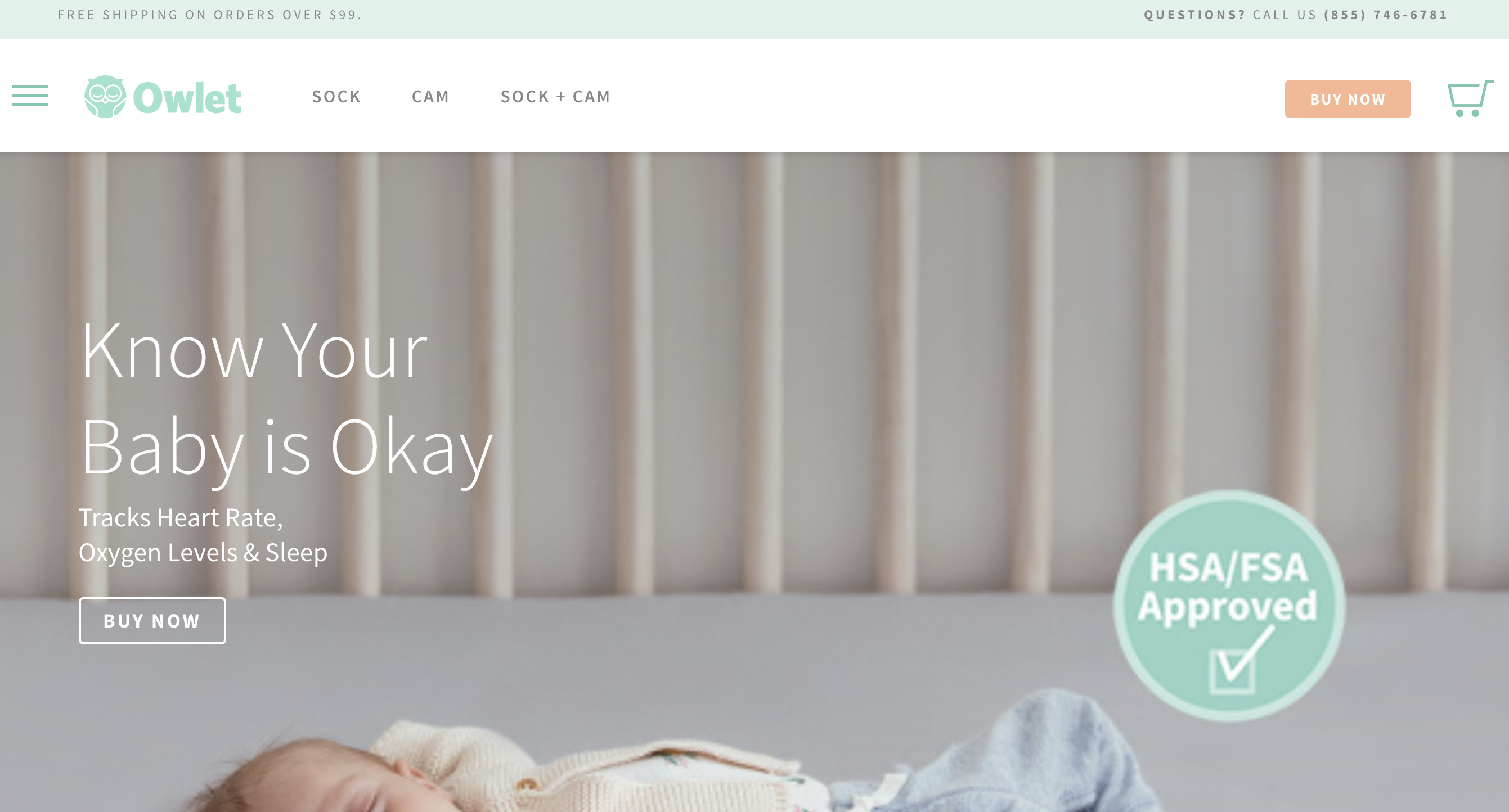 No fear, however. You can dive into the wearable's features if you'd like. Or maybe not. Maybe you'll just hit the "buy now" button knowing that peace of mind is priceless.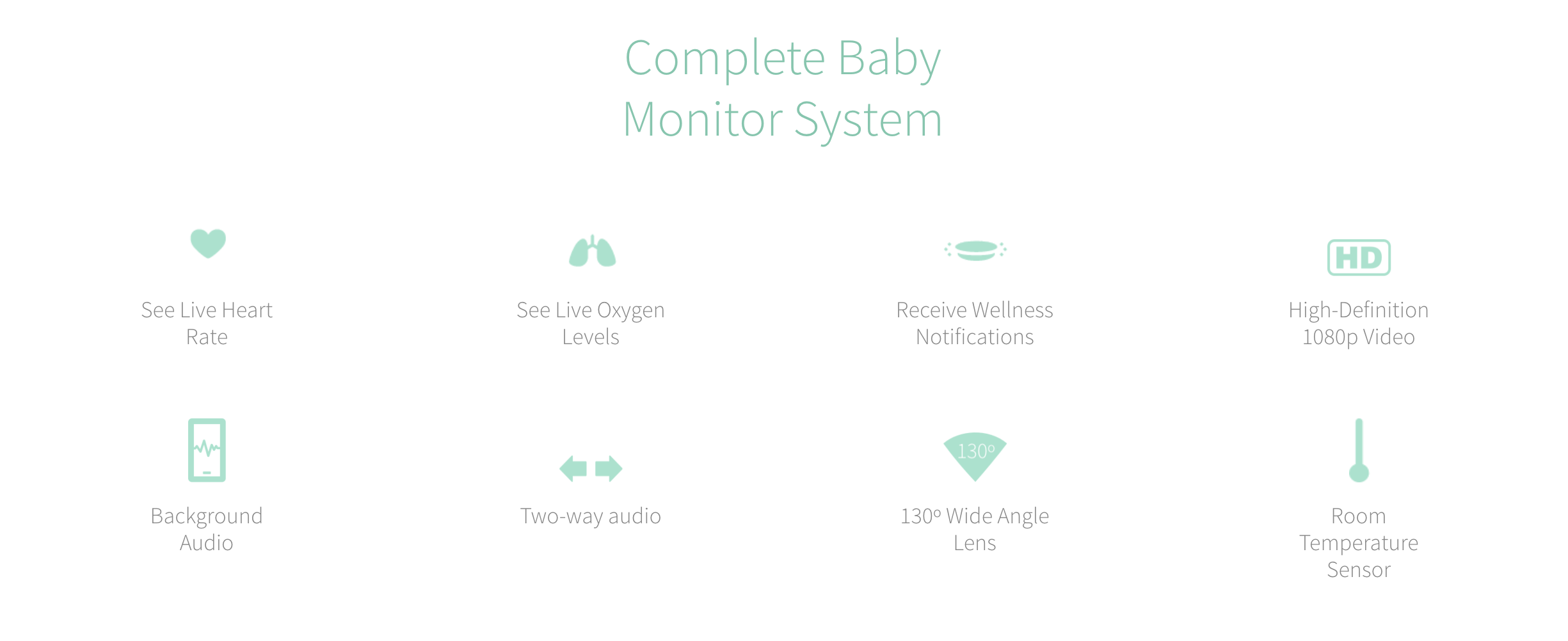 In short, in the B2C world, a problem-solution approach is primary, while features are secondary. And B2B tech companies should think about their marketing in the same way.
5. "Customer Service" is their Middle Name
B2C companies have hundreds of thousands of clients — who, at a moment's notice, have no problem leaving a negative online review which could tarnish the company's reputation. For this reason, among others, many popular B2C brands put a lot of time and resources into offering outstanding customer service.
A great example of this is chewy.com — an online pet food supply order service. The company is known for their phone, email, and live support, one of the primary reasons pet lovers choose to work with the company.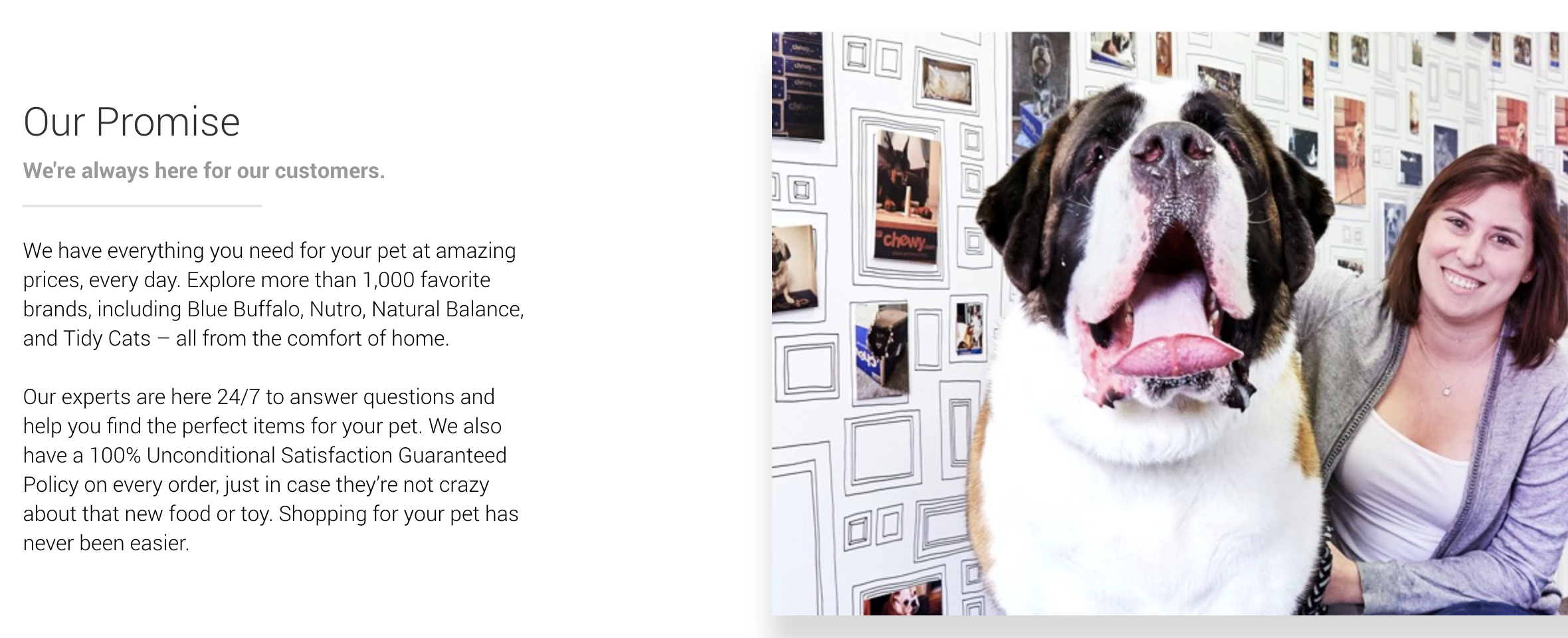 As a B2B technology company, how well do you focus on excellent customer service? Make it a component of your brand and messaging and stay true to it — you'll notice your retention numbers hit all-time highs.
6. B2C Companies Have a Distinct and Honest Brand Soul
Last, but certainly not least, B2C companies often have a deep understanding of who they are, why they exist, and the problems they aim to solve. Their voice is succinct. They understand their passions, and live by them. They have a brand soul.
A brand soul helps you:
Better understand your goals
Better understand your customer
See where your product fits in the market
Plan for long-term growth
For some reason, many B2B technology companies skip the discovery of the soul, and focus on the outer self. But without a soul, your product and brand is easily weakened. Need help defining the soul of your brand, check out our product worksheet.
Soulful brands tend to have higher levels of loyalty and show higher conversion rates. Brand soul also steers employees' activity in the areas of customer service, sales, product development, and innovation thus leading to an overall better experience with your company.
Key Takeaway
At Golden Spiral, we deeply understand that B2B companies — and B2B technology companies in particular — are different from B2C companies. They have different products, needs, audiences, personas, and budgets. But one thing we know for certain is this: when a B2B tech company injects certain B2C marketing ideas into its overall strategy, the results are magnificent.
Do you need a partner to help you humanize your tech brand and improve your marketing? We'd love to meet with you. Meet with one of our B2B technology marketing experts and contact us today.