What COVID-19 Reveals About B2B Crisis Communications
The Article in 60 Seconds
Crisis communications in the midst of a pandemic presents new challenges for even the most seasoned public relations and marketing pros. To keep your business on track, your communications efforts should be structured around three key points:
Think About This
Leadership, Right Response, and Thinking Ahead
"Leadership consists of nothing but taking responsibility for everything that goes wrong, and giving your subordinates credit for everything that goes well." — Dwight D. Eisenhower
While we've addressed crisis communications for B2B companies before, the COVID-19 pandemic is an existential crisis that has every communications professional revising their response playbooks. COVID-19 is not anyone's fault, but how we respond to it can teach us valuable lessons about leadership, how to sustain your brand, and how to invest in your organization so that you can emerge stronger than ever.
Leaders Must Lead
Much of the way organizations respond to the COVID-19 crisis is similar to any crisis:
define the contours of the crisis
develop a plan of action
move with deliberate speed to implement it
But there's one glaring difference: the pandemic is an external threat that has its roots in biology and human vulnerability — not the financial malfeasance of the CFO, or the impact of an F-4 tornado on warehouse operations.
Within this climate of open-ended uncertainty, company leadership must summon their reserves of empathy and their ability to make effective decisions with the information that's currently available. Take Eric Yaverbaum. Until recently, Yaverbaum, the CEO of public relations firm Ericho Communications, was confident his team had what they needed to weather the crisis. Yet his own COVID-19 diagnosis made him even more convinced of the value of empathy. "Lead with empathy and compassion and be there for your team. These are challenging times for everyone, so if there's something you can do to help employees in extraordinary circumstances, do it," he wrote from his bedside.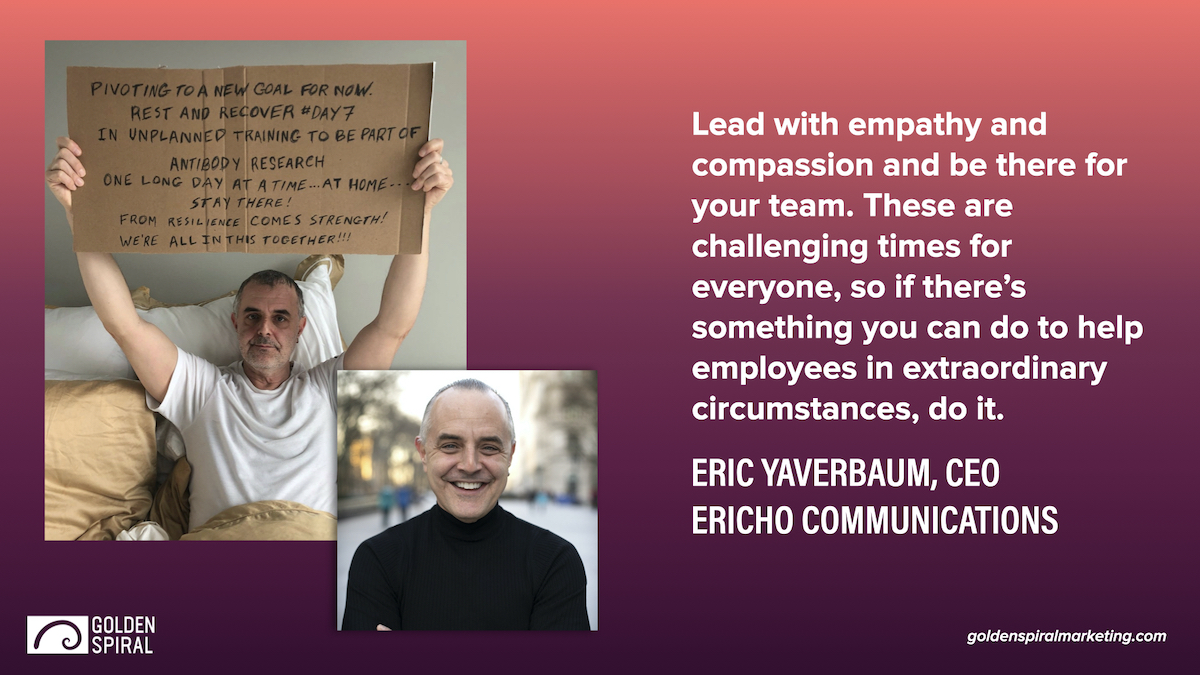 Communicating During a Pandemic
Beyond employee communications, customers, vendors and other stakeholders require special attention. Leadership again makes all the difference. C-suite involvement in ongoing crisis communications planning is a must, so that when crises do arise, company response is coordinated and consistent.
But COVID-19 jumps the shark in that it's a public health crisis, and the full picture of the crisis changes daily. Plans must be updated constantly. Even so, communications should be as accurate and authoritative as the current situation allows, says Apple's former Vice President of Communications Steve Dowling. In a recent podcast, the 16-year veteran of the technology giant advised companies to "Look at things [you] should be communicating out of responsibility and also things that might be useful or helpful. With, something that will impact customers like disruption of service, you have a responsibility to communicate it. [It's also important] to keep people up to date on what steps you're taking to protect your employees or your customers."
The full picture of the crisis changes daily.
We Know A Lot About What We Don't Know
In spite of the daily uncertainty, assemble your crisis communications team. It's time to rev up a daily flow of information and updates on company operations, policies, products and services. Match the appropriate channel (social, email, video, homepage, blog post, etc.) to the appropriate audience, and make sure you're touching on the big issues: staff safety, operations viability and company reputation. Spokesperson training and internal team coaching should be ongoing.
Communicate only what you know is valid. Not answering a question is just as important if you don't know, but you should be able to point your audience to a trusted resource. Speak directly to what impacts your employees and your business. "People [need to] know exactly who they can go to for what when it comes to the business," says Lisa Davis, senior counselor for The Walker Marchant Group.
Candor and Rigor Rule the Day
Davis goes on to delineate how companies should structure their COVID-19 crisis communications. "A reputation and the relationship that customers or individuals want to have with a company is based on three things. One is the goods and services provided. So the response to that is you want to minimize disruption to business. The second most powerful one is integrity. Is there strong leadership? Do they walk the talk consistently? Do we feel good about what this company is telling us? The third thing is compassion. How you treat your employees, how you treat the community, how are you engaged? Those are the big three areas around which people make decisions about whether to engage in your business or not."
Companies that advance through all of those areas have the greatest chance of moving smoothly through this crisis.
How Marketing and Sales Move Forward
Marketing and sales amidst an open-ended crisis like COVID-19 is not easy, but it's an opportunity to build trust. Respond quickly to customers and deliver on your brand promise daily. For potential customers, longer free trials, or a lower entry-level price point are the softer calls to action that can keep your sales funnel from stagnating.
Finding ways to illustrate what your brand does best, and expressing it through a brand identity that clearly sets your brand apart, and doing it in with an eye towards what the community needs, including your customers, are where you should focus your marketing efforts. For example, U-Haul managed to show the company's concern while simultaneously putting forward their expertise in messaging like the tweet below: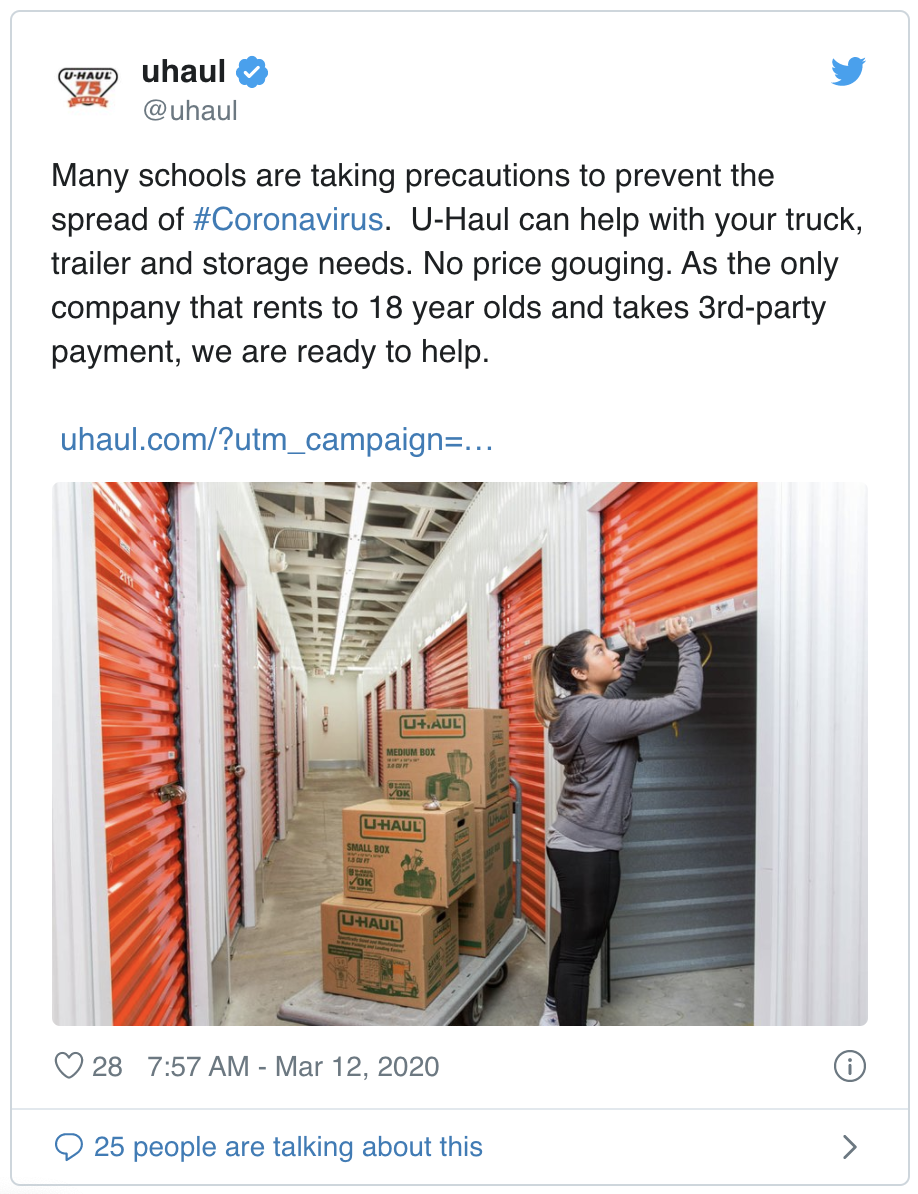 Invest with the Road Ahead
Like the third servant in the Biblical parable of the talents, the temptation to hunker down and ride out the crisis is great. But now is not the time. Beyond a regular communications flow, this may also be a good time to invest in your business. While bubonic plague raced through London in the summer of 1605, leading to theater closures, Shakespeare took advantage of that lockdown to write his greatest tragedy play, King Lear. Whether it's shaping a new product or tackling a long-delayed software development project, this may be a time to explore ways to strengthen your business. You may not get to present your work to the King of England, as Shakespeare did with King Lear once the plague subsided, but you could discover some promising new avenues that might not have previously been on your radar.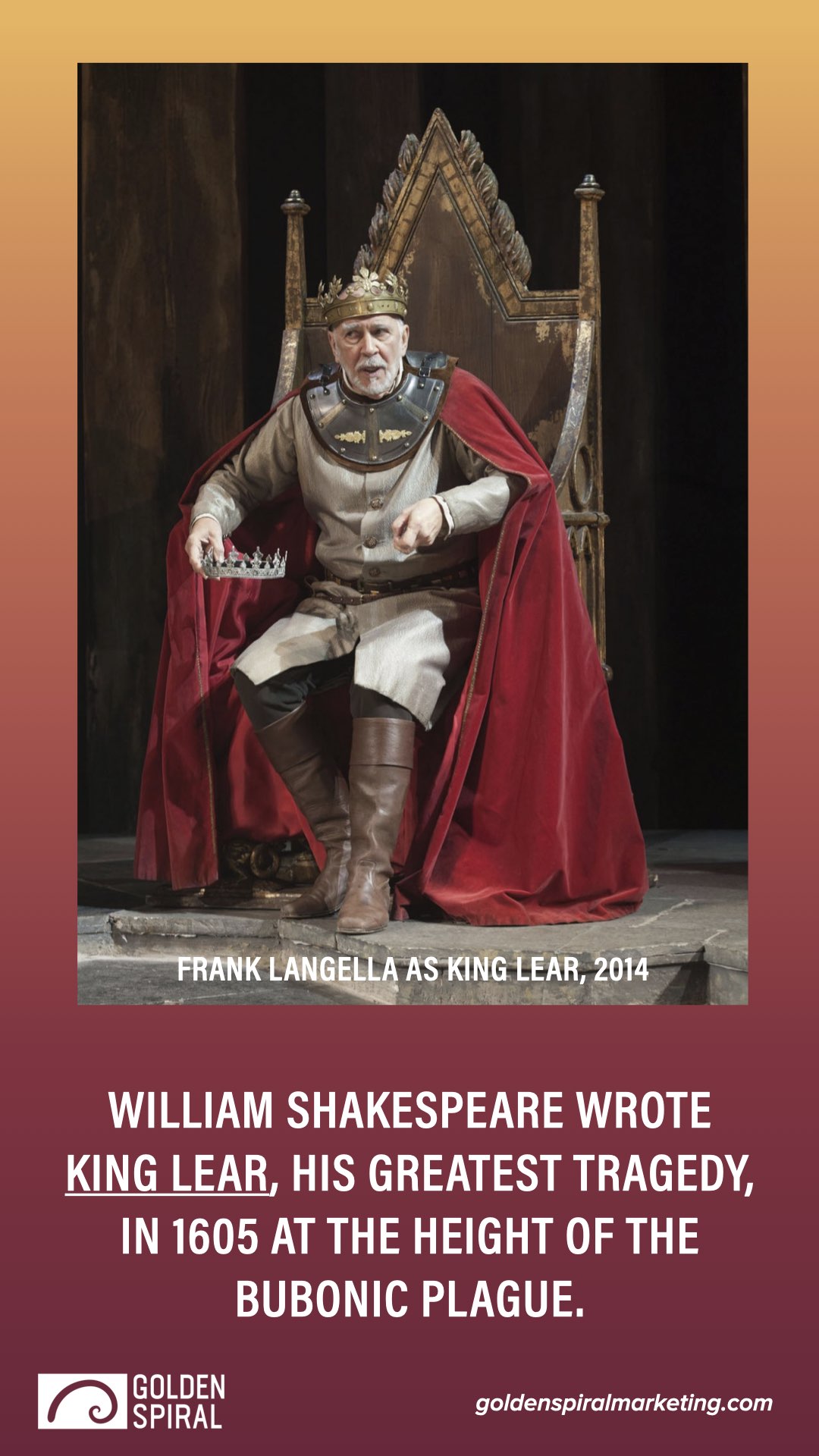 Every Day Feels Like There's No Floor
The Gravitron was a favorite ride of mine at the state fair. The barrel-shaped ride uses centrifugal force to keep riders stuck to the wall as the floor drops out. COVID-19 has us all feeling like we're on an endless Gravitron ride. But the floor will eventually be restored under our feet. A new "normal" will emerge, which will look very different for every organization. Organizations who already have crisis communications plans, and adapt them to the broad-scale impacts of COVID-19 with strong leadership, empathy for their employees and customers, and an eye on the future, have the greatest opportunity to emerge with their company — and their reputation — intact.
The First Thing to Do After Reading This Article
You've already done so, but do it again: Thank your employees. Thank your team. Let them know that even though you may not have all the answers, you're committed to helping them succeed.