What Every Star Wars Fan Knows About Marketing to SaaS Investors
It's almost like Yoda is saying, "Questions they have. Answers you must provide."
You have two different audiences for your company — your funding source and your potential customers. If you're a SaaS company preparing for a product launch, how many investors do you have now? How many do you need? Make your first priority shaping your conversation with investors and gaining their confidence.
Investors are listening for cues that your company is gaining traction in the marketplace, and has a fast-track growth plan. They're looking for companies to invest in: the market value for SaaS products is $116 billion worldwide, and asset prices for all companies are at an all-time high, according to a recent report from Bain Company. Private equity firms (PE) are especially challenged to find the right investment at the right price, amid stiff competition from other PE and non-PE investment sources. With demand for companies to invest in high, and the number of attractive targets low, investors aren't just looking for deals; they're looking for the right ones. Here's how to polish the apple for your company, and bring investment partners onboard as full-fledged brand ambassadors.
What are Investors Looking For?
If you're as much of a Star Wars fan as we are, think of your company as Yoda. Your customers are Luke Skywalker, searching for ways to preserve the Galaxy. Your investors are the Jedi Council — powerful, but not as all-knowing as their fellow Council member Yoda.
A company inspires investors when it can show its business plan and product are solid — even if sales are slow. That same company inspires customer loyalty when it consistently demonstrates it has the solution to its customer's problem. In both cases, the investor and the customer are the hero — not you, and not your product. These heroes have different questions, and your company needs to have all the answers.
Becoming Yoda
Before you go before the Jedi Council, you need to have all the answers. Well you must know them. Here's a few to consider.
Company and Product Research
You spent a lot of time and money building buyer personas, researching prospects and understanding exactly who your customer is. Investors want to see this and more. Research needs to show how well you've defined the market need for your product, and how it differentiates from others.
Truly road test your product with surveys, small group sessions, and focus groups. Do users get their problem solved with your product? According to Tangelo, a Silicon Valley digital transformation specialist:
For every claim you make, investors will definitely ask what data you have to substantiate that conclusion…. They are going to task "why" more than you think and less than they want. Separate correlation from causation.
Investor Research
At the same time, your company needs insight into potential investors. Who's out there? What kind of similar investments have they made in the past? How did those companies fare? Was it a successful exit or a messy breakup? What kind of involvement in daily operations do they typically have with their portfolio companies?
Chances are you have some relationship with a target investor; start with it and expand your base, whether it's an accelerator, angel investor, venture capital or private equity firm. A lot depends on where you are in product development: barely out of the idea stage; solidly in the product validation phase, with a steady stream of customers; and a well established product (and company) looking for an exit. Each of these stages map to a different type of investor, so do your homework to discern the right fit.
Bring Your Investor Audience into the Marketing Mix
Yoda brought the same message of wisdom and clarity to advising the Jedi Council and to Luke's Jedi training. Yet his approach differed based on the audience. So should yours. Consider your investor audience as another buyer persona, and carefully fold them into your marketing mix. Messaging, appropriate tactics implemented across an appropriate array of digital channels, and public relations campaigns to raise awareness are part of the successful mix needed to engage potential investors with your company well before you actively pitch them for investment.
Clear Value Proposition
Your product has to be there. It must fit the market and be clearly differentiated from its competitors. But investors also want to hear the "how": How it reflects the spirit and soul of the organization it originates from, and how it has a market presence characterized by empathy and proximity.
These essentials are interdependent: If a product is well differentiated but ignores a buyer's real needs, they will "walk" past the product, even if the company has labored to create ads, search results, etc., to get within an arm's reach or eyesight of the buyer. If empathy and proximity are present but the product can't be distinguished from the competition, the buyer will be confused. Finally, if the company is positioned well and full of empathy but doesn't show up in the search results or attends the wrong trade shows, it won't be found.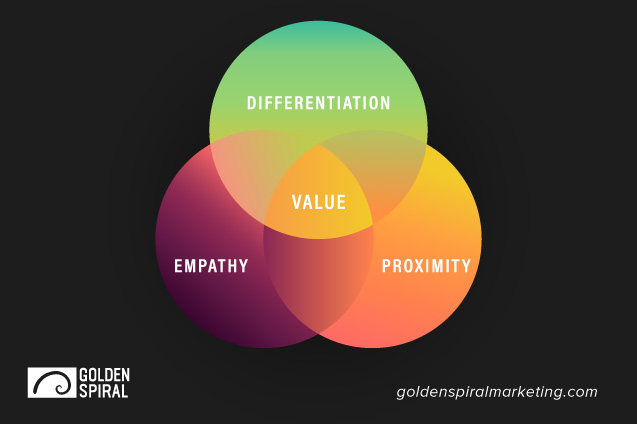 Show Them You're Ahead of the Curve
Research and positioning can take you a long way, but you have to be able to show your company and its product are always one step ahead of everyone else. Like the astronauts of Apollo 10, whose mission was to "sort out all the unknowns and pave the way for a lunar landing," every crater and boulder on the path to success needs to be mapped, and every new opportunity should be explored. Anticipate. Create. Lead.
Growth, Growth, Growth
Investors want to see your product can scale quickly, and that your per unit customer acquisition costs will decline as you grow. When it comes to talent, they want to see plenty of Jedi pilots that can handle the velocity of your growth plans. Specific, measurable growth goals, and the KPIs to show you're on track, go a long way towards building investor support.
Be Open
Tell them what's keeping you up at night. Pricing struggles, it's finding the right talent, staying on top of compliance issues, and everything in between give investors the full perspective in your company. As Powerplant Ventures co-founder Mark Rampolla says: "We want to hear the bad news early when we can still fix it, because there will always be bad news."
Speaking of bad news, have you thought about how you're going to handle a crisis situation? We have. Get the basics about crisis communications for B2B companies here.
Forget the 'Perfect' Pitch Deck
If you've been smart about marketing, you've raised your profile and they know who you are. Now you're, with apologies to the blockbuster musical "Hamilton," 'in the room where it happens.' You still need a pitch deck to give investors an idea of who they want to talk to. Prepare as if you're a political candidate taking on your first press conference; practice taking questions from people who don't know anything about your business. Ditch the memorized scripts, and invite free flowing conversation about your company's performance, marketing plans, what the next stage of product development looks like, and everything in between.
When to Walk Away
And finally, we're not investment experts, we're marketers. We get EBITDA, but we get people more. If your instincts are telling you that something's not right, trust them. Be willing to walk away if something feels off. Kathryn Petralia, co-founder of fintech small business lender Kabbage, narrates a tale of how her fellow co-founder Rob Frohwein turned down a multimillion dollar investment. A dispute about a signature page held in escrow capped a series of signals that the investor didn't trust them. "We didn't need the money badly enough to be in a relationship with someone who didn't trust us."
Key Takeaway
There's a lot riding on your next Jedi Council presentation. Marketing plays a significant role in getting you there. Nobody knows that better than we do. Get your marketing investor-ready with The Essential Guide to B2B Product Launch Planning or our SaaS Marketing Strategy Guide.