What is a Thought Leader and How Do I Become One Myself?
Thought leadership is another buzzword that is used — in B2B technology and SaaS industries in particular — that often leaves leaders scratching their heads, looking to answer questions like:
What is a thought leader? How do we become a true thought leader in our space? How do we know we're not just contributing to the noise? Is thought leadership worth the hype? How can we be sure we're making the right investment of our resources? If a thought leader in our industry already exists, how can we compete? How does thought leadership actually help us grow?
Fair questions, but, keep in mind there's a reason why "being a thought leader" is such a coveted position in an industry.
Thought leadership isn't for everyone. If you want to be a thought leader, you need to:
be ready to open your ears and listen before you begin creating content
be patient and diligent because becoming a thought leader in your space doesn't happen overnight — even if there isn't steep competition.
invest time, strategy, and patience
Once thought leadership is achieved, it must be maintained year over year.
And if that sounds like something you want for you or your company, let's dive in.
What is thought leadership?
Being a thought leader means that you or your company is recognized as an expert and authority within your industry. It means you are the go-to source, the trusted confidant. A thought leader knows how to cut through the noise that already exists and offers something worth listening to.
What are the benefits of thought leadership?
Because thought leadership isn't easy to achieve, the rewards are great. Some benefits of thought leadership include:
Lead generation: 42% of thought leaders believe that this position helps with lead generation. Thought leadership content can be used in marketing automation, to gain new website traffic, and to convert website visitors to paying customers. Increased lead generation is also likely to result in an increase in sales and overall revenue.
Enhanced brand reputation: More than half of thought leadership content creators believe it enhances brand reputation. As you create content that solves problems and answers questions — without always pitching your product — you become a trusted source by your clients and prospects.
Improved public relations: We all know how important PR is to growing technology companies — and thought leadership can help. When you present good ideas or propose solutions for your industry, you're likely to get more speaking opportunities, media interviews, byline article placements, etc.
Increased influence: When you are a category-creator and thought leader, your ability to change, influence, and shape the industry is increased. Think of where you want your industry to go, and take it there via speaking opportunities, articles, interviews, and social media.
How can my B2B company become a thought leader in our space?
Because becoming a thought leader doesn't happen overnight, you'll need to implement a series of tactics to achieve this lofty goal.
1. Determine Your Thought Leaders and Take a Stance
If you want to be a thought leader in your industry, you need to first determine who will be your thought leader(s). Your CEO might have dreams of being the industry's thought leader, but with his/her workload, it might be nearly impossible to churn out the type of content necessary to get your thought leadership plans in motion. In many cases, tech companies choose to have their company be the thought leader, rather than an individual person. Keep in mind that people may move from company to company, and you want the thought leadership to remain with your brand, not the person. This means having multiple contributors with varying expertise — your CEO included. Add their head shots and bios to each article or piece of content created, and allow their credibility to build your company's credibility.
Once you've determined who will be sharing thought leadership content, you will also want to take the stance they take on industry-wide topics and trends. Being a thought leader means you are confident in your ideas, and you're not afraid to share them.
2. Build a Savvy Content Team
Thought leadership stems from strong content — which means you need a team that knows how to write compelling content, and make sure it is found in search and on social media. Because you'll need to create numerous, compelling articles, building a content-savvy team will be the key to your success.
Consider the following skills when building your thought leadership content creation team:
Writing Experience: It goes without saying that well-written articles are among the most trusted in any industry. Seek out former journalists, communications majors, and creative writers. If there's one thing I've learned about content marketing, it is that you can teach certain tactical skills that go hand-in-hand with writing — like on-page optimization — but you can't teach good writing.
SEO (Search Engine Optimization) Experience: When you're producing lots of content, ensuring that content gets found by searchers in Google is key! Definitely seek this skill in your content creators, or require that they become fully skilled in the tactic.
Social Media Marketing Experience: In addition to search, getting your content in the social realm is key for starting conversations and becoming a part of ones that are already happening. Working with content creators who know where and how to post your content will help to quicken your rise to thought leadership.
3. Be Mindful of Industry Problems and Offer Real Solutions
One of the biggest reasons that a company's content and thought leadership strategy fails is their focus on themselves. They blog about their products and their solutions — but never about industry trends, examples, strategies, or ideas.
As a technology company, you likely created a product because you saw a problem that needed a solution. Your approach to content needs to follow suit. Your content needs to know the "what" and "when" but most importantly, answer the "why" and "how." Being able to answer the "why" and "how" is what will differentiate you from your competitors and make you a true thought leader in your space.
For example, Finalsite is a B2B technology company serving the education market. While it isn't the largest provider in its market, Finalsite's content strategy has positioned it as the industry's thought leader on all things related to school marketing and admissions. Each blog Finalsite writes not only defines a best practice, but also provides actionable steps for implementing that best practice — whether building a landing page, creating a content offer, or starting a blog. Each step is usually accompanied by one or two examples to provide readers with inspiration.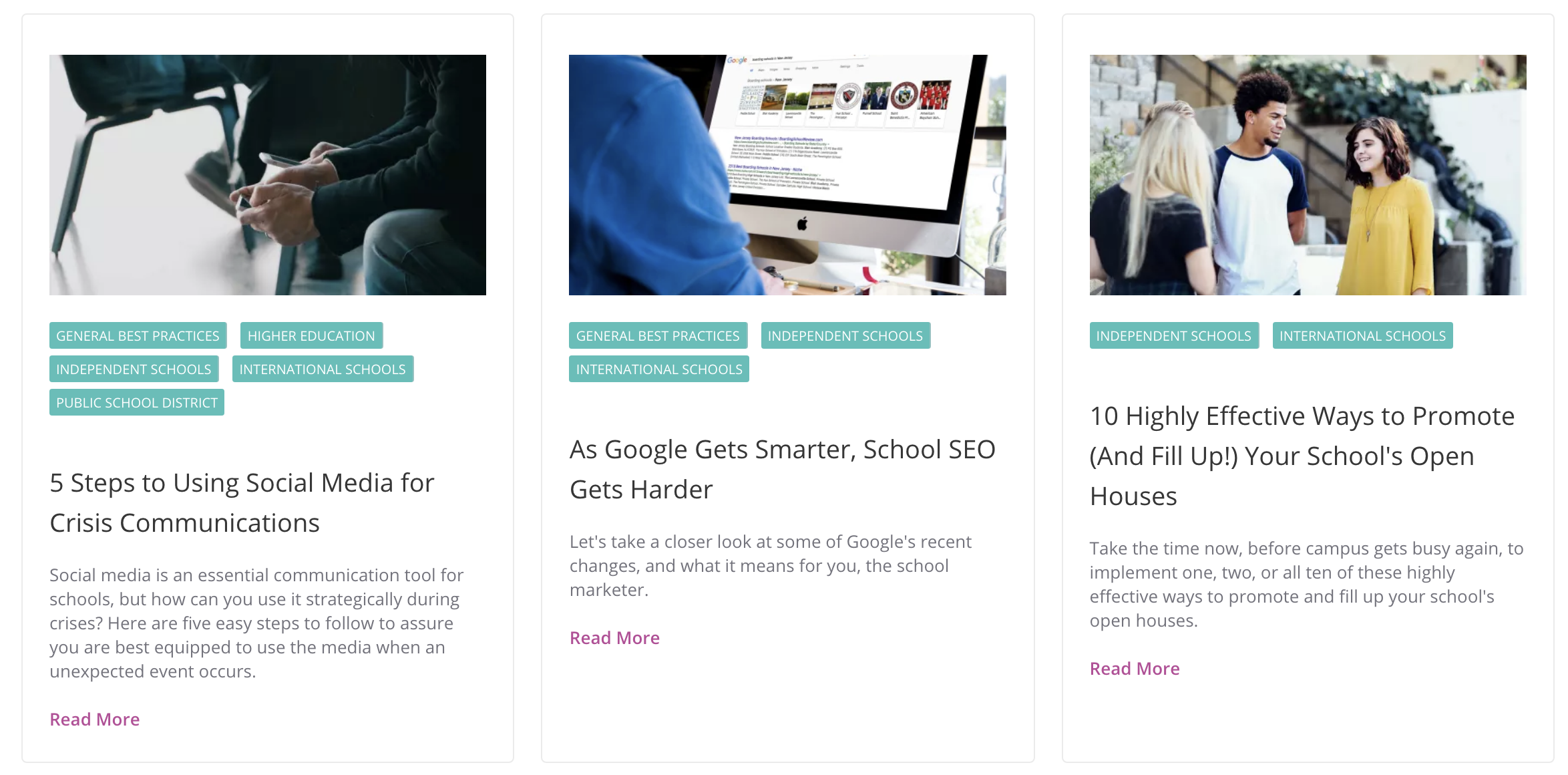 4. Avoid Talking About Your Product and Services (Too Often)
When you invest time and resources into a content strategy — whether by hiring full-time employees, freelancers, or an agency — there's an obvious temptation to talk about your products and services. And of course, there is a place for that. For example, say your company is outputting five blogs per week. Allow one of those to be a case study, or best practice example for using one of your products. Your current clients deeply care about this content, as it helps them in their day-to-day efforts.
However, when you only blog about products, services, events, etc., you're not putting yourself in a position to be a thought leader. If you want to be a true thought leader in your space, follow a version of the 90-10 rule: spend 90% of your blog content discussing strategies and ideas, and only 10% discussing products or services. And keep in mind, not every blog you write has to tie back to you or your company.
5. Keep in Mind that Design and Presence Matters
Think of your website (or blog) design as the ironed suit you'd wear to an interview. If you showed up in your gym sweats, you'd be less impressive — even if you said the exact same answers.
It may sound superficial, but the design and experience of the content you produce matters just as much as the content itself. Keep this in mind as you select a platform for blogging, and an agency to help you tie it all together.
For example, Keyfactor has a stunning blog design that makes the content both easy-to-read, but builds the company's authority on the subjects it writes about.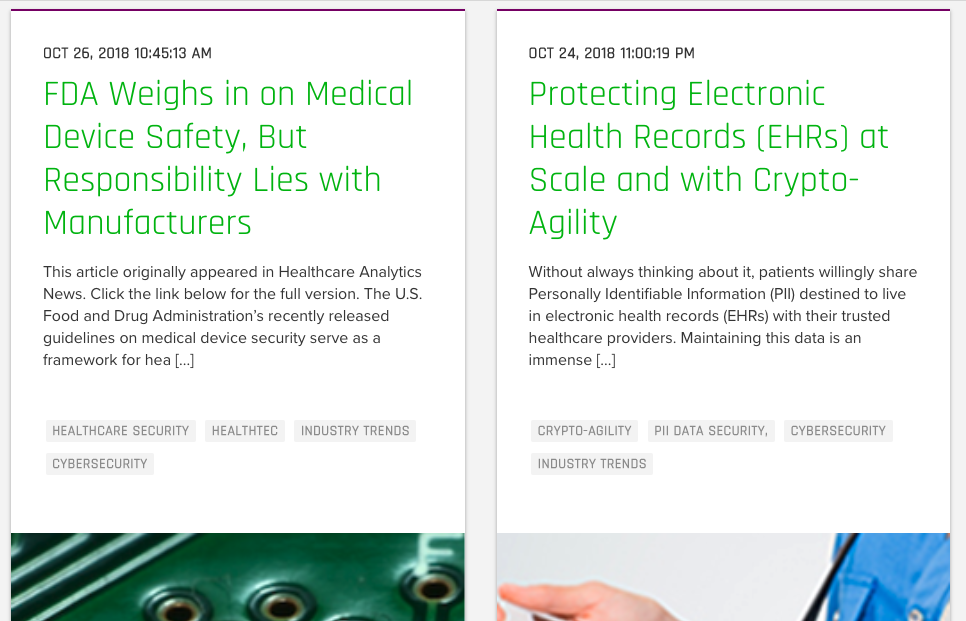 Key Takeaway
Being a thought leader isn't for everyone, although is surely has its list of benefits. It has the power to increase sales, influence, and opportunity, but also requires an immense investment of time and resources. If you want to be a (or the) thought leader in your industry, be prepared for a long road that requires innovation, patience, and diligence.