What will B2B Tech Marketing Leadership Look Like After the Pandemic?
The Article in 60 Seconds
As our culture rumbles down the tracks to reopen our economy, there are practical marketing concerns that we should take notice of now. Don't react. Prepare.
Make the shift from work-from-home to work-from-office
Explore new corporate social responsibility initiatives
Maintain new habits and tactics
Stay up close and personal with the relationships that matter the most
Get ahead of enduring changes to marketing post quarantine
Do Something Now
The cultural message is rumbling. Reopen. Wait. Reopen. Wait.
You've been watching your numbers. Some are up. Some are down.
No matter what, at some point, you will reassemble your team in person at your headquarters. What will that look like? How will that feel? What will be different? What will be the same?
Others often remind me that I can get stuck in analysis paralysis. But there is an upside to my mental gymnastics—I see and consider lots of options.
For your consideration, here are five factors I've been kicking around for the last few weeks. I'm not writing prescriptions for change. I'm merely shining a spotlight on a handful of issues and asking questions. It's up to you to provide the answers for your company.
Shifting Gears to WFO (Work from Office)
Change is difficult even for those who love it and are change-makers. We've changed already. We went home, we set up our desks, and we got to work. But things haven't been smooth. Think of the thousands of memes, like these, that have populated social feeds and even been featured on the news.
View this post on Instagram
Coming back to the office is going to be more than just getting out of pants with elastic waistbands. Consider these ideas:
I talked with a friend who manages a fast food location doing phenomenal drive-through-only business right now. He overheard two of his best team members discussing how much easier it is to "close" right now because they don't have to go through the dining room checklist. No tables to wipe down. Only one trash can inside to be emptied. No mopping and vacuuming.
What are similar implications in your office environment? What will have to change?
Here are some of the activities that have changed during this season of work from home.
No commute. How was that time used? More time with family and roommates? More sleep? More work hours?
More frequent breaks. Interacting with children. Walking the dog. Getting outside.
Obliterated dress code. Less laundry. Less time on makeup, hair, and nails.
What about returning to the office? What are tasks in your business ecosystem that have met with resistance in the past? What daily or weekly routines do you think will be problematic? Are they essential (like mopping a dining room) or could they change with a desire for greater productivity?
My encouragement: Acknowledge the challenges. Host a Zoom discussion or start a Slack thread to raise the issues with judgment. Start with a list of the things that will be hardest for you to return to and see what your team reveals.
Corporate Social Responsibility
The human spirit amazes me. My favorite images from early in The Great Distancing of 2020 were signs for first responders, the nightly applause for essential workers, and parents and children working side by side to make masks or deliver groceries.
These signs of community support and love and not restricted to one generation, but journalists have pointed out that those we label millennials have a drive to act in this way. What stories have you heard from your team about how they've given back? There may be more at hand than you think. Invite your team to share.
There's a high probability that some on your team have been demonstrably generous for the first time or have amped up their giving of time and resources during the response to the pandemic. How do we move this laudable behavior forward without squelching it with the unwavering demands of work?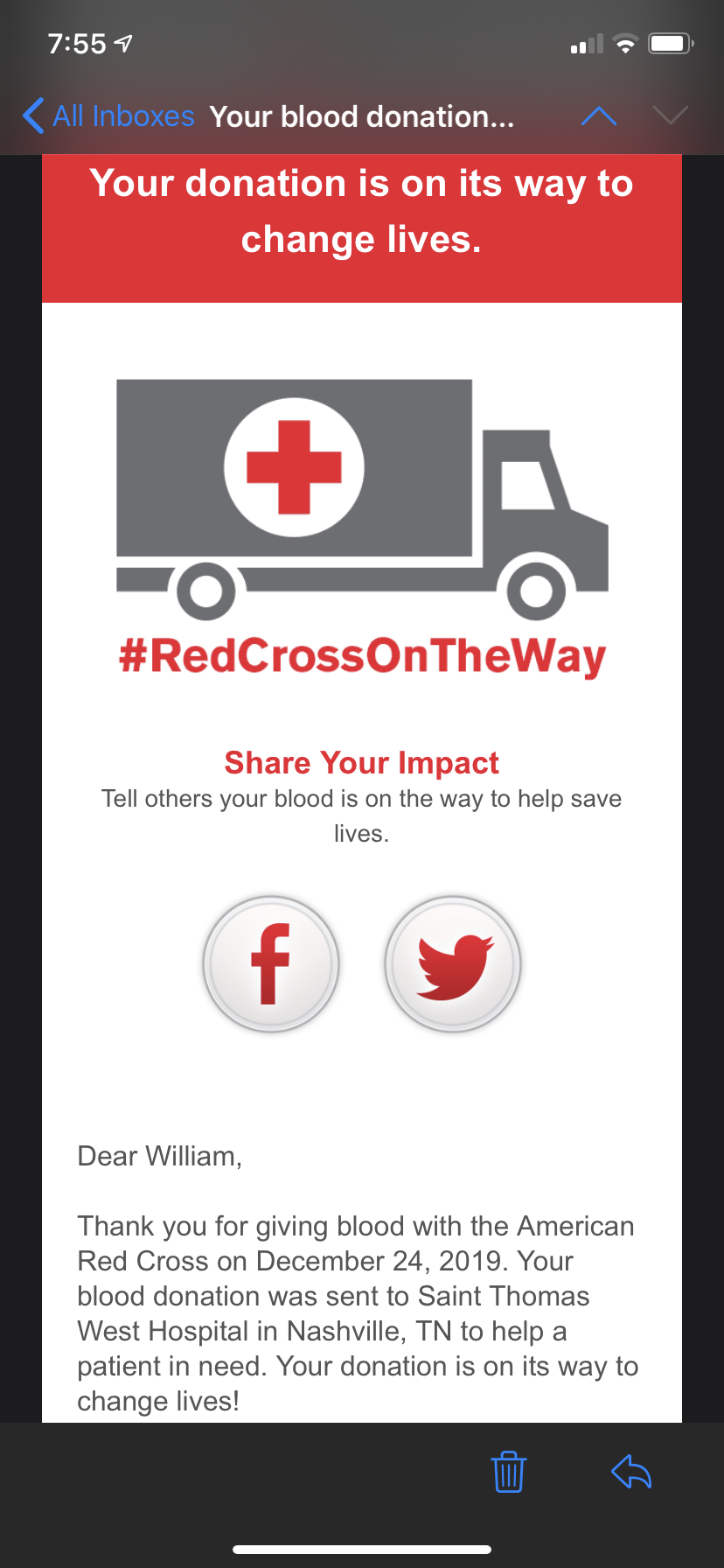 For years, I have made a point of donating blood. I don't give as frequently as I should, but giving blood doesn't take a lot of time, is always essential, and is greatly appreciated. In the last couple of years, the Red Cross has begun sending another message to donors letting them know that their blood has been called for and where. Those emails stop me in my tracks. (And I am blown away by the tech and customer interaction implications, too.)
I hope I'm not driven by immediate gratification, but this additional layer of knowing that I didn't give into a void, but have actually helped a patient endure surgery, survive a car wreck, or thrive after a premature birth moves me. (And yes, I'm jaded enough to know that some blood donations are used in unsuccessful attempts to save lives. But there was an attempt.)
No, not everyone is physically able to do so (for those that are physically able to do so) and giving blood might not be what you adopt.
My encouragement: ride the wave of giving that has surged. What generosity could your team — or your entire company—add to your culture.
Changing Tactics
Best-selling author and business advisor Chris Brogan believes that B2B will have to pivot to be more like B2C in the coming months.
Alongside the marketing and communications considerations, you have to build your business around delivering a strong customer experience. If it's B2B, this simply means adding the extra steps required to deliver the product or service to the end recipient with the extra steps/departments accounted for. If it's B2C, the buyer is a one person or at least one family decision.
But both will want to be aware of what you sell, want to know how to evaluate your offering, understand purchasing options, know what happens after the sale, and you'll want to follow up to earn referrals or retention. Communication will be vital, and more so, rapid and brief communication that carries people through this "at a distance" service.
I mentioned DoorDash. It does this well. You order the product and if you want to receive text message updates, you'll receive at least five:
The restaurant has your order
They're working on your order
The driver is picking it up
Driver is a few minutes out
Your food is here
Is your business that good at communicating the various status updates required to deliver a product to your customer or client?
Brogan is spot on.
Beyond that type of interaction, I encourage you to think about something else: you have changed the way you interact with your core customers. On more than one occasion, I've heard our team talk about texting with points of contact. What it wasn't anathema, it was rare before this period in history. What has changed for you?
My encouragement: the manner of business will never be the same and that is for the good. What changed were you moved to make that you should keep moving forward? Don't be afraid to keep them.
Up Close and Personal
We've all joked about kids coming in during a Zoom meeting. We've smiled at Shift and Lessonly creating family-friendly activities for folks stuck at home. And dogs, so many dogs.
This is the best weather forecast in the history of television news pic.twitter.com/LhmoJDCkbZ

— Andrew Feinberg (@AndrewFeinberg) April 30, 2020
We all can agree that healthy life at home contributes to healthy life at the office. We can also all agree that we have encouraged our teams to strike work/life balance. Think about your own relationships. How have they grown or deepened? Sure, quarantine life can also lead to stress and shorter tempers at points, but many pixels have been activated about parents spending more time with children, more dinners together around the table, and even a few iconic games of catch between fathers and sons that make "Field of Dreams" pale in comparison.
My encouragement: How can we encourage our teams to not lose their grips on these facets of life?
Enduring Changes
Trade Shows
The convention, production, and tourism industries are scrambling to figure out how to respond and return us to renting booths and scanning badges. I spoke this week with a lighting designer whose online event work is finally taking root about the time that new live events can be booked. A dear friend, who provides sound, video, and lighting support for hotel-based events has been furloughed from Nashville's largest downtown hotel. He is in weekly conversations about recovery. Even after the hotel reopens, he is unsure when an event will take place in a ballroom.
My encouragement: right now, seeing someone face-to-face is precious and treasured. What can we do now, bit by bit, to foster in-person meetings as we build to eventual group meetings in the future? Can we tap the novelty now for relationship-building and business gain?
Guests Visiting the Office
I've read articles about companies stepping up security to include issuing masks and taking temperatures before allowing guests to enter the building. Prudence is required at times like this, however what does this communicate to our guests, potential customers, existing customers, and vendors? I think we are at risk for communicating unintended messages.
My encouragement: Start this conversation now. What can marketing do to craft an in-person, onsite experience that is safe but values and esteems the guest?
The First Thing to Do After Reading This Article
Do Something. Pick one area and move, start a conversation with your team, or add an agenda item to your next leadership meeting.