What You'll Find on the Digital B2B Marketing Roads Less Traveled
The Article in 60 Seconds
Your marketing strategy focuses on the major inbound strategies; experience has taught you which tactics work best for your industry, your brand, and your product.
You're probably marketing lists, account-based marketing (ABM), pay-per-click (PPC), SEO, and traditional PR. You may even be deploying display ads, tapping into remarketing, and sponsoring content.
Could you be doing more? There are lesser-known methods that can build on what you're already doing to hit a different part of the sales and marketing funnel. In the space between marketing and sales, you can put these tactics to work doing what they do best: nurturing.
Using these methods can really pay off as part of your bigger digital marketing strategy:
The Road Less Traveled
Ah, the road less traveled—and the rewards that can be found there with strategy and patience.
Content is king—but not without a little help. This is especially true for new start-ups whose blogs are not likely to get noticed on their own. Once you create a piece of content—blog, video, or infographic, there are an infinite number of tactics you can use to promote that content, but when a tactic aligns with your audience, that alignment makes it the right choice.
When your customers or potential buyers of your technology platform are looking for a solution and/or comparing products, your regular inbound marketing techniques are going to pull them in. It's when they don't know they need you and your solution, maybe even before they know they have a problem, that your longer-term, lesser-used approaches come into play.
Marketing's job is to generate leads, and sales does its job by closing. It's that gap between getting that lead and making the sale that can be a fertile ground for nurturing prospects.
Marketing and sales can leverage each's expertise while working together to introduce your brand and your product, build authority by showing empathy and integrity, and offer solutions to their problems.
Nurturing your buyers requires a more indirect approach, with less in-your-face marketing and more laying a foundation of your brand and its integrity. Marketing can leverage the sales demos and webinars in which you've already invested money, time, and effort, promoting them as informational tools.
Integration is the key to success with a nurturing campaign. Using one tool doesn't make sense; using them together ensures you'll be wherever your next potential customer might be looking, such as email nurturing pointing white papers or webinar recordings that the target customer may have missed.
Content Sponsorship
Sponsoring specific pieces of content, such as a webinar, is a non-traditional type of sponsorship that typically requires a longer lead time and careful strategic planning. You must connect the dots between the sponsored content (e.g. webinar, case study, white paper, infographic), your business, and the audience.
This type of content sponsorship can be done in combination with a recognized authority on a specific topic; you bring in an industry expert for your webinar or podcast. The marketing magic happens when you integrate email marketing, paid social media, and paid search with sponsorship, so you're placing specific content in front of the webinar audience. Follow that up with the ability to pre-register, sending additional materials out as you get closer to the webinar date.
The trick is really ensuring that the sponsored content is the right fit for the webinar's audience. Giving them something valuable before engagement builds authority and puts you on their radar before the event even begins. But don't forget the follow-up. If there's video, be sure to use that on landing pages, thank you pages, and even in email campaigns.
Similarly, you can use these tools to nurture someone who converts on a white paper or requests a demo. Don't let their interest in your brand end there! Send them additional content or ask them to recommend your webinar. Your customers associate with other customers, so do what you can to become a topic of their conversations.
Paid Video
Once you've invested in video, use it! Zenith's recent press release carried the headline, "Online video viewing to reach 100 minutes a day in 2021."
You can use video in non-traditional ways, like a short video on your thank you pages, or post-conversion, for those who sign up for a webinar or download a resource; this is a great chance to further introduce your company, expectations for the webinar, and even present your expert or sales lead that this potential customer may engage with once marketing leads to deeper sales conversations.
Content Syndication
You know who your potential customers are and you know what they read. You can put your existing content in front of them by syndicating that same content. Syndication is publishing your materials, as a synopsis or from different perspectives, on different sites, ensuring that your company and original content is properly credited. Target sites that are popular with your industry decision-makers. Popular publications like a diverse influx of content, and this can benefit you both. Not only does content syndication help with brand awareness and drive traffic, it can provide SEO value through backlink signals used by search engines to determine credibility.
Native Advertising
Native advertising is advertising that seems to be in line with the core content that a person is consuming. Are you marketing to start-ups? Perhaps Entrepreneur is a good place to partner.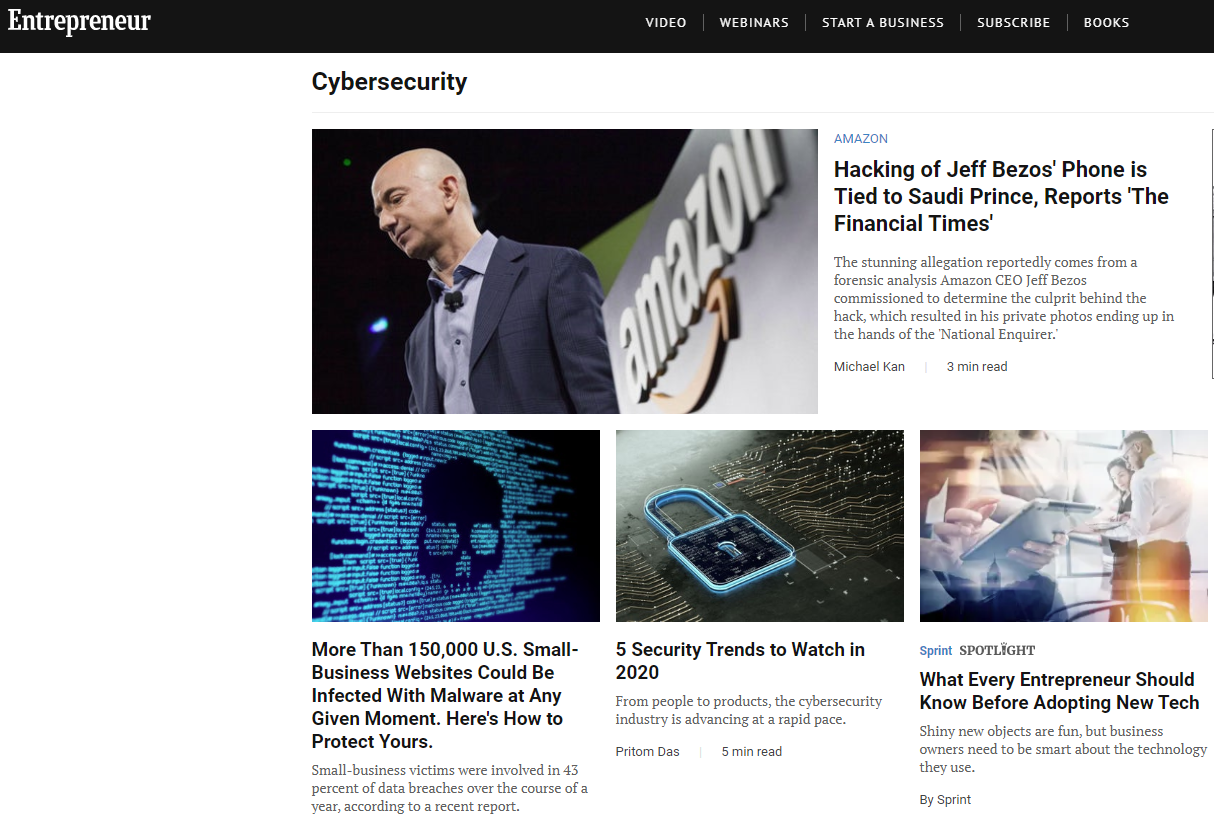 This page is about Cybersecurity, and the "spotlight" article in the bottom right-hand corner looks like it is just another article. The marketer is hitting the same audience as the readers of this page.
Bonus tip: Don't forget the value of using a #hashtag for social promotion. Using #AI or #SAAS associates your content with AI and SaaS.
Consider your timeline when choosing which tactics to integrate into your digital marketing strategy. Promoting an upcoming online event requires pre-planning to execute the advanced registration and credibility building through promoting information resources, including video thank-yous and opportunities for referral conversions.
With the Healthcare industry, for example, there's at least a 12-month execution period. In the first and second quarter, groundwork is laid and relationships fostered. It's in the third and fourth quarters that budgets and vendors are locked in for the upcoming year. By investing in the long game early in the year, you're building brand equity and nurturing them so they know your solution is their solution.
And don't forget relationships, which are very important. Use embedded links with UTM strings and bit.ly links that allow you to track with whom your information was shared. Use analytic tracking to show who does what with your content. This allows you to nurture the decision-makers and those that report up who may be part of the decision-making process.
Targeting the right people with your marketing means it's an easy sale when they're ready. You've got to get them to and through the door, making sure they're carrying your product with them when they leave. You can best equip them with your content—relevant, enticing, educational content. Many marketing roads diverged—and you'll make the right choices for your B2B tech business.
The First Thing to Do After Reading this Article
What is the next marketing tactic you're deploying as a part of your overall strategy? Could you augment it with integrating content sponsorship, paid video, content syndication, or native advertising?
Find out where your customers are hanging out online and target those sites for content syndication and native advertising.
Another example: Do you have an upcoming webinar or podcast? Consider how you can partner with a third-party expert to educate potential customers about your brand and solutions while leveraging the experts' credibility and connecting with the expert's existing audience. Then plan for the content you'll share to registrants, the thank-you video you'll post, and the relationships you'll track.
---
While the rewards can be high, the work can be tedious. Not sure where to start? We can help.
We are an integrated marketing agency. Our diversified team of experts works daily to sharpen each other in every area. We have all-stars at every position—strategists, SEO experts, graphic designers, web developers, and writers.
Our integrated nature gives us flexibility. Some clients hire us to be their marketing department. We help them with strategy and provide all of their services. Others come to us because their team is missing a specialty. We plug in right where they need us. These clients also benefit from our integrated behavior and our industrywide knowledge.
We're ready to help you accomplish your goals. Discover the Golden Spiral advantage for yourself.